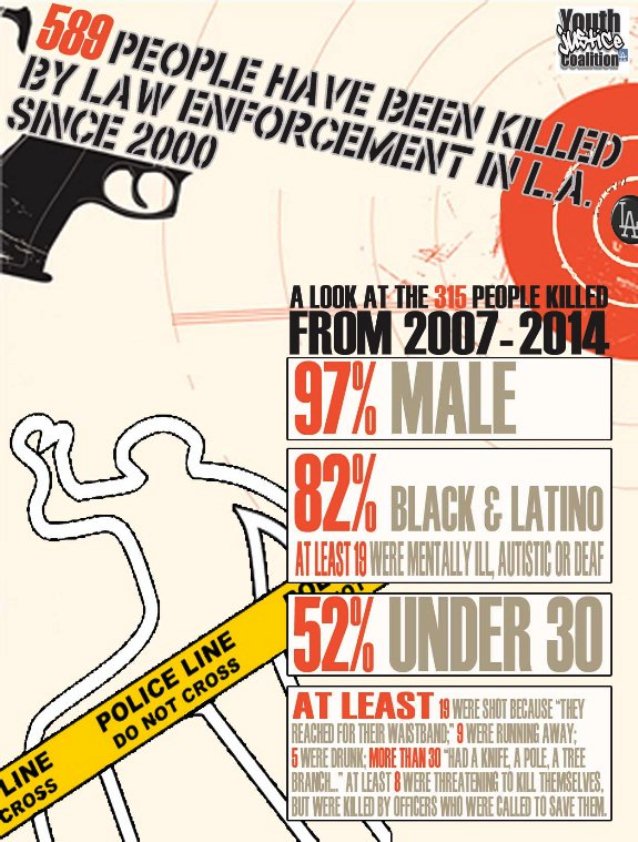 LA cops have killed a person every week
Detroit Police Chief James  "CCW" Craig served with LAPD for 28 years
Federal oversight has not improved either LAPD or Detroit police
(VOD: Detroit Police Chief James "Get your CCW" Craig spent 28 years with the LAPD. He served on an internal panel that whitewashed the infamous Ramparts scandal. The US DOJ then put the department under its oversight. The LA Youth report shows that this action, including years where AG Eric Holder, appointee of Pres. Barack Obama has been in office, has not made one iota of difference, just as the USDOJ consent decree has not affected police conduct here in Detroit.)
LA YOUTH JUSTICE COALITION: This report documents the deaths of 589 people who lived in Los Angeles County and were killed by law enforcement between January 1, 2000 and August 31, 2014.
In addition, the report documents all cases – with name, age, race, location and where possible incident details – from January 1, 2007 – August 31, 2014 in order to remember each individual; to investigate who is impacted by race, age, gender and community (location of the shooting); and to learn from their experiences in an attempt to save lives in the future.
Based on these specific case histories, the report looks for trends or commonalities among incidents and raises concerns regarding suspicious and troubling patterns.
Finally, the report makes some comparisons between LA and other jurisdictions, and begins to evaluate media's coverage of officer-involved homicides.
Sign Kamala Harris' Change.Org petition at https://www.change.org/p/kamala-harris-appoint-a-special-prosecutor-to-investigate-and-prosecute-law-enforcement-use-of-force