Some of Rev. Edward Pinkney's supporters outside courthouse during his preliminary exam May 31, 2014. Those who attended the opening day of his trial Oct. 27, 2014 said the courtroom was packed, with an overflow room so attendees could watch the proceedings on TV. However, Marcina Cole (third from left in photo) reported that the TV transmission started late and was of poor quality,
 Video below: supporters in court this week celebrate Rev. Pinkney's birthday, which ironically is October 27, the same day his trial began.
Long-time Black activist minister faces 25 years in prison on trumped up election fraud charges
Busloads journey from across region to support Pinkney Oct. 27, first day of trial
Trial witness: "No way to know who was responsible for altered dates"
Pinkney expected to take the stand today
By Diane Bukowski
October 28, 2014
(Events in Benton Harbor are from attributed sources, as author was too sick to travel there for trial opening.)
ST. JOSEPH, MI – According to published reports, supporters of Rev. Edward Pinkney descended on Benton Harbor from all over in droves as his trial on five felony counts of election fraud, each carrying up to five years in prison, and six misdemeanors, began Oct. 27. The trial is taking place in the Berrien County Courthouse, located in St. Joseph, across the river from Benton Harbor.
Ironically, Oct. 27 is Rev. Pinkney's birthday.
A busload of metro Detroiters, organized by Pinkney supporter Marcina Cole, Michigan Welfare Rights, Moratorium NOW! and others left from Northland Mall that morning at 5:30 a.m., after raising $600 for half the cost of the bus.
One supporter tweeted: "Court packed for @revpinkney! Supporters drove in from across the region. Judge Sterling R. Schrock presiding with jury hearing, People vs Pinkney, Edward. Case # 2014-001528. Court is setting up televised overflow room for people unable to fit in courtroom."
Nationally, Pinkney has had strong support from actor/activist Danny Glover and from former six-term U.S. Congresswoman Cynthia McKinney, who remarked Oct. 17, "Why is the Congressional Black Caucus silent on the persecution of Benton Harbor leader, Rev Edward Pinkney, who is being maliciously prosecuted AGAIN?  What has happened up there in DC to eliminate all heart, backbone, and guts? What's left without that???"
Pinkney, a leader of the Black Autonomy Network of Community Organizations (BANCO), led a recall campaign against current Benton Harbor Mayor James Hightower, who has the support of the Whirlpool Corporation. Charges are based on those recall petitions.
Whirlpool is headquartered in Benton Harbor but earlier stripped the 96 percent Black city of its economic base by moving its plants out of state, leading to a   poverty rate. It is also taking over acres of desirable lakefront Benton Harbor property. Pinkney has fought this corporate attack for many years, as well as fighting rampant murders by local police forces of Black Benton Harbor residents, and massively disproportionate incarceraton rates of Blacks.
Regarding jury selection the previous week, Gordon reported on the Black Autonomy Network of Community Organizations (BANCO) website:
"The Berrien County trial beginning this Monday at 8:30am now has a jury and it's all white. Rev. Pinkney is from Benton Harbor, 96% African-American, but the jurors are from the surrounding white towns."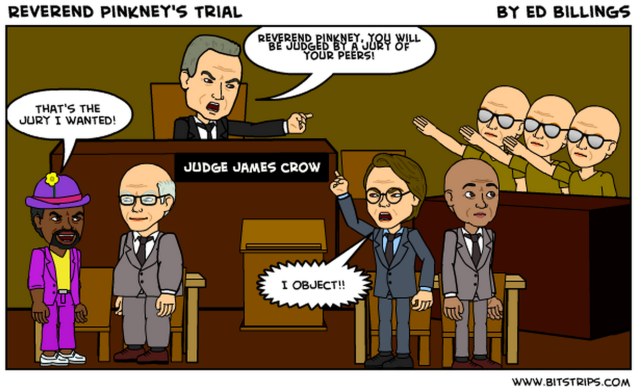 He said that during questioning of prospective jurors, Berrien County Prosecutor Michael Sepic asked several jurors if they would be willing to convict without evidence. The prosecution has conceded that their case has no direct evidence, only circumstantial evidence.
But by Tuesday, Oct 28, even the conservative Herald-Palladium began its lead story with the following:
"Dates on recall petitions circulated by Edward Pinkney were altered, though there is no way to know who was responsible, a state police forensic document examiner testified Tuesday. Detective Sgt. Mark Goff told a Berrien County Trial Court jury that some of the dates next to signatures on five petitions were written with more than one ink.
"That indicates the use of more than one pen or that numbers were written at different times, he said." (See link below.)
The remainder of the story is basically a recap of officials' testimony reported on by VOD during Pinkney's preliminary exam. (See links below.)
The following day, according to the Herald Palladium, 24 witnesses who signed the recall petitions in question testified. On cross exam by Pinkney's attorney Tat Parish, many appeared to be confused about which petition they had signed and when. The police and courts have essentially conducted a reign of terror to frighten the people of Benton Harbor, exemplified by the SWAT raid on Pinkney's home.
The defense was expected to begin its presentation today, with Rev. Pinkney himself taking the stand.
The previous Monday, Oct. 20, Rev. Pinkney himself spoke to a packed crowd of supporters at the Moratorium NOW! headquarters in Detroit, following up on an earlier Detroit appearance at UAW Local 22.
Marcina Cole, a DTE retiree, introduced Pinkney, putting his struggle in context with the current battle for justice by Blacks across Michigan and the country.
Noting that a SWAT team of Benton Harbor police showed up to arrest Pinkney on the election fraud charges May 25, she said, "There is injustice across the U.S., including police terrorism like the murder of Michael Brown, shutting people's water off, no housing, health care, and food for our people. We have to stop listening to the mass media. Even abroad, Palestinians are being gunned down from the skies, killing babies and children. Too many folks are getting off for killing our babies. Next it might be your baby. We must fight, fight, fight and don't stop!"
To a standing ovation, Rev. Pinkney took the podium.
"The fight in Benton Harbor is a war over whether America will have prosperity and democracy, or will live in poverty under the heels of capitalist rule," Pinkney said. "We must create discomfort in the houses of the powerful with or without violence. . . .We must take over the banks, show them who we are, especially here in Detroit."
He said the Berrien County Courthouse has been "physically removing and destroying Black families in Benton Harbor." He recounted the case of one man who became "cop of the year" after he planted drugs on over 300 Benton Harbor residents. He said the defense had numerous witnesses, but they were not allowed to testify.
"It's not about me and you," he said, "it's about the future of our children, about Negro removal, about ethnic cleansing. IT'S ABOUT GENOCIDE! No one in history has ever gotten anything by appealing to the moral sense of the rulers. You only get what you can take! Democracy has been stolen."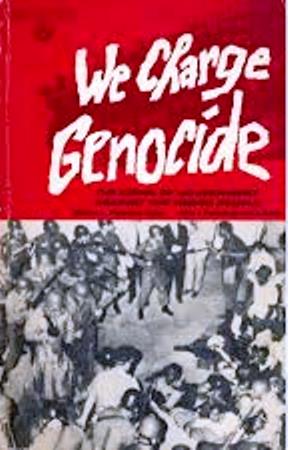 Pinkney recounted the history of the SWAT assault on the home of himself and his wife Dorothy Pinkney (covered earlier in VOD—see link below.)
"At my arraignment, the judge took about 20 minutes to tell me how terrible I am, as if I had committed the worst crime in the history of mankind. They thought they had a smoking gun, but when it came to testimony about who changed signature dates, their expert said he could not say WHO. It is shameful and disgraceful. They are counting on having an all-white jury."
He said he had been in court that morning asking for a change of venue due to the racial composition of the county surrounding Benton Harbor, and to constant negative publicity in the Herald-Palladium and other local news media. The judge said he would grant a change of venue only if we could not pick a jury."
Apparently Judge Sterling Shrock felt an all-white jury was sufficient, even in the increasingly hostile and racist atmosphere that permeates not only Berrien County, but in Detroit, where the banks and corporations are taking over the city from its majority Black population through a phony bankrupty, and in the entire state and country.
To sign petition in support of Rev. Pinkney, click on http://www.bhbanco.org/2014/09/b-n-c-o-petition-we-demand-justice-in.html?spref=tw
To donate to the campaign to free Rev. Pinkney, send funds to
Rev. Edward Pinkney
1940 Union St.
Benton Harbor, MI 49022  Phone: 269-925-0001
Listen to Rev. Pinkney every Sunday 5:00 p.m. on http://www.blogtalkradio.com/rev-pinkney/2014/10/19/pinkney-to-pinkney
Related Stories:
Witness testifies Pinkney sought 2nd petition signature HP
http://www.heraldpalladium.com/news/local/petitions-changed-but-by-whom/article_a1311aa0-a30c-5d3c-8208-ae3fc791fbc8.html
http://voiceofdetroit.net/2014/07/13/drop-the-charges-against-rev-edward-pinkney-of-benton-harbor-trial-set-for-july-21/
http://voiceofdetroit.net/2014/06/07/benton-harbor-rev-pinkney-to-face-trial-on-felony-charges-july-21-despite-no-evidence/
http://voiceofdetroit.net/2014/06/03/rev-pinkney-in-the-mouth-of-the-beast-in-benton-harbor/
http://voiceofdetroit.net/2014/05/27/dismiss-all-charges-against-rev-pinkney-court-fri-may-30-save-benton-harbor-boycott-whirlpool/
http://voiceofdetroit.net/2014/04/26/free-rev-edward-pinkney-recall-whirlpool-stooge-benton-harbor-mayor-james-hightower/