VIDEO ABOVE BY THOMAS BLACKBURN, MARCH 1, 2015
VOD Editor: On March 1 and again on March 5, Los Angeles cops brutally killed two unarmed men of color, a homeless man called "Africa" or "Cameroon," given name Charley Leundeu Keunang, killed by five cops  in downtown LA outside a homeless shelter, and Sergio Navas, 35, chased by police from North Hollywood to Burbank in what they claimed was a stolen car. A cop in the passenger seat of a pursuit car shot Navas numerous times as he sat in the driver's seat of the car he was in, shattering its window.
Below are excerpts from various sources on the LAPD's brutal killing of "Africa" March 1, and the subsequent killing of Navas on March 5. The LAPD, with other police in LA County, according to official figures posted below, has racked up an astounding record of fatal shootings by cops just since 2014. Protests have been taking place across the city.
Detroiters should note that Detroit Police Chief James Craig, earlier appointed by the city's emergency manager Kevyn Orr, spent 28 years in command positions with the LAPD. He was on the internal panel that investigated and whitewashed the "Ramparts" scandal, before the U.S. Department of Justice intervened.
_____________________________________________________________
LA POLICE FATAL INCIDENTS
16 People shot dead by police in city of Los Angeles in 2014
252 People killed by police in LA since 2000
606 People killed by police in LA county since 2000
38 People killed by police in LA county in 2014
Source: LA Times Homicide Report
____________________________________________________________
Homeless, unarmed man "AFRICA" shot five times, killed  after police dragged him out of tent in front of  Union Rescue Mission Shelter
Friends said he had been recently released from mental hospital
French consulate repudiates reports that he was French national called Charley Saturmin Robinet;  he has now been identified as native of Cameroon,
VOD Editor: Please note the original unedited video at top, by Thomas Blackburn, of the slaughter of "Africa." Various mainstream media have shown it interspersed with stills and comments from so-called "experts" who claim Africa can be seen reaching for a cop's gun. In fact, it is absolutely unclear from the stills what the object is.
Africa had just been dragged out of his tent and slammed to the ground without provocation by at least five cops with their guns drawn.  A similar tactic was used in St. Louis, MO after police killed 18-year-old Antonio Martin last year; a red circle was drawn around an unidentified object police alleged was a gun in a blurry gas station video still.
The mainstream media continues to vilify "Africa," first wrongly identifying him as a French national, and then claiming without complete substantiation that he was a bank robber 10 years ago.  It has now been established that he was from Cameroon. The Miami Herald reports he is Charly Keundeu Keunang, 43, listed as being indigent and homeless, and dying  from multiple gunshot wounds, according to the Los Angeles County coroner's office.
Despite a California Supreme Court mandate that the names of officers involved in such shootings be released, the LAPD has so far refused to do so.
VIDEO SHOWS FATAL SHOOTING OF HOMELESS MAN
Buzz Feed
By Claudia Koerner and Mary Ann Georgantopoulos
Updated on March 2, 2015, at 7:33 p.m.
http://www.buzzfeed.com/claudiakoerner/video-shows-los-angeles-police-shooting-homeless-man#.rrv4zOzpaN
A video uploaded to Facebook shows officers responding to a robbery call and arguing with two people. Two officers pull one person away. The other officers, who are farther from the camera, surround a man.
A video from the BBC below gives reaction from witnesses at the scene:
The Los Angeles Police Department said the robbery suspect began fighting the officers and resisting arrest. At one point an officer punches the man to the ground. The officers attempted to use a taser, but the suspect continued fighting, according to a statement released by the LAPD (click on LAPD pr on killing of homeless man Africa). During the altercation, the man and the officers struggled over one of the officer's handguns.
"Drop the gun," officers shout several times with their own guns drawn. About five shots can be heard on the video.
Witness who recorded video says he didn't see man reaching for cop's gun; LAPD admits he was unarmed
Thomas Blackburn, the man who recorded the shooting, told CNN that he didn't see the homeless person reaching out for an officer's gun, contradicting the police's version of events. "Why didn't they simply "shoot the man in the leg?" Blackburn said. "He's already on the ground."
Paramedics responded and pronounced the victim dead at the scene. Two officers were treated for minor injuries and released. Witness also began shouting that they did not believe the man who was shot was armed.
LAPD Cmdr. Andrew Smith told CNN that the man was unarmed. "I don't know what they found on this individual," Smith said. "Obviously he didn't have a firearm."
Witnesses identified the man by his street name, "Africa," according to the Los Angeles Times. Witnesses said he had been living in a tent on Skid Row for several months and had spent some time in a mental health facility.
There have been 12 fatal officer-involved incidents in downtown Los Angeles since 2000, according to the Times.
The LAPD's specialized Force Investigative Division is collecting evidence and will interview witnesses as part of their investigation to determine whether the use of deadly force was consistent with the department's policies. In addition to the video posted on Facebook, LAPD Sgt. Barry Montgomery said there could be video from two surveillance cameras from buildings at the scene.
The Los Angeles County District Attorney will also review the incident.
The shooting took place across from the Union Rescue Mission, which provides a number of services to homeless people.
US POLICE SHOOT HOMELESS MAN DEAD IN LA 

2 March 2015 Last updated at 05:55 ET BBC's Alastair Leithead: "Five shots were fired"
US police have shot and killed a homeless man during an altercation in central Los Angeles, in an incident caught on video.
The graphic film shows a violent struggle between the man and several officers in the city's Skid Row area.
Police say that three officers opened fire after the man tried to grab a gun from an officer.
Witnesses said the dead man was known as Africa and had been homeless after treatment for mental illness.
The LA police department said officers had been responding to reports of a robbery and had attempted to use a Taser to subdue the suspect but he had "continued fighting and resisting".
A witness said five officers were involved in the altercation
No other gun was recovered at the scene, LA police commander Andrew Smith said.
Last year, highly publicised killings of black men sparked weeks of protests in the US.
Hours after the latest shooting, the hashtag #LAPDShooting was trending on Twitter in the US.
Shooting victim
Nicknamed Africa, had been living on the street for months, eyewitnesses say

Said to have spent 10 years in a mental health institution before winding up homeless
Said by people who knew him to have not been violent but still exhibited "mental problems"
Sources: LA Times and ABC News
It is unclear from the video what exactly happened, the BBC's Alastair Leithead reports from Los Angeles.
The video begins with what appears to be a black man swinging punches at four police officers in daylight, near the tents and cardboard of a pavement homeless camp. Two other officers run up to join their colleagues.
The video posted on Facebook showed the altercation leading to the shooting
As the man is knocked to the ground, a woman can be seen picking up a fallen police baton and a voice seems to shout "Give me my stick! Give me my stick!"
Several police officers turn to tackle the woman, in the foreground of the video, and her detention partially obscures what is happening with the man on the ground.
A voice can be heard shouting "Drop the gun!" four times before five shots ring out.
The police officers step away from the suspect lying on the ground. No-one approaches the body again for one minute and 13 seconds, by which time police reinforcements have arrived.
The man taking the video can be heard swearing as he records it.
After the shooting, he can be heard saying. "Ain't nobody got no [obscenity] gun. I'm gonna record this [obscenity]… They just shot that man right here, man, they just shot that [obscenity] man right here, yeah."
The man was shot dead in Skid Row, where many of LA's homeless live.
Skid Row
Name given to a central district of Los Angeles with a large homeless population
Estimates of district's population range from 8,000 to 11,000 people, predominantly black, with a homeless population of about 2,500, according to the LA Chamber of Commerce
Described by the Associated Press news agency as a "tenuous comfort zone for many who hit the rock bottom of their lives in America"
Homeless people tended to gravitate to the area historically as it was near a railway terminal – "the last stop on the train for the whole country", according to the Union Rescue Mission charity
Other US cities have their own "skid rows", with the term believed to have originated in Seattle, Washington state
"The video is disturbing," LAPD Commander told reporters. "It's disturbing any time anyone loses their life. It's a tragedy." The commander added that at least one of the police officers had been wearing a body camera.
According to an ABC News report, the three officers have been placed on leave pending the outcome of an investigation into the shooting. Steve Soboroff, president of LA's Police Commission, told the BBC it was important to investigate the facts before making any conclusions.
Witnesses told the Los Angeles Times that the man who died had been living on the street for four or five months.
Ina Murphy, who lives in an apartment nearby, said he had told her that he had recently been released after spending 10 years in a mental health facility.
People on Skid Row who knew him said he was not violent.
"What did he do?" said Steven Tugmon to ABC News. "He wasn't an aggravated person. He wasn't mad all the time. He just had mental problems."
More on This Story
Related Stories
http://www.dailymail.co.uk/news/article-2975139/Video-shows-Los-Angeles-police-officer-shoot-dead-homeless-man-broad-daylight.html
http://www.latimes.com/opinion/opinion-la/la-ol-rall-lapd-skid-row-homeless-shooting-20150305-story.html
Witness describes LA shooting Watch
LAPD OFFICER FATALLY SHOOTS FLEEING MOTORIST AFTER HIS CAR COLLIDES WITH POLICE VEHICLE
 'There is no evidence to support he was armed.'
Man now identified as Sergio Narvas, 35
Cops shot him from their car as he sat in his driver's seat, shattering window
(VOD: see second video at top of post.)
 March 5, 2015
LA NOW – Los Angeles Times
A man [now identified as Sergio Navas, 35, of North Hollywood] was killed by LAPD officers after a pursuit that ended in Burbank.
LAPD Sgt. Barry Montgomery said, "There is no evidence to support he was armed."
The man was shot by an officer sitting in the passenger seat of a squad car when their two cars collided during the chase. Wounded, the man got out of the car and ran but officers chased him down and handcuffed him, said Officer Wendy Reyes.
He was declared dead at the scene after arriving paramedics tried to resuscitate him.
The chase began when the man sped away from LAPD officers who tried to pull him over at Magnolia Boulevard and Riverton Avenue in North Hollywood about 1:45 a.m., said Officer Liliana Preciado. Officers started following the car because it had paper plates and the suspect was "driving erratically," she said.
Officers gave chase and followed him into Burbank, where the man drove into a short cul-de-sac off West National Avenue and Evergreen Street and was cornered. The man's car collided with the passenger side of the LAPD car and the officer in the passenger seat started shooting, Preciado said.
"All I heard was sirens and gunshots," said John Zunino, a resident who was woken up Thursday by the commotion and police helicopter. "I kept hearing them get louder and louder…then I hear pop-pop-pop-pop like five or six gunshots."
Police initially said it appeared the man had deliberately rammed the vehicle. Further investigation showed "he was not ramming the vehicle, it was a straight collision," Preciado said.
Montgomery said the pursuit lasted about 6 minutes before it ended in the cul-de-sac. He said experts would analyze skid marks and look for any kind of surveillance video to determine exactly what happened.
The officers involved in the pursuit had minor injuries, Montgomery said.
The car the unidentified suspect was driving, a gold Mercury Sable, had been reported stolen on Feb. 26 from a northeast L.A. neighborhood, the police sergeant said
Burbank resident David Lamb walked his bike from his second-story apartment Thursday morning, ducking under the yellow police tape that lined Pass Avenue after the early morning violence.
A black screen blocked his view of a white sheet covering the driver's body.
Lamb said the early morning gunshots jolted him and his wife awake. Both rushed to check on their three children — 6 months, and 2 and 4 years old.
"We heard a lot of sirens and helicopters," Lamb, 32, said. "From our window we could see the scene and we saw the body on the ground."
Paramedics came shortly after, he said, and spent about 20 minutes trying to revive the suspect.
"It's shocking that this happened in this neighborhood," he said.
Diana Cruz heard the whooping police sirens before dawn and watched as white lights flashed throughout the neighborhood and into her home. Then she heard the gunshots.
"I thought I heard about four," Cruz said as she walked her dog one street away from the scene of the shooting.
But she rolled over in bed and went back to sleep, convinced that that shots were either fake or came from far away.
"We live so close to Universal Studios and a couple of times they've put up signs saying that we'll hear shots," Cruz explained.
Jennifer Mendoza, 25, said that her boyfriend was awake at the time and rushed into the room to see if she had heard the gunfire.
"He said, 'I think I heard gunshots. What if they're in the alley?'" Mendoza recalled.
Falling in and out of sleep as he tried to tell her what he'd just heard, Mendoza found it hard to believe that there would be a shooting in the neighborhood.
For breaking California news, follow @JosephSerna and @ParviniParlance.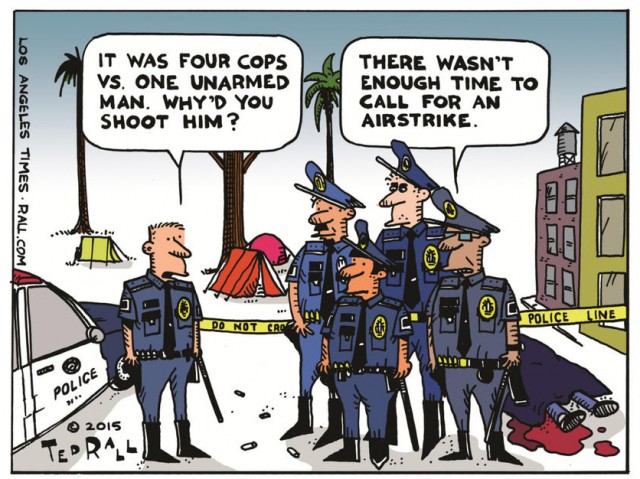 UPDATE: DEAD DRIVER IDENTIFIED AS SERGIO NAVAS, 35
North Hollywood Man Killed in Second Fatal LAPD Shooting in Four Days
By Paige Austin (Patch Staff) March 5, 2015 at 10:30pm
A car theft suspect who led Los Angeles Police Department officers on a six-minute chase from North Hollywood to Burbank was shot and killed today, in the second deadly LAPD shooting in four days.
The man was identified by the coroner's office as 35-year-old Sergio Alexander Navas of North Hollywood.
Navas was shot about 1:45 a.m. in a cul-de-sac near the intersection of National Avenue and North Pass Avenue. The car driven by Navas collided with a patrol car collided at that location, according to the LAPD.
Police initially reported that the suspect had repeatedly rammed the patrol vehicle, but investigators later determined that was not the case, said LAPD Sgt. Barry Montgomery.
"I just want to clarify that in this particular case, there was no multiple ramming of the police vehicle," Montgomery told Fox11.
LAPD Officer Liliana Preciado said an officer on the passenger side of the patrol car opened fire on the suspect, who then ran off. He was chased by officers before collapsing near an alley off North Pass Street. No shots were fired during the foot pursuit, Preciado said.
Burbank firefighters pronounced Navas dead at the scene.
The LAPD's earlier fatal officer-involved shooting occurred Sunday afternoon on Skid Row near downtown Los Angeles. Killed in that shooting, which was videotaped and sparked outrage among some activists and members of the public, was 43-year-old homeless Cameroonian Charley Leundeu Keunang, who allegedly tried to grab an officer's weapon during a scuffle.
(VOD note: the LA Times reported that Navas had a number of drug and theft-related arrests, while other newspapers said he had convictions. VOD was not able to verify any of these from online LA County sources.)