"Largest mass foreclosure in one city at one time in U.S. history"
62,000 homes on auction block, 37,000 occupied, most by families
Tax bills are criminal "crap shoot," violate state laws requiring annual re-assessments; opponents say people should demand reimbursement
Numerous groups call for moratorium on foreclosures, cancellation of past tax debt, use of federal "Hardest Hit" funds to pay bills and refill city, county coffers;
Protest set for Tues. March 31 at 400 Monroe
By Diane Bukowski
March 28, 2015
Detroit—"I want to take my family back to Mexico," Cecilia Espinoza says of her husband Luis and five young children, Leonardo, Genoveva, Gavino , Pedro, and Luis III, ages 7 t0 17. "We have paid $16,000 in taxes on our home since 2011, and now they want to force us out."
Mrs. Espinoza has treasurer's receipts for $13,424.41, paid through May 8, 2014. She has not been able to keep track of off of all her paperwork, but her family's property is worth far less than even that amount.
The Treasurer claims the Espinozas still owe $10,009 in taxes, for a total of $26,000. They live in a two story home on Tarnow off McGraw, next to two horrific burnt-out and abandoned houses, and across the street from a vacant field that became a dumping ground after houses there were demolished.
The Espinozas cleaned up that field, but still cannot let their children outside to play due to the deterioration of the neighborhood. They struggle to make a living with intermittent jobs. Detroit Human Services has refused the family cash assistance, providing only $1200 a month in food stamps and Medicaid.
The property is on the list of 62,000 foreclosures pending in 2015, published by the Wayne County Treasurer's office in the Legal News. It is likely the largest removal of a population in U.S. history, second only to the genocidal evictions of the land's indigenous people, the Native Americans, and the kidnapping of millions of Africans from their homeland to support a slave economy whose effects redound to this day.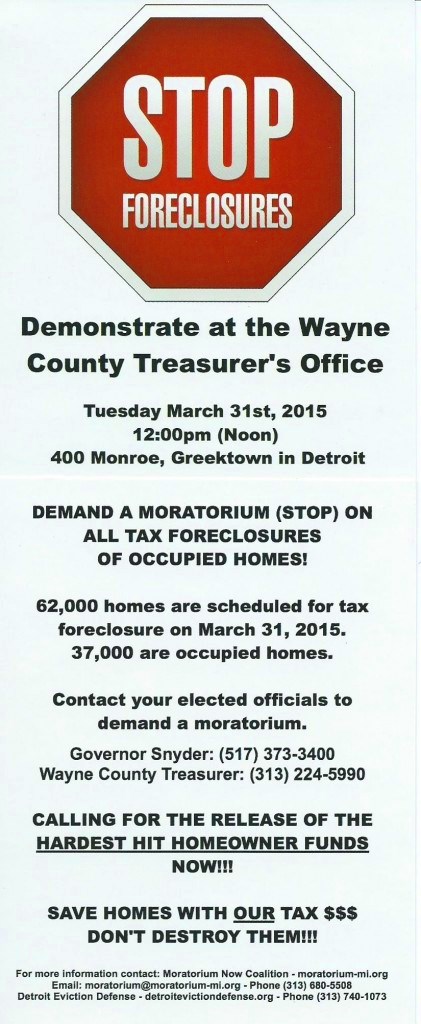 Cornell Squires of We the People for the People and RicoBusters said determination of property tax values has been nothing but a crap shoot in Detroit for the last 20 years, during which time no re-assessments have been performed, in violation of state law requiring annual assessments. (See MCL 211.1o, "Annual Assessment of Property," at mcl-211-10 Annual assessment of property and State Provisions for Property Reassessment. )
"The assessor's office told me during the Kilpatrick administration that they had only two full-time assessors," Squires said. "This is nothing but outright criminal fraud and racketeering, because the tax bills people are being forced to pay are illegal. State law requires annual assessments, or at the very least, reassessments every five years. It is a CRIME to force people to pay these amounts. Instead, they should be reimbursed for overpayments for the last 20 years, and the politicians in charge should go to jail."
During the last two decades, conditions in Detroit have deteriorated drastically, due to the exodus of major employers including the auto industry, the privatization for profit of the public sector, the destruction of the city's public school system, rising utility bills and shut-offs, and rising insurance rates on cars, homes, and other property. (See for description of basis of property tax rate determination.)
Detroit "Mayor" Mike Duggan said in his state of the City address that he was initiating a re-assessment of all Detroit property taxes, to conclude in 2016. He said property taxes would be dropped from 0 percent to 20 percent according to neighborhood location. The southwest side is slated for only a 5 percent decrease.
He said the decreased taxes would allow more homeowners to pay. However, the Detroit bankruptcy Plan of Adjustment has tripled the city's general fund debt through 2043, to $3 billion. That debt is backed by property taxes and state revenue sharing funds, so it is unlikely that the city's debt holders will favor any moratorium or decrease in taxes.
"Those amounts will nowhere near reimburse taxpayers for the amounts they have overpaid in the last 20 years," Squires said. He has had to battle for years to have his home on Detroit's impoverished far southwest side re-assessed to a $900 a year payment, after buying it while it was burnt-out and refurbishing it. However, it is on the foreclosure block again, with the Treasurer listing $7,194.49 as the amount due, including taxes prior to the reassessment.
Neither Duggan, nor Wayne County officials Treasurer Raymond Wojtowicz, Executive Warren Evans or Sheriff Benny Napoleon have called a halt to tax foreclosures and evictions while the re-assessment proceeds. Such a moratorium has a precedent—in 2009, Evans, then Wayne County Sheriff, declared a nine-month moratorium on mortgage foreclosures in the county.
But city and county leaders along with the non-profits that are supposed to fight foreclosures are waiting for the September and October tax auctions, during which foreclosed properties will be sold for as little as $500, many in bundles to wealthy speculators. These auctions are legally questionable as well, since the Treasurer does no title search on the properties being auctioned.
In 2013, Detroit was forced to reimburse Wayne County $117 million it had advanced to cover properties that did not sell at the auctions, according to the city's 2013 Comprehensive Annual Financial Report. It expects to owe at least another $72 million in coming "post-bankruptcy" years, according to the Moratorium NOW! Coalition against Foreclosures, Evictions, and Utility Shut-offs.
In February, according to the southwest Detroit-based newspaper El Central, 50 Detroiters sat in at the city's Tax Assessor's office to demand justice from Detroit Mayor Mike Duggan.
"Homeowners were promised a massive reduction in interest and penalty rates, and an opportunity to have their property re-assessed to pay their fair share, a right granted to every Michigan homeowner" El Central said. "Instead, at last week's Show Cause hearing at Cobo Hall, homeowners were met with demands by the Wayne County Treasurer's office for huge down payments and unaffordable payment plans . . . .
"Homeowners said that the treasurer's office wasn't offering any type of reduction and that the fast-track payment plans were often in the range of $350-$400 a month extra on top of all their other bills. So essentially people must choose between putting food on the table or having a table with no home left to put it on."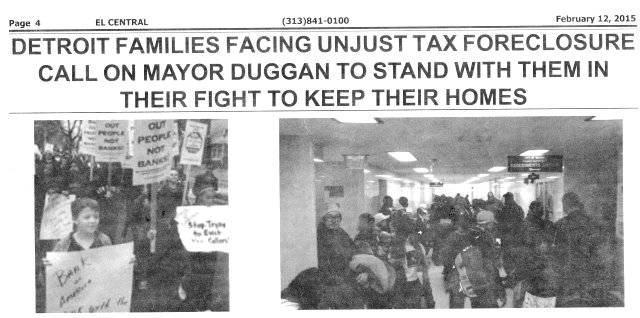 In addition to the residents who sat in at the assessors' office in February, numerous other groups including the Moratorium NOW! Coalition Against Foreclosures, Evictions and Shut-offs, the Detroit Active and Retired Employees Association, Michigan Welfare Rights, the Detroit People's Platform, The North End Community Council, the Russell Woods Neighborhood Association, Detroit Eviction Defense, the Rosedale Park Improvement Association, and many more are battling the foreclosure Katrina.
Since February, Detroit and Wayne County residents have filled meetings of the Wayne County Commission, on March 19, and the Detroit City Council, on March 24, calling for an immediate moratorium. While most officials were favorable to passing resolutions for moratoriums, a speaker at the City Council hearing pointed out that Wojtowicz doesn't need resolutions, that he has the executive authority to halt the foreclosures himself.
A coalition plans to demonstrate at the Treasurer's office on March 31, D-Day for final tax payments. Treasurer Raymond Wojtowicz has not extended the deadline this year as he has in previous years, proving that he does have executive powers.
During the Commission hearing, Krystal Price and Kamala El of Ricobusters produced documents showing that there has been continuing fraud in the Treasurer's office. They said some taxpayers are told to make out checks to "Raymond Wojtowicz" personally, not to the county, and that many foreclosures are carried out by non-authorized personnel in the Sheriff's office.
"Two lives have already been lost due to the Treasurer's practices," El said, referring to the killings of two erstwhile landlords in Detroit's Rosedale Park neighborhood who tried to evict a family by flashing guns. The Treasurer has not provided proper instructions to winning bidders to get legal evictions done through 36th District Court.
They noted that the day's agenda included approval of the use of $4.5 million from the county's "Delinquent Tax Revolving Fund" for the expansion of the first floor at 400 Monroe, the building where the Treasurer's office is located on several floors. The County does not own the building, however. Eighty-six separate taxpayers occupy it according to the county's own records.
The County builds the Delinquent Tax fund by borrowing money from the banks, based on delinquent taxes owing in all its municipalities. Thus it can actually pay the taxes of foreclosed homeowners directly. However, the funds are disbursed at the Treasurer's sole discretion, according to the attached document from the Michigan Association of County Treasurers. Click on Delinquent Tax Revolving Fund.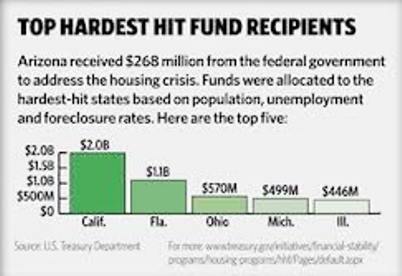 Speakers from the Moratorium NOW! Coalition pointed out that $251 million of the $498 million in federal Helping Hardest Hit Homeowners funds provided to Michigan to help occupants stay in their homes remains unspent and can be used to pay off the delinquent taxes in a "win-win" situation. Residents would remain in their homes while the coffers of the county and municipalities would be replenished.
Instead, Detroit's "Blight Removal Task Force," headed by billionaire Dan Gilbert, has used most of the funds to pay for demolition of homes that were forced into foreclosure by the fraudulent lending practices of the country's banks, leaving Detroit neighborhoods looking like war zones. Most of the funds are going to Adamo Demolition, a white-owned corporation with revenues of $13.4 million.
Gilbert and billionaire Mike Illitch are also busy gentrifying downtown Detroit and the former "Cass Corridor" for their profit, using public funds while driving Black Detroiters out of the areas.
The U.S. Treasury says on its website regarding the Hardest Hit progam, "Early in 2010, Treasury announced that the Hardest Hit Fund® would provide more than $7.6 billion in aid for homeowners in states hardest hit by the economic crisis. Since then, state housing finance agencies have used the fund to develop programs that stabilize local housing markets and help families avoid foreclosure."
The Hardest Hit Fund language does not include demolition of properties. Many county residents complained at the hearings that they had been denied funds from Michigan's Step Forward program, a part of the Hardest Hit Fund, while homes are being demolished.
"Declare a State of Emergency!" Dawn DeRose demanded at the Commission hearing. "There is fraud going on. There are veterans being evicted who are not supposed to be foreclosed. We are never going to stop blight if we don't stop foreclosures. We need a moratorium to keep people in their homes. Government is for the people, not for business."
State Property Tax law does not permit the evictions of veterans with honorable discharges.
Charles Armstrong, an elderly Detroit resident, testified at both meetings that he is facing foreclosure on his home, located on Detroit's east side near Mack and McClellan, for a bill of a little over $800.
"I had $5000 in escrow with the City of Detroit to cover my taxes," Armstrong said. "But they didn't apply it to my taxes, and they didn't give me my money back."
The southwest side group which protested at the Detroit assessor's office in February is demanding, "Wipe away all back taxes for anyone who could have applied for a poverty exemption," another provision of state law that should apply to the majority of Detroiters. Detroit is the poorest large city in the U.S. Fifty-nine percent of its children live under the federal poverty level.
Pastor Bill Wylie Kellerman called for a "Jubilee" on debt, a concept originating in the Bible which declares that all debts shall be forgiven every 50 years.
Wayne County Commissioner Martha Scott, who sponsored a resolution for a moratorium on foreclosures several years ago, was essentially the only Commissioner who spoke out strongly on the issue, saying she has her staff members preparing a resolution now.
"We are providing hundreds millions to build the M1 rail system on Woodward, but we are allowing thousands of people to be foreclosed, and thousands of people to have their pensions cut," Scott said. "It is horrible what we have done to people. The businessmen are getting it all, with 40 to 50 percent tax cuts. It is time for us to open up our mouths and hearts to get something done, because people are losing all hope."
Prior to the City Council hearing, G. Errol Jennings, President of the Russell Woods-Sullivan Area Association, led a protest outside with many of the area's residents, members of Moratorium Now, and other groups.
"We need to stop all foreclosures now," Jennings said. "People are paying ridiculously high property taxes. We are going to bring the heat from the street on this one. The Mayor said in his State of the City address that he wants to be judged on how many people move back into the city—well, he better act now."
Joan Jackson said she is facing foreclosure after losing her job with the Detroit Rescue Mission Ministries, where she worked for 19 years. She said 60 to 70 others had also been laid off.
"I got denied unemployment because they hadn't been paying into the state unemployment fund," she said. "When I went to Michigan Step Forward for help with my taxes, I found out you had to have a job to qualify. Now my water is about to be shut off. I believe water should be free."
During the Council session, several members of the Detroit People's Platform including Linda Campbell read their demands on the foreclosures into the record, saying they had delivered thousands of petitions demanding a halt on the foreclosures to the Treasurer's office.
"Wayne County Treasurer Wojtowicz is in charge of foreclosing on 37,000 occupied homes for overdue property taxes on March 31st, affecting nearly 100,000 people," Campbell said. "This represents the largest mass tax foreclosure in US history in one city at one time. Treasurer Wojtowicz has the power to stop it. Detroiters are being foreclosed upon due to incorrect tax bills with exaggerated property assessments and disputed water bill liens.
"Long-time residents are the heart and soul of Detroit. Ongoing displacement of our families from mortgage and tax foreclosures has been devastating. Public services are being cut and privatized, and Detroiters are being pushed out of their generational homes. To now lose another 100,000 residents would cut the city's total population by 1/6 and tear a hole in the city's cultural and economic fabric that can never be replaced."
Mike Shane of Moratorium Now said, "This is an unprecedented crisis. This will mean that one out of every three families in Detroit have been foreclosed. The banks are responsible for this devastation of our neighborhoods. We need to sue them to force them to clean up our city."
Cheryl West said she had lived in her home for 60 years, since childhood, but lost it to foreclosure in October, 2014.
"Now I have a landlady who is charging me $700 a month in rent, not including utilities. I applied for Michigan Step Forward funds before the foreclosure, but was denied four times," West said.
One speaker summed it all up, quoting Ephesians 6:12, from the King James Bible:
"For we wrestle not against flesh and blood, but against principalities, against powers, against the rulers of the darkness of this world, against spiritual wickedness in high places."
Links to some groups fighting foreclosures:
Detroit People's Platform at http://www.unitingdetroiters.org/ and https://www.facebook.com/DetroitPeoplesPlatform Sign the petition to let the Wayne County Treasurer know that 100,000 Detroit residents need a place to call home!
Moratorium NOW! http://moratorium-mi.org/
RICObusters https://www.youtube.com/channel/UCd3xqk6Kc778ASLAsRpV5ag
Detroit Active and Retired Employees Association http://dareafights.blogspot.com/