Quicken Loans owner Dan Gilbert heads city's "Blight Removal Task Force," but his own company has been responsible for creating much of the blight through fraudulent lending and foreclosures. Gilbert, owner of the Greektown Casino and also involved with former Detroit mayor Dennis Archer in getting casinos in other states, was convicted while attending Michigan State University in a $114,000 bookmaking operation.
FEDERAL LAWSUIT ESCALATES QUICKEN PROBE 
 Quicken: 'irrational and baseless witchhunt'
"This case is the latest step in our commitment to hold accountable mortgage lenders who profit by taking advantage of HUD insurance and issuing defective loans that do not meet HUD's standards." – John Walsh, U.S. Attorney, District of Colorado
 Apr 24, 2015 
A three-year battle between the U.S. Department of Justice (DOJ) and Quicken Loans came to a head yesterday when the department filed a lawsuit alleging the Detroit-based lender violated the False Claims Act by improperly originating and underwriting mortgages insured by the Federal Housing Administration (FHA).
The lawsuit is the latest volley in a longstanding government probe of Quicken's participation in the FHA insurance program as a direct endorsement lender. According to the DOJ, from 2007 to 2011, Quicken knowingly submitted claims for hundreds of improperly underwritten FHA-insured loans, encouraged employees to disregard FHA rules and requested inflated property appraisals.
As a result of these alleged actions, the Department of Housing and Urban Development (HUD) paid "millions of dollars" of insurance claims, and many additional loans that have become at least 60 days delinquent could result in further HUD claims, the DOJ said.
What's more, the department claims that Quicken managers were well aware of the problems and even granted "management exceptions" whereby managers would allow underwriters to break an FHA rule in order to approve a loan.
According to the DOJ's complaint, Quicken's divisional vice president for underwriting — the second-highest senior executive in the lender's operations department — wrote in an email discussing the value appeal process that "I don't think the media and any other mortgage company (FNMA, FHA, FMLC) would like the fact we have a team who is responsible to push back on appraisers questioning their appraised values."
In another email, the same individual told a group of Quicken executives that 40 percent of the management exceptions on FHA's early payment defaults should not have been granted, adding, "we make some really dumb decisions when it comes to client service exceptions. Example, purchase loan we pulled new credit and the client stopped paying on almost everything and the scores fell by 100 points, we [still] closed it."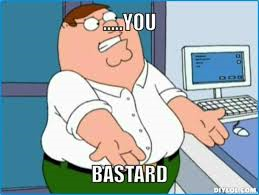 In another email discussing an FHA loan, the operations director explained that the loan was approved based on "bastard income," which he described as "trying to put some kind of income together that is plausible to the investor even though we know its creation comes from something evil and horrible."
The DOJ's complaint further alleges that Quicken failed to implement an adequate quality-control program to identify deficient loans, and that Quicken failed to report to HUD the loans it did identify. Despite its obligation to report to HUD all materially deficient loans, "Quicken concealed its deficient underwriting practices and failed to report a single underwriting deficiency to the agency," the DOJ alleges.
"As the complaint alleges, Quicken violated HUD's quality standards when obtaining HUD insurance for mortgage loans," U.S. Attorney John Walsh of the District of Colorado, whose office helped to lead the investigation, said in a statement. "Quicken issued hundreds of defective mortgage loans, and left HUD — and the taxpayer — to pay for the loans that defaulted. Quicken's alleged fraudulent conduct affected communities nationwide. This case is the latest step in our commitment to hold accountable mortgage lenders who profit by taking advantage of HUD insurance and issuing defective loans that do not meet HUD's standards."
Walsh's office conducted the investigation along with HUD and its Office of Inspector General and the DOJ Civil Division's Commercial Litigation branch.
Quicken quickly responded to the DOJ's lawsuit, calling the filing "simply the continuation of the abusive actions and a make-good on the DOJ's threats since their witchhunt began three years ago." Just last week on April 17, the lender filed a lawsuit of its own against the DOJ and HUD, alleging they have been strong-arming it into making false public admissions and either agreeing to pay a fine or face legal action.
According to Quicken, the DOJ's investigation is based on a small sample of 55 loans, "a minuscule number of cherry-picked mortgages from the nearly 250,000 FHA loans the company has closed since 2007."
"The complaint filed today is riddled with inaccurate and twisted conclusions from fragments of a handful of emails cherry-picked from 85,000 documents that the DOJ subpoenaed," the company said in a statement. "Worse than that, the DOJ appears to be basing their entire case on a handful of out-of-context email conversations skimmed from the communication between Quicken Loans employees. These conversations relate to a miniscule number of loans out of the nearly 250,000 FHA mortgages the company has closed over the past seven years."
Quicken has also noted its position as the nation's largest FHA lender and said it has originated the agency's best-performing loan portfolio, with the lowest default rate of any single lender compared to FHA's total mortgage portfolio. However, in light of these events, the lender said, "We will be evaluating the prudence of our continued participation in the FHA program."
"The irrational and baseless claims by this powerful federal agency will be exposed in federal court," Quicken said. "We are confident that after examining the facts, the judicial branch will clearly see the outrageous actions of the DOJ and exercise its authority to end this agency's misuse of power."
The False Claims Act, also called the Lincoln Law, imposes liability on persons and companies who defraud governmental programs. Federal penalties can total three times of amount of the claim, plus fines of $5,500 to $11,000 per claim.
http://www.inman.com/2015/04/24/federal-lawsuit-escalates-quicken-probe/
Read the entire 69-page lawsuit at US Quicken Loans lawsuit 4 24 15.
USDOJ press release: http://www.justice.gov/opa/pr/united-states-files-lawsuit-alleging-quicken-loans-improperly-originated-and-underwrote
Did "Dapper Dan" Gilbert & Quicken Loans Contribute To Detroit's Blight?

Survey of Detroit Mortgages Shows Boiler Room Operator Quicken Loans Contributed To Detroit's Blight
February 2015
(VOD–other sources report that Quicken Loans had done $70 BILLION worth of business in Detroit as of 2011.)
It appears that former amateur sports bookie, owner of Quicken Loans, the NBA's Cleveland Cavaliers, numerous casinos in Ohio and wannabe White Jesus of Detroit, Dan Gilbert and his merry band of boiler room telephone operators at Quicken Loans contributed to Detroit's epic blight problem that Gilbert has now pledged to eliminate.
First, let's go back in time to 2007 when Dan Gilbert, proclaimed to Tom Walsh at the Detroit News, "Quicken and Rock have never made sub-prime loans to home buyers."
This claim was later debunked by investigative journalist and writer, Michael Hudson.
In 2011, an Ohio court awarded a $3 million verdict to former Quicken Loans customers who claimed they were victims of predatory lending. This was followed up by a ruling by a West Virginia judge who awarded homeowners $2 million claiming Quicken used fraudulent appraisals in order lend homeowners more money. The judge in that case even went so far to call Quicken's actions, "unconscionable."
During all this, Gilbert, a man whose vanity is exceeded only by his pettiness and who runs Quicken as if it were a rogue Scientology cult operated by North Korean Dictator Kim Jung-Un, still claimed, "Quicken to be "one of the good guys."
Quicken was able to escape the carnage and tarnished images of the financial crisis not because Quicken Loans was 'one of the good guys' as Dan Gilbert likes to claims but because Quicken didn't carry any liability from the loans they originated because they sold the loans on the secondary mortgage market to Fannie Mae, Freddie Mac or into private mortgage backed securities Trusts.
In October of last year, Gilbert made a pledge to Detroit Mayor Mike Duggan to assist Detroit in tearing down blighted residential properties and was then put in charge of the Detroit Blight Removal Task Force. Everyone in Detroit media praised Gilbert and treated him as a White Jesus who had come to rescue Detroit. What they weren't asking Gilbert and his ballyhoo boys at Quicken was, "Did any of these home have mortgages originated by Quicken Loans?"
After all with Gilbert's checkered past and after losing several predatory lending lawsuits, this simple question should be the foremost question Detroit media should be asking.
I began asking friends in Detroit media why no one was not only asking this question but why no one was researching this. The reaction was shockingly similar to the look I used to get from Chinese foreign exchange students in college who were worried their every move was being monitored by the Chinese Ministry of State Security.
Since members of Detroit's media are too intimidated by the ominous eye of Dan Gilbert to do any type of investigative journalism, MFI-Miami's staff spent a day at the Wayne County Register of Deeds looking through mortgage filings in the city of Detroit that listed Quicken Loans as the holder of the mortgage from 2003 to September of 2008.
What we found will be surprisingly shocking to people in Detroit who think Dan Gilbert is a the second coming of Jesus.
Of the 75 homes sampled that had Quicken Loans named as the original mortgagee sampled, 70.6% of these home went into foreclosure within the first 24-36 months of being sold on the secondary housing market by Quicken Loans to either Fannie Mae and Freddie Mac or to a private mortgage backed securities trust on Wall Street.
http://mfi-miami.com/2015/02/did-dapper-dan-gilbert-quicken-loans-contribute-to-detroits-blight/#
 http://voiceofdetroit.net/2013/09/11/dennis-archer-former-consultant-to-detroit-lender-ubs-ag-meets-with-top-obama-aides-execs/
BOOKIE DAN GILBERT AND OHIO GAMBLING
Thanks to Keith Hines for contributing the following 2009 news on Gilbert:
Thanks to Roldo, and the Internet, the people of Northeast Ohio are finally starting to see a clearer picture of Dan Gilbert, the man betting $10s millions that more than 50% of Ohioans will risk the state's social and economic future and $ billions on him and casinos. Roldo first awoke real NEO to the "TRUTH ABOUT DAN GILBERT'S GAMBLING CHARGES", on October 19, and today Roldo brings forward first hand testimony that "STATE COP'S ARREST STORY DIFFERS FROM GILBERT'S VERSION", opening "A former Michigan state trooper tells a different story of Dan Gilbert's arrest on operation of gambling business than the Cavs owner has been peddling to the news media." See video above for Officer Fielder's video statement.
Several hours after Roldo broke this development on the free Internet, the Cleveland Plain Dealer reported on Cleveland.com: "Retired Michigan police officer says Dan Gilbert's 1981 gambling operation was much bigger than Gilbert admits", which opens "John Fielder, a retired Michigan police detective, alleged that Dan Gilbert ran an illegal bookmaking operation in 1981 that was far more serious than the Cleveland Cavaliers owner has admitted. Gilbert was convicted of conspiring to violate the state's gambling laws and served three years probation."
The PD goes on to report:
Fielder, on Friday, said Gilbert lied during an Oct. 19 Cleveland City Club debate on Issue 3 when the Cavs owner downplayed the arrest as a sweep of dorm rooms by police who caught him and others exchanging football trading cards. Gilbert said in the debate that no money had changed hands. He made a similar statement this week in Columbus while on a cross-state tour rallying for Issue 3.
"When I learned Mr. Gilbert's characterization of what happened back in 1981, I agreed to tell the people of Ohio what really happened," said Fielder, 74, who retired in 1989 after a 25-year career in law enforcement.
The segment of the City Club debate where Dan Gilbert is asked about his arrest for gambling-related crimes, and he makes statements Fielder challenges, is found between minutes 6:00 and 7:20 of the embedded City Club video below:
What is most disturbing is that the audience at the City Club applauds Gilbert for being arrested in college for gambling-related activities… they laugh and seem to think this is cool. Even the mayor of Youngstown, who is supposed to be debating against Gilbert, high-fives Gilbert for getting busted in college for this.
Wonder who will be getting some VIP passes to Gilbert's casino… tickets in the owners box at the Q…!?!?
This inappropriate "community behavior" makes me think of Eternity's sadly parallel posting on REALNEO, today, "Savagery in America and the spectacle of a teenager's rape as public exhibition", which opens "In America — in my country — I fear we are losing the battle for our humanity. Some say we have already lost it. Deep down I think they may be right".
And, I see in my mind the painting that best captures this odd City Club scene, and so much about our leadership in NEO: "Woman Walks into Bar – Is Raped by Four Men on the Pool Table – While 20 Watch", by Sue Coe, painted two years after Gilbert's arrest.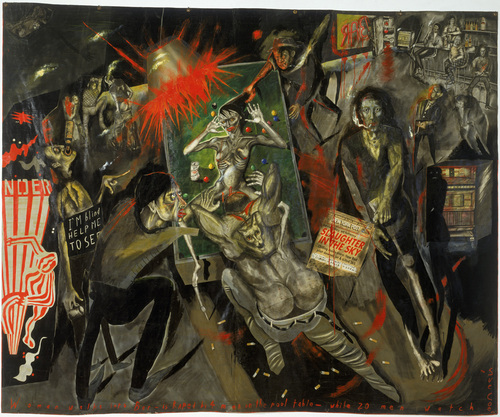 I am so saddened to see our community presented this way, on the internet, at the esteemed City Club, with 100+ of our region's leaders laughing together with Gilbert about him being arrested in college for gambling.
Gilbert laughs outloud – rapists are worse!
Hopefully, Gilbert won't laugh his way to the bank with our money, as well.
Reported in the PD: "Mr. Gilbert was part of a serious organized bookmaking ring that threatened some of its victims with violence," said retired detective lieutenant John Fielder, who led the organized crime unit for the Michigan Department of State Police when Gilbert was arrested.
Need you know more about the self-appointed Casino Czar and sole beneficiary of Issue 3?
Other related stories:
http://www.metrotimes.com/detroit/what-kind-of-track-record-does-quicken-loans-have-in-detroit-does-anyone-really-care/Content?oid=2266383&showFullText=true
http://voiceofdetroit.net/2012/07/12/fannie-mae-stop-eviction-of-jennifer-britt-let-her-pay-actual-value-of-home/
http://voiceofdetroit.net/2011/08/16/anger-over-fannie-mae-foreclosures/
http://voiceofdetroit.net/2013/02/19/stop-government-foreclosures-of-our-homes-hurricane-fannie-freddie-pack-hearing-wed-feb-20-2pm-u-s-judge-nancy-edmunds/
http://voiceofdetroit.net/2013/11/18/developers-hud-non-profits-collude-to-move-detroit-seniors-disabled-out-of-downtown-griswold-apts/
http://voiceofdetroit.net/2014/03/02/rape-of-griswold-capitol-park-tenants-continues/
http://voiceofdetroit.net/2013/09/11/dennis-archer-former-consultant-to-detroit-lender-ubs-ag-meets-with-top-obama-aides-execs/