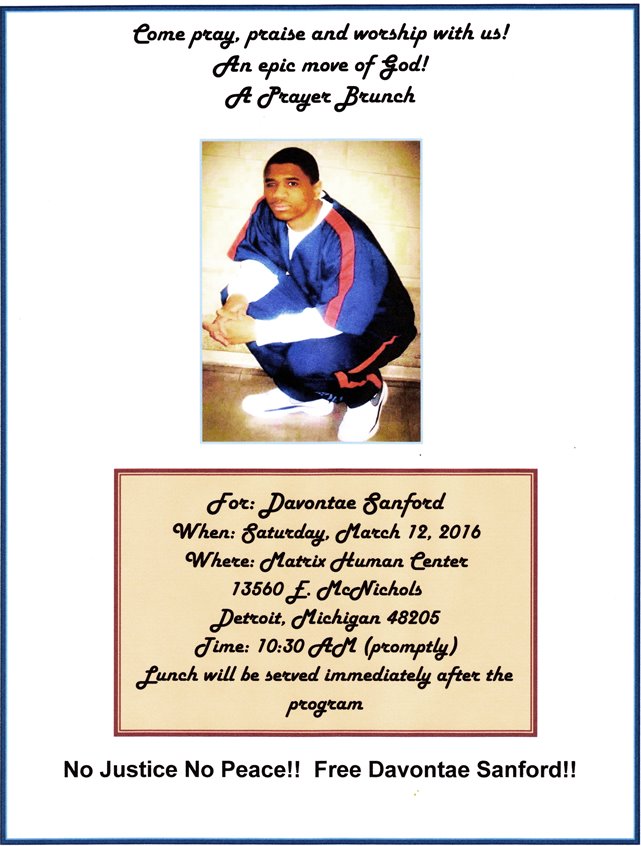 By Diane Bukowski
March 9, 2016
Davontae Sanford's case is one of the worst miscarriages of justice Voice of Detroit has seen. At the age of 14, Davontae was lured by Detroit police into confessing to the gruesome murders of four people in an alleged drug house on Runyon Street on Detroit's east side in September, 2007. Davontae is blind in one eye and developmentally disabled. Neither his mother, Taminko Sanford-Tilmon, nor an attorney, were present during that confession.
He is now 23, and has been imprisoned since 2008  on four counts of second-degree murder and one count of felony firearms. His earliest release date is in 2048 and latest release date is in 2099. Davontae has been subjected to numerous horrors while inside the walls.
His case is known across the world because Vincent Smothers, an admitted hit man, has repeatedly told police and prosecutors that he and another man committed the four killings, and that Davontae was absolutely not involved.
"I understand what prison life is like; it's miserable," Smothers told AP reporter Ed White in a prison interview. "To be here and be innocent – I don't know what it's like. He's a kid, and I hate for him to do the kind of time they're giving him."
Two innocence clinics came to his last aid year, but Wayne County Prosecutor Kym Worthy and Wayne County Circuit Court Judge Brian Sullivan have so far refused to let him withdraw his confession and go home to his loving family, despite an Appeals Court ruling that Smothers be allowed to testify on his behalf.
Davontae's next court hearing, noted as a "Review Date" on the court website, is set for  April 1, 2016 at 9 a.m. in Judge Sullivan's courtroom.
Some related stories from VOD:
http://voiceofdetroit.net/2015/04/19/davontae-sanford-moves-giant-step-closer-to-freedom-as-innocence-clinics-come-to-his-aid/  
http://voiceofdetroit.net/2013/12/23/mother-of-davontae-sanford-supporters-decry-pros-worthys-continued-persecution-of-her-son/ 
http://voiceofdetroit.net/2013/09/27/victory-for-davontae-sanford-in-appeal-of-conviction-at-age-14-for-four-murders/ 
http://voiceofdetroit.net/2013/08/10/davontae-sanfords-family-hopeful-after-appeals-court-hearing/ 
http://voiceofdetroit.net/2012/02/07/ap-newsbreak-detroit-hit-man-says-davontae-sanford-is-innocent-will-testify/  
http://voiceofdetroit.net/2011/07/19/davontae-sanford%e2%80%99s-innocence-v-detroit-police-and-prosecutors%e2%80%99-reputations/ 
http://voiceofdetroit.net/2011/01/15/free-davontae-sanford/
http://voiceofdetroit.net/2012/04/24/sanfordjones-rally-receives-broad-coverage-hit-man-signs-affidavit-to-free-davontae/ 
http://voiceofdetroit.net/2012/04/28/free-davontae-and-charles-justice-for-aiyana-and-trayvon/ 
http://voiceofdetroit.net/2012/04/24/stop-the-war-on-our-youth-davontae-aiyana-and-dad-trayvon-kenny-snodgrass-production/ 
http://voiceofdetroit.net/2012/03/25/davontae-innocent-being-tortured-in-prison-judge-refuses-to-allow-real-killers-confession/
https://twitter.com/JUSTICEDAVONTAE http://about.me/JUSTICEDAVONTAE
‪#‎justicewillprevail, ‪#‎FreeDavontaeSanford, #BeatBacktheBullies, #Blacklivesmatter, #BlacklivesmatterDetroit, #PoliceState, #PrisonNation