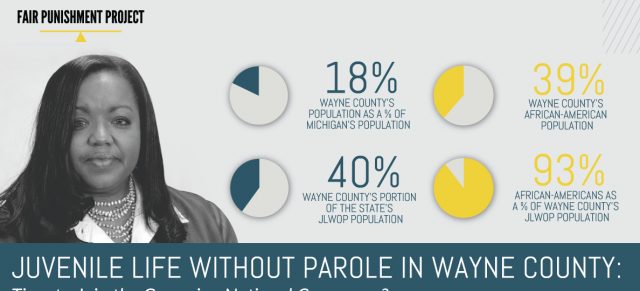 "Free Charles Lewis Campaign" begins at hearing Sept. 6, 2016; hearing set for 10:30 AM, rally requested by Lewis set for 9 AM outside Frank Murphy
County Pros. Kym Worthy says parole for 'White Boy Rick" possible, but wants 41% of county's juvenile lifers, most of them Black, to die in prison
USSC said only the "rarest" child should face such a fate
"I wanted to see justice done to my people–doing the right thing was not to sentence Mr. Davis to natural life"–Judge Vera Massey-Jones, who declared JWLOP unconstitutional in 1992, in case of Cortez Davis
VOD discovers corruption in Third Circuit Court criminal records
By Diane Bukowski
 Sept. 3, 2016
DETROIT – What is  Wayne County Prosecutor Kym Worthy thinking?
While indicating Aug. 26 that she may no longer oppose parole for convicted drug dealer and FBI informant "White Boy Rick," she has recommended that 41 percent of the county's 147 juveniles sentenced to life without parole, 98 percent of whom are Black, should be re-sentenced to die in prison.
"Having been immersed in the Juvenile Life Without Parole (JLWOP) Murder cases for the last six months, I have noted parallels to the Richard Wershe case that have caused me to review the office position in his case," Worthy, who earlier opposed Wershe's parole, said in a statement. She added that parole is governed by the state parole board.
Wershe was sentenced at the age of 17 to life in 1988 for possession of more than 650 grams of cocaine with intent to distribute. It later became a life WITH parole sentence.
Detroiter Charles Lewis, one of the 63 juvenile lifers Worthy wants to die in prison, has begun the "Free Charles Lewis Campaign" for himself and others similarly situated. He is calling for supporters to attend his post-conviction hearing Tues. Sept. 6, at 10:30 a.m. in front of Wayne County Circuit Court Judge Qiana Lillard, and to rally earlier at 9 a.m. oustide the Frank Murphy Hall in downtown Detroit, on St. Antoine at Gratiot. He and other juvenile lifers are asking their families and friends to turn out.
"I have tried to get the JLWOP'ers on this location that they are seeking life without the possibility of parole for to come together on the basis of what we have in common," Lewis wrote VOD. "Because what we all have in common transcends race, religion, social status and age. We are all in the same boat and we should come together ."
Lewis is at the Lakeland Correctional Facility, at a low Level 2 security rating. He has had several heart attacks while in prison, but the Michigan Department of Corrections refused to fund minimal stent surgery for him several years ago.
The U.S. Supreme Court has twice declared juvenile life without parole (JLWOP) unconstitutional, "cruel and unusual punishment," saying that only the "rarest" child should be dealt such a fate, even when convicted of murder or felony murder.
Michigan's juvenile lifers are now being re-sentenced under state statutes challenged as unconstitutional in federal court by Attorney Deborah LaBelle and the American Civil Liberties Union (ACLU) of Michigan. Although U.S. District Court Judge Corbett O'Meara earlier refused to grant an injunction against current court proceedings, the Hill v. Snyder case is still ongoing.
LaBelle says county prosecutors across the state have recommended that 80 percent of the state's juvenile lifers be re-sentenced to die in prison.
The others are relegated under the statutes to sentences with a predetermined minimum of 25-40 years, and a maximum of 60 years, in violation of Miller.
LaBelle says only one juvenile lifer has lived past 60 years in prison.
The state has assigned the State Appellate Defender's Office to handle all the hearings for those without their own attorneys. SADO representative Peter Van Hoek earlier told VOD they would not challenge the state statutes. SADO attorney Valerie Newman is in charge of assigning SADO attorneys to represent juvenile lifers. She and SADO Director Dawn Van Hoek  have lately refused to respond to email inquires from VOD regarding Lewis.
"I have been trying to contact Valerie Newman to find out what the hearing on September 6, 2016 is for," Lewis wrote to VOD. "She has instructed her staff not to accept any of my phone calls. She sent me a letter telling me that if I wanted her to interview alibi witnesses that I had to send her a letter stating that I wanted her to interview the witnesses.
"Here is what is strange, she said in her letter that she read all of the files and records that she had. If she had read all of the files and records that were in her possession she would have seen all of the alibi witnesses statements and contact information. She did not say what she read or what her impression of what she read was. She also did not say what the hearing was for."
Newman to this date has not met personally with Lewis, although he says she interviewed three other juvenile lifers at Lakeland. It is likely Judge Lilliard will once again hold a "videoconference" Sept. 6, preventing Lewis from personally consulting with Newman and violating his constitutional right to adequate legal representation.
Court officials earlier testified in several hearings in front of Judge Lilliard that Lewis' entire murder case file, which occupied three cartons, has been "lost."
RESEARCH SHOWS LEWIS LIKELY INNOCENT OF CHARGES
VOD research has shown that Lewis is likely innocent of charges that he killed off-duty police officer Gerald A. Sypitowski on July 31, 1976, as well as armed robbery of a pizza delivery man, Raymond Cassaban, just prior to Sypitowski's killing. The most direct eyewitness in the murder case, Sypitowski's partner Dennis Van Fleteren, identified another man entirely. Both cases involved testimony against Lewis from his three alleged younger accomplices, who were never tried but, unlike Lewis, had paid attorneys.
The trial transcript in the armed robbery case IS in the scraps that remain of his murder case file. In the robbery case, Cassaban testified that he never identified Lewis from police photo line-ups, but only after he saw him in court months later.
During both trials, Lewis testified that he was with a band called "Pure Pleasure" playing at the UAW Local 212 hall at its former Detroit location during the time of the robbery and subsequent murder. During cross-examination by Asst. Prosecutor Robert Morgan in the robbery trial, he named his "alibi witnesses," several of the band members. Morgan confirmed he had the names by supplying the first name of one Charles knew only by his last name.
But Lewis' court-appointed attorney Arthur Arduin never subpoenaed the alibi witnesses to testify in either case.
Instead, Arduin told juries outright in opening and closing arguments that his client was guilty but that his accomplices should have been charged as well. In the armed robbery case, Cassaban testified that he had never identified Lewis from police photo line-ups, but only after he saw him in court a year and a half later.
The Sixth Circuit Court of Appeals in 1988, ruling on Lewis' habeas corpus appeal, remanded Lewis' case to the trial court for several reasons including the failure to call alibi witnesses.
"Lewis is entitled, however, to further review of his claim that trial counsel failed to investigate potential alibi witnesses," the Sixth Circuit Court said. "If Lewis is correct when he alleges that his attorney unreasonably failed to investigate alibi evidence, then a constitutional violation may well have occurred. . . .The District Court failed to address this claim in the proceedings below. On remand, the District Court should permit Lewis to present this claim. He appears to have raised it in the state court proceedings although he has not had any ruling."
Those witnesses have not testified to date. VOD earlier interviewed Chuck Jackson, a leader of the "Pure Pleasure" band in question, who said the band did have a contract to play at Local 212 that night and that Lewis worked with the band. He said they would not have left until after 2 a.m. The robbery and murder took place prior to that time. He said he did not know Lewis had been in prison for 41 years because no one ever contacted him.
Reverend Aaron McCarthy. President of the Detroit Chapter of the Southern Christian Leadership Conference, remarked in a comment on that VOD article, "Injustice anywhere is injustice everywhere!"
He said he was a former President of Pure Pleasure.
"Nobody ever tried to contact me until the kid had done 40 years, that he should not have," McCarthy said. "Scared children lie to their parents so why would they not lie to the Police, and the Judge. Question them again. I bet they recant, and where are the records? STRANGE! STRANGE, STRANGE. LET THAT BOY OUT!"
Lewis added, "SADO has not filed a motion for additional funds to hire psychologists and psychiatrists. SADO to my knowledge has not asked for crime scene reconstructionists for anyone. The bulk majority of the juveniles that were convicted of first degree murder were convicted because they had bad attorneys to begin with . . . . Right now I'm represented by a lawyer appointed by the State and that is the difference between a 40 to 60 year sentence and mandatory life all over again."
MILLER V. ALABAMA: SPECIAL GUIDELINES FOR JUVENILE SENTENCING; STATE RULES INCLUDE 'EVIDENCE PRESENTED AT TRIAL'
In Miller v. Alabama, the USSC set special guidelines for sentencing juveniles, including psychiatric assessments. Even the Michigan state statutes guiding these hearings say "The court may consider evidence presented at trial together with any evidence presented at the sentencing hearing." 
VOD has twice reviewed what scraps exist of Lewis' murder case file, the last time on Sept. 1, after documents from his former attorneys Jennifer Neumann and Brandi Walkowiak of Foley & Lardner had been added. Those attorneys DID argue that Lewis' innocence needed to be considered, and questioned Arduin's defense tactics.
The file is being kept in Lilliard's courtroom, not in the official court records office. There is still no sign of the three cartons of original court file documents. Lewis has asked unsuccessfully for his attorneys to file a motion to dismiss his case, citing Michigan State Supreme Court precedent.
Wayne County Clerk's Office representative David Baxter and others have testified in front of Lilliard that those files were "lost" sometime in the last few years. A prison social worker found a copy of an April 3, 2000 order signed by then Wayne County Circuit Court Judge Gershwin Drain dismissing Lewis' charges, and gave it to him 10 years afterwards.
Lewis pursued the matter, only to receive a letter in which Judge Drain denied ever  signing such an order OR having anything to do with Lewis' case. That letter was not even signed by Drain, but rubber-stamped. However, Drain went on to accuse Lewis of forgery, and possibly accessing the court's computer system to alter the Register of Actions (ROA) on his case.
The current ROA version shows that Drain presided over a jury trial on April 3, 2000 in which Lewis was convicted (Lewis was convicted in 1977 by a jury under Judge Joseph Maher.) An earlier version says that Drain dismissed Lewis' conviction.
CORRUPTION IN THIRD CIRCUIT COURT CRIMINAL FILES
VOD, while investigating another prisoner's case, discovered that something is very wrong in the court records system.  That wrong is being perpetrated internally, not by any prisoner's scheme. Records publicly available on the court's website, as well on the computers kept for public use in the Clerk's Office on the 9th floor of the Frank Murphy Hall, show that a motion hearing was held Aug. 26 on the other case, and list the presence of the defendant and several attorneys.
The defendant was not in fact present according to information she relayed to her husband, and neither was her attorney of record, who spoke with VOD.
The staff in the Clerk's office ran the Register of Actions from their own computers and came up with an entirely different version that did not include the falsified list of people present.
Baxter advised VOD to go to the Court Administrator's office with both print-outs. Karen Smith, administrative assistant to Deputy Court Administrator Alisa Shannon said they would forward the conflicting print-outs to Richard Lynch, General Counsel for the Court.
VOD spoke with Lynch earlier to request to review the motions Worthy filed regarding the county's juvenile lifers, but he has been stalling on compiling that information, despite admitting that it is part of the public record. The motions are not available, as they should be, in the individual prisoners files, but are being secretly kept in Criminal Court Chief Judge Timothy Kenny's office.
VOD spoke to Lynch Sept. 2 about the gross falsehood perpetrated on the public in the other prisoner's case, but he is stalling on investigating that as well. New records VOD did find in Lewis' current file indicate that his full case file was forwarded to the General Counsel's office in 2012. VOD has left a message for Lynch asking if HE has the file.
Free Press reporter Brian Dickerson wrote an article Aug. 27 excoriating most county prosecutors for re-recommending life without parole for the majority of state juvenile lifers. In the article, he said Oakland County Prosecutor Jessica Cooper "allowed" him to review motions in those cases.
However, in a section subtitled "Worthy's responsible approach," Dickerson made excuses for Worthy.
"Wayne County Prosecutor Kym Worthy has taken a markedly different approach than most of her peers, recommending that only 61 of the juvenile lifers eligible for resentencing in her county — about 40% — should be resentenced to LWOP," Dickerson wrote. "She'll argue that 92 others should be able to apply for parole at some point, although she believes some lifers should serve at least 40 years.
He said Worthy told him in a phone interview, "I tried many of these cases myself. I remember the families. And it was very difficult to get around the horrendousness of some of these crimes. But we had to because this came from the Supreme Court."
Forty percent of Wayne County's cases is does not equate to the Supreme Court's ruling that only the "rarest" of children should be condemned to die in prison.
Attorney Clinton Hubbell, who represents Wayne County juvenile lifer Cortez Davis, said the current prosecutor in that case told him Davis is being recommended for a term of years. But, Hubbell said, Davis still does not know what judge he will go in front of, and that is the situation for other juvenile lifers as well.
Davis' sentencing judge, Vera Massey Jones, retired last year after refusing in 1994 to sentence him to life without parole as a juvenile, instead sentencing him to 10 to 14 years. The state Court of Appeals overturned that sentence, and Worthy later got it to overturn a 2012 effort by Judge Massey-Jones to re-sentence Davis again after the Miller decision.
In 1992, Judge Massey Jones declared in her ruling on Davis' case that juvenile life without parole violated the Eighth Amendment by being "cruel and unusual punishment," and was therefore unconstitutional.
In 2012, she asked Assistant Prosecutor Timothy Baughman, also involved in Lewis' appeals, "Mr. Davis has waited how many years? After I ruled that the thing was cruel and unusual, how many years has Mr. Davis been in prison waiting for the Supreme Court of the United States to come to a rational decision on this case?"
Baughman replied it was 18 years.
"I stayed here because I wanted to see justice done to my people," Judge Massey Jones said later. "I followed my father around Recorder's Court when I was a little kid . . . .I had a great deal of respect for him and for the other people who happened to be African-American lawyers, and really fought for people's rights. And so, to me, doing the right thing was more important than anything else. And doing the right thing back then was not to sentence Mr. Davis to natural life in prison."
Lewis and his fellow juvenile lifers are demanding now that Worthy , as well as SADO, "do the right thing" and allow them to see the light of day and be held in their family's arms before they die in prison.
Related articles:
http://www.freep.com/story/opinion/columnists/brian-dickerson/2016/08/27/michigan-juvenile-lifers-sentences/89363426/
GENOCIDE! STATE, S.A.D.O SUBJECT MICHIGAN JUVENILE LIFERS TO MORE 'CRUEL AND UNUSUAL PUNISHMENT'
http://voiceofdetroit.net/2016/08/02/michigan-files-for-jlwop-for-80-of-juvenile-lifers-fed-court-wants-all-parole-eligible/
 http://voiceofdetroit.net/2016/07/26/worthy-others-want-large-portion-of-juvenile-lifers-to-die-in-prison-despite-ussc-rulings/
http://voiceofdetroit.net/2016/06/02/stop-torturing-michigans-juvenile-lifers-with-state-delays-freedom-now/
http://america.aljazeera.com/articles/2015/3/9/un-expert-slams-us-as-only-nation-to-sentence-kids-to-life-without-parole.html
http://www.detroitnews.com/story/opinion/2016/06/02/prisoner-re-entry-detroit-comeback/85268614/
http://voiceofdetroit.net/2016/05/24/free-charles-lewis-innocent-juvenile-lifer-who-has-spent-41-years-in-state-prisons/
http://voiceofdetroit.net/2016/05/18/michigan-juvenile-lifers-score-6th-circuit-appeals-court-victory-in-hill-v-snyder/
http://voiceofdetroit.net/2016/04/30/why-is-juvenile-lifer-charles-lewis-still-in-prison-16-yrs-after-his-case-was-dismissed/
http://voiceofdetroit.net/2016/04/12/dying-in-prison-michigan-juvenile-lifers-get-new-hope-under-montgomery-still-face-obstacles/
http://voiceofdetroit.net/2014/03/06/mich-supreme-court-hears-3-key-cases-today-re-ussc-ruling-barring-mandatory-juvenile-life-without-parole/
http://voiceofdetroit.net/2013/02/12/u-s-judge-rules-all-michigan-juvenile-lifers-eligible-for-parole/
http://voiceofdetroit.net/2013/02/12/juvenile-lifer-reflects-on-hill-ruling-by-judge-omeara/
http://voiceofdetroit.net/2013/01/10/michigan-juvenile-lifers-justice-delayed-is-justice-denied-re-sentencing-in-key-detroit-case-cortez-davis-jan-25/
http://voiceofdetroit.net/2012/10/28/michigans-juvenile-lifers-want-state-to-comply-with-u-s-supreme-court-ruling/
http://voiceofdetroit.net/2012/10/28/michigans-juvenile-lifers/
http://voiceofdetroit.net/2012/08/16/michigan-challenges-u-s-supreme-court-ruling-on-juvenile-life-without-parole/
http://voiceofdetroit.net/2012/07/02/us-supreme-courts-juvenile-lifer-decision-brings-hope-to-thousands/
http://voiceofdetroit.net/2012/07/02/nations-high-court-ends-mandatory-life-without-parole-sentences-for-youth/
http://voiceofdetroit.net/2012/03/18/us-supreme-court-to-hear-key-juvenile-lifer-homicide-cases-march-20-2012/
http://voiceofdetroit.net/2012/03/04/juvenile-lifer-anthony-jones-wins-new-sentence-battle-for-justice-for-all-juvenile-and-parolable-lifers-still-needed/
http://voiceofdetroit.net/2011/11/12/us-supreme-court-agrees-to-hear-juvenile-lifer-cases-could-have-major-impact-in-michigan/
http://voiceofdetroit.net/2011/11/11/why-michigan-has-more-juvenile-life-sentences-than-almost-any-other-state/
http://voiceofdetroit.net/2011/09/06/battle-for-juvenile-lifers-picks-up-steam-in-michigan-california/
http://voiceofdetroit.net/2011/03/06/voice-of-juvenile-defendants/
http://voiceofdetroit.net/2010/11/24/aclu-lawsuit-challenges-life-without-parole-for-michigan-juveniles/
#FreeCharlesLewisCampaign, #FreeMichiganJuvenileLifersNOW, #SaveOurChildren,#EndMassIncarceration,#SchooltoPrisonPipeline,      #Beatbackthebullies,  #Blacklivesmatter, #BlacklivesmatterDetroit, #StandUpNow, #StopWaronourYouth, #Michissippigoddam