OCTOBER 9, 2016
Contact: Duncan Tarr, 313-409-8615, mailto:miprisonabolition@gmail.com
KINCHELOE, MI – More than two weeks after prisoners at Kinross Correctional Facility participated in a nationwide prison workers' strike, the prisoners' own accounts of what happened are beginning to emerge. Prisoners report that the facility was on lockdown from September 10 to the morning of September 22, preventing communication with their outside supporters.
Most prisoners, including kitchen staff, did not report for work on September 9 in conjunction with the nationwide work stoppage [in remembrance of the historic Attica rebellion in 1971.] The following morning, between 400 and 500 prisoners marched peacefully in the yard.
The deputy wardens came to the prisoners, who communicated their grievances, including low wages, the commutation process , restrictive visitation room seating in violation of MDOC policy, high phone rates, poor quality and quantity of food provided by private contractor Trinity Services Group, the way the yard is run, living conditions that squeeze eight men into a room intended for four, no re-entry programs, no bleach for clothes, MP3 players that break easily and cannot be fixed or replaced, not enough room in the law library, not enough room in the visiting room and so some visitors are turned away, and not being allowed to transfer to other facilities.
Prisoners also demanded no retaliation for their peaceful protest, and according to prisoners, the deputy wardens agreed to address the grievances or communicate them to the legislature if necessary. The prisoners thought they had come to a common agreement and began to disperse.
To their surprise, as soon as the deputy warden left, a tactical team stormed into the yard with guns, rifles, tear gas, and shields. The armed officers then started grabbing the men alleged to be instigators, handcuffed their arms behind their backs with zip ties, and threw the men to the ground in the yard. They were left for five to six hours in the rain, and were not permitted to use restrooms during that time, forcing some to soil themselves.
The violent assault of the armed officers triggered panic among the prisoners, who feared for their lives. Some reported being shot at directly with tear gas canisters. Others attempted to barricade their unit doors. Reportedly, fires were set in several units, at least one window was broken, and sinks and surveillance cameras were damaged after the officers began their assault. Media reports have focused on who was to blame for the damage to physical property, not the violence done to prisoners in violation of their human rights.
Evelyn Williams, a family member of a prisoner, said, "It's a very racist facility, where they intimidate and harass prisoners on a daily basis. The men just wanted the broken policies to be fixed. They're treated like animals, with no respect and no justice. They can't even afford to buy soap on their wages."
About 150 prisoners accused of being instigators were transferred to other facilities, where an unknown number were charged with inciting a riot and punished with isolation. Prisoners report that some punished had nothing to do with the protest. In violation of MDOC policy, guards destroyed the property of the accused prisoners and encouraged other prisoners to steal their personal food.
MEDIA AVAILABILITY: Prisoners, family members, former prisoners, and local organizers are available for interviews with local and national media.'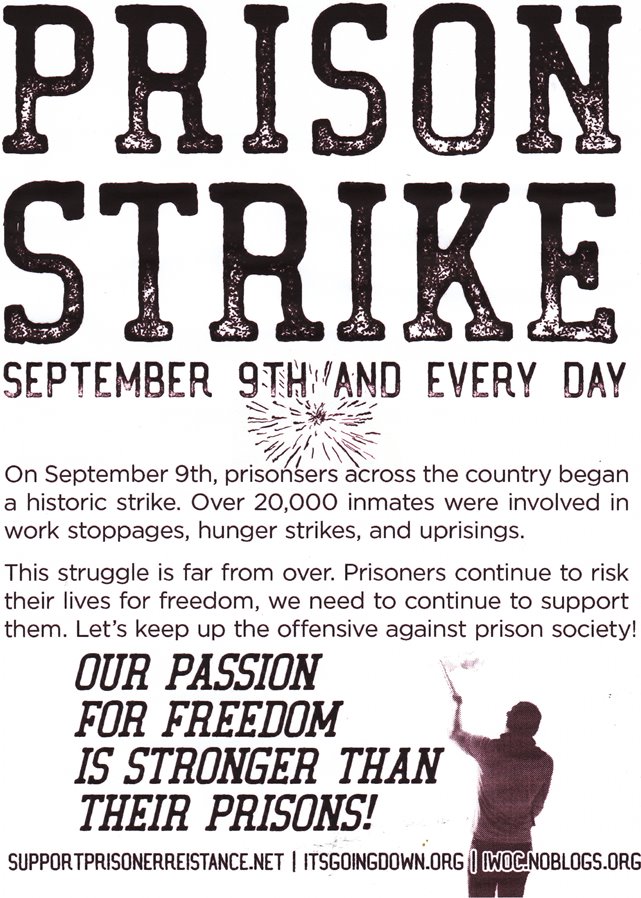 Related:
http://www.freep.com/story/news/local/michigan/2016/10/04/kinross-inmate-raid-pepper-spray-sparked-vandalism/91469310/
http://voiceofdetroit.net/2016/09/12/remember-attica-michigans-kinross-prisoners-join-nationwide-strikes-protests/
https://supportprisonerresistance.noblogs.org/post/2016/09/29/call-for-renewed-actions-in-solidarity-with-the-prison-strike-october-15-22/
Some of more recent VOD stories related to prisoners' struggles:
http://voiceofdetroit.net/2013/04/23/u-s-military-says-84-prisoners-on-hunger-strike-at-guantanamo-abuses-at-obama-death-camp-reported-by-other-sources/
http://voiceofdetroit.net/2012/07/17/tortured-georgia-prisoners-face-death-in-33-day-hunger-strike/
http://voiceofdetroit.net/2012/05/29/mass-appeal-for-intervention-from-prisoners-in-mich-reformatory-at-ionia/
http://voiceofdetroit.net/2012/02/29/time-for-voting-rights-for-michigan-prisoners/
http://voiceofdetroit.net/2011/10/23/california-prisoners-on-mass-hunger-strike-hospitalized-suffering-organ-damge/
http://voiceofdetroit.net/2011/10/11/12000-california-prisoners-resume-hunger-strike/
http://voiceofdetroit.net/2011/09/26/mdoc-prisoners-mobilize-to-fight-costly-phone-contract/
http://voiceofdetroit.net/2011/07/16/pelican-bay-prisoners%e2%80%99-hunger-strike-goes-state-wide-hundreds-of-prisoners-suffering-some-in-danger-of-death/
http://voiceofdetroit.net/2011/06/23/families-demand-worthy-must-go-free-prisoners-convicted-on-falsified-crime-lab-evidence/
http://voiceofdetroit.net/2011/06/01/civil-rights-organizations-file-motion-to-defend-law-counting-prisoners-in-their-home-districts/
http://voiceofdetroit.net/2011/01/04/lucasville-ohio-prisoners-begin-hunger-strike-against-torture-conditions-in-new-year/