Lewis filed motion to dismiss his case due to loss of court files, based on USSC decision in Chessman v. Teets re: case of altered transcripts
"You have nothing to hold him on and you can't substantiate what you say"—Rosie Lewis, mother; Lewis has always maintained innocence
"We want all these brothers that have been locked up for 30 to 40 years for crimes they may have committed as children to come home"–DocX
"We will move to have him serve 40-60 years."–SADO 'defense' attorney Valerie Newman, contradicting Lewis' position
Judge Qiana Lillard postpones decision, sets next hearing for Oct. 28
By Diane Bukowski
Oct0ber 12, 2016
DETROIT – "My son's conviction must be dismissed," Rosie Lewis said regarding juvenile lifer Charles Lewis. "I would hope they would do what is legitimate, right, and let him go. You have nothing to hold him on and you can't substantiate what you say you have, and you can't allow him to speak. And you have no charge, and I would be filing for a wrongful imprisonment."
Jelekeco DocX Whitaker and other supporters gathered outside prior to a hearing on Lewis' case, which was supposed to have been a hearing to determine finally whether the files cannot be retrieved.
"We are looking to have justice done," Whitaker said. "He has been locked up for 41 years. He is a role model in the prison, working with the youth. He's teaching young brothers music in there. We want all these brothers that have been in there for 30-40 years for crimes committed when they were children to come home. They are clearly biased against them because most of them are African-American."
Ninety-eight percent of Wayne County's 147 juvenile lifers are Black.
Wendy Lewis said her brother was a talented musician during his youth, playing every instrument. She said he was out with a band playing at a UAW Local 212 cabaret during the time he was charged with killing an off-duty police officer in 1976.
"I had to go afterwards and pick up his guitar, amplifier, cords all the equipment had in his entourage," Mrs. Lewis said.
Wendy Lewis added, "He was almost like Prince, he played every instrument. He had them down in our basement. I just watched him play and I miss watching him play, I miss my brother. He's not only a leader for our family, he's a leader for the community. He took that into consideration, what this sentence means for almost 400 other people."
Lewis told VOD earlier, "I think that my case is the test case for how missing transcripts and files will be dealt with in the future. I also think that if I can successfully challenge the juvenile statute that it will help other similarly-situated juveniles in the future. Right now I'm 57 years old and the best years of my life are behind me. So, I fight to make things better for those coming behind me. Hopefully, if I play my part they won't have to go through what I've gone through."
Lewis was finally present in court after appearing only on videotape multiple times. He has filed a motion with Judge Lillard requesting that his case be dismissed, citing U.S. Supreme Court precedent in Chessman v. Teets (1957), which held that tainted case files are grounds for reversal of convictions.
In a series of hearings before Judge Lillard this spring, court officials have testified that they cannot find three cartons of records including Lewis' arrest, charges, trials, conviction, and post-conviction proceedings on a 1976 first-degree murder charge Lewis has always maintained is false. Yet they are maintaining a falsified Register of Actions which states he was convicted on April 3, 2000 in front of Judge Gershwin Drain and lists other undocumented actions since then.
Judge Lillard's courtroom was packed with Lewis' family and friends, as well as TV news cameras and reporters from much of the mainstream media.
Over 363 juvenile lifers across the state are being re-sentenced after tw0 U.S. Supreme Court rulings, Miller v. Alabama (2012) and Montgomery v. Louisiana (2016) that juvenile life without parole is unconstitutional on a retroactive basis, "cruel and unusual punishment" under the Eighth Amendment.
However, Michigan is conducting the hearings under draconic state statutes passed in 2014 that have sabotaged the high court's intent.
Mainstream media has been hungry for information on these hearings. Wayne Co. Prosecutor Kym Worthy filed motions on the county's 147 juvenile lifers June 22, asking that 63 of them, including Lewis, be re-sentenced to JLWOP. The motions are being kept from the public record. They are not filed in individual case files. Neither VOD nor Michigan Radio have been able to get access to them, despite a Freedom of Information Act request by VOD. No notice is sent to the public when a hearing is scheduled.
During the Oct. 11 hearing, Lewis at one point turned and asked Assistant Prosecutor Jason Williams how he plans to proceed with re-sentencing despite the lack of files on his case.
Lillard cut Williams off before he could respond. She then asked "defense attorney" Valerie Newman to file her own brief. Newman has not actually even filed an appearance in Lewis' case.
Lillard did not ask for a prosecutor's brief in response to Lewis' motion.
Despite broad state judicial opposition to Michigan's juvenile lifer resentencing process, particularly its statutory maximum of 60 years, and ban on use of prisoners' earned "good time," Newman said she would file a brief calling for Lewis to be re-sentenced to 40-6o years whether or not the files are found.
Former Wayne County Prosecutor and Judge John O'Hair has called for the federal government to intervene in what he, the Michigan Retired Judges' Association, and numerous other organizations term a process deliberately designed to circumvent the USSC decisions on juvenile life without parole.
"With the average life expectancy of a juvenile serving life without parole at 50.6 years, 40 and 60-yr. sentences are virtual life sentences," Hon. O'Hair wrote in a broadly published column. (See link below.)
Lillard said she would hear both Lewis' and Newman's contradictory motions Fri. Oct. 28 at 1:30 p.m., and rule on them. She did not say she would allow Lewis to argue his own motion.
As Judge Lillard did Sept. 6, she held a secret 15-minute conference with Newman and Williams prior to Lewis' entrance into the courtroom, and once again made no official record with the court stenographer summarizing its substance.
Lewis told VOD in a call from the Wayne County Jail that another prisoner there with him, Robert Trombley, 70, has been incarcerated for 53 years since 1963. He said Trombley told him he was just sentenced to 40-60 years, meaning he is at the mercy of the parole board for seven more years.
SADO has featured six other juvenile lifers on its website, boasting that they got them re-sentenced to the same term. The Michigan Legislature has provided millions in funding for SADO to handle the juvenile lifer re-sentencings. SADO then said they would not challenge the state re-sentencing statutes.
But after the Miller ruling in 2012, Attorney Deborah LaBelle and the Michigan American Civil Liberties Union recruited pro bono attorneys for all of the state's juvenile lifers. In a class action lawsuit brought by LaBelle and the ACLU, Hill v. Snyder, U.S. District Court Judge John Corbett O'Meara ruled in 2013 that all Michigan juvenile lifers are subject to parole consideration after 10 years.
His ruling was upheld by the Sixth Circuit Court of Appeals and remanded for further adjustment. LaBelle told VOD the next hearing in his court in Ann Arbor will take place Nov. 3.
Lewis said that SADO has filed no motions for the juvenile lifers housed with him at Lakeland Correctional Facility to hire neuropsychiatrists, psychologists, crime scene re-constructionists, and other specialists that would be needed to conduct legitimate Miller re-sentencings. It appears to be the case that SADO is taking state tax dollars to get prisoners to take plea deals. Those deals involve giving up any right to appeal, an admission of guilt even though the juvenile lifer may have a claim of innocence, and giving up all right to the use of "good time" credits.
Lewis' previous attorneys, employed by Foley & Lardner, had actually begun interviewing his alibi witnesses from the band, who had never testified at his trials. LaBelle had retained Foley & Lardner for Lewis on a pro bono basis. But a new Foley & Lardner attorney, Felicia O'Connor, announced their withdrawal from the case later on. Assistant Prosecutor Jason Williams told the court at the time that Chief Criminal Judge Timothy Kenny was appointing attorneys from SADO to handle juvenile lifer cases in Wayne County.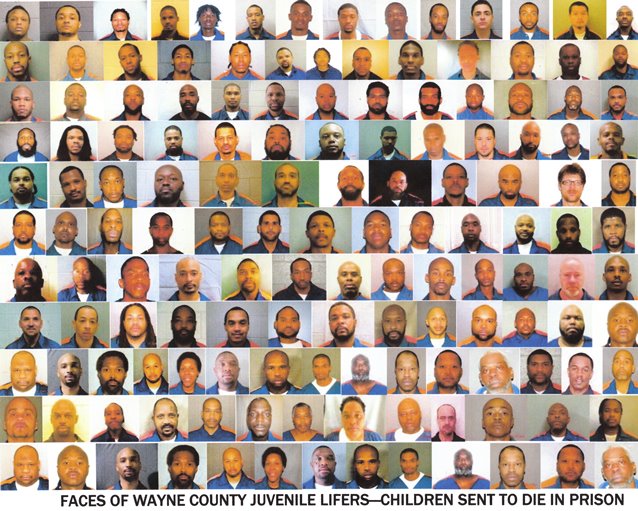 Related documents:
Complete list of Wayne County Juvenile Lifers: http://voiceofdetroit.net/wp-content/uploads/Wayne-County-Juvenile-Lifers-1.pdf
Charles Lewis' motion for dismissal: http://voiceofdetroit.net/wp-content/uploads/CLmotion-2.pdf
Chessman v. Teets, USSC 1957: http://voiceofdetroit.net/wp-content/uploads/USSC-Chessman-v-Teets-1957-1.pdf
Hon. John O'Hair's article: http://voiceofdetroit.net/wp-content/uploads/Federal-courts-must-step-in-for-juvenile-lifers-1.pdf
Former Gov. William Milliken: http://voiceofdetroit.net/wp-content/uploads/Former-Gov-Milliken-urges-Lansing-to-ban-juvenile-lifer-laws-1.pdf
SADO's list of re-sentenced juvenile lifers:http://voiceofdetroit.net/wp-content/uploads/SADO-statement-on-re-sentenced-juvenile-lifers-1.pdf
Related stories from mainstream media:
http://www.clickondetroit.com/news/lifetime-conviction-in-question-for-man-convicted-of-killing-officer-in-1977
http://www.detroitnews.com/story/news/local/wayne-county/2016/10/11/juvenile-lifer/91901780/
http://michiganradio.org/post/detroit-juvenile-lifer-re-sentencing-delayed-again-missing-files#stream/0
http://www.mlive.com/news/detroit/index.ssf/2016/10/convicted_cop_killer_produce_m.html
Recent stories from Voice of Detroit:
http://voiceofdetroit.net/2016/10/07/stop-new-death-penalty-for-mich-juvenile-lifers-rally-tues-oct-11-for-charles-lewis-others/
http://voiceofdetroit.net/2016/09/10/new-hope-for-michigan-juvenile-lifer-charles-lewis-as-others-await-long-delayed-justice/
http://voiceofdetroit.net/2016/09/04/free-charles-lewis-wayne-co-juvenile-lifers-dying-in-prison-rally-at-hearing-tues-sept-6/
http://voiceofdetroit.net/2016/08/18/genocide-state-s-a-d-o-subject-michigan-juvenile-lifers-to-more-cruel-and-unusual-punishment/
http://voiceofdetroit.net/2016/08/02/michigan-files-for-jlwop-for-80-of-juvenile-lifers-fed-court-wants-all-parole-eligible/
http://voiceofdetroit.net/2016/07/26/worthy-others-want-large-portion-of-juvenile-lifers-to-die-in-prison-despite-ussc-rulings/
http://voiceofdetroit.net/2016/06/02/stop-torturing-michigans-juvenile-lifers-with-state-delays-freedom-now/
http://voiceofdetroit.net/2016/05/24/free-charles-lewis-innocent-juvenile-lifer-who-has-spent-41-years-in-state-prisons/
http://voiceofdetroit.net/2016/05/18/michigan-juvenile-lifers-score-6th-circuit-appeals-court-victory-in-hill-v-snyder/
http://voiceofdetroit.net/2016/04/30/why-is-juvenile-lifer-charles-lewis-still-in-prison-16-yrs-after-his-case-was-dismissed/
http://voiceofdetroit.net/2016/04/12/dying-in-prison-michigan-juvenile-lifers-get-new-hope-under-montgomery-still-face-obstacles/
http://voiceofdetroit.net/2013/02/12/u-s-judge-rules-all-michigan-juvenile-lifers-eligible-for-parole/
http://voiceofdetroit.net/2012/10/28/michigans-juvenile-lifers-want-state-to-comply-with-u-s-supreme-court-ruling/
http://voiceofdetroit.net/2012/08/16/michigan-challenges-u-s-supreme-court-ruling-on-juvenile-life-without-parole/
http://voiceofdetroit.net/2012/07/02/us-supreme-courts-juvenile-lifer-decision-brings-hope-to-thousands/
http://voiceofdetroit.net/2012/07/02/nations-high-court-ends-mandatory-life-without-parole-sentences-for-youth/
#FreeCharlesLewisNOW, #FreeMichiganJuvenileLifers, #SaveOurYouth, #FreeMichiganParolableLifers, #StopCourtCorruption, #PrisonNation, #PoliceState, #Beatbackthebullies, #Breakdownthewalls, #BlackLivesMatter