DETROIT PROTEST VS. TRUMP BOMBING OF SYRIA HELD ON TIGERS' OPENING DAY APRIL 7; LARGE DOWNTOWN AUDIENCE REACHED
VOD INTERVIEW WITH SYRIAN-AMERICAN YOUTH ORGANIZER JOE MSHAHWAR OF WORKERS WORLD PARTY AT PROTEST
ABIYOMI AZIKWE RE: HISTORY OF ATTACK ON SYRIA, U.S. LIES
VOD Videos: Detroit Rally vs. U.S. attack on Syria April 7
(Excerpt) By Kris Hamel, Workers World Newspaper
April 10, 2017
Anti-imperialist forces from Detroit and the surrounding area joined an emergency demonstration called by Workers World Party immediately following the U.S. missile attack. Militant youth from WWP and Students for a Democratic Society at Wayne State University organized and led the rally, which was strategically held downtown at Campus Martius Park during rush hour.
Protesters raised slogans such as "Feed the hungry, not the Pentagon!" and "The only road to peace is U.S. out of the Middle East!" drawing a direct link between the struggle at home and the struggle of Syrians against U.S. imperialist aggression.
Syrian-American (U.S.) youth organizer Joe Mshahwar of WWP told Workers World, "Students and young workers in the U.S. have nothing to gain supporting U.S. imperialism's attempts at regime change in Syria. A militant and uncompromising anti-war movement must be ready to challenge further U.S. aggression in the region."
Putin says trust erodes under Trump, Moscow icily receives Tillerson
Bumps up support for Syria, Pres. Bashar Al-Assad
By Yeganeh Torbati and Vladimir Soldatkin
April 12, 2017
MOSCOW (Reuters) – (excerpt) Vladimir Putin said on Wednesday trust had eroded between the United States and Russia under President Donald Trump, as Moscow delivered an unusually hostile reception to Secretary of State Rex Tillerson in a face-off over Syria.
Any hope in Russia that the Trump administration would herald less confrontational relations has been dashed in the past week after the new U.S. leader fired missiles at Syria to punish Moscow's ally for its suspected use of poison gas.
Tillerson started a meeting with Putin in the Kremlin after talking to his Russian opposite number Sergei Lavrov for around three hours. The Kremlin had previously declined to confirm Putin would meet Tillerson, reflecting tensions over the U.S. strike on Syria.
Just as Tillerson sat down for talks with Lavrov earlier on Wednesday, a senior Russian official assailed the "primitiveness and loutishness" of U.S. rhetoric, part of a volley of statements that appeared timed to maximize the awkwardness during the first visit by a member of Trump's cabinet.
"One could say that the level of trust on a working level, especially on the military level, has not improved but has rather deteriorated," Putin said in an interview broadcast on Russian television.
In his interview, Putin doubled down on Russia's support for Syrian President Bashar al-Assad, repeating denials that Assad's government was to blame for the gas attack last week and adding a new theory that the attack may have been faked by Assad's enemies.
Tillerson's official itinerary in Moscow started with the meeting with Lavrov, in an ornate hall in a foreign ministry-owned residence. In opening remarks in front of reporters, Lavrov greeted Tillerson with unusually icy remarks, denouncing the missile strike on Syria as illegal and accusing Washington of behaving unpredictably.
"I won't hide the fact that we have a lot of questions, taking into account the extremely ambiguous and sometimes contradictory ideas which have been expressed in Washington across the whole spectrum of bilateral and multilateral affairs," Lavrov said.
"And of course, that's not to mention that apart from the statements, we observed very recently the extremely worrying actions, when an illegal attack against Syria was undertaken."
Lavrov also noted that many key State Department posts remain vacant since the new administration took office — a point of sensitivity in Washington.
One of Lavrov's deputies was even more undiplomatic.
"In general, primitiveness and loutishness are very characteristic of the current rhetoric coming out of Washington. We'll hope that this doesn't become the substance of American policy," Deputy Foreign Minister Sergei Ryabkov told Russia's state-owned RIA news agency.
"As a whole, the administration's stance with regards to Syria remains a mystery. Inconsistency is what comes to mind first of all."
Tillerson kept to more calibrated remarks, saying his aim was "to further clarify areas of sharp difference so that we can better understand why these differences exist and what the prospects for narrowing those differences may be."
"I look forward to a very open, candid, frank exchange so that we can better define the U.S.-Russian relationship from this point forward," he told Lavrov.
After journalists were ushered out of the room, Lavrov's spokeswoman, Maria Zakharova, wrote on her Facebook page that U.S. journalists traveling with Tillerson had behaved as if they were in a "bazaar" by shouting questions to Lavrov.
Moscow's hostility to Trump administration figures is a sharp change from last year, when Putin hailed Trump as a strong figure and Russian state television was consistently full of effusive praise for him.
COVER-UP
The White House has accused Moscow of trying to cover up Assad's use of chemical weapons after the attack on a town killed 87 people last week.
Trump responded to the gas attack by firing 59 cruise missiles at a Syrian air base on Friday. Washington warned Moscow, and Russian troops at the base were not hit.
Moscow has stood by Assad, saying the poison gas belonged to rebels, an explanation Washington dismisses as beyond credible. Putin said that either gas belonging to the rebels was released when it was hit by a Syrian strike on a rebel arms dump, or the rebels faked the incident to discredit Assad.
Trump came to the presidency promising to seek closer ties with Russia and greater cooperation fighting against their common enemy in Syria, Islamic State. Tillerson is a former oil executive who was awarded Russia's Order of Friendship by Putin.
Last week's poison gas attack and the U.S. retaliation upended what many in Moscow hoped would be a transformation in relations between the two countries, which reached a post-Cold War low under Trump's predecessor Barack Obama.
The United States and its European allies imposed financial sanctions on Russia in 2014 after Putin seized territory from neighboring Ukraine.
Washington is leading a campaign of air strikes in Syria against Islamic State fighters and has backed rebels fighting against Assad during a six-year civil war, but until last week the United States had avoided directly targeting the Syrian government.
Russia, meanwhile, intervened in the civil war on Assad's side in 2015 and has troops on the ground, which it says are advising government forces. Both Washington and Moscow say their main enemy is Islamic State, although they back opposing sides in the wider civil war which has killed more than 400,000 people and spawned the world's worst refugee crisis.
In cities around U.S., attack on Syria protested
Workers World
April 10, 2017
In cities large and small throughout the United States, the response was swift and strong in condemnation of the U.S. imperialist, cruise missile attacks on Syria in the late evening hours (Eastern Daylight Time) of Thursday, April 6.
Many activists, a good many of whom are socialists and revolutionaries, withstood the corporate-media-spewed Big Lie that Syria allegedly utilized chemical weapons against its own people.
Although most Democrats, liberals and a good chunk of social democrats quickly sided with imperialism and the Pentagon, others took to the streets to protest this blatant intervention and warn others about the dangers of a widening war on the part of U.S. imperialism and its junior "allies."
The protests linked the imperialist wars abroad with the war against the workers and oppressed here in the U.S., noting there is plenty of money for cruise missiles and weapons of mass destruction while basic social services and public education are slated for demolition by the Trump regime.
Following are reports from activists in several cities where demonstrations took place.
In Philadelphia, Black and Brown youth, workers, Vietnam war veterans and anti-imperialist activists carried out a militant march and rally in support of Syria, refusing to be intimidated by the police, who outnumbered the 100 or so protesters.
The messaging and chants connected various struggles and also condemned U.S. attacks against Yemen, Venezuela and the Democratic People's Republic of Korea. Chants included "No bombs, no registry! Fuck white supremacy!" and "From Syria to Palestine, occupation is a crime!"
The march ended at the statue of vile racist Frank Rizzo, the city's former police commissioner, 1968 to 1971, and then mayor from 1972 to 1980. The marchers connected Imperialist occupation and attacks abroad to racist police occupation of oppressed communities at home.
In New York City, after gathering at Union Square, hundreds took to the streets — including large numbers of youth — where protesters were attacked by members of the New York Police Department, who arrested at least 11 people. Among those arrested was Steve Millies of Workers World Party.
Some of the arrestees were brutalized by police, including Nerdeen Kiswani, a NYC Students for Justice in Palestine organizer and a leader in the march. Her head was slammed into the concrete as cops viciously tore her hijab from her head, choking her in the process. (samidoun.net, April 8)
Bayan USA and the International League of Peoples Struggle activists also played a strong role in the NYC march and rally.
In Portland, Ore., an emergency hands-off Syria protest got thumbs up and supportive vehicle honks from workers during Friday's afternoon rush hour. The protest, which was covered by KOIN television, later joined other anti-war demonstrators in the downtown area.
Demonstrators in Seattle marched from Capital Hill to downtown, condemning the racist U.S. war against Syria. The Friday action was energetic despite the driving rain because of the many youthful demonstrators. The protest, called by the Answer Coalition, included participation by Veterans for Peace, the Democratic Socialists of America and World Can't Wait.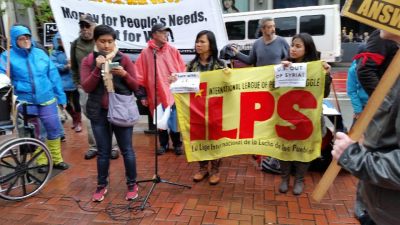 Protesters also gathered in San Francisco in the late afternoon. The rally, organized by the Answer Coalition, included speakers from a broad range of organizations, including the International League of Peoples' Struggle and Workers World Party.
Protests continue on weekend
On April 8 in Madison, Wis., a diverse group of labor and community representatives came out to protest at Library Mall. Zach Gevelinger, of Wisconsin Bail Out the People Movement, said, "We will remain in the streets until U.S. capitalism and imperialism are defeated." (wibailoutpeople.org).
Protesters turned out in Buffalo, N.Y., on Sunday, April 9, to demand "Stop U.S. war on Syria!" and "U.S. out of the Middle East!" and to explain these demands to the many passersby who stopped to ask. The rally was called by the International Action Center and the Buffalo branch of Workers World Party and endorsed by the National Lawyers Guild Buffalo Chapter & Friends and the Sister District for Western New York, and supported and joined by many other groups.
In Durham, N.C., anti-war protesters gathered at CCB "People's" Plaza on Sunday for a rally initiated by the Durham branch of Workers World Party. People attending included members of Muslims for Social Justice; Electrical Workers Local 150, the North Carolina Public Service Workers Union; and the Triangle People's Assembly.
Protesters held a rally at 3rd and Wisconsin streets and then marched to the Federal Building in Milwaukee to demand no U.S. war in Syria and money for human needs not war. Youth, students and members from many labor and community groups participated in the protest, which was sponsored by the Iraq Veterans Against the War-Milwaukee, the Milwaukee Antiwar Committee and the Milwaukee Coalition Against Trump. The Wisconsin Bail Out The People Movement and other organizations supported the action.
According to reports in fightbacknews.org, demonstrations also took place in Minneapolis; Houston; Salt Lake City; Tucson, Ariz.; and Tampa and Fort Lauderdale, Fla. Protesters in Jacksonville, Fla., were viciously attacked by a small group of Trump supporters and police on April 7. Several were arrested and one protester was beaten so severely he required hospitalization.
Terri Kay, Ava Lipatti, Jim McMahan, Tom Michalak, Lyn Neeley, Tom Scahill and WW staff contributed to this report.
Photos: Brenda Ryan and Joe Catron in New York City; Tom Blake in Buffalo, New York; Joseph Piette in Philadelphia; Terri Kay in San Francisco; Hannah Fahoome in Detroit; MAWO in Vancouver; Milwaukee Antiwar Committee.
Below: earlier VOD article announcing April 7 Detroit rally
Rally vs. Trump's Illegal Attack on Syria; Fri. April 7 Campus Martius Park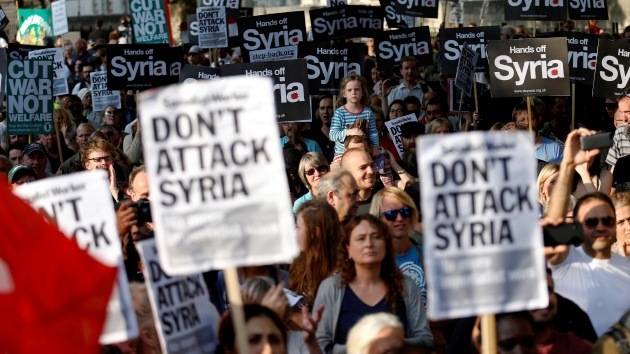 Protest in London against attacks on Syrian people by U.S. and its alliesFOR IMMEDIATE RELEASE: Contact: 680-5508
Protesters will hit the streets Friday with an immediate rejection of the Trump Administration's war escalation and the ongoing U.S.-backed war against the Syrian people.
In Detroit, protesters will converge on Campus Martius Park in downtown Detroit for a 5:00 pm rally and march, with cities including New York, Washington, DC, Baltimore, Philadelphia and others.
Protesters will reject this latest attack on a poor country coming on the heels of hundreds of civilian deaths at the hands of US airstrikes in Mosul, Yemen and Syria itself. The hypocrisy of Washington — whose military possesses the world's largest stockpile of chemical, nuclear, biological and conventional weapons — launching more more airstrikes to stop the use of chemical weapons is staggering, and shows the true intent: regime change.
U.S. wars are always built on lies and claims that they are fought for humanitarian reasons. Whether it was the Gulf of Tonkin resolution in 1966 which launched the U.S. into the quagmire of Viet Nam; the 1990 incubator baby lie which launched a 42-day aerial assault of Iraq, killing tens of thousands; or 2003's infamous weapons of mass destruction — the end result is always death and destruction, waged for Wall Street profits.
The Syrian Arab Army was winning the war against ISIS and the U.S.-backed "rebels" and had no strategic, political or military reason to stage a deadly chemical attack. The August 2013 chemical attack in Syria's Ghouta — referred to now as if it was another example of the Syrian government's brutality — was shown not to have come from the Assad government, according to UN investigators as well as establishment journalists like Seymour Hersh.
The Democrats led by Hillary Clinton, Schumer and Pelosi have all lined up in support of this aggression against Syria. It is clear that only the people, whom Trump has outraged with his anti-immigrant racism, anti-Muslim bigotry and base misogyny, are capable of opposing this war.
The people will be in the streets — to reject Washington's latest war and demand that the trillions spent for war abroad be used instead for people's needs like jobs, housing, healthcare, reproductive rights and daycare.
U.S. OUT OF THE MIDDLE EAST!
---
US missile strike in Syria: What we know so far about target, victims & reactions
Published time: 7 Apr, 2017 12:44Edited time: 7 Apr, 2017 15:28
https://www.rt.com/news/383895-us-airstrike-syria-reactions/
The US launched a missile strike on a Syrian airbase, killing at least six people, including civilians, and wounding several others. Reactions to the operation continue to roll in, with Russia condemning it while EU countries and others express support.
US President Donald Trump ordered the military strike on an airfield in Shayrat, near Homs, which resulted in a Friday pre-dawn attack in which 59 Tomahawk missiles were deployed.
Washington claimed the strike was a response to an earlier alleged chemical attack in Syria's Idlib, for which the US blamed the Syrian government.
Six MiG-23 fighter jets were destroyed in the operation, along with a material storage depot, a training facility, a canteen and a radar station, according to Russia's Ministry of Defense (MoD).
However, the airfield's runway remained intact, according to the MoD, which described the operation's efficiency as "quite poor."
Syrian officials have so far confirmed that six people were killed and several others wounded in the operation.
However, the governor of Homs told RT that at least five people had been killed, three of whom were Syrian soldiers. He also stated that at least seven people had been wounded.
Meanwhile, Syria's SANA news agency has reported nine civilian deaths, including four children.
Global reaction
The office of Syrian President Bashar Assad called the US strike "reckless, irresponsible, and short-sighted," claiming the motives for the attack weren't based on true facts.
The Syrian Army called the strike "blatant aggression," stating that it makes the US a partner of Islamic State (IS, formerly ISIS/ISIL) and other terrorist organizations.
Homs Governor Talal Barazi told Syrian state television that Syria's leadership and policy will not change as a result of the missile attack, pledging that the targeted airfield will be rebuilt and continue to play a role in fighting terrorists.
Russia also condemned the strike, saying it is suspending an agreement with the US to prevent incidents and ensure flight safety during military operations in Syria. Under the agreement, the two sides had exchanged information about planned flights in the area.
Russian Foreign Minister Sergey Lavrov said that strike reminds him of the 2003 invasion of Iraq, which was launched without approval from the UN Security Council. He went on to state that Washington has not presented any evidence to back its allegation that Damascus was behind the chemical attack.
Iran, a key ally of Assad, called the strikes "dangerous" and "destructive," saying they violate international law.
Meanwhile, European countries have expressed support for the assault, including France, Germany, the UK and Italy.
French President Francois Hollande said Assad bears full responsibility for the strike, and said Russia should take it as a "warning" to push for a political solution to the Syrian conflict.
President of the European Council Donald Tusk says the strike is a needed action against "barbaric" chemical attacks, adding that the EU will work with the US to end the Syrian conflict.
Meanwhile, Turkey has also voiced support for the operation, with Ankara accusing Damascus of "humanitarian crimes."
Turkish President Recep Tayyip Erdogan called the operation "positive" and a "concrete step taken against the war crimes of the Assad regime," but said it isn't enough on its own. He added that "serious steps" are needed for the protection of innocent Syrians, Reuters reported.
The prime minister of Israel, a staunch ally of the US, said Trump has sent a message that chemical weapons will not be tolerated. Benjamin Netanyahu went on to say that he hopes the message will extend not only to Damascus, but to other countries, including Iran and North Korea.
Saudi Arabia called the strike a "courageous decision" by Trump, expressing its full support, SPA news agency reported, citing a statement from Riyadh. The United Arab Emirates and Bahrain also expressed support for the strike.
Japan has also voiced support for the operation.
China, which has historically sided with Russia at the UN in opposing condemnation of Assad's government, said it had "noted" the latest developments, but did not mention the missile attack specifically. It went on to state that the most urgent task was to prevent the situation from deteriorating.
Further steps
Following the strike, Moscow called for an emergency meeting of the UN Security Council.
Russian President Vladimir Putin said he regards the strike as an "aggression against a sovereign nation," according to his spokesman Dmitry Peskov. He also said Putin believes the strike was carried out
"in violation of international law" and "under an invented pretext."
Moscow also vowed to take "a number of measures" to strengthen and improve Syria's air defense system in order to protect "vital parts of Syrian infrastructure," according to Russian Defense Ministry spokesman Major-General Igor Konashenkov.
The missile strike, which Trump said was in America's national interest in order to prevent the use of chemical weapons, came after a chemical attack took place in Idlib, Syria, earlier this week. The US operation took place before any investigations were concluded.
Up to 86 people, including 26 children, are alleged to have been killed in the chemical attack, with images showing civilians choking and fainting, and some foaming at the mouths.
Washington has accused the Syrian government of being behind the "barbaric" attack.
However, Russia's Ministry of Defense has confirmed that the chemical release was the result of the Syrian Army destroying a rebel warehouse where chemical weapons were being produced and stockpiled before being shipped to Iraq. The ministry called the information "fully objective and verified."
The Syrian Army also completely denied deploying chemical or toxic material, stating that it "has not used nor will use" such materials "in any place or time, neither in the past or in the future."
Related stories:
http://voiceofdetroit.net/2016/09/18/us-accused-of-colluding-with-is-over-strike-on-syria-troops-sky-news/
http://voiceofdetroit.net/2015/12/09/russia-launches-missiles-against-isis-in-syria-from-submarine-says-u-s-attacked-syrian-govt-troops/
http://voiceofdetroit.net/2015/09/30/russia-confirms-start-of-anti-isis-airstrikes-in-syria/
http://voiceofdetroit.net/2015/02/09/the-covert-origins-of-isis-united-states-cia-in-libya-syria-iraq-afghanistan/
http://voiceofdetroit.net/2014/09/25/the-real-reason-we-are-bombing-syria/
http://voiceofdetroit.net/2014/09/23/eight-civilians-including-three-kids-killed-in-us-led-strikes-on-syria-monitor/
http://voiceofdetroit.net/2013/08/31/stop-u-s-war-on-syria/
http://voiceofdetroit.net/2012/06/02/western-media-lied-opposition-rebels-carried-out-houla-massacre-in-syria/
http://voiceofdetroit.net/2012/03/18/u-s-troops-headed-to-syria-deployed-all-over-africa/