"KOURTS, KOPS, KROOKS"-Henry Dudzinski, Coalition vs. Police Brutality
By Thelonious Searcy
August 31, 2017
(VOD ed. note: Mr. Searcy has been held in the Michigan Department of Corrections, serving a life without parole sentence, since 2005. Noted Detroit hitman Vincent Smothers has confessed in an affidavit and a taped interview with private investigator Scott Lewis to the murder for which Searcy was framed, giving details very consistent with the crime scene evidence. Third Judicial Criminal Court Presiding Judge Timothy Kenny has yet to grant Searcy's July, 22, 2016 request for a new trial, based on Smothers' 2015 confession and a claim of actual innocence. The office of Prosecutor Kym Worthy has essentially not opposed the request.)
Kincheloe, MI – To the readers on this controversial topic, the views expressed in this article are based on my personal experience with the judicial system in Detroit. Many people may or may not relate to my experience . . . .
My name is Thelonious Shawn Searcy. Within 12 years of this prison sentence, I have met over 100 criminal defendants who have been railroaded into the penal system, under the guidance of an incompetent defense lawyer, a corrupt homicide investigator, and/or a rogue prosecutor.
As a criminal defendant, I suffered from the incompetence of my criminal defense attorney during my trial at the Frank Murphy Hall of Justice in Detroit. I was 25 years old. I didn't have any comprehensive knowledge about the law which governs the criminal judicial system.
Many judges would say: "THERE'S NO EXCUSE FOR IGNORANCE OF THE LAW." At the height of my ignorance, I witnessed a crooked homicide detective, a malicious prosecutor, and an incompetent attorney violate my constitutional rights, with no regard!
After I was sent to the Michigan Department of Corrections, in 2005, I forced myself to learn the LAW. On my quest to learn this foreign language, I felt illiterate mainly because I felt like I was ignorant for not expanding my mind, to learn beyond mathematics, English, and writing. In my early stages of learning the law, I ordered a Black's Law Dictionary. This book gives you the language of the courts.
After learning the language of the law, I began to study the MCL's, which are the Michigan Compiled Laws, as well as court rules. One discriminatory Michigan Rule of Evidence (MRE) that played an instrumental role against me is known as 404(b). This law deals with character evidence. In my case, Prosecutor Patrick Muscat utilized this law to establish motive and intent in a murder case. He also used this law to say I had the propensity to commit violence.
MRE Rule 404 Character Evidence Not Admissible to Prove Conduct; Exceptions; Other Crimes (a) Character evidence generally. Evidence of a person's character or a trait of character is not admissible for the purpose of proving action in conformity therewith on a particular occasion, except . . . .

(b) Other crimes, wrongs, or acts. (1) Evidence of other crimes, wrongs, or acts is not admissible to prove the character of a person in order to show action in conformity therewith. It may, however, be admissible for other purposes, such as proof of motive, opportunity, intent, preparation, scheme, plan, or system in doing an act, knowledge, identity, or absence of mistake or accident when the same is material, whether such other crimes, wrongs, or acts are contemporaneous with, or prior or subsequent to the conduct at issue in the case. (2) The prosecution in a criminal case shall provide reasonable notice in advance of trial, or during trial if the court excuses pretrial notice on good cause shown, of the general nature of any such evidence it intends to introduce at trial and the rationale, whether or not mentioned in subparagraph (b)(1), for admitting the evidence. If necessary to a determination of the admissibility of the evidence under this rule, the defendant shall be required to state the theory or theories of defense, limited only by the defendant's privilege against self-incrimination.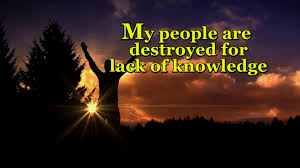 After I understood that this prosecutor's language was an attack on my character, I began to bear witness to Hosea 4:6 which states, "My people are destroyed for a lack of knowledge."
I was sent to prison for life due to a lack of knowledge, at a crucial hour and time in my life. A criminal defense attorney is a defendant's voice inside the courtroom. He/she is there to protect his/her client's Constitutional rights, at all times.
When an attorney performs on a competent level, he/she fights against ALL injustices which transpire with their client. A [defense] attorney should never serve as a "Second Prosecutor" against any criminal defendant during a criminal proceeding. When a defense attorney's performance displays TREASON, his/her license should be revoked immediately! A judicial system is in place to establish order, when lawlessness is reigning supreme.
When the face of justice operates on the wrong side of the law, it destroys the whole idea of "Justice." I don't believe it is possible to restore the Judicial System with Corrupt Officials in power!
Corrupt officials have created an imbalance in a system that's supposed to uphold the law(s), under any circumstances. When you have government officials who set people up for profit in Murder Cases, Gun Cases, and Drug Cases, it becomes problematic!
Corruption goes against the interest of Justice. When Judges and Prosecutors excuse the unethical behavior of "Corrupt Police," it shows that they are all right with the tactics used by these individuals, who railroad people into prison falsely. A system filled with Corruption destroys Justice and Equality. The system can be restored, but only by holding everybody accountable who breaks the laws that govern the land. Until then, there can never be Liberty and Justice for ALL!
(Ed. note: VOD witnessed MRE 404b used unconstitutionally against defendant Jason Gibson in his 2011 trial for the murder of Detroit police officer Brian Huff, inside what turned out to be a police drug house.
Third Judicial Circuit Court Judge Cynthia Gray Hathaway allowed Detroit cops to testify to alleged circumstances surrounding an earlier arrest of Gibson. Gibson was never tried or convicted in that case. VOD interviewed civilian witnesses of that arrest, who comprehensively contradicted the cops' version of events, but were never called to testify.
Gibson was found guilty despite the unbelievable testimony of Huff's white partner and many other white cops, who claimed he shot Huff in the head, then came out on the porch of the house and fired at numerous other cops. Gibson, who had actually jumped out of an upstairs back bedroom window and was arrested WITHOUT A GUN in the backyard, sustained only one bullet wound to his buttock.)
Related stories:
http://voiceofdetroit.net/2017/08/14/searcy-wins-evidentiary-hearing-smothers-expected-to-testify-he-was-the-killer-in-2004-case/
http://voiceofdetroit.net/2017/07/05/is-exoneration-near-for-thelonious-searcy-serving-life-for-murder-vincent-smothers-confessed-to/
http://voiceofdetroit.net/2017/06/10/false-detroit-conviction-vincent-smothers-says-he-not-thelonious-searcy-killed-jamal-segars-in-2004/
http://www.truth-out.org/news/item/29950-ring-of-snitches-how-detroit-police-slapped-false-murder-convictions-on-young-black-men
https://www.metrotimes.com/detroit/duds-do-dudz-in/Content?oid=2170969
http://voiceofdetroit.net/2016/06/23/msp-wayne-co-pros-kym-worthy-knew-davontae-sanford-was-innocent-for-8-years-not-8-mos/
http://voiceofdetroit.net/2016/07/21/davontae-sanford-formally-freed-time-for-charges-vs-kym-worthy-cops-in-frame-up/
http://voiceofdetroit.net/2011/03/22/eyewitnesses-contradict-cop-testimony-in-gibson-trial/
http://voiceofdetroit.net/2011/03/22/%e2%80%9cfree-jay-bird-gibson-trial-continues-mar-15-18-wrap-up-due-mar-22/
http://voiceofdetroit.net/2011/03/25/gibson-guilty-on-17-counts%e2%80%94have-we-lost-our-minds/
#FreeTheloniousSearcy, #FreeJasonGibson, #FreeCharlesLewis, #FreeAllVictimsofPoliceCourtFrameups, #KourtsKopsKrooks