DPD Chief Craig has not released name of homeowner, claims department is investigating evidence found
Discovery recalls previous revelations about the existence of DPD "miscellaneous files" with evidence kept from prosecution, defense
Detroit Police Commissioner for District #7 William Davis to raise the issue at next Commission meeting Thurs. Feb. 14 @6:30 pm at 15491 Maddelein
"In my experience, given the many years I was with the department, certain homicide officers screw around with evidence; it's more of a pattern and practice." — Atty. David A. Robinson
By Diane Bukowski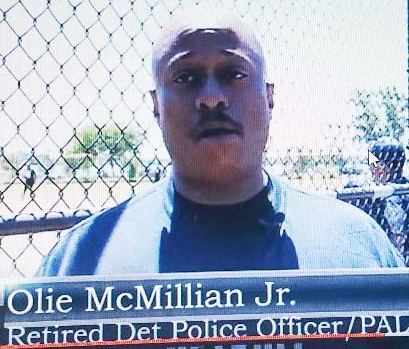 February 11, 2019
DETROIT – Detroit Police Department Chief James Craig has announced that the department will launch an investigation into the Feb. 7 discovery of a locker full of evidence from old homicide cases, in the home of a retired DPD homicide detective.
He has not released the detective's name, but research by VOD shows it is likely that he is retired Detroit police officer Olie McMillian, Jr.
"They were evicting him, and the moving company and bailiff were tossing items away when they came across a locker with evidence in it," Craig told the Detroit News. "The evidence was still sealed or boxed up. They notified us, and it appears to be evidence from old homicide cases."
DPD described the homeowner as a detective who spent six years in the homicide division until 2009, then retired in 2012. Since he left the homicide division in 2009, the files are likely at least 10 years old.
VOD research of property tax and deed records, along with social media, shows the home in question, at 9159 Northlawn, belonged to Olie McMillion, Jr. He is identified as a retired Detroit police officer on "Linked In" and in a YouTube video done by the Police Athletic League. VOD has asked the Department to confirm or deny if this is the case, and is filing a Freedom of Information Act request for all information contained in the locker full of evidence.
Detroit Police Commissioner for District #7 William Davis said he will raise the issue at the next Board of Police Commissioners meeting Feb. 14, 2019 at 6:30 PM at 15491 Maddelein, Detroit, north of E. Seven Mile Rd, east of Hayes St. (See map below.)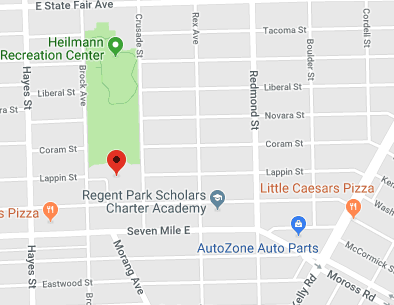 Attorney David A. Robinson is a former Detroit police officer who has been an attorney for decades, specializing in police brutality cases among other matters. He is currently a member of the National Police Accountability Project.
"I fail to reconcile first of all why department evidence related to a crime would be in the personal possession of any officer," Atty. Robinson told VOD. "That breaks the chain of custody and compromises the case of whoever is being investigated. You have to question the officer's motive. It goes beyond sloppiness since officers certainly are trained in the significance of the integrity of evidence. And it begs the question of motive. There have been many cases where Brady violations have occurred where officers have hidden evidence in favor of a suspect's claim of innocence."
Robinson said he wouldn't want to say it is necessarily an isolated incident.
"In my experience, given the many years I was with the department, certain homicide officers screw around with evidence; it's more of a pattern and practice," he said. "I think perhaps this officer may simply have been following what had been a long established way to operate in homicide to make cases."
Robinson represented noted exoneree Eddie Joe Lloyd in a civil suit against the City and the DPD. Lloyd was framed up for the rape and murder of a Detroit teen by officers who knew his propensity for confessing to anything, and fed him the facts of the case.
Atty. Barry Scheck of New York City and the original Innocence Clinic investigated his case and won his exoneration in 2002, after Lloyd had spent 17 years in prison.
"An example of these blatantly unconstitutional customs, policies, patterns and practices is that in murder investigations, poticc officers kept as a matter of course, separate files containing exculpatory evidence, labeled 'miscellaneous files,' for the specific purpose of concealing exculpatory evidence from the prosecutors and the suspects," Robinson wrote in the civil suit.
Lloyd died before it was resolved, but his family members received a settlement of around $4 million, said Robinson. See http://voiceofdetroit.net/wp-content/uploads/Eddie-Jo-Lloyd-filing-by-David-Robinson.pdf.
Earlier, in 1996, Attorney Sarah E. Hunter, representing defendant Dwight Love described her 1994 meeting with an FBI agent and Ritchie Harrsion, a Detroit police officer on leave. During the meeting the three discussed the widespread use of "miscellaneous files," and the deliberate frame-ups of suspects by officers including Police Commander Gerald Stewart. (See affidavit at https://truthout.org/wp-content/uploads/legacy/documents/Sarah.Hunter.Affidavit.pdf .)
More recently, many witnesses testified during a 2004 federal trial about the "Ramparts"-style frame-ups of southwest Detroit residents by a group of 18 Detroit officers led by William "Robocop" Melendez, involved later as an Inkster cop in nearly beating motorist Floyd Dent to death.
Despite the unprecedented testimony of 17 Black Detroit officers against Robocop's crew, they were acquitted. The jury evidently responded to aspersions by Melendez' defense attorney David Lee against those who were victimized.
Later, in 2006, cops known as "The Booty Boys," Michael Osman and Michael Parish, were accused by numerous southwest side male residents of rape—public anal cavity searches. Those who did not comply such as Byron Ogletree were framed up by the two, but after extensive publicity about the rapes, judges threw out charges against many.
And so, evidently, the beat goes on.
Related stories:
https://www.wxyz.com/news/region/wayne-county/evidence-found-in-retired-detroit-police-homicide-detectives-home-during-eviction
https://www.detroitnews.com/story/news/local/detroit-city/2019/02/08/ex-detroit-homicide-cop-found-locker-full-old-evidence/2812429002/
FEDERAL JUDGE THREATENS TO SANCTION CITY COUNCIL FOR FAILURE TO ACT ON "RAPE BY COP" CASE; DISCUSSION SET FOR JULY 19