WHO

REALLY

DUNNIT?
VOD EDITOR: Marcie Griffin, George Rider, and Eric Gibson (left) are currently on trial in Macomb County Circuit Court in front of Judge Joseph Toia, facing first-degree murder charges in the death of Julii Johnson.
VOD unearthed the first coverage of Julii Johnson's killing on Jan. 13, 2017, outside her boyfriend M. Terrell Lattner's home (see video above). The Channel 4 report says Lattner was the first suspect and contradicts later reports that police immediately found the track the killer escaped down, leaving a glove and a gun behind.
Scott Burnstein, editor of The Gangster Report, has published a telling article on the case, backed up by Gus Burns' article on MLive, and an editorial by Ricardo Ferrell, all featured below. VOD hopes to have more up-to-date coverage on the trial next week.
REPUTED DETROIT 'DRUG BOSS' ONCE VIEWED AS PRIME SUSPECT IN GIRL FRIEND'S SLAYING
By Scott Burnstein
The Gangster Report
Police in suburban Detroit first had convicted drug dealer Jimmy [Terrell]Lattner as the prime suspect in the 2017 murder of his girlfriend, Julii Johnson, before eventually charging Lattner's ex-girlfriend and two others, per sources . . .
Lattner is out on bail awaiting a trial of his own on a weapon-possession case stemming from the investigation into Johnson's slaying.
The Johnson case is rife with compelling, often vexing and intricate subplots, regarding the crime itself, the alleged players involved and the way it's been adjudicated through the court system. The case is on its second judge and the start of the trial has been postponed four times in the last 16 months.
Johnson, 34, was gunned down on the morning of January 13, 2017 outside Lattner's condominium in Warren, Michigan. Marcie Griffin, Lattner's ex-girlfriend, George (G.G.) Rider and Eric Gibson are facing first-degree homicide charges in the case. Griffin was [allegedly] feuding with Lattner and Johnson over Johnson's treatment of Griffin and Lattner's child.
Gibson's DNA is [allegedly] on the murder weapon and prosecutors allege Rider acted as a middleman for Griffin in hiring Gibson to kill Johnson. Rider, a folk hero of sorts on the streets of Detroit's Eastside who served a prison stint for federal narcotic trafficking in the 1990s, has been in the government's crosshairs for years.
After his release from prison in 2003, Rider built a robust real estate portfolio while the FBI hounded his every move trying to build cases against him. In 2015, he sold the historic Fine Arts Theatre in downtown Detroit for 1.3 million dollars. The feds have long tried linking him to a murder that occurred at the theatre in 2007 to no avail.
The 44-year old Lattner once led what was known as the World Domination Gang, a drug crew operating out of Detroit's near Westside in the late 1990s and early 2000s. He did six years in prison for peddling cocaine and heroin and got out in 2010. His behavior in the aftermath of Johnson's murder brought scrutiny. An eye-witness account of Johnson's killer and results of a police-dog scent test drove detectives further towards pegging him as a suspect.
By February, however, they had moved their attention away from Lattner, eliminating him as a suspect and focused the investigation on the current set of co-defendants. There is video of Griffin screaming at and threatening Lattner at Lattner's car wash in the months before Johnson was slain and texts between Griffin and a cell phone registered to a company owned by Rider expressing her anger towards Lattner and Johnson.
The only evidence connecting the 60-year old Rider and the 26-year old Gibson are "pings" from cell phone towers in the Metro Detroit area placing them in the same vicinity on the day Johnson was murdered. Nonetheless, Rider, Griffin and Gibson were indicted together on February 24, 2017 and have been held without bail ever since.
Lattner's defiant posture towards investigators had them eying him with suspicion from the morning Johnson was found lying clinging to life outside his condo. When Warren Police arrived on the scene, Lattner was emotionally distraught, screaming at someone on his cell phone and cursing at the responding officers. He refused to answer any questions, a pattern that has continued to this very day, even in the face of time behind bars.
A neighbor's description of how the shooter was dressed matched Lattner's appearance that morning (gray-colored jacket over a hooded sweatshirt). The neighbor would later say she thought the assailant was younger than Lattner, but admitted that the shooter "could have looked like him (Lattner) from the back." A police dog from the K-9 unit traced the shooter's scent on a "back track" motion that went away from property and then returned in the direction of Lattner's condo.
The police got search warrants for the condo and the Ford F-150 pickup truck in the driveway. Inside the condo, police found $533,000 in cash. Inside the vehicle, they uncovered a gun (9 millimeter Ruger) with the serial number filed off, a bag of marijuana and another $12,000 in cash. The truck was equipped with custom-designed hidden compartments, normally a common accessory for people in the drug game to travel with concealed contraband. The money and the truck were seized.
Lattner pleaded the Fifth Amendment when called to answer questions about Johnson's murder at a pretrial evidentiary hearing and was jailed for contempt. He was charged with possession of a firearm by a felon. He's been on "lifetime probation" since 1997.
Authorities were at first hot on the idea that either Lattner had something to do with Johnson's killing or an enemy of his in the drug world was, sources claim.
Upon a possible tie-in to Rider emerging, federal prosecutors, per sources, pressed police in Macomb County to refocus the investigation towards the "Marcie Griffin angle."
*****************************************************************************
FEDS FIND $500,000 IN MAN'S HOME, HIDDEN CAR COMPARTMENTS AFTER GIRLFRIEND KILLED
Oct 21, 2017
By Gus Burns | fburns@mlive.com
The federal government says drug money was everywhere.
Investigators found thick stacks of $100 bills held together by rubber bands, totaling $533,252, according to forfeiture documents filed in federal court Monday, Oct. 16.
Most of it was found in a Warren home leased by Jim T. Lattner after his girlfriend, Julii Larrie Johnson, 34, of Oak Park, who sometimes stayed in the house, was shot and killed outside the home on Jan. 13, 2017.
Lattner, according to the court filing, "was uncooperative, cursed at the detectives, and refused to accompany officers to the Warren Police Department" when they arrived.
He has prior cocaine and heroin possession with intent to deliver convictions from 1997 and 2003. He served nearly six years in prison for the 2003 conviction, and was on lifetime probation, according to online Michigan Department of Corrections records.
Warren police detectives served a search warrant following Johnson's homicide on Jan. 13. They found a total of more than $500,000 in cash in a pair of pants lying on the floor in the master bedroom; in a dresser drawer, a nightstand; plastic bags stashed inside a "disguised box" and a duffel bag in the garage, the court filing says.
And there was more.
Investigators returned on Jan. 14 to search Lattner's white 2016 Ford F-150 pickup truck registered to Lattner's mother, who lives in Detroit, according to federal investigators.
Warren police found hidden compartments installed in the dashboard, where airbags are usually installed.
There was an "actuator that raised the hidden compartment through the passenger dashboard … a power source connected to the actuator, and a small electronic receiver, and wire antenna allowing the actuator to be triggered remotely … " the complaint says.
Police found over $12,000 in cash, a bag of marijuana, two cell phones, a 9-millimeter Ruger with an "obliterated" serial number.
The federal government in March charged Lattner with illegal transporting of a firearm. He's out on bond and his case is scheduled to go to trial Jan. 22.
Police searched the seized cellphones and found text messages indicating Lattner was involved in drug dealing. He hasn't been charged with any drug-related crimes.
Some of the text messages police say they read
I swear on my daddy them people bettr not NEVAAA ask me nuthg bout yo selling dope ass. I'm gone let thm know u FENTANYL KING …
I hope he not in that stash house
If I brng police … it gone get real ugly 4 all of yal up there. I will tell them it's dope man caemr wash, yal wash same cars evryday …
I hope they up therw takn pictures of all yal DUMB DRUG DEALERS …
Police often seize assets and cash they believe is the product of illegal activity, including drug dealing.
According to the forfeiture filing, trained K9's "indicated" a narcotics odor coming from the cash during a "money sniff" performed following the search.
Between 2013 and 2015, Lattner filed income taxes once. He claimed to have $6,440, of which $656 was income earned in 2013, according to the government.
It's not clear whether Lattner plans to fight the forfeiture actions.
His Detroit-based attorney, John F. Royal, told MLive he was unaware of the forfeiture filing on Thursday.
"Sorry, I can't help you out," he said.
***********************************************************************************
TRIO FACES MOSTLY WHITE JURY:
Despite the lack of sufficient audio, the video below, from the Macomb Daily, shows a heavy police presence during one hearing in the case, and a packed courtroom. One article from the Macomb Daily said guards earlier harassed Rider and Gibson for briefly speaking with each other. The article noted that the two "calmly" disputed the guards' versions.
Both Macomb County Deputy Sheriffs and Warren police came out again May 20, as VOD covered a motion hearing on a jury selection complaint by defense attorneys.
Attorneys argued May 20 that the County's jury selection process is systemically biased, resulting in the presence of only three Blacks on the jury hearing this case.
Suzanna Kostovski, attorney for Rider, displayed charts showing that only about 50 percent of jury summons from cities with significant numbers of Blacks, e.g. Eastpointe and Warren, got back to the court, while rates from almost exclusively white cities ranged about 70 percent.
Studies have shown this can result from economic disparities, which cause Black residents to move more often, as well as a state law which bars ex-felons from serving on juries. A much higher percentage of African-Americans have felony records, due to higher arrest and conviction rates that have been challenged by racial justice advocates.
The prosecution argued that the ratio on the current jury is commensurate based on 2010 U.S. census records for those cities. However, due to steady migration patterns, both Warren and Eastpointe currently have up to 30 percent Black populations according to annually updated Census figures. Judge Toia denied the jury disparity motion.
Earlier, he denied a motion filed pro se by Eric Gibson claiming that his U.S. and state constitutional rights have been violated throughout over two years of incarceration.
He said preliminary exams were held far past the 21-day deadline, and that the trial finally getting under way exceeds a 180-day deadline set by the state. The young man argued his motions eloquently and at length while Judge Toia listened, but Toia denied the motions. Gibson's attorney Randy Rodnick said he would file a memorandum of law in support of the issues Gibson raised.
According to Ricardo Ferrell's article below, Rider also has repeatedly disputed the unconstitutional length of his detainment without proper exams and trial.
*************************************************************
FEDERAL GOVERNMENT INTERFERENCE COMPROMISES MURDER CASE VS. GEORGE RIDER
By Ricardo Ferrell
Guest Editorial
May 24, 2019
The long anticipated murder trial of George G. Rider, 60, a Huntington Woods resident, is [Ed.: currently proceeding after trial judge Joseph Toia denied defense motions May 20 alleging that the system of selecting jurors in Macomb County is racially biased—out of 106 in the original jury venire, only five were Black.)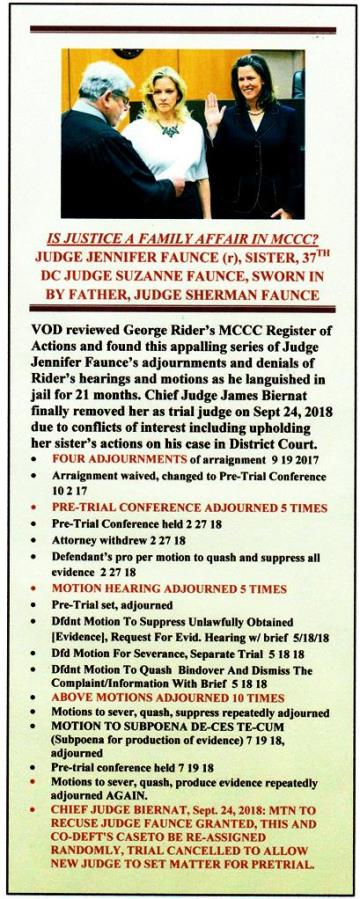 There have been numerous postponements and delays in the high profile case, and Rider has remained in the Macomb County Jail ever since his unlawful arrest without bail since February 2017. He is on trial for the murder of a Warren woman, Julii Johnson, who was shot outside of her boyfriend's condominium in Warren on Friday, January 13, 2017. Then on February 4, 2017, both Roseville and Warren police tracking a ping from a cellphone believed to connect the user of the cellphone and suspect Marcie Griffin stopped Rider outside a Roseville car wash on Gratiot near 12 Mile Rd. They converged on Rider and blocked the Ford Explorer and ordered him to exit the vehicle
Police placed him in handcuffs then searched and confiscated the SUV and 3 cellphones without a search warrant. They (police) had no probable cause to virtually arrest Rider. Police claim they were conducting a traffic stop, but no such record exists by way of any citations relating to the illegal stop, search & seizure. After police confiscated the Ford Explorer with Pennsylvania license plates along with the cellphones, and after Rider complained that despite the police claiming he wasn't under arrest, that being handcuffed and placed in the seat of a police cruiser and not allowed to leave, constituted an arrest – they eventually uncuffed him and left him stranded on Gratiot Avenue with no means of transportation. An eyewitness who works at the carwash mirrored Rider's contention by stating, "It sure looks like you're under arrest to me."
On February 23, 2017, police arrested Rider, and charged him in the Johnson murder. However, federal authorities immediately became involved with the murder case after learning it involved George Rider, who local police were trying to connect with the homicide.
On that very afternoon a meeting took place between agents from the ATF and FBI, Asst. Macomb County Prosecutor Jurij Fedorak, and Warren Police at the Warren Police station. The meeting itself posed an unusual situation. It had the distinct appearance of an overzealous AUSA (federal agent) Karen Reynolds influencing local police to charge Rider with murder, so she could then pursue him on a RICO indictment.
Reynolds has been after Rider for the past two decades trying to link him with dozens of unsolved murders. Her vindictive pursuit of Rider really intensified after the murder mystery of Valerie Atikian, who was found shot to death in a restroom at the Fine Arts Theatre in September 2007.
Atikian, a well known businesswoman from Southfield, owned Via Bugotti Boutique in Southfield, once managed professional boxers, and also was co-owner of the Fine Arts. AUSA Reynolds was furious over the murder of Atikian, because she was Atikian's handler.
Reynolds had relentlessly tried to get evidence to charge Rider by using Atikian as a pawn. AUSA Karen Reynolds and Special Agent Andrea Rossman will stop at nothing to get Rider. The Federal government has even interfered with another state murder case by offering Rider a 20 year plea on an unindicted arson charge. AUSA Reynolds allegedly met with Rider's attorney during a closed door session in the court's bullpen on December 20th, 2018, and vicariously offered Rider the unsolicited plea, if he was to cooperate against his co-defendant, Marcie Griffin [his current girl friend].
Rider was perturbed over the notion that the federal government would even be involved and emphatically declined the offer.
The government has no right to run interference in a murder case being prosecuted by the Macomb County Prosecutors Office. Calls to the Office of Prosecutor Eric Smith were made for comment, but this writer was unsuccessful in receiving a response about this matter.
This writer believes Rider's attorney was compromised by this meeting. Rider has repeatedly asked his attorney to file motions challenging the illegally obtained evidence, 4th amendment violation (illegal search and seizure), lack of probable cause, and motion for an interlocutory appeal to the Michigan Court of Appeals to challenge the findings in the evidentiary hearings held before Judge Joseph Toia
His previous trial Judge Jennifer Faunce was removed on order of Chief Judge James Biernat due to a blatant Conflict of Interest. Her sister, District Court Judge Suzanna Faunce is the same magistrate who signed belated search warrants in the Rider case that mysteriously ended up in her sister's courtroom.
Rider's repeated requests to his attorney to file the motions to properly challenge the evidence have been to no avail. The question in need of an answer as it relates to the U.S. Government's blatantly obvious interference in the murder case at bar is, how can an AUSA (Karen Reynolds) waltz into a state courtroom and offer a defendant in an unrelated murder case a plea of 20 years to an arson that hasn't even yielded an actual charge against him?
Long question, but the short answer is, by law they cannot run this type of interference via an attorney representing a defendant in a state murder case that has nothing to do with an arson fraud investigation. AUSA Karen Reynolds strategically influenced Warren Police and Asst. Macomb County Prosecutor Fedorak.
How can the government's interference and influence be allowed in this case? Allowing something of this magnitude to happen could bring a claim of ineffective assistance of counsel, as a result of government interference with attorney-client privilege and relationship, specifically, if it precludes effective representation.
The government's interference with the initial murder investigation, by influencing them (Warren police) to bring the bogus charges, amounts to a violation of the Sixth Amendment of the U.S. Constitution. AUSA Karen Reynolds, AUSA Louis Crisastomo, AUSA Chris Graveline, AUSA Daniel Lemisch, SA ATF Andrea Rossman, AMCP Jurij Fedorak, and SA in Charge Andrew Arena all have vindictively pursued George Rider over the years by trying to find anything to get him for. This vindictive pursuit dates back decades, with the most notable being 1997, when Joseph 'Doe Doe' Foster was killed in an execution-style slaying.
It has long been believed that Foster was murdered as part of a plan by wealthy white businessmen and corrupt city officials to acquire key commercial properties owned by Foster in the former Paradise Valley between the Fisher Fwy., and Adams and John R., and I-75, to clear the way for the constructions of Comerica Park and Ford Field. Foster also owned key properties in the Cass Corridor, where he was known as the Pope. He also was a previous owner of the Historic Fine Arts Theater, the same theater that Rider is believed to have once owned.
The Fine Arts Theater has been around over 105 years, sitting on Woodward just south of Mack Ave. When Joseph Foster was executed by an unknown assailant, his girlfriend assumed ownership of the theater, and not even three months later she was gunned down in an execution-style murder.
Rider, who was in federal prison from 1992-2003, believes he might have met the same fate had he not been in prison, because they were either killing or locking up key Black business owners who held crucial properties in the downtown targeted areas. Rider also owned key property on John R., directly across the street from a lounge owned by Foster. Rider and Foster both had similar visions to open up sports bars, classy restaurants, and parking garages to be in line with the coming constructions. It's no secret that powerful influential people wanted George Rider and Joseph Foster out of the way, in order to fulfill their plans of monopolizing Paradise Valley, a once thriving area with a majority of black business owners during the 1930's up through the 1990's.
It is likely the vindictive pursuit of George Rider continues today, by wealthy business investors looking to acquire other key property believed owned by Rider.
AUSA Karen Reynolds is involved in the illegal pursuit of Rider. Soon after he was arrested on the bogus murder charge, AUSA Reynolds led a raid team of a multi-jurisdictional task force and stormed the home of his girlfriend and 12 year-old son, right when they were about to leave for work and school. The search warrant was only an application to obtain a search warrant, but Reynolds used it anyway to raid the St. Clair Shores residence.
The whole purpose of AUSA Reynolds' involvement during the February 23rd, 2017 meeting at the Warren Police station was to influence local authorities to charge Rider on bogus murder charges without probably cause. It afforded Reynolds and other federal authorities the opportunity to build a case against Rider, whether that meant illegally searching the home of his girlfriend and son, intervening in a local matter to get leverage in her pursuit of Rider, or Special Agent (ATF) Andrea Rossman's continuous attempts to find someone to concoct a story that he burned their property for a fraudulent purpose.
These authorities aren't interested in the pursuit of justice, they (AUSA Reynolds) and others are obviously motivated by a vendetta against Mr. Rider. This writer believes the only reason why he was charged in this crime, is because his name so happens to be George G. Rider Jr.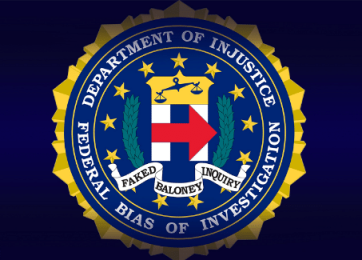 And, is it highly likely that many of those mentioned in this article either intentionally, or inadvertently colluded in a corrupt, concerted, and conspiratorial fashion in bringing the murder charge against Rider, in an effort to get him off the streets, no matter what it takes.
Even if it means violating his constitutionally protected rights, purposely allowing three Macomb County judges to participate in conflicts of interest, federal prosecutors interfering and influencing a county prosecutor and local police, using a bogus search warrant to raid a home, and approaching a defense attorney trying to persuade her to partake in a 6th amendment violation.
AUSA Karen Reynolds personally acted in a manner which goes against the codes and ethics of an officer of the court. Her duty as an Assistant United States Attorney is to seek justice, not to vindictively pursue someone out of convenience to obtain a conviction, or based on the prestige of her office. The entire legal process has been tainted as it relates to how authorities first converged on Rider with guns drawn outside the Roseville carwash and illegally searched and seized his vehicle and cellphones, then weeks later arrested and charged him with murder without probable cause.
Related stories:
http://voiceofdetroit.net/2018/11/10/george-rider-case-shows-corruption-runs-deep-within-macomb-county-mi-courts-police/
http://voiceofdetroit.net/2018/11/26/george-rider-evidentiary-hearing-finally-held-wnew-judge-but-ruling-delayed-until-dec-19/
https://www.freep.com/story/money/real-estate/2016/05/04/detroits-real-life-murder-mystery-theater-gets-13m/83932336/