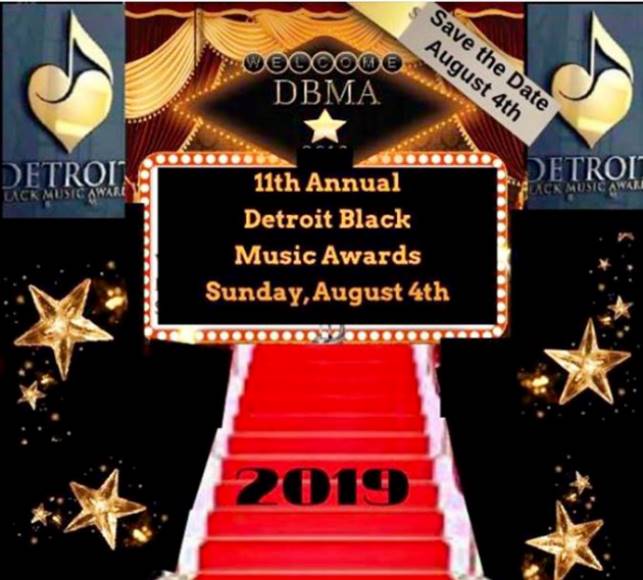 Detroit Black Music Awards: "We've acknowledged Entertainers from the least to the greatest, from Motown stars to Local stars"–Misty Love, Pres.
11th Annual DBMA to be held in Detroit, the "Music Capital of the World"
By Ricardo Ferrell
DETROIT — The DBMA to be held on Sunday, August 4th, 2019, at the Charles H. Wright Museum marks the 11th year this prestigious event has been in Detroit.
Misty Love, President of the Detroit Black Music Awards, is proud to announce this year's event, which is primed to be the best she and partner Billy Wilson, the President of the Motown Alumni Association, will be presenting, holding it in what could easily be termed the Music Capital of the World.
Misty Love has had quite a singing career. She's a vocalist with one Gold record; six Platinum records and 10 Diamond records to her credit for singing with artists like Kid Rock and Cheryl Crow. Misty's also quite the songwriter. She has written songs for Kid Rock that went on to sell over five million copies. Misty has been singing all her life and have been on every show from David Letterman, the Tonight Show, VHI Awards, MTV Awards, and the Soul Train Awards.
Aside from living and singing in Las Vegas, Nevada, she's been to Spain and other places around the globe showcasing her angelic God-given voice. The idea to create a Detroit version of the Black Music Awards came about when Misty won Blues Singer of the year two years in a row at the Las Vegas Black Music Awards. It inspired her to explore bringing the event to Detroit in 2009.
Every year since its inception, the DBMA has had at least 10 categories, including best R&B male; best R&B female; Entertainer of the Year; best Gospel, etc. The DBMA also gives at least five Special Tribute Awards and five(5) Lifetime Achievement Awards. Misty Love continues to bring this illustrious event to Detroit year after year with No Sponsors! Primarily the only financial support she receives is when someone purchases an ad in her souvenir book.
This year's event will likely feature a tribute to the late Aretha Louise Franklin, known around the world as the Queen of Soul. In the Motor City she will always be remembered as the Queen of Detroit for all she contributed to the city she loved so dearly.
Misty Love told me in a handwritten correspondence, "So many Detroit artists never get any recognition. They sing in these clubs and concerts and never get any recognition. It doesn't matter if they perform in a poolroom, they should be recognized for their musical talents. We've acknowledged Entertainers from the least to the greatest, from Motown stars to Local stars. It doesn't matter to us because we give each of them the same recognition."
The Detroit Black Music Awards is a very classy event and its also a formal affair. Misty calls it "The BET in The DET" which is quite fitting. Black Entertainment at its best in Detroit, you simply can't get it any better than that, especially since some of the best-of-the-best singers were born and raised in Detroit. The Motown history itself and what that musical dynasty was able to accomplish from scratch inspired the grind and creativity of a determined Black woman to provide a platform for all to be rightfully recognized regardless of their status in the music industry.
Misty Love is the truth when it comes to putting in real work for the mission, and not thinking about any reward. She is a beautiful soul and has a heart of gold. This annual epic event is made possible by the help of Misty's partner Billy Wilson, who is one of the most prolific Motown historians of today. Billy's expertise and wealth of knowledge in the music industry, specifically that of the Motown Sound from the 60's, 70's, 80's, 90's, and beyond adds credence to the DBMA and its mission.
Billy Wilson's knowledge of Motown's stature and humble beginnings is priceless. These two brilliant minds, Misty Love & Billy Wilson and their tireless efforts, are what makes the Detroit Black Music Awards such a great and epic event.
"People love this event and they tend to enjoy the voting process, where they can vote for their favorite artist," says Misty.
Misty shared with me how she will remain committed to the Detroit Black Music Awards, and continue to recognize every talent she can, as her way of giving back. She also said, "I do this to give people their Roses now while they can still see and smell them."
Some of the notable supporters of the DBMA are: Judge Deborah Thomas, Gloria Ray, Charles H. Wright Museum, Fox 2 News, Voice of Detroit, and a host of others.
Writer's note: The Detroit Black Music Awards is an event that all Black folks and business owners in the City of Detroit, and its surrounding areas should sponsor and promote without any reservations. This annual event solidifies the true essence of why its imperative that we as a people show a willingness to be supportive of one another regardless of our demographics, or socio-economic status. Detroit is headed for another comeback, and the Detroit Black Music Awards is gearing up to reinvigorate the Motown sound, and giving local talents the stage needed to showcase their talents, is what the DBMA's are all about. If you have heard about this annual event, then certainly you wouldn't want to miss this year's epic extravaganza.
https://www.facebook.com/Detroitblackmusicawardsofficialpage/
BELOW: MAP OF CHARLES H. WRIGHT MUSEUM