Protesters march at Frank Murphy Hall in support of Thelonious Searcy and other wrongfully convicted prisoners, on Nov. 14, 2019.
Quintasha McCroy, Thelonious (Shawn) Searcy's fiancée, speaks at rally to free Searcy in front of Frank Murphy Courthouse Nov. 14, 2019.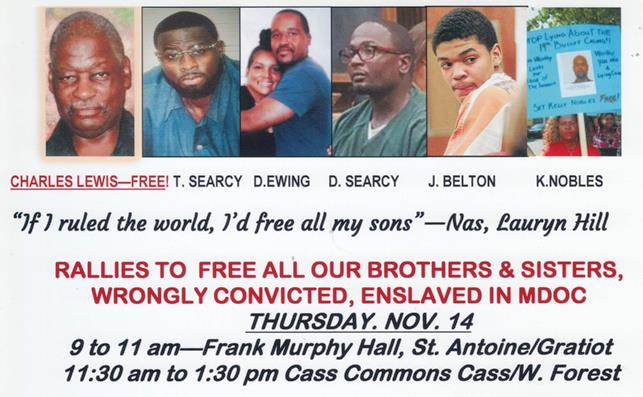 UPDATE: VIDEO COVERAGE OF NOV. 14 RALLY AT FRANK MURPHY HALL!In wake of victories for Charles Lewis, Darrell Ewing, Derrico Searcy, others, families gather to broaden fight for all state-kidnapped loved ones
Estimates of innocents in MDOC around 30%; exoneree Mubarez Ahmed: "dozens and dozens" more remain behind, due to corrupt judicial system

Nearly 2/3 of state's juvenile lifers still behind bars serving sentences declared unconstitutional by the U.S. Supreme Court
National fight opens to end life without parole (death by incarceration) in Lansing and across the U.S.
BY DIANE BUKOWSKI
NOVEMBER 13, 2019; UPDATED NOVEMBER 15, 2019
DETROIT — An extensive network of friends of Thelonious "Shawn" Searcy initiated the call for a rally to free him Nov. 14, to begin at 9 a.m. at the Frank Murphy Hall at 1441 St. Antoine, and continue with a town hall meeting sponsored by the Detroit People's Task Force at 11:30 a.m. That rally will address multiple cases and issues in a system the Task Force believes is severely corrupted, seeking only convictions regardless of guilt or innocence.
The Task Force is asking for donations at the door to help with the cost of refreshments, as its funds are extremely low.
The rally comes on the heels of a stunning victory in the case of juvenile lifer Charles Lewis, freed Oct. 17 after 42 years in prison with a reduced term of years sentence. His attorney and other experts including a polygraph examiner expressed their beliefs that he is likely innocent of the murder of a police officer in 1976.
He and his family endured three and a half years of re-sentencing hearings in front of Judge Qiana Lillard, during which the clerk's office declared that his original file was lost and Lillard illegally ordered the defense to turn over its attorney-client privileged documents to the prosecution to construct a "facsimile" file. Lewis was subjected to unproven and slanderous allegations from the prosecution that he had somehow been instrumental in losing the file and forging a document dismissing his case signed by then Third Circuit Court Judge Gershwin Drain on April 3, 2000.
On Oct. 24, 2019, Darrell Ewing and Derrico Searcy, incarcerated for nearly 20 years on murder charges, won a new trial based on Wayne County Circuit Court Judge Michael Hathaway's declared opinion that their original trial jury had been corrupted by extraneous internet material brought in by several jurors, and that the case against them was deeply flawed otherwise. One of the flaws was that another man confessed repeatedly to the murder involved.
The packed courtroom exploded with cheers from their families and friends. The case had been pursued through the federal district court to the Sixth Circuit Court of Appeals and back to U.S. District Court Judge Denise Page Hood, who ordered an evidentiary hearing related to the allegations about juror misconduct.
Ewing's mother Sonya Dodson had exhausted her resources paying for attorneys, but said the victory was worth it. The prosecutor said they plan to appeal the ruling, but defense attorney Phillip Comorski said he was confident of final victory.
In Searcy's case, the road after a stunningly convincing evidentiary hearing held through the first six months of 2018 has been unexpectedly rocky and trying for him as he yearns for his freedom. Judge Timothy Kenny, now Chief Judge of the 3rd Circuit Court, ruled afterwards that evidence at the hearing would not have changed the minds of the original jurors and denied Searcy's request for a new trial. Defense attorney Michael Dezsi has appealed that ruling, now to the Michigan Supreme Court after an appeals court ruled 2-1 against Searcy, giving no reasons. Judge Cynthia Diane Stephens dissented.
During the hearing, admitted hitman Vincent Smothers testified that he, not Searcy, committed the murder for which Searcy is serving life without parole, giving lengthy testimony with accurate details including the fact that he killed the victim with a .40 caliber gun. His testimony was borne out by the revelation from forensic records that .40 caliber bullets were found inside the victim, not .45 caliber bullets.
Assistant Prosecutor Patrick Muscat had alleged that Searcy killed the victim with a .45 caliber gun, and the jury was later falsely told by Judge Timothy Kenny, then the trial judge, that the bullets found inside the victim were "unidentifiable," according to the prosecution and defense. Muscat was also the AP during the trial of Davontae Sanford, 14, freed in 2015 after a false conviction of four killings also admitted to by Smothers.
Searcy's attorney Michael Dezsi appealed Kenny's ruling, but an appellate panel ruled 2-1 in favor of Kenny, with no reasons given. Judge Cynthia Diane Stephens dissented, an aspect Dezsi stressed.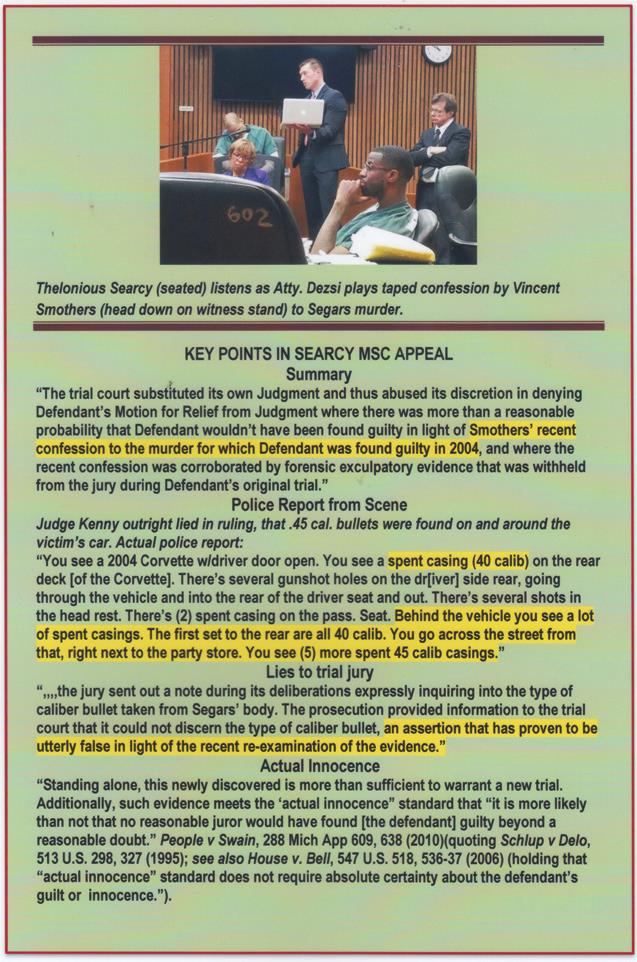 Quintasha McCroy speaking on behalf of her fiancée, calls for the firing of Prosecutor Patrick Muscat and other corrupt officials Nov. 14, 2019.
Read full appeal at: http://voiceofdetroit.net/wp-content/uploads/TSearcy-Defendant-Appellants-Application-for-Leave-to-Appeal-1-compressed-1.pdf
ALSO SIGN THE CHANGE.ORG PETITION TO FREE THELONIOUS SEARCY AT https://www.change.org/p/michigan-attorney-general-free-thelonious-searcy
Protesters target Prosecutor Kym Worthy, Innocence Denier, Nov. 14, 2019
Marilyn Jordan and Patrick Tate address crime in city, frame-ups of wrongfully convicted, construction of new jail, condemn facial recognition technology Nov. 14, 2019.
********************************************************************************
EXONEREE MUBARAZ AHMED: 'DOZENS AND DOZENS' OF OTHER INNOCENT MDOC PRISONERS, SYSTEM ONLY WANTS CONVICTIONS
Below, exoneree Mubarez Ahmed expressed a highly pertinent opinion on his release that the entire system is thoroughly corrupt, noting that there are "dozens and dozens of prisoners just like me" who are innocent but still incarcerated, because the system does not care whether they are guilty or innocent. Ahmed was freed after serving 16 years in prison.
***********************************************************************************
Among the "dozens and dozens" of prisoners still unjustly incarcerated in Michigan are about 200 juvenile lifers, individuals who were sent to die in prison when they were children. They are still serving what the U.S. Supreme Court has twice declared are unconstitutional sentences, "cruel and unusual punishment" under the Eighth Amendment to the U.S. Constitution. Michigan and Louisiana are the two states that have most vigorously fought c0mpliance with the nation's highest court.
Among them is another client of Michael Dezsi's, Jonathan Belton. Dezsi told VOD that he and Geoffrey Fieger represented Belton at his murder trial in Oakland County, for killing white Oak Park police officer Mason Samborski in 2008. Belton, who was 16 at the time, is Black and from Detroit. Fieger argued that Samborski accidentally shot himself with his own gun during a tussle with Belton after Samborski drove him to the Rue Versailles Apartments in Oak Park subsequent to a traffic stop during which he found that Belton did not have a driver's license.
Belton's girl friend lived at the apartments.
The prosecution charged Belton with first-degree murder and the murder of a peace officer, claiming that Belton took Samborski's gun from his holster and shot him with it.
"The gun was never recovered," said an article in the Oakland Press. "Fieger insisted that the shooting was an accident and said there was no evidence to prove otherwise. He accused police and prosecutors of lying and fabricating evidence in an effort to make sure someone paid for Samborski's death. He focused on a responding police officer's use of a racial slur and said the case was filled with 'innuendoes, assumptions, guesses and prejudice.'"
Tests for gunshot residue on Belton were negative. Fieger pointed out that Samborski had thrown Belton through a plate glass window at his girl friend's apartment building, and said because a police officer had died, "Someone had to pay, even if it's an innocent Black child." The prosecution alleged without evidence that Belton was a gang member and said his father was serving time for second-degree murder. Oakland County Circuit Court Judge Rae Lee Chabot said "theory is pure fiction" without evidence, although not in the presence of the jury.
Dezsi moved the court without success to sentence Belton in accordance with the U.S. Supreme Court rulings on juvenile life without parole. However, Dezsi said, he will be representing Belton at a juvenile lifer "mitigation hearing" in March. He said he still believes in his client's innocence, and has grown to know him very well.
Meanwhile, Michigan prisoner advocacy groups have joined a growing national movement to end what is being called "death by incarceration" (life without parole) for ALL prisoners. The U.S. is the only country in the world that sends children to die in prison, and it is also the only country that has true life without parole, resulting in a burgeoning prison population including thousands of elderly prisoners awaiting death behind the walls.
by: Dana Whyte
WLNS TV–Lansing
Posted: Oct 10, 2019 / 04:15 PM EDT / Updated: Oct 10, 2019 / 05:07 PM EDT
LANSING, Mich. (WLNS) – At the state Capitol today, more than a hundred people gathered outside to rally for prison reform, specifically for those who receive life sentences.
"The justice scale is different for our people, and it's unfair."
"He has done the time for the crime he had committed, but he's still in prison," said Patrice Ferguson.
Ferguson is talking about her husband. He was convicted of assault with intent to commit murder back in 1984.
She says his prison sentence just isn't fair.
"Life really doesn't mean all your life, I believe life means 20 years, my husband's done 37 years," said Ferguson.
Right now in the United States, the Bureau of Justice Statistics reports almost 2.3 million people are in prison and if the country's prison population were a city, it would be the fifth largest in the U.S.
William Hawkins, whose father is currently serving a life sentence, says that's a problem.
"He's been rehabilitated for years, he's been in prison my entire life, over 30 years, but he hasn't been given the just opportunity to prove himself as a rehabilitated citizen," said Hawkins.
Hawkins hopes by speaking out, lawmakers will continue to take action.
"The numbers are definitely, you know, not adding up, so let's go ahead and figure out why and let's fix the system, cause we shouldn't have a quarter of the prisoners in the world locked up in one country," said Hawkins.
FREEDOM FIGHTERS JOINED STATE CAPITOL RALLY

Among those converging on the State Capitol to attend the long anticipated Rally For Lifer Law, Prison, and "Real" Criminal Justice Reform were a bus load full of supporters advocating for those voices that have been silenced due to their incarceration. That actually amounts to over-incarceration of countless individuals who have served 35, 40, 45, 50 + years on parolable sentences that the Michigan Parole Board refuses to move toward a positive parole action on.
The event was organized and spearheaded by Virginia Hudson, David Hudson-Bey, Shelita & Kimball Gaskin-El, and others of the National Lifers Association. Among the people who took the one hour or so trip to Lansing, Michigan, in order to speak up and show support for the masses was Kenneth Foster-Bey, who himself served over 40 years on a parolable life sentence before finally being paroled in 2014.
He (Foster-Bey) was the main plaintiff in a class action lawsuit filed on behalf of roughly 850 parolable lifers by the University of Michigan Law School for those who were being arbitrarily denied consideration.
Since the initial granting of the Foster-Bey lawsuit over 400 parolable lifers have been paroled from 2009 to date, and none have reoffended. Another attendee at the October 10th rally was modern day Revolutionary Lawrence D. Rider-El, an advocate for the rights of incarcerated individuals left in the trenches to languish with sentences equating to Death-By-Incarceration. Rider is calling for the fair and equal treatment of everyone impacted by the Criminal Justice System.
He states, "Until this so-called system of justice is revamped and reformed to reflect a fairness to every citizen then we will continue to see a criminal injustice system, which not only discriminates and strategically excludes a certain portion of our society from the guarantees of the U.S. Constitution, it will continue subjecting them to an unequal playing field and likely impact those who are incarcerated as well."
He also mentioned to a news reporter that (myself) "Ricardo Ferrell, a parolable lifer has served 38 years, who's incarceration has cost taxpayers $1,500,000.00." Some of the Freedom Fighters in attendance who spoke up in support of their loved ones and friends were: Shelita Gaskin-El, Patrice Ferguson-Booker, Kimball Gaskin-El, Micheal Bailey, Lawrence Rider-El, Shawanna Vaughn, Amani Sawari, Richard Griffin. Also organizations like: Safe & Just Michigan, MCCD, AFSC, MI-CURE, MCPR, ACLU, CFL, LIFELONG CURE, and other advocacy groups supported the rally and have long called for reforming the prison & criminal justice systems.
Several State Representatives spoke at today's rally voicing their concerns. Rep. Tanya Garrett, and others strongly take the position that some sort of reform should be applied for those who have served at least 20 or 25 years on their sentences, which basically means those shown to be good candidates to parole.
PENNSYLVANIA RALLY TO END DEATH BY INCARCERATION OCT. 23, 2019