Last Prisoner Project pushes for release of  Michael Thompson, 69, just diagnosed with COVID-19, in prison 25 yrs. for marijuana conviction
See  https://www.freemichaelthompson.com/
Another prisoner needing release: Rudi Gammo, owner of marijuana dispensary
Cannabis expungement package still awaits Gov. Whitmer's signature
325,000 in Michigan still in prison or released with marijuana charges on records, despite state legalization in 2018
By Ricardo Ferrell
VOD Field Editor
October 1, 2020

FROM VOICE OF DETROIT:              HAPPY BIRTHDAY, RICARDO!! OCTOBER 12, 2020
Mary Bailey manages the Last Prisoner Project (LPP), which is campaigning for the release of Michigan's Michael Thompson, 69, serving a 42-60 year term that is marijuana-related, although voters in the state of Michigan legalized recreational marijuana possession and use in 2018.
Thompson recently tested positive for the coronavirus, along with more than 900 other  prisoners at the Correctional Facility, over half the population there.
During the years-long campaign to release him, his supporters repeatedly raised the issue of his age and medical conditions that put him in heightened danger of  COVID-19 infection.
The LPP pushes for expungements of marijuana criminal records, and the release of those in jails & prisons, especially in states where marijuana has been legalized.
"In America there is supposed to be a fair system of justice, where the punishment should be equal to the crime," Mary Bailey says.
"In Thompson's case, he was given what people in Michigan call a virtual life sentence. We have got to reform our criminal justice system to be more reflective of places like Switzerland and other European countries, where the punishment for the commission of crimes doesn't exceed its intended penological purpose. In other words, we shouldn't be giving offenders like Michael Thompson 40-60 years for cannabis, and locking them up for what amounts to the rest of their lives, then throwing away the key."
Thompson, 69, was found guilty of selling three pounds of marijuana to an undercover police informant in 1996. The case has gotten the attention of lawyers, advocates, supporters and the general public, all saying his sentence is too harsh and the 25 years Thompson has already served, is enough, garnering substantial media coverage.
In 2018, voters in the State of Michigan went to the polls and cast their votes on Proposal 1. Its passage gave recreational marijuana possession and usage a pathway toward legalization. This seemed to be an instant victory for those with marijuana convictions because lawmakers and candidates for public office vowed to put in place a mechanism to begin expunging criminal records for marijuana convictions.
Those promises have mostly been empty, as there still remain people like Michael Thompson and Rudi Gammo sitting in prison for something that has basically been legalized in Michigan.
Thompson has also garnered the support of Genesee County Prosecutor David Leyton, who has joined his lawyer Kimberly Corral to push for his release. Current laws in Michigan, like the 1998 Truth-In-Sentencing Statute, preclude Thompson from having his sentence reduced, The law requires him to serve 100% of the 42-60 year term, which means he isn't eligible for parole until 2038, when he turns 87 years-old.
The only other option for Thompson to be released is through the commutation process, which starts with the Michigan Parole Board, then requires at least one of ten members to recommend the process t0 the Governor.
As of this article, it has been reported that the process has begun in Thompson's case. As reported by Christina Maxouris, of CNN, Michigan's Attorney General Dana Nessel wrote in a letter to Gov. Gretchen Whitmer dated Aug. 5, 2020, in part…"The sentence imposed on Mr. Thompson is the product of a different time in Michigan legal history. . . And it is a time that has passed."
Attorney General Nessel even calls Thompson a model prisoner in her letter to Gov. Whitmer and says…"Mr. Thompson's actions over the course of his incarceration reveal that he will not pose a danger to the community if his sentence is commuted and he is released from prison." See: http://voiceofdetroit.net/wp-content/uploads/Ltr_to_Gov_Reg._Thompson_08.05.2020_698456_7.pdf
Michigan Lawmakers Jewell Jones, (D) Inkster, and the late Isaac Robinson, (D) Detroit both introduced legislation for the expungement of marijuana convictions. House Bill 5120 tackled the need for expungement of marijuana convictions. Rep. Jones saw how senseless it was to keep those sort of convictions on someone's criminal record, which if left unchallenged could likely effect them seeking employment opportunities, fair housing, and moving forward in their lives.
According to Gov. Gretchen Whitmer's spokeswoman…"Governor Whitmer is open to discussing this issue with her legislative partners to ensure that residents do not bear a lifelong record for conduct that would now be legal at the state level…," Whitmer's Spokeswoman Tiffany Brown tells Metro Times.
UPDATE: Gov. Gretchen Whitmer signed the following six-bill Clean Slate package below October 12, 2020. That legislation, part of a six-bill package covering criminal justice reform,  has been approved at both the House and Senate levels, and is now on the Governor's desk. The Senate Advisory Committee summarized the provisions of the bills as follows:
Expand the number of people who qualify for expungement: Under the plan, a person with up to three felonies and any number of misdemeanors could have all their convictions set aside if none were assaultive crimes. Someone with an assaultive crime can have up to two felonies and four misdemeanors set aside. Convictions such as murder and criminal sexual conduct would not be eligible.
Automatic expungement for some offenders 10 years after their monitoring by the justice system ends: This would be if none of the convictions are assaultive crimes or serious misdemeanors, and only for convictions that were punishable by less than 10 years imprisonment. It would apply after the person has paid restitution.
Allow expungement of marijuana convictions for behavior that would be permissible under current law: Most of these individuals would be eligible to apply for expungement immediately. This process would not be automatic. A different bill introduced by Sen. Jeff Irwin, D-Ann Arbor, would automatically clear misdemeanors involving low-level marijuana use and possession.
Allow forgiveness for multiple acts committed during "one bad night": Convictions for offenses similar in nature that were committed in a 24-hour period would be treated as a single felony if none were assaultive, if none involved the possession of a weapon, and if none carried a maximum penalty of more than 10 years.
Allow for the expungement of some traffic offenses: Driving under the influence and traffic offenses causing serious injury or death would not qualify for expungement.
Shorten the eligibility period for misdemeanors: Applications to set aside more than one felony could be filed after seven years. A serious misdemeanor or one felony could be expunged after five years. Other misdemeanors with no felonies could be expunged after three years.
INTERVIEW WITH LPP'S MARY BAILEY
VOD asked Ms. Bailey to describe how she feels about Michael Thompson being held unnecessarily for a crime that has now been legalized in the state where he's confined.
"Until we can begin to see Michael and countless others worthy of another chance at life, and not condemn them for making mistakes, because we all have made mistakes and errors, but see them as redeemable human beings who can contribute something worthwhile to society, then we will continue to hold them in prison 40-60 years for something as simple as marijuana," says Bailey.
Q: What inspired you to help start LPP?
A: As a member of the legal cannabis industry, I felt a moral imperative to help those who have been impacted by the criminalization of cannabis. People who are incarcerated for cannabis are the pioneers of this booming industry and they deserve freedom.
Q: Tell me about the Last Prisoner Project: 1) its creation; 2) mission and goals; and 3) where do you see it going in the near future?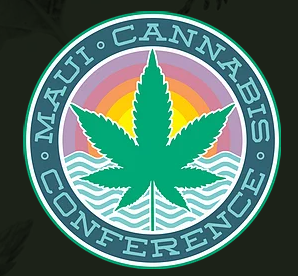 A: I host a cannabis conference in Hawaii called Maui Cannabis Conference. After my last conference in 2019, I felt an emotional pull to advocate for prisoners who are incarcerated for cannabis, so I reached out to my mentor, Andrew DeAngelo. He informed me that he and his brother, Steven DeAngelo, have wanted to create an advocacy organization to release prisoners for many years, so we started working together to form Last Prisoner Project and the rest is history.
Last Prisoner Project is dedicated to releasing cannabis prisoners and helping to rebuild their lives. We also know that most everyday Americans don't realize that there are over 40,000 people incarcerated for cannabis today. Our goal is to educate the public about this important cause, so that they can use their voices for change.
Q: When did you first get involved with the Thompson case?
A: Our organization first started working with Michael Thompson last year. Our team was involved in working with with his attorney, Kim Corral, to file his clemency petition in January 2020. Once we realized that there was not any movement from the MI Parole Board, we decided to create an advocacy & awareness campaign highlighting Michael's situation.
Q: Recreational marijuana has been legalized in Michigan, should those sort of convictions be expunged?
A: Since adult use cannabis legalization has taken place in Michigan, I feel that all those who are incarcerated for cannabis should be released and their records be expunged. Nobody should still be feeling the effects of the criminalization of cannabis now that it has been deemed an essential business during a global crisis.
Q: What other cannabis related cases have you been involved in?
A: Our organization works with many different cannabis cases all over the country. One of the most egregious cases I'm currently working on involves a man named Richard Delisi. Richard has been incarcerated for cannabis for 32 years in the State of Florida. He is the longest serving nonviolent prisoner for cannabis in America. American taxpayers have spent $1.6M on his incarceration.
Q: How do you juggle your advocacy and being a mother to your beautiful daughter?
A: I realize that nobody can fill from an empty cup, so I do my best to ensure that I focus on self care for myself to include a daily exercise and a healthy diet, as well as quality time with my family in the evenings and weekends, so that I have the energy to do my advocacy work. My daughter and I love to ride bicycles, read books and go on trips together.
Q: What organizations has LPP collaborated with in its push to get those with marijuana convictions freed?
A: We have worked with many organizations including Life for Pot, Can-do Clemency, the Weldon Project, the Innocent Project, MI Cannabis Caucus, Redemption, NORML, among others.
Q: Should the U.S. look at Switzerland and other European countries as a model for rehabilitation in its prisons and criminal justice systems?
A: The U.S. should look at German & Dutch prison systems because they are focused on the ultimate goal of rehabilitating inmates, rather than enacting highly punitive policies and laws, which turn away from rehabilitation and reintegration. Germany's Prison Act even states the sole aim of incarceration is to enable prisoners to lead a life of social responsibility free of crime upon release.
In the quarter of a century Thompson has been incarcerated, he's exemplified what a model prisoner looks like. Having only incurred one misconduct (ticket) in the same time frame, is beyond exceptional. Michael Thompson is long overdue to be set free, he has proven to; prison staff, the parole board, the attorney general, the governor, the public, the many supporters, and most of all, to himself, that he is ready for reintegration back into our society.
Final note: This writer applauds the advocacy and hard work of LPP's founder Steve DeAngelo, his brother Andrew DeAngelo, Sarah Gersten, Executive Director, and of course, Mary Bailey and staff for their efforts in helping individuals like Michael Thompson, Richard Delisi, Rudi Gammo and thousands more who sit needlessly in prisons around the country. In a recent article, Steve DeAngelo said he will not stop until the last cannabis prisoner is free.
UPDATE on case of David Shelton, covered in VOD article by Ricardo Ferrell:
https://voiceofdetroit.net/2020/05/31/exposed-racist-frame-up-of-david-shelton-by-oakland-county-in-1993-rape-case/
JPay from David Stinson, son of David Shelton Sept. 17 to Ricardo Ferrell
Mr. Ferrell, I hope all is well with you and the rest of the VOD staff and I still read all you guys' stories every time one drops… My father really talks and thanks you guys all the time he really appreciates the story y'all did for him because it really was detailed and put everything on the floor, he really feels y'all will be a reason why he's released and I do as well…The CIU and Innocence Project picked up my father's case and he credits VOD's article about his case as part of the reason their working on his case, and he thanks you and your editor." Sept. 17th. 

Field editor Ricardo Ferrell has written at least 30 stories for the Voice of Detroit over the previous years. His stories can be accessed by putting "Ricardo Ferrell" in the newspaper's search engine, top right of page.
Related stories and links:
https://www.detroitnews.com/story/news/local/michigan/2020/10/12/whitmer-clean-slate-legislation-expanding-expungement/5966512002/
https://www.freep.com/story/news/local/michigan/2020/08/05/michael-thompson-marijuana-commutation-dana-nessel/3301970001/
https://www.lastprisonerproject.org/some-michigan-dispensary-owners-are-millionaires-while-others-are-inmates-rudi-gammos-story
https://www.theguardian.com/world/2019/dec/12/why-are-there-so-few-prisoners-in-the-netherlands
https://www.cnn.com/videos/tv/2018/03/08/welcome-to-prison-full-doc-orig-cm.cnn
*********************************************************************************

This year marks the 10th anniversary of Voice of Detroit. It has been a struggle financially to keep the paper going, but we feel it is vital for those WITHOUT a voice. We do not charge for access to our articles, as do the News and Free Press, but appreciate whatever readers can donate.  Our ongoing include quarterly HostPapa web charges of $380, P.O. box fee of $150/yr. and costs for research including court records, internet fees, office supplies, gas, etc. The editor and reporters are not paid for their work, and many live on fixed incomes or are incarcerated. Please if you can:
     DONATE TO VOD at
*********************************************************************************