Deathbed confession by Black undercover NYPD cop Ray Woods exposes the direct role of the FBI and New York police in the murder of Malcolm X
Malcolm X's daughters, Wood family, attorneys call for opening of all U.S. government, police files on assassination of revolutionary leader
Assassination lays bare U.S. history of targeting Black leaders, from Nat Turner to Malcolm X, to Detroit's Imam Luqman Abdullah 
March 2, 2021
This story broke on Feb. 21, the 56th anniversary of the assassination of  world-renowned revolutionary Malcolm X, leader of the Organization of African-American Unity. But since, there has been very little local in-depth coverage of this historic press conference held by the daughters of Malcolm X and the family of Ray Woods, the Black undercover New York police officer who exposed the direct role of the NYPD and the FBI in Malcolm X's murder. This VOD post includes a YouTube video of the complete press conference, a reading of the actual Ray Wood letter, and event coverage from national sources.
This expose, shocking to many, but broadly known in less detail since and before Malcolm X's assassination on Feb. 21, 1965, is important during a time when many members of the public are celebrating the exit of former U.S. President Donald Trump with relief, and the entrance of current President Joe Biden. It is important to keep these events in perspective. Both the Republican and Democratic versions of the ruling class in the U.S. have always endorsed genocide and assassinations against people and leaders of color, to prevent fundamental change in the system that would address centuries of oppression.
Particular venom has been reserved for Black revolutionary leaders like Dr. Martin Luther King, Jr., the Black Panther Party including the New York Panther 21,  the Attica Brothers, the Nation of Islam and the Organization of African-American Unity led by Malcolm X.
Above is the complete press conference called by the families of Malcolm X and Ray Wood, and their attorneys, and below, Reggie Wood reads his uncle's letter.
The letter also addresses the FBI set-up of four members of the Black Liberation Front who were arrested four days before the assassination of Malcolm X for an alleged plot to blow up various national monuments including the Statue of Liberty in NYC.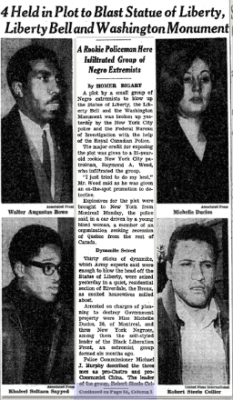 That frame-up, and the frame-up of Imam Luqman Abdullah and his members in Detroit in 2009, resemble numerous other FBI round-ups of impoverished Black men and women across the U.S.  over the decades. Typically, the FBI, operating under COINTELPRO and other designations. sent agent provocateurs in to propose criminal actions to the intended targets, and then arrested and charged them afterwards.
Here in Detroit, U.S. Attorney General Eric Holder, appointed by President Barack Obama,  turned a blind eye to the brutal murder of Imam Luqman Abdullah, leader of a mosque located in a poor neighborhood on Detroit's west side.
Like Malcolm X, Imam Abdullah was the victim of both the FBI and Detroit and Dearborn police forces. The Department of Justice issued a criminal indictment against him and individual members of his mosque, based solely on hearsay conversations  reported by FBI infiltrators.
The infiltrators set up a phony robbery of a Dearborn warehouse and lured the leader and his impoverished members into participating. Dozens of U.S. agents and local police then stormed the building. An FBI police dog let loose on the Imam, brutally biting and slashing -him. Agents and local cops followed suit, by shooting the Imam 21 times to death.
See: FAMILY, LEADERS OUTRAGED AFTER DOJ EXONERATES IMAM LUQMAN ABDULLAH'S KILLERS | VOICE OF DETROIT: The city's independent newspaper, unbossed and unbought
They went on t0 raid the Masjid El-Haqq mosque itself in Detroit, located on the city's west side, and arrest others.
Muslim leaders in Detroit and nationally condemned the assassination, which was broadly publicized.
Diane Bukowski's story on the assassination of Imam Luqman Abdullah (link above) was published in the Voice of Detroit and the Final Call in October, 2010. Bukowski earlier authored many stories on the Imam's assassination in the now-defunct Michigan Citizen weekly newspaper before her termination in Aug. 2010. 
(Excerpt) "Imam Abdullah, leader of the Masjid El-Haqq mosque in Detroit, sustained 21 gunshot wounds, a broken arm, and numerous lacerations to his face and upper body, which one medical examiner said resulted from police dog bites. Sixty-six federal agents, as well as local and international law enforcement officials, were involved in the raid which ended with his death.
"The evidence does not reveal a violation of any applicable federal criminal civil rights statutes," the report, issued by the DOJ's Civil Rights Division Oct. 13, declared. "Accordingly, this matter will be returned to the FBI to complete its administrative review."
Abdullah was part of a national alliance headed by former Black Panther leader H. Rap Brown, now known as Jamil Abdullah Al-Amin, and other former Panthers and activists who restarted their struggles in Black communities after the Party was destroyed by COINTELPRO. (See link at "FBI's Real Reasons" below.)
FBI'S REAL REASONS FOR ASSASSINATION OF IMAM LUQMAN ABDULLAH | VOICE OF DETROIT: The city's independent newspaper, unbossed and unbought
Ten years after Imam Abdullah's assassination, Detroit Free Press reporter Niraj Warikoo covered the mosque's commemoration of the horrific event on October 24, 2019.
"Ten years later, family, friends and civil rights advocates are still reeling from the death of Abdullah — whom advocates say is the first mainstream religious leader to die in the U.S. at the hands of federal law enforcement in recent memory," Warikoo wrote. "No one was charged with any terrorism crime in the case, and authorities have not described any terrorist act he was planning.
"This event really changed all of our lives in a second," Abdullah's daghter, Qiyamah Regan, 45, of Detroit, said Saturday evening inside a Detroit mosque hosting an event to remember Abdullah. "Life hasn't been the same for none of us since this has happened. I think that anybody who's ever lost someone knows that when you lose someone you love, life is never the same. It's never going to be the same. All you do is adjust to the new life."
It's been 10 years since FBI killing of Imam Luqman Abdullah in Dearborn (freep.com)
The remembrance service also addressed the Detroit police murder of Detric Driver, in 2019. His Muslim name was Abdullah Abdul Muhiman (#Dullah Beard). Deadline Detroit and VOD covered that murder as well.
"The dead man, Abdullah Abdul Muhiman, [#JusticeforDullahBeard] was not the suspect in the killing of a five-year-old girl hours earlier," wrote Charlie LeDuff for Deadline Detroit.
"He was an innocent man who had the unfortunate luck to be sleeping on the couch. To make a bad scene worse, the suspected gunman the police were looking for was miles away.
"And yet the police assault team and their superior officers were unaware of that fact, Deadline Detroit has learned. This utter collapse in police work, however, did not stop Chief of Police James E. Craig from announcing at a press conference just hours later, that Muhiman had gotten what he deserved.
'If you point a gun at officers, it doesn't matter whether you're a suspect in any other case," he said.'"
DETROIT POLICE SWAT TEAM KILLS MAN ASLEEP IN HOME, NOT SUSPECT IN EARLIER KILLING OF 5-YR.-OLD | VOICE OF DETROIT: The city's independent newspaper, unbossed and unbought