As Detroit awaited verdict in George Floyd murder trial, DPD killed 2 men with alleged mental health issues April 19 and April 20
DPD Chief James Craig conducted 'scare' campaign anticipating violent protests, attacked  U.S. Reps. Maxine Waters, Rashida Tlaib for their comments 
Mainstream media prominently featured DPD allies Min. Malik Shabazz and Cease Fire in its coverage leading up to the verdict
Wayne Co. Pros. Kym Worthy paved the way for Craig's scare tactics, announcing no charges would be filed in Hakim Littleton's death July 10, 2020, which family still says was self-defense
By Diane Bukowski
April 23, 2021  Updated April 30, 2021 
DETROIT—In the weeks leading up to the three guilty verdicts rendered against Derek Chauvin April 20 for the gruesome torture/murder of  George Floyd last year in Minneapolis,  Detroit law enforcement leaders evidently conspired with mainstream news outlets to create an atmosphere of police terror here.
The resulting fear on both sides may have led to the police killings of two still-unnamed Detroit men with mental health issues, on April 19 and April 20, the day of the verdict.
Police said the first man died, allegedly after shooting at officers, after a chase they said wound from the city's far west side through downtown Detroit, ending on the city's far east side.  Police claimed the second man,  "violent male-mental," stabbed himself and an officer, who was then shot by "friendly fire" from another officer in the chaos. A police "strike force" evidently without qualified mental health personnel. was reportedly involved.
Detroit Police Chief James Craig mounted a constant scare campaign in the media prior to the Minneapolis verdict, warning of violent protests in the city's streets whether or not Chauvin was found guilty. He also launched attacks on U.S. Representatives Rashida Tlaib (Detroit) and Maxine Waters (Los Angeles) for comments on the police murder of Daunte Wright in suburban Minneapolis.
Craig's attacks were aired on Fox News, previously an ardent supporter of former Pres. Donald Trump and a frequent host of Craig's.  Craig echoed Chauvin's defense attorney's claims that comments by the two progressive women leaders' were confrontational and anti-police. But Hennepin County Judge Peter Cahill denied his motion for a mistrial, and then the Chauvin jury rendered three resounding verdicts of "GUILTY." 
Supporting Craig and others, Detroit Min. Malik Shabazz alleged that protesters would likely chant, "Burn, Baby, Burn," while the group Cease Fire Youth Initiative, Inc. claimed that Detroit Will Breathe protesters were nothing but "agitators." Shabazz is a long-time supporter of Detroit Mayor Mike Duggan, who strongly supports Craig's policies, and a co-founder of the Detroit 300,  a paramilitary-style organization with ties to the Detroit Police Department. Neither organization publishes financial reports that show who funds their work. The Detroit 300  has been sued for assaulting civilians on DPD's behalf. See: Family suing community activist group, Detroit police (clickondetroit.com)
"We are watching the next generation of civil rights leaders being demonized by those in positions of power and the media," Tlaib said last year. "You can't deny the facts. Peaceful protesters were violently assaulted, run over and tear gassed by our police department during one of the largest social justice mobilizations of our lifetime. These attacks were carried out while many of the leaders and representatives of [Detroit] applauded their actions or stood by in silent approval."
U.S. District Court Judge Laurie Michelson most recently dismissed a counterclaim filed by the City of Detroit that the protests were a "civil conspiracy," after earlier ruling that  Detroit Will Breathe's original lawsuit claims accusing Detroit police of unprovoked brutality had merit. See: http://voiceofdetroit.net/wp-content/uploads/Detroit_Will_Breathe_et_al_v_Detroit_City_of_et_al__miedce-20-12363__0061.0.pdf
WHERE ARE THE NAMES OF THE TEN OFFICERS SHOWN ON POLICE VIDEOS, THE NAMES OF THE WITNESSES AND THEIR COMPLETE WRITTEN STATEMENTS REGARDING THE KILLING OF HAKIM LITTLETON? WHERE ARE THE ORIGINAL INDIVIDUAL BODYCAM AND DASHCAM VIDEOES OF THIS EVENT? HAVE THE COPS KILLED OTHERS IN THE PAST, AND WILL THEY GO ON TO KILL MORE?
Three weeks earlier, apparently out of the blue, Wayne County Prosecutor Kym Worthy announced April 7 that police would not be charged for last year's killing of Hakim Littleton, 20 on July 10, 2020. His death led to large protests and a call by the Detroit Coalition for Police Accountability and Transparency (DCPAT) for an independent inquiry. No such official inquiry has taken place, although DCPAT held its own people's forum Oct 25, 2020. (See video at end of story.)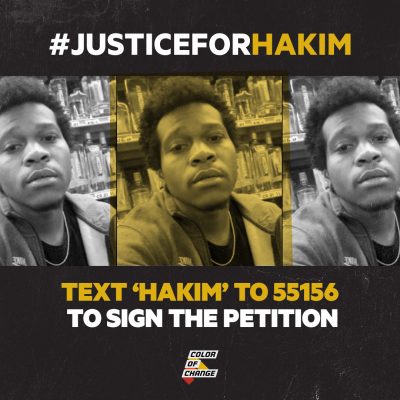 "After a thorough investigation of the case by the Michigan State Police (MSP), the Detroit Police Department (DPD) Homicide Task Force, and an independent review of the case by the WCPO Public Integrity Unit (PIU), it has been determined that no charges will be issued against the three officers involved in the fatal shooting of Hakim Littleton," Worthy said. "The police were acting in lawful self-defense and defense of others."
The WCPO Public Integrity Unit operates directly under Worthy's supervision, calling into question how "independent" its review was. Worthy prefaced her statement by claiming that she has always held police officers accountable for killings, since her role as assistant prosecutor against Larry Nevers and Walter Budzyn for the death of Malice Green in 1992. See http://voiceofdetroit.net/wp-content/uploads/DETROITERS-KILLED-BY-POLICE-SINCE-1992-1-merged.pdf.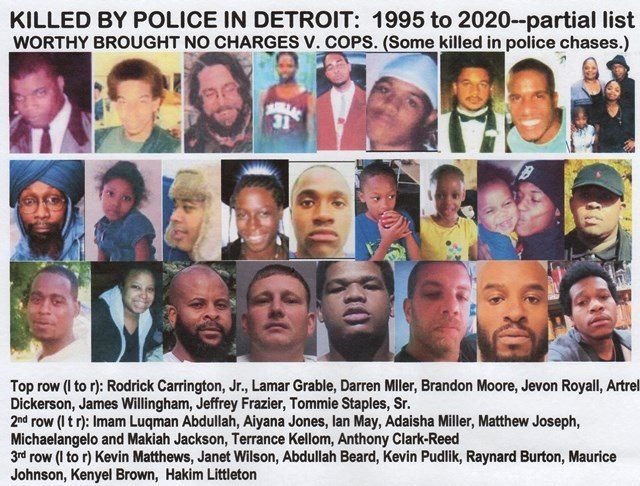 Since she took office in 2004, Worthy has not brought a single murder charge against a Detroit police officer in the deaths of dozens of civilians. This reporter covered the cases of every individual in the photo above for the Michigan Citizen and for VOD and their families' pleas that Worthy bring charges, which she ignored.
Even After Aiyana Jones, 7, was killed in a police military-style raid on her home in 2010, it was Third Circuit Court Judge Timothy Kenny who brought involuntary manslaughter charges against Joseph Weekley. Weekley shot the child at close range in the head with a submachine gun immediately after a flash bang was thrown into the home and the door was broken down.
Numerous police officers and a firearms expert testified that Weekley could not have accidentally discharged his weapon, but he walked after Judge Cynthia Gray-Hathaway declared two mistrials. Aiyana's father is still in prison for the killing of Je'Rean Blake two days earlier. His conviction was based primarily on the testimony of two jail-house snitches.
Littleton's family and DCPAT have called for the release of the names of the officers involved in Littleton's killing last July 20, unedited versions of DPD bodycam videos of the event, and other information. Worthy released neither the names of 10 officers seen on the videos or of witnesses, nor complete statements by them. Likewise, DPD has not released to date the names of three other men killed by DPD in the two weeks after Littleton's death. Legal experts say this violates the constitutional rights of victims and families, as well as the public, which funds law enforcement agencies at all levels.
With no direct evidence other than blurry video screenshots, Worthy claimed Littleton kept firing his gun after he was shot several times and fell to the ground, where he was straddled by one of the officers.
The DCPAT earlier published a video analysis of the police bodycam videos provided by Craig after Littleton's death, which centered on the claim that police kicked away his gun before he was shot in the head at close range. The new screenshots show a vague mark next to Littleton's hand that might or might not have been a gun, or might or might not have been doctored, just before an officer shot him in the head at point-blank range.
In addition to the Facebook video of the press conference, the WCPO provided a power point presentation. Among other exhibits, it includes a photo (left) selected from police bodycam videos. It allegedly shows Littleton pulling out his gun, but it also shows him bending to his left and observing other well-armed cops hidden behind the bushes, not seen in views from the street. See http://voiceofdetroit.net/wp-content/uploads/WCPO-Hakim-Littleton-Presentation2-PDF.pdf
Littleton's family has said all along he drew his gun in self-defense, fearing for his life, as millions of other people of color and poor people have feared for their lives over hundreds of years.
Worthy claimed to have no ready knowledge regarding why a large heavily-armed squad of police, many with "Gang Intel" T-shirts, were present at the scene to arrest Darnell Wayne Sylvester, 20, shown in the video on the ground in a white T-shirt. DPD Chief Craig had claimed police were canvassing neighborhoods related to the shooting, allegedly gang-related, of several people at a neighborhood block party two weeks previously. Littleton's girl friend told WWJ-Radio in the broadcast above that he was with her and was not in the location of the block party.
Sylvester was detained by police on on a federal arrest warrant issued in the District of North Dakota by the Bismarck Police Department, according to federal and state court records.
The Bismarck PD claimed he had been charged federally with conspiracy to distribute drugs, but their records show he was released from North Dakota on a $500 bond for the charge of "giving false info to police." He had a hearing in federal court in Detroit after his arrest July 10, 2020, and was released from there on a $5,000 "unsecured" bond with the understanding that he would return to North Dakota for further proceedings. One hearing scheduled there was postponed, and no further information has been available from court records.
On April 6, the day before Worthy's press conference, Fox2News Detroit aired an interview with Littleton's brother (below):
The DC-PAT reacted on its website, "Since the July 10 killing, Detroiters have been given three conflicting official stories of the incident: Chief Craig presented one set of 'facts' at his press conference immediately following the killing on July 10.  On August 5, in statements to the Detroit News, Chief Craig presented a different set of 'facts.'   Now Prosecutor Worthy has presented a third, different set of  'facts.'  There are multiple contradictions and inconsistencies among these three sets of 'facts'. . ."
Craig's first version was presented July 10, 2020 below:
It led to an analysis published by the DCPAT which pointed to the "kill shot" aimed at Littleton's head, the 10th bullet fired in the incident. The DCPAT questioned whether it was necessary to "execute" Littleton after he had been shot three times and collapsed on the ground. Seconds after his collapse, an officer is seen running up to Littleton on the ground and aimed his gun directly at the back of Littleton's head, a shot confirmed by the official autopsy report. Click on Watch on You Tube below, video will appear after warning statements.
But the mainstream media as a whole acquiesced to Worthy's updated version of events, which conflicted with two earlier versions issued by Craig and Worthy. The media abandoned any challenge or further investigation. It played the same role in Detroit during the weeks leading up to the Minneapolis jury's 3 X GUILTY verdict in the death of George Floyd.
Below: Comments by Trey Songz: what more can be said? Website at: Trey Songz Official Website.
Coalition for Police Transparency and Accountabilty (detroitcpta.org)
(20+) Detroit Coalition for Police Transparency and Accountability | Facebook
See Channel 7's coverage of DCPAT's press conference on the Hakim Littleton killing in 2020, and video of Oct. 25, 2020 Hakim Littleton People's Tribunal.
Related:
HAKIM LITTLETON'S FAMILY, DWB, ATTYS., ACTIVISTS, VOD CONDEMN YOUTH'S EXECUTION BY DETROIT POLICE | VOICE OF DETROIT: The city's independent newspaper, unbossed and unbought
DPD CHIEF CRAIG CONTINUES ATTACK ON HAKIM LITTLETON, KILLED BY POLICE 7/20/20, USING FALSE CLAIMS | VOICE OF DETROIT: The city's independent newspaper, unbossed and unbought
WOULD DETROIT POLICE HAVE KILLED HAKIM LITTLETON IF HE WAS WHITE? | VOICE OF DETROIT: The city's independent newspaper, unbossed and unbought
TERRORISM IN DETROIT—BING, LAW ENFORCEMENT AND THE DETROIT 300 | VOICE OF DETROIT: The city's independent newspaper, unbossed and unbought