TODAY AT 3 PM EDT
Free 

 

Nagel park, 3100 Wabash, Detroit, MI 48216
Join Michigan Liberation this Sunday, May 9, 2021 for a rally and car caravan. We will meet at 3 pm with materials for signs and car decorations at Nagel Park, 3100 Wabash St, Detroit, MI 48216. The rally will start at 3:30 pm and focus on the fight to #EndCashBail and to secure #PhoneJustice across Michigan.
This event will be COVID-safe. Please stay inside vehicles unless otherwise instructed by car marshals. Masks and hand sanitizer will be provided to those who need it.
Can't join the car caravan and rally?
Join our social media power hour this Sunday, May 9th at 4pm!
Follow Michigan Liberation on Facebook and @miliberation on Twitter and Instagram!
*************************************************************
A Mother's Day Tribute




by Ricardo Ferrell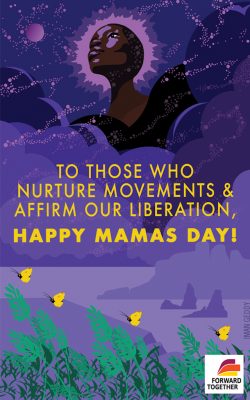 This is dedicated to all the beautiful women around the globe, you've stood by us no matter what with patience like Job.
All of you are in deserving of being honored and praised, its time for real men to serve you all of your days.
So many women have been directly  impacted by this COVID-19, this disease has hit our people hard like nothing we've ever seen.
I think about the mother's who have lost their child, isn't it amazing how these women can still have a smile.
This shows they have the strength from their ancestors and Creator, in the midst of this crisis God is their motivator.
Our women are key to bringing life into the world, so tell me how can they not be our favorite girl.
Now is the time to say we're sorry and ask their forgiveness, this is how solid men right their wrong and show their realness.
There's not enough days in the calendar to properly honor you, but each day we live we can show our love is true.
The sacrifices our women have made time after time and still held strong, we must be honest and ask ourselves how can they be wrong.
Mere words will never be able to express how much you're loved, that's why you deserve your flowers now and gentleness like a dove.
And to all the mothers who have children locked in a cage, please know we understand what you're going through and feel your rage.
Nothing can compare to your love not money or silver and gold, it can't measure up you've stuck with us on that lonely road.
To all of us who have lost our mothers by death, always remember they're still with us 'til our last breath.
**************************************************************