Michael Thompson released from prison at age 70 after serving 25 yrs. of 42 to 60-year sentence on marijuana-related charges
Last Prisoner Project and MDP Cannabis Caucus jointly formed Michigan Cannabis Freedom Coalition
With them, Michael Thompson founded the Michael Thompson Clemency Project
HELP VOD PAY OUR QUARTERLY PUBLICATION CHARGE OF $435.00
By Ricardo Ferrell, VOD Field Editor
February 25, 2022
In 2021, the Michigan Cannabis Freedom Coalition (MCFC), secured their first major victory, helping free Michael Thompson, a convicted cannabis offender who was sentenced in 1996 to serve 42–60 years on marijuana related charges out of Genesee County, MI.
Thompson, 70, was released one year ago on January 28th, 2021, after being granted a commutation by Gov. Gretchen Whitmer. Thompson, deemed a model prisoner by Attorney General Dana Nessel, had only incurred one misconduct report in his entire 25 years of incarceration.
"It was truly inspiring to watch Michael walk out of those doors and immediately issue a powerful statement to the press about the inhumane conditions of Michigan's prisons and to promise to fight for those he left behind," said Mike McCurdy, Chair of the Cannabis Caucus of the Michigan Democratic Party. Cannabis Caucus of the MDP (michigandemscannabis.com)
McCurdy, working in conjunction with Last Prisoner Project (LPP) managing director Mary Bailey, co-founded the MCFC. The two were able to see their work manifest itself when Thompson walked out of a prison in Jackson. Last Prisoner Project – Cannabis Reform Nonprofit
It was 4:30AM on a brutally cold winter morning when Thompson walked out of the prison gates in Jackson, Michigan to an awaiting crowd of press, family and supporters.
"Twenty-five years is a long time," Thompson said, struggling to control his emotions.
"Hopefully those left behind can be helped, guys who shouldn't be there, like guys still in for marijuana, they shouldn't be in there. I just hope somebody can hear me, especially those dealing with prison reform. There are a lot of things that need to be done. Those guys are human beings and the way they treat them is not good. It's not just about me, it's about thousands of guys that need help and we need to quit talking and start doing something about it."
Since that fateful morning, Bailey, McCurdy and their coalition have strongly advocated for the release of all cannabis prisoners including Rudi Gammo, another convicted cannabis offender serving time in a Michigan prison who's currently being considered for release.
In 2021, Gammo, with the help of McCurdy and Bailey, pushed on the outside to have his application for commutation looked at by the Michigan Parole Board.
Gammo was charged under a RICO statute for operating grow houses in Detroit and received five and 1/2 years. His earliest release date isn't until 2023. It is ironic that just a few months after he was shipped off to prison, Michigan passed legislation making it legal for citizens to possess recreational marijuana.
Michael Thompson, with McCurdy, founded the "Michael Thompson Clemency Project" (MTCP), which recommends review and consideration for possible commutation by Gov. Whitmer, in the cases of other incarcerated individuals many of whom Thompson served time with.
Among those who Thompson and McCurdy are pushing for, is the late Robert Cannon Jr., a co-organizer that worked with Thompson to put together the George Floyd 'Celebration of Life' while housed at the Muskegon Correctional Facility. This incredible act of resistance was recently a featured story on the National Public Radio Snap Judgment. The show was dedicated to Cannon's memory. Sadly, Cannon died in prison although his name was being considered for release. Advocates like McCurdy and Thompson have vowed to remember him and fight hard at gaining the release of others in recognition of Cannon. https://snapjudgment.org/episode/the-feast/
"…For me personally, to watch daily the diversity of all the beautiful hearts come together to say in one voice, they have had enough, gives some of us hope that one day those same people will bring to light the great injustice Michael Thompson received…" – Robert Michael Cannon Jr. (from an article by Sarah Gersten of Last Prisoner Project).
Ironically, Cannon was speaking Thompson's freedom into existence, and his spirit shall live on through those of us who can feel his energy flowing within the universe. The work of McCurdy, Thompson and others must be applauded, as their efforts include bringing a sharp focus on unfair sentencing practices and over-incarceration. These factors have undoubtedly contributed to the build-up of 2.2 million people incarcerated in the U.S., with some 40,000 behind bars for cannabis offenses.

Video interview of Michael Thompson by FOX WILX Jan. 29, 2021
MTCP is currently advocating for dozens of people to be released. Among those with clemencies already, or soon to be on Governor Whitmer's desk awaiting her signature are: Donald Williams, Horace Peterson, Rudi Gammo, Corey McCullough, Keith Stinson and LeRoy Washington. MTCP is urging the governor to sign the petitions immediately, invoking the adage that "Justice delayed is Justice denied."
Let us all embrace the same hope that Robert Cannon expressed, when he advocated from the inside for Thompson's freedom. The work of the Michael Thompson Clemency Project and the Michigan Cannabis Freedom Coalition is moving forward and making a real difference in reforming this broken system.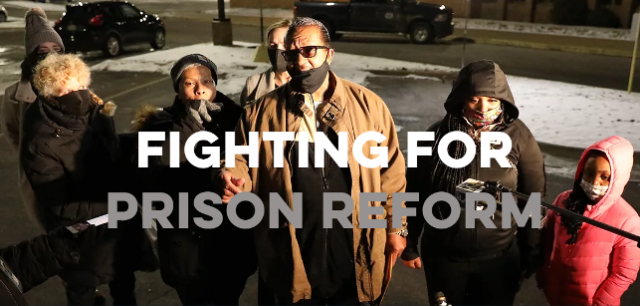 MICHAEL THOMPSON CLEMENCY PROJECT: 
*********************************************************************************
ALERT! VOD NEEDS HELP PAYING OUR QUARTERLY  PUBLICATION FEE OF $435.00 BY MARCH 4, this week! 
VOD's staff lives on limited fixed incomes or is incarcerated. We are not paid; we publish the paper pro bono. Chip in to keep us afloat so stories on this Prison Nation and Police State, and related matters, keep coming! Any amount is appreciated.
                          DONATE TO VOD
(Contact editor for details on other ways to send funds, at 313-825-6126 or diane_bukowski@hotmail.com.)
**********************************************************************************