Kensu's defense attorney Imran Syed of the Michigan Innocence Clinic appears in several sections of the video above, as "Kensu's attorney."
Michigan AG Dana Nessel's Conviction Integrity Unit (CIU) denied lifer Temujin Kensu's application for exoneration May 17
Valerie Newman, head of the Wayne County CIU,  acting as Nessel's "Special Asst. AG," wrote the denial letter

What does Newman's role in denying relief to Kensu mean for 1,700 applicants waiting in the Wayne County CIU?
Kensu was 400 miles away from Port Huron, the site of the 1986 murder of Scott Macklen with which he is charged, according to multiple witnesses
". . .Kensu could not have committed and did not in fact commit the crime for which the state is taking away the entire rest of his life, now 35 years on." U.S. Reps. Andy Levin and Rashida Tlaib, Michigan Sen. Stephanie Chang
David Shelton, whose DNA as a Black man ruled out the crime of rape and murder for which he has served 28 years, is among 1000+ AG/CIU applicants–what is planned in their cases?
By Diane Bukowski
May 30, 2022
DETROIT–The denial of relief for Michigan lifer Temujin Kensu, now 59, by state Attorney General (AG) Dana Nessel's Conviction Integrity Unit on May 17 has brought about a firestorm of support for Kensu and scathing criticism of the CIU's action.
It was not based on an evaluation of his ACTUAL INNOCENCE, but instead on AG guidelines derived from state court rules, despite the Attorney General's broad discretionary powers. Those rules are superseded by state law MCL 770.1, which says a judge can grant a new trial "when it appears to the court that justice has not been done."
Paula Kensu, Temujin's fiancée, called the denial "a duplicitous action intended to deny Temujin Kensu freedom from his wrongful conviction/life sentence for a murder that absolutely everybody knows he did not commit."
Multiple witnesses have testified that Kensu was in Escanaba, 400 miles away from Port Huron, the site of the murder for which he is charged, when it happened.
Kensu has been in prison since 1986, convicted of the murder of Scott Macklem in the parking lot of St. Clair Community College in Port Huron. Macklem's fiancée was Kensu's former girlfriend. The prosecution claimed the motive was jealousy. To refute the testimony of numerous witnesses at trial that Kensu was 400 miles away when the murder happened, Asst. Prosecutor Robert Cleland, now a U.S. District Court Judge, claimed Kensu, who was penniless, "could have" chartered a plane and flown to Port Huron to kill Macklem.
U.S. District Court Judge Denise Page Hood (now Chief Judge) cited prosecutorial misconduct as one reason for granting Kensu's "habeas" appeal. It was later overturned by the Sixth Circuit Court of Appeals on a minor technicality.
In 2020, Michigan Gov. Gretchen Whitmer denied clemency to Kensu, based on a recommendation of the Michigan Parole Board, which generally focuses only on the original charge brought against a prisoner.
On May 23, U.S. Reps. Andy Levin, D-Bloomfield Township, and Rashida Tlaib, D-Detroit, and Michigan Sen. Stephanie Chang, D-Detroit told Whitmer in a letter:
"We were deeply disappointed to learn that the Michigan Attorney General's Conviction Integrity Unit, known as the CIU, has declined to pursue the release of Temujin Kensu, an innocent Michigander who has been in prison for more than three decades. . . despite no physical evidence connecting him to the murder and several vetted eyewitnesses who place him more than 400 miles away from the scene of the crime, Kensu remains imprisoned."

They continued, "As longtime advocates for social justice, we believe that we must do more for Temujin Kensu and all wrongfully imprisoned individuals across the globe. In Kensu's case, all available options for relief must be pursued. The court allows for relief based on actual innocence and, Article V, Section 14 of the Michigan Constitution confers upon our Governor the power to 'grant reprieves, commutations and pardons after convictions for all offenses, except cases of impeachment.' We pray that those with the power to grant relief conduct a full review and grant relief to Mr. Kensu."
Valerie Newman's May 17 letter to Kensu's defense attorney, Imran Syed of the Michigan Innocence Project, said she had been appointed as special assistant to the AG to review Kensu's case due to a "conflict" within the CIU involving its Director Robyn Frankel.  She declared Kensu's case had been closed without action.
VOD contacted the AG's office for further information on the conflict, but received no response.
Newman wrote: "The AG guidelines mandate there must be new evidence supporting factual innocence. New evidence means evidence not at all considered at trial or during post-conviction appeals."
http://voiceofdetroit.net/wp-content/uploads/Valerie-Newman-AG-letter.pdf
Valerie Newman also heads the Wayne County  Conviction Integrity Unit, which is reviewing the cases of 1,700 applicants, many of whom have been waiting for years. Her action on Tensu's case throws into question what will happen to other Wayne Co. CIU applicants.
That unit is already under attack from the City of Detroit Police Department and its Corporation Counsel. Complaining of the impact of the millions in settlements on the City's budget, they claim some of the unit's 31 "exonerations" to date are not valid. The unit's own statements that many of those releases do not involve exonerations, but are due to unfair trials and other issues, has complicated the issue.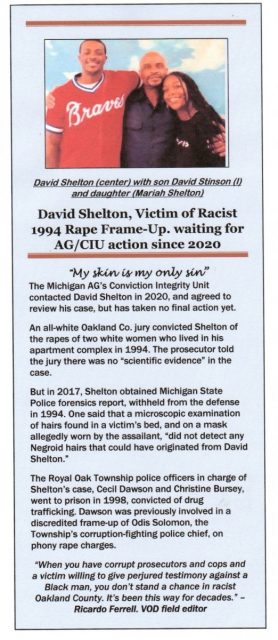 Newman's stance on Kensu's case runs counter to what Robyn Frankel  told "Proving Innocence," an organization originally set up by former TV news reporter Bill Proctor.
"We are aghast and disgusted with the CIU and your decision not to grant justice to a wholly innocent man, Temujin Kensu (aka., Fredrick Freeman)," said William T. Branham, Jr. President, and B. David Sanders Vice-President, of Proving Innocence in a letter to AG Nessel.
"This is unconscionable and unacceptable and a betrayal of your claim the CIU would fight for true justice for the wrongfully convicted. That is hardly the case and the CIU is being  revealed as an empty vessel that will continue to do very little on behalf of those wrongfully convicted by our justice system."
They continued, "Most disturbing, is that we and so many others were misled by the CIU in its mission and intentions. Now, and only after your CIU's review of Mr. Kensu's case has concluded, we learn you have completely changed the definition of "new evidence".
The two officials said Robyn Frankel had told them in a text, "Evidence which was not presented to the jury (though it might have been known at the time of trial) may be considered 'new evidence' for CIU purposes. . .Also, any evidence which illustrates that a person is innocent of the offense will be considered by the unit. This would include police or prosecutor misconduct where that misconduct implicates a person's factual innocence."
http://voiceofdetroit.net/wp-content/uploads/Proving-Innocence-Letter-to-Nessel-re-Temujin-Kensu.pdf
But in her letter to Syed, Newman wrote: "The AG guidelines mandate there must be new evidence supporting factual innocence. New evidence means evidence not at all considered at trial or during post-conviction appeals."
AMICUS BRIEF IN PEOPLE V. SWAIN  CAN RESOLVE ISSUES IN KENSU'S CASE, THOUSANDS MORE WITH ACTUAL INNOCENCE CLAIMS

In 2015, nine esteemed prosecutors filed an amicus brief as requested by the Michigan Supreme Court in the case of People v. Lorinda Swain SC: 150994 (Mich. May. 18, 2016). It points out that, despite complex Michigan Court Rules regarding "new evidence," Michigan has an alternative and superseding standard for granting justice in actual innocence cases.
The current and former prosecutors were John Smietanka, Thomas Cranmer, James Samuels, Thomas Rombach, Gerald Gleeson II, Saul Green, Fred Mester, Anthony Badovinac, and Brandon Hultink.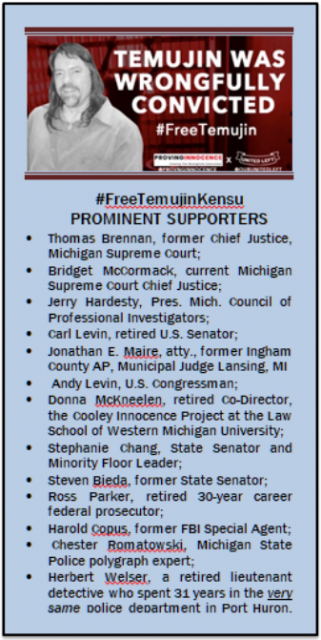 After beginning the brief with the statement in red above, they write in part,  ". . .MCL 770.1 stands as a substantive ground for relief independent of any provided by the Michigan Court Rules. The State of Michigan passed MCL 770.1 into law to correct wrongful convictions within the State of Michigan, by providing substantive relief from judgment from trial courts 'when it appears to the court that justice has not been done.' Statutes passed into law in the State of Michigan may not be overridden by court rules. . . MCL 770.1 stands as a substantive law independent of the Michigan Court Rules."
They add. . ."MCL 770.2(4) states that a court of record may always "grant a motion for a new trial for good cause shown." The brief eventually recommends that the state Supreme Court grant Swain's motion, which it did, resulting in her exoneration.
See brief at http://voiceofdetroit.net/wp-content/uploads/Amicus-Brief-for-Michigan-Supreme-Court-re-Lorinda-Swain-Smietanka-et-al.pdf.
Isn't it interesting, that John Smietanka, former U.S. attorney for the Western District of Michigan, and Saul Green, former U.S. Attorney for the Eastern District of Michigan, and seven other prosecutors, hired a law firm to present their opinion on behalf of DEFENDANTS, not just Swain, but ALL Michigan defendants in this matter of ACTUAL INNOCENCE?
Related stories:
ADVOCATES DENOUNCE GOV. WHITMER'S DENIAL OF CLEMENCY TO INNOCENT MICH. LIFER TEMUJIN KENSU | VOICE OF DETROIT: The city's independent newspaper, unbossed and unbought
Nessel draws criticism from supporters over review of '86 murder conviction (detroitnews.com)
Finley: 'I'm sentenced to die in this place.' Temujin Kensu needs help (detroitnews.com)
https://voiceofdetroit.net/2020/05/31/exposed-racist-frame-up-of-david-shelton-by-oakland-county-in-1993-rape-case/
##############################################################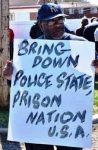 VOD's staff lives either on limited fixed incomes or is incarcerated. We are not paid; we publish the newspaper pro bono. Help keep us afloat by chipping in so stories on this Prison Nation and Police State, and related matters, coming! Any amount is appreciated.
                                       DONATE TO VOD 
(Contact editor for details on other ways to send funds, at 313-825-6126 or diane_bukowski@hotmail.com.)
########################################################