HEARING POSTPONED TO FRI. NOV. 4 8:30 AM
"I've been in here six years for an unlawful search warrant–it was a legal lynching." — George Rider
Appeals Court remanded Rider murder case to trial court Aug. 18: defense counsel "ineffective" for agreeing that warrant authorized phone seizure
Phone contents played major role in conviction;  four judges, including Judge Joseph Toia, who sentenced him to natural life, reviewed warrant 
"Never has anyone been convicted of First Degree Murder for two unauthenticated  text messages." — Ricardo Ferrell, VOD Field Editor
Rider's case part of a pattern of racially-biased arrests, convictions, and practices over decades in Macomb County
By Diane Bukowski
VOD Field Ed. Ricardo Ferrell wrote six stories on case
COA ruling:  http://voiceofdetroit.net/wp-content/uploads/COA-George-Rider-et-al.pdf
Defense atty. Christine Pagac Appellate Brief earlier sent to COA 
http://voiceofdetroit.net/wp-content/uploads/George-Rider-appellate-brief-CPagac2.pdf
October 22, 2022

Mt. Clemens, MI – George Rider, a prominent Detroit-area businessman and community activist convicted of the 2017 murder of Julii Johnson, will be back in Macomb County Circuit Court Friday Nov. 4 (postponed from Wed. Oct. 26.)
Rider Evidentiary Hearing Friday Nov. 4, 8:30am Judge Joseph Toia 
Macomb County Court Building
40 N. Main St, 4th Floor
Mt. Clemens, MI 48043
Toia sentenced him to life without parole in 2019.
A state appeals court remanded his case back to the trial court Aug. 18, ordering an an evidentiary hearing.
It upheld Rider's "ineffective assistance of counsel" claim, citing former defense attorney Suzanna Kostovski's agreement at trial that Warren police had a valid warrant to seize his cell-phone inside a Roseville car wash. The cell phone played a major role in Rider's conviction.
"The trial court shall determine whether defendant is entitled to a new trial on the basis of ineffective assistance of counsel," the court concluded.
The court found that the warrant used did NOT allow the seizure of the phone, only records from Metro PCS. (See box.) One officer testified at trial that the seizure of the phone was the chief reason for their "traffic stop" of Rider INSIDE the car wash after state and federal agents tracked it using "pings" from cell towers.
Rider told VOD, "My attorney and the prosecutor knowingly allowed me to be convicted when they knew the phone was not admissible. Four judges on this case all knew that my warrant was unlawful. I've been in here six years for an unlawful warrant. It was a legal lynching."
Rider referred to Judge Toia and 37th District Court Judge Michael Chupa, who bound him over, along with his previous trial judge, Jennifer Faunce, who was earlier removed because her sister, 37th DC Judge Suzanne Faunce, signed that and other warrants in the case.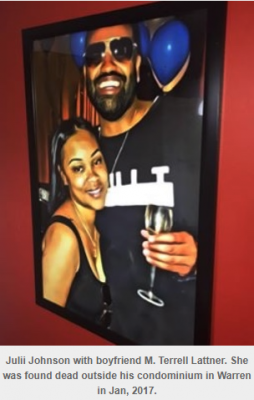 Rider's current attorney Christine Pagac won the remand after participating in oral arguments at  the appeals court.
This was the second time in two months that a Michigan appeals court has remanded a Macomb County criminal case for "ineffective assistance of counsel," both in Toia's court. In each case, the appellate court said Toia played a role in the "ineffective assistance."
Rider was convicted in the Jan. 13, 2017 murder of Julii Johnson, 34, outside her boyfriend J. Terrell Lattner's Warren condo. Police originally zeroed in on Lattner as the chief suspect after finding $500,000 in cash and a trove of weapons and illegal drugs at the condo and in Lattner's truck.
Those finds led to speculation that either Lattner or drug dealer rivals killed Johnson. Lattner, who was on life-long probation for earlier federal crimes,  was convicted separately on federal counts of felon-in-possession of one of the guns at issue in Rider's case. He was released from prison last January.
Defense attorneys during the trial unsuccessfully challenged the composition of the jury, which was composed of nine whites and three Blacks in a county with a burgeoning Black population.
Rider's two co-defendants, Marcie Griffin and Eric Gibson, were also convicted of capital murder in the case. However, the appeals court affirmed their convictions.
"There was no direct evidence connecting Rider to the crime," VOD Field Editor Ricardo Ferrell, who covered the story in multiple articles, linked below, wrote at the time.  "In the history of Michigan's court system, never has anyone been convicted of First Degree Murder for two text messages that were never authenticated."
The Michigan State Police Crime Lab ruled Rider out as a contributor in DNA tests on two guns linked to the case, and a pair of work gloves found near the second gun. No eyewitness otherwise identified him as the killer or co-conspirator.
Instead, the prosecution introduced vague text messages from the phones allegedly belonging to Rider, his co-defendants and others, which did not include any admissions of the crime. The mainstream media repeatedly highlighted the gossipy messages in its coverage of the case.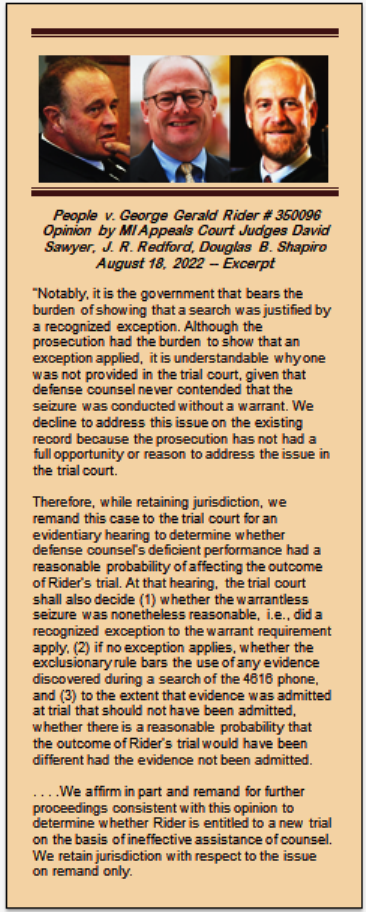 Rider contended at trial that four cell phones, including the one seized, were commonly left at the Fine Arts Theater, which he previously owned, for anyone to use.
The prosecution used "pings" on cell towers from the phones to place them in key locations, although a cell phone tower expert testified at trial that such "pings" cannot definitely identify any individual.
Rider and his supporters contend that federal agents met with Warren police at their headquarters on the day of his arrest, Feb. 23, 2017, to push for a murder conviction after their long-time attempts to convict him of a variety of federal crimes failed.
VOD has filed a Freedom of Information Act request with Macomb County's Office of the Corporation Counsel for details on the meeting at Warren police headquarters, and for copies of material in Rider's homicide, miscellaneous, and prosecutor's files.  http://voiceofdetroit.net/wp-content/uploads/George-Rider-FOIA-2.pdf 
Jurji Fedorak, the assistant prosecutor in various trials covered by VOD,  is married to U.S. Alcohol, Tobacco and Firearms agent Vera Fedorak.
A month after Rider's arrest, federal agents and police raided the home he shared with his girl friend and son with no search warrant, only an application for a warrant. The two said they were threatened that if they did not open the door, the police would knock it down.
No search warrant was ever produced, and no charges brought pursuant to the raid. Rider has filed a complaint in the federal court demanding the return of the property seized.
During his two-year confinement in the Macomb County Jail prior to trial, which included multiple repeated adjournments of hearings on motions to dismiss and  Rider's claims under the Fourth Amendment,  federal agents charged Rider and his brother Lawrence Rider with orchestrating an arson-for-profit scheme from his jail cell.  The only witnesses were self-admitted federal informants.
Charges against George Rider were dismissed without prejudice Nov. 7, 2019, but his brother, who is now legally-blind,  told VOD that a federal agent forwarded a plea agreement for him to sign to his attorney, but he is withdrawing it.
George Rider previously served time on federal drug charges, but went on to become a respected property owner and community activist in the Paradise Valley/Brush Park/Cass Corridor communities. He was thus a target for corporate gentrification drives aimed at Black business owners and residents, who were displaced by the wealthy white corporate owners of Little Caesar's Arena, other sports and entertainment facilities and new market-rate housing for the influx of suburbanites into downtown Detroit.
Rider at one time owned the Fine Arts Theater in the area. Three previous owners of that venue were found murdered, and their cases have never been solved. He had sold his ownership rights shortly before his arrest for the murder of Johnson. Rider and his supporters believe that the federal government, the state and police acted in concert with corporate forces to frame him as part of the gentrification and "white-out" of downtown Detroit.
Another Michigan Appeals Court panel reversed Reinaldo Jemison's 2019 second-degree murder conviction on Sept. 15,  also citing "ineffective assistance of counsel," and sent it back for a new trial. Judge Toia was also the trial judge in that case.
It cited the "ineffective assistance" of defense attorney David Cripps. It said Cripps failed to properly investigate or pursue his client's self-defense claim. It added that Judge Toia erred when he accepted defense counsel's "patently incredible testimony" regarding evidence that Jemison had raised the self-defense claim to him from the beginning. Cripps instead chose to argue that Jemison didn't kill the victim.
In addition to Jemison's case, others involving racially-biased convictions in Macomb County that VOD has covered include those of Terry WIlson, whose conviction was reversed because of racial bias on his trial jury, which was virtually all white, and Saad Akram Bahoda. (See VOD stories below.)
Related: 
"A LEGAL LYNCHING"—GEORGE RIDER TO MACOMB CO. JUDGE JOSEPH TOIA, DURING SENTENCING TO LWOP | VOICE OF DETROIT: The city's independent newspaper, unbossed and unbought
RACIST RAILROAD OF GEORGE RIDER, OTHERS IN 2017 MURDER OF JULII JOHNSON–MACOMB COUNTY 'JUSTICE' | VOICE OF DETROIT: The city's independent newspaper, unbossed and unbought
WHO KILLED JULII JOHNSON IN 2017–GEORGE RIDER, HARASSED BY FEDS, OR BOYFRIEND/ DRUG ASSOCIATES? | VOICE OF DETROIT: The city's independent newspaper, unbossed and unbought
GEORGE RIDER EVIDENTIARY HEARING FINALLY HELD W/NEW JUDGE, BUT RULING DELAYED UNTIL DEC. 19 | VOICE OF DETROIT: The city's independent newspaper, unbossed and unbought
GEORGE RIDER CASE SHOWS CORRUPTION RUNS DEEP WITHIN MACOMB COUNTY, MI COURTS, POLICE | VOICE OF DETROIT: The city's independent newspaper, unbossed and unbought
MACOMB CO. CORRUPTION CONTINUES WITH BAHODA CASE, UNDER PROS. ERIC SMITH, AP JORIJ FEDORAK | VOICE OF DETROIT: The city's independent newspaper, unbossed and unbought
MICH. LIFER TERRY WILSON STILL FIGHTS FOR JUSTICE, BATTLING RACISM IN MACOMB CO./ RE-TRIAL FEB. 2023 | VOICE OF DETROIT: The city's independent newspaper, unbossed and unbought
**********************************************************************************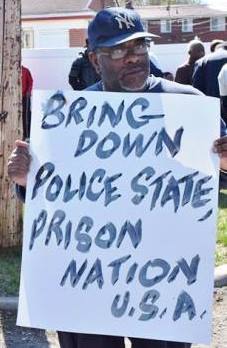 Voice of Detroit is a pro bono newspaper, now devoting itself entirely to stories related to our PRISON NATION and POLICE STATE.
VOD's editors and reporters, most of whom live on fixed incomes or are incarcerated, are not paid for their work. Ongoing costs include quarterly web charges of $460.00, P.O. box fee of $180/yr. and other costs including utility and internet bills, costs for research including court records and internet fees, office supplies, gas, etc.
Please DONATE TO VOD at:
**********************************************************************************