By Ricardo Ferrell
November 21, 2022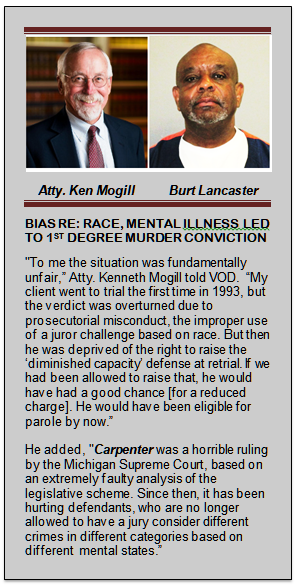 After his first decade behind bars, Burt Lancaster, who's serving LWOP for the shooting death of his girlfriend in Southfield in 1993, finds art as an outlet in coping with the stress of being locked up and helping deal with his mental health.
"When I first came to prison, I had all sorts of reservations. I wondered how I would be treated by other prisoners because of my career choice of being in law enforcement," Lancaster told VOD Field Editor Ricardo Ferrell.
"The reality of being in prison for my girlfriend's death hit me pretty hard and fast," he added. " I contemplated harming myself as a way out of my predicament, but something told me to pick up a pencil & pen and try art again, as I knew it could be therapeutic because I first learned how to draw at the age of 16, but back then, I didn't take it serious.
But in here I got professional with at it, especially drawing faces, that was nearly 20 years ago and the rest as they say, is history," Lancaster says.
His works are also displayed on Facebook and other social media.
RELATED:
RUSH TO JUDGMENT? JUDICIAL BIAS RE: RACE, MENTAL ILLNESS EVIDENT IN MICHIGAN LIFER'S CONVICTIONS | VOICE OF DETROIT: The city's independent newspaper, unbossed and unbought
LIFER BURT LANCASTER NEEDS 'SECOND LOOK'– RENEWS CHALLENGE TO OAKLAND CO. MURDER 1 CONVICTION | VOICE OF DETROIT: The city's independent newspaper, unbossed and unbought
WRITE BURT R. LANCASTER AT
Burt R. Lancaster #242182                                                                                                      G. Robert Cotton Correctional Facility                                                                              3500 N. Elm Road
Jackson, MI 49201