"My expert witness was prohibited from presenting a clinical diagnosis that I was a battered woman who had PTSD as a result of long term battering. That evidence was critical to my entire defense. The jury never heard it because of the restrictions of People v. Christel." — Nancy Seaman
Tens of thousands of battered women like Seaman remain in prison
Seaman still at Women's Huron Valley Prison, where incarcerated women subjected to sexual abuse, according to fired employees
Three women have allegedly killed themselves at WHVP in the last 3 years, questions remain
Editorial
By Ricardo Ferrell, VOD Field Editor
With comments from Kelle Lynn, Director,  Justice Through Storytelling (JTS) Justice Thru Storytelling (jtsadvocates.com)
March 23, 2023
In 2018, this writer became familiar with the case of Nancy Seaman, the now 70-year-old former Farmington Hills school teacher who was convicted in 2004 of killing her abusive husband Robert Seaman. For nearly twenty years since her incarceration, Nancy Seaman has spoken out about decades of domestic abuse by her late husband.
In an article previously written, I addressed the years of abuse that Seaman experienced and endured. The title: "Bout With Domestic Abuse: A Woman Who Survived" brings to light the physical and emotional abuse so many victims are subjected to. Sadly, there's countless women who weren't able to make it out and didn't survive.
In the last half-century of being in and out of the judicial system, I have never seen any defendant receive the wide range of support that Nancy Seaman has garnered which included an unusual move by the late Oakland County Circuit Judge Jack McDonald, who became Seaman's most staunch supporter. Not only did Judge McDonald have an issue with the verdict by the jury, he utilized his judicial powers to change the First Degree Murder Conviction to Second Degree Murder. Quite a gutsy move by a jurist of the court.
Recently, I received an updated account from Ms. Seaman which speaks to her truth about the injustices during the highly publicized jury trial, where she stands in post-conviction, and how advocates are calling for her release through clemency.
"The prosecutor, who is not an expert witness, is technically not bound by those same limitations on expert witness testimony that the defense expert faces," Ms. Seaman told me. "Prosecutors take advantage of that fact as happened in my case. My defense expert witness was prohibited from presenting a clinical diagnosis that I was a battered woman who had PTSD as a result of long term battering. That evidence was critical to my entire defense. The jury never heard it because of the restrictions of People v. Christel." People v. Christel :: 1995 :: Michigan Supreme Court Decisions :: Michigan Case Law :: Michigan Law :: US Law :: Justia
"The prosecutor . . . . stood before the jury, and announced that she was Head of the Domestic Violence Unit in Oakland County," Ms. Seaman continued.
"She used the prestige of that office to unequivocally state that the woman on trial is not a battered woman. She then used every myth, stereotype, and misconception about battered women to discredit not only my claim that I was a battered woman, but it discredited the minimal amount of general Battered Woman's Syndrome (BWS) and PTSD syndrome testimony that my experts were allowed, by state law, to present. The jury, unaware of the limitations on expert testimony, waited for the defense to counter the prosecution's claims. When that did not happen due to the limitations on the testimony of the experts, the jurors were left to presume what the prosecutor said was true. In their eyes, the prosecutor was an expert."
The Assistant Prosecutor was  Lisa Ortlieb-Gorcyca, now Oakland County Sixth Circuit Court Judge Lisa Gorcyca. On Dec. 14, 2015, the Michigan Judicial Tenure Commission filed (JTC) filed a formal ethics complaint against Judge Gorcyca. Their recommendation for public censure was upheld by the Michigan Supreme Court in 2017. The complaint involved a custody case proceeding during which she remanded three minor siblings to to juvenile detention for refusing to have lunch with their father. She said they would not be eligible for review of her order until they were 18 years old.  After widespread publicity, the children were released after two weeks.
Seaman has piqued the interest and caught the attention of the Michael Thompson Clemency Project (MTCP). In a recent board meeting in Lansing, Mike McCurdy, Co-Director of the MTCP, suggested their team make an assessment of Nancy's situation and add her to likely new clients to advocate and push for the granting of commutation by Gov. Gretchen Whitmer.  Prison Reform | Michael Thompson Clemency Project (mtclemency.com)
"In 2016, I met Nancy Seaman's trial Judge John Jack McDonald, who was retired from the bench," Kelle Lynn, Director of Justice Through  Storytelling, said. "I sat in his home for two hours, listening to him talk about Nancy, with a stack of documents sitting at the foot of his chair. He was sad about the outcome and said he never got over the fact that Nancy would spend the rest of her life in prison. He said it affected him so much that he risked his re-election as a judge when he decided to overturn the verdict from first degree to second."
Lynn said she filmed Judge Macdonald at his home a few months later.
"He told me then,  that had the jury heard more from nationwide domestic violence expert Dr. Lenore Walker, he felt confident they would have never agreed to life in prison. The letter he read from Dr. Walker after the trial gave him a profound understanding of the dynamics of intimate partner violence regarding Nancy's case. He said he wished the jurors could have been presented with that same information during the trial."
Lynn added, "Judge McDonald said everyone who testified on Nancy's behalf said she was a kind and peaceful woman. However, almost everyone described her husband, Bob, as a man whose rage was always near the surface. He showed me a stack of letters he had received after the trial. One letter from Bob's childhood schoolmate said Bob had been a bully all through school and believed he bullied Nancy as well. Judge McDonald was willing to do whatever it took to advocate for her release. He was on national news and agreed to every interview. He didn't care about what people thought – he followed his gut instinct."
Meeting with Former Parole Board Chairperson Michael Eagen
Lynn said that in November 2018,  she, Judge McDonald, and prison psychologist Nels Thompson met with Michigan Parole Board Chairperson Michael Eagen.
"Nels Thompson was a prison psychologist who worked for the MDOC for 18 years," Lynn said. "He developed a domestic violence program and counseled incarcerated women. That's how he knew Nancy and concluded she wasn't a criminal – she was another woman behind bars for defending her life.
"They both pled with Mr. Eagen asking him to recommend that then Governor Rick Snyder grant her commutation. Judge McDonald and Nels Thompson were more familiar with the facts of Nancy's case than Mr. Eagen, so why wouldn't he take their pleas seriously? Judge McDonald told Mr. Eagen he hoped to witness her release before he died. Unfortunately, he didn't see that happen before he passed in August 2019."
Recently, Kelle Lynn and MTCP co-director Mike McCurdy sent a powerful letter to State Senators Stephanie Chang and Jeff Irwin, where they urged both senators to encourage the Parole Board to reconsider Nancy's commutation application.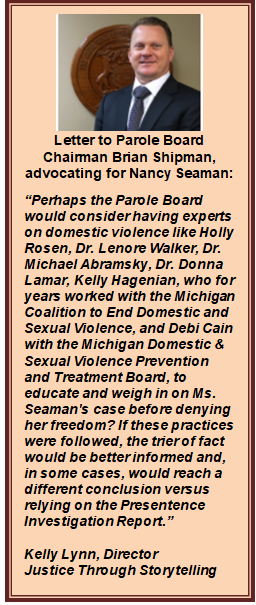 Lynn added, "In October 2021, I sent a letter to all the jurors in Nancy's 2004 trial, which included a study of Nancy's case written by a domestic violence expert at Michigan State University. Within a few days, one male juror called me, and we spoke for two hours. He said he went through the detailed report with a fine-tooth comb. The juror was upset that none of the information about Nancy's trauma from years of abuse and how it affected her actions was presented at trial. As a result, he did a complete turnaround from being quoted in the Detroit Free Press in 2005 as wanting Nancy to serve a life sentence to signing an affidavit supporting her immediate release.
"I wrote Brian Shipman, the chairman of the Parole Board. I asked him if the Parole Board would try something different and consider consulting with any of the following people to weigh in on Nancy's commutation application before denying it again
"Like many women survivors, Nancy's guilty of not leaving earlier, staying silent, and not calling the police more. In my conversation with prosecutors, they have admitted that these women are short on evidence, and that's what they base their case on. Most people would have no idea what the court is looking for in terms of evidence. Yet, for some reason, the courts and society point the finger at these women and blame them all the way to prison."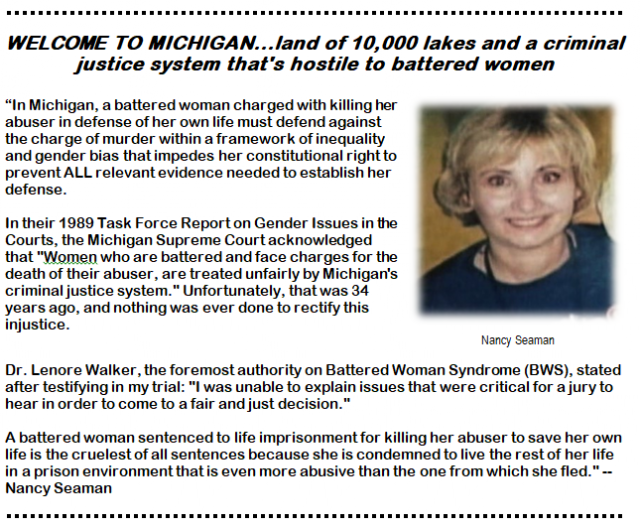 In August 2005, Judge McDonald ordered that Seaman be resentenced to second degree murder, but the prosecution appealed that order and it was overturned. Then in 2010, U.S. Eastern District Court Federal Judge Bernard Friedman overturned Seaman's conviction, saying the prosecution failed to prove premeditation and deliberation, and that, combined with ineffective assistance of counsel and the omission of critical BWS evidence denied her a fair trial. He granted her habeas petition and ordered either a new trial or immediate release. The prosecutor again appealed.
The Sixth Circuit Court of Appeals reversed the District Court's grant of a new trial, largely on technical grounds, and ordered Judge Friedman to dismiss the appeal, largely on technical grounds. See Sixth Circuit ruling at USCOURTS-ca6-10-02477-0.pdf (govinfo.gov).
The U.S. Supreme Court did not grant a writ of certiorari.
As featured on NBC, NPR, Megyn Kelly TODAY, Ashleigh Banfield with CNN Headline News, Judgment with Ashleigh Banfield – Court TV, Detroit Free Press, and the Grand Haven Tribune, Justice Thru Storytelling (501c3) is committed to changing the narratives of women who are incarcerated or face imprisonment for defending themselves or their children from potentially deadly domestic violence.
Our focus is to change a longstanding Michigan ruling, People v Christel, that restricts expert testimony regarding battered spouse syndrome in trials of those accused of injuring or killing their abuser in self-defense. By changing the ruling to be more in keeping with a majority of other states, psychologists and other domestic violence experts will be able to testify on behalf of women in Michigan who stand accused of crimes against their abuser.
Justice Thru Storytelling executive director Kelle Lynn gives a voice to the women at Huron Valley Correctional Facility in Ypsilanti, MI who are incarcerated for defending their lives against intimate partner violence. In 2018, she spearheaded the "Double Injustice to Women" campaign to ensure Michigan women who are abused in their homes are not abused again in our courts. The "double injustice" stands for women who are being threatened and terrorized in their own home, then end up being treated unfairly and with great disparity in the criminal justice system. The #MeToo movement has recognized the voices of women all over the world, but incarcerated women have been mostly forgotten behind prison walls.
We need your help to make these important changes in our state to obtain #Justice4Women. Please visit our website at jtsadvocates.com and click on the DEMAND JUSTICE link to send this video message to your legislators.  Video Link: https://youtu.be/BqJiSualEsQ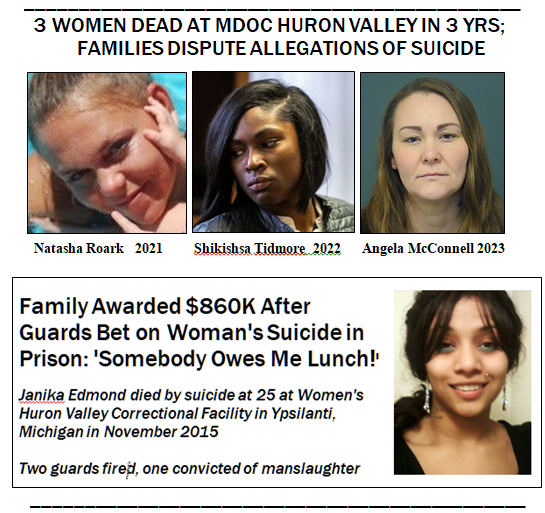 Related stories:
VOD Editor Ricardo Ferrell sounded the alarm about the 2015 alleged suicide of Janika Edmond at WHV in 2015, focusing on the role of guards. He called for an investigation of such deaths, which has not yet taken place.
MDOC EXPERIENCING RISE IN SUICIDES AT TREATMENT PROGRAM; ARE CORRECTIONS OFFICERS RESPONSIBLE? | VOICE OF DETROIT: The city's independent newspaper, unbossed and unbought
Woman dies in third suicide at Michigan women's prison since 2021 (freep.com)
Shikisha Tidmore dies after apparent suicide at Michigan women's prison (freep.com)
Prisoner dies by apparent suicide at Michigan's women's prison (freep.com)
Judge overturns 2005 conviction of Farmington Hills teacher who killed husband with hatchet – mlive.com
Woman who killed husband: I cry every day for him (hometownlife.com)
Judge Accused Of Misconduct After Locking Up 3 Kids In Custody Case – CBS Detroit (cbsnews.com) (Re: Lisa Ortlieb-Gorcyca, Asst. Prosecutor in Seaman case.)
**********************************************************************************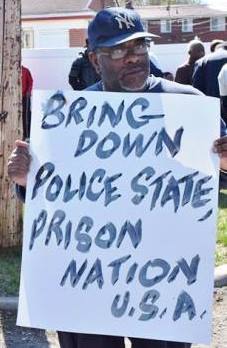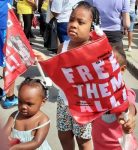 Voice of Detroit is a pro bono newspaper, now devoting itself entirely to stories related to our PRISON NATION and POLICE STATE. Funds needed now to pay quarterly web hosting fee of $460.00, due March 4, 2023. VOD will disappear from the web if fee not paid.
VOD's editors and reporters, most of whom live on fixed incomes or are incarcerated, are not paid for their work. Ongoing costs include quarterly web charges of $460.00, P.O. box fee of $180/yr. and other costs including utility and internet bills, costs for research including court records and internet fees, office supplies, gas, etc.
Please DONATE TO VOD at:
************************************************************************************