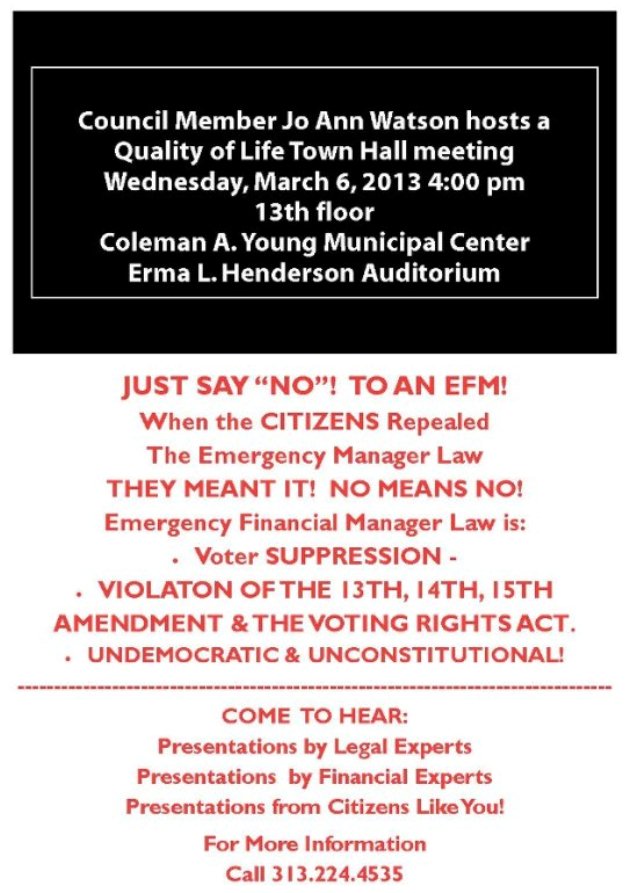 Councilwoman JoAnn Watson to lead rally as mayor and Council dally
Civil rights groups call for "prayer vigil" at federal courthouse Thurs. March 7, appeal to US AG Holder despite his earlier silence
EFM's and EM's have greatly increased deficits of cities, schools 
By Diane Bukowski 
March 5, 2013 
DETROIT – Detroit City Councilwoman JoAnn Watson has announced a public town hall meeting to educate residents about, and rally them to oppose, Michigan Gov. Rick Snyder's imposition of an Emergency Financial Manager on Detroit. She said at today's council meeting that the rally will be held Wednesday March 6, 2013 at 4 p.m. in the Erma A. Henderson Auditorium of the Coleman A. Young Center at Jefferson and Woodward Avenue. 
Speakers are to include mayoral candidates Krystal A. Crittendon and Tom Barrow. Former Detroit Corporation Counsel Crittendon is to explain the legal implications of such a takeover. Noted accountant and activist Barrow will address the city's finances, explaining why Detroit has NOT violated Public Act 72, the law to which the Snyder administration reverted after the Michigan's voters overwhelmingly rejected PA 4. 
"There exists irrefutable evidence that EFM's imposed by the state of Michigan and municipalities and school districts predominated by people of color have not solved financial deficits," Watson said in an earlier statement. "EFM's have actually increased deficits, deepened fiscal crises and de-stabilized governmental infrastructures, while robbing citizens of assets, services, access to decision-making, voter representation and accountability."
The chart below focuses on deficits, but at the same time, EM's have sold off huge chunks of city assets, shut down services, laid off thousands of public employees, and virtually wiped the cities affected from the map. Wall Street banks have campaigned during the past decade to drive municipalities further into debt to profit from staggering interest rates. Standand and Poor's, currently being sued by the Department of Justice for fraud, and other ratings agencies have increased that debt by downgrading those cities' ratings.
Watson's announcement came in the wake of foot-dragging by Mayor Dave Bing and the City Council majority regarding their right to appeal Snyder's announcement that he intends to impose an EFM. The Council is to discuss a resolution to appeal the action Wed. May 6 at 9 a.m. and may vote on it Thursday. But Council President Pro Tem Gary Brown expressed reluctance to act without Bing. Council members and the public called on Bing to come to the table to present a united front. 
Brown and Council President Charles Pugh reportedly campaigned unsuccessfully for a revised consent agreement during meetings with Snyder and State Treasurer Andy Dillon yesterday. Many Detroiters have said, however, that it was the Council "Fatal Five's" cave-in on the first Consent Agreement April 4, 2012 that opened the way for the current situation. 
Crittendon said earlier, "The Financial Review Team Report provides no justification for the appointment of an emergency financial manager, especially when it makes no mention of $800 million in accounts receivable owed to the City as confirmed by State Treasurer Andy Dillon." 
"In [the spirit of Frederick Douglass] I call upon my fellow Detroiters, activists and citizens alike, to let's meet to plan our actions to combat this abrogation of democracy. Barrpw said in a statement. "It may require civil disobedience in the name of all Americans who love freedom and democracy; it may require us to choose economic targets to boycott; strategic locations to disrupt; facilities to protect symbolically, and a plan of communication to our nation to show our outrage."
Dozens of Detroiters and supporters from outside the city again packed Council chambers to tell their elected leaders to stand up for Detroit, the largest Black-majority city in the world outside of Africa. 
"I ask the mayor to authorize collection of the taxes we've been discussing, and I want the Council to request this from the Mayor in writing," said Dawn DeRose. "Also ask him  ask him to pursue collections of money from the state as I understand he's the only one that can do that. Mayor needs to start doing what he needs to do for the citizens rather than making deals with the Governor behind closed doors. We do not need an EM." 
Valerie Glenn of Free Detroit No Consent sajd, ""We are asking you again, not to go along with this apartheid plan where we are treated like second-hand citizens. How long are you going to continue to create an underclass in Detroit? You have already laid off qualified people that would have had jobs today, contributing to the city's tax base."
She said she is concerned that the City Charter will be nullified, the remainder of city departments privatized, the water department taken over in toto, and Belle Isle given to the state. 
Rachel Maddow (see video below) discussed the failure of Michigan's draconian EFM and EM laws  on her national TV program on the Current Channel Monday night, asking why more attention is not being paid to the situation nationally.  
Rev. Charles Williams II of the National Action Network, and representatives of Rainbow PUSH and the Detroit branch of the NAACP said they are planning a prayer vigil Thursday, Feb. 7 at 6 p.m. outside the federal court building on Fort Street in downtown Detroit. They said they will ask U.S. Attorney General Eric Holder to initiate a federal investigation of Snyder's actions regarding violations of the National Voting Rights Act. 
However, an earlier appeal by U.S. Representative John Conyers (D-Detroit), to Holder fell on deaf ears. Conyers wrote Holder on Dec. 2, 2011 to ask him to investigate the effect of Public Act 4 on Michigan's majority Black cities, saying it was disenfranchising most of the state's African-American voters. 
Both Holder and Obama have remained silent on the question of Detroit, with Obama failing to make campaign stops here last year, although Detroit residents turned out to the polls in huge numbers to re-elect him, as well as repeal Public Act 4.