From Detroit Eviction Defense
5pm -11pm, UAW Local 1700 hall
Have fun, help a neighbor
 Detroit resident Angela Crockett has defended herself valiantly to keep her family from being evicted. This dinner-dance will raise funds to help save her home. The hall is located at 8230 E. 8 Mile Rd.
 Ms. Crockett and her son were foreclosed on by Citibank while participating in the Home Affordable Unemployment Program, in complete violation of the rules.
She has been fighting in court and through a public campaign to pressure Citibank to stop foreclosure actions and negotiate a fair solution that reflects the real market value of the home and a low interest rate loan.
 Sliding scale donations are $10 to $25, including food.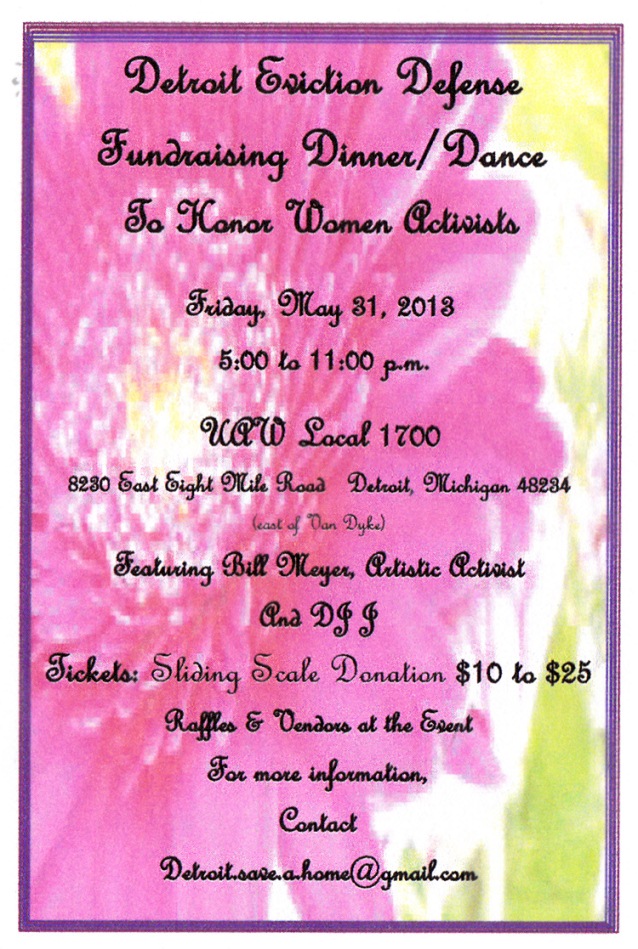 For more information, contact Detroit.save.a.home@gmail.com.
Related story:
http://voiceofdetroit.net/2013/02/19/stop-government-foreclosures-of-our-homes-hurricane-fannie-freddie-pack-hearing-wed-feb-20-2pm-u-s-judge-nancy-edmunds/