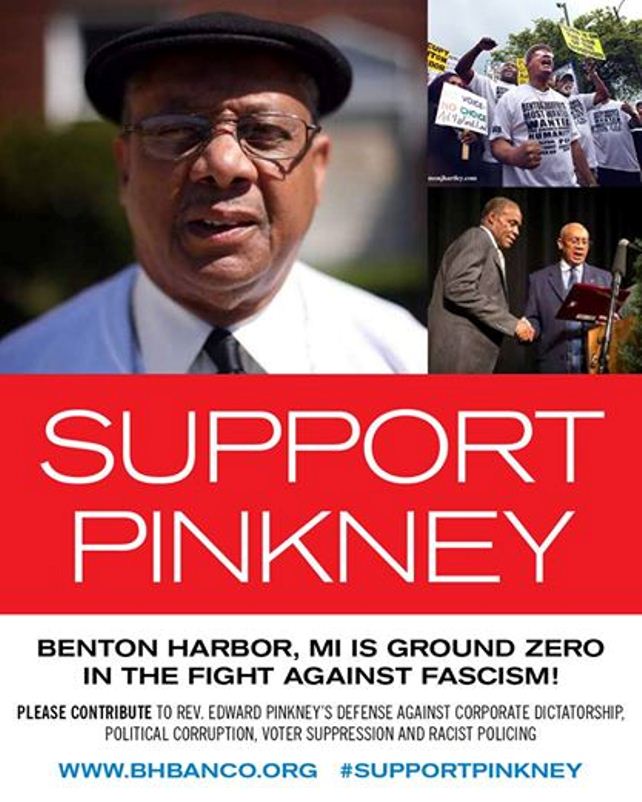 Clerk files lawsuit against herself
Spread the word and sign petition 
By Rev. Edward Pinkney
August 14, 2014
ST. JOSEPH/BENTON HARBOR, MI — Berrien County Judge John Dewane ruled the Benton Harbor recall election against Mayor James Hightower can be held. This is a major victory for the people against fascist county and city governments, directed by the Whirlpool Corporation.
The Benton Harbor mayoral recall election will now be held on Nov. 4, 2014. The order was issued Tuesday, August 12 by Judge John Dewane after the Aug. 7 civil trial.
Judge Dewayne ruled that County elections administrator Carolyn Toliver removed more than 100 good petition signatures to attempt to prevent the mayoral recall election organized by Benton Harbor and Benton Township residents.
The decision to schedule the election hinged on Judge DeWane's decision that the practice of the Berrien County Clerk's office to disqualify both signatures, (instead of just one) if a person signed a recall petition twice, violates First Amendment free speech rights.
[VOD: According to a report from ABC57 News, "The judge allowed some signatures that were previously disqualified to be reinstated. The judge did not discount all signatures that were [allegedly] altered, just those that appeared to have been collected prior to November 9, 60-days from the date the petitions were submitted to the clerk's office.  
The judge also found the clerk's office disqualified both signatures if a person signed twice. After adding 21 of those back into the count, the judge counted 407 signatures by qualified, registered voters. The petitoners needed 393 signatures for a recall election to happen. 
The judge wrote the clerk should hold the recall election on the next election date, November 4, 2014." 
However, Rev. Pinkney informed VOD that despite Dewane's findings that there were sufficient valid signatures, the Benton Harbor Sheriff's office is still pursuing felony charges against him, claiming without direct proof that he altered dates on the petitions. His trial is proceeding.] 
What you're about to read is absolutely true.
County clerk Sharon Tyler filed a lawsuit against herself in order to prevent the recall election. (She had originally verified the petition signatures.) 
Whirlpool most likely directed her to take this action, probably a first in US election history. Whirlpool was desperate because their man Hightower was losing by a large margin in the absentee ballots. (Those were sent out before the powers-that-be called off the election.
This is a tremendous victory for people all around the country, with all the corruption not just in Benton Harbor.
Sign my petition:
http://www.change.org/petitions/berrien-county-michael-sepic-stop-the-corruption-we-demand-justice-in-benton-harbor-michigan-and-the-resignation-of-berrien-county-michigan-prosecutor-michael-sepic-free-rev-pinkney-stop-the-corruption
blogtalkradio.com/Rev Pinkney
Pinkney to Pinkney show
Every Sunday at 5 pm eastrn time
Burn Baby Burn
Burn all NAACP MEMBERSHIP CARDS
(VOD note: Berrien County Clerk Sharon Tyler has indicated her desire to appeal Judge Dewane's decision, based on verbal encouragement given from unspecified personnel in the Bureau of Elections and the Attorney General's office. She is disputing the inclusion of names of those who signed the petitions twice; Judge Dewane held that one signature of each voter could still be counted.) 
Related stories:
http://voiceofdetroit.net/2014/07/13/drop-the-charges-against-rev-edward-pinkney-of-benton-harbor-trial-set-for-july-21/
http://voiceofdetroit.net/2014/06/07/benton-harbor-rev-pinkney-to-face-trial-on-felony-charges-july-21-despite-no-evidence/
http://voiceofdetroit.net/2014/06/03/rev-pinkney-in-the-mouth-of-the-beast-in-benton-harbor/
http://voiceofdetroit.net/2014/05/27/dismiss-all-charges-against-rev-pinkney-court-fri-may-30-save-benton-harbor-boycott-whirlpool/
http://voiceofdetroit.net/2014/05/10/rev-edward-pinkney-marcus-muhammad-battle-whirlpool-for-benton-harbor-pinkney-court-hearing-may-30/
http://voiceofdetroit.net/2014/04/26/free-rev-edward-pinkney-recall-whirlpool-stooge-benton-harbor-mayor-james-hightower/