Community/Union rally Tuesday, Jan. 20, 4 PM, 7700 Second Ave, 3 blocks n. of W. Grand Blvd.
Opposition slate wins other seats on board
Mainstream media attack begins
By Diane Bukowski
Commentary
January 18, 2015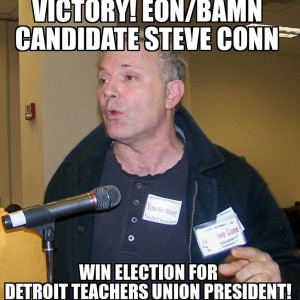 DETROIT – Supporters of Steve Conn and the EON/BAMN slate for the Detroit Federation of Teachers (DFT) leadership issued the following triumphant press release Jan. 17:
"Detroit teachers elected Steve Conn to head the Detroit Federation of Teachers today.  Conn, a long-time civil rights activist, ran on the Equal Opportunity Now/ By Any Means Necessary (EON/BAMN) slate.  Conn and BAMN will now lead Detroit's teachers in the new civil rights movement that is sweeping the country.
"Detroit teachers voted today to stand up to the attacks on their schools, their jobs and their students' futures by Snyder and his executive managers," said Conn in the release.   "I take office Tuesday, and am immediately calling a mass meeting of the union membership and community to begin a fight against these attacks, to defend public education, and to win equal, quality education for our students. We must vote on a plan of action for the DFT to join the citizens of Detroit in a fight to restore democracy and dignity to all of the people of Detroit."
Conn has taught math in DPS schools since 1985, most recently at Cass Technical High School.
While working for the now defunct Michigan Citizen, this reporter covered the DPS beat for eight years, noting BAMN's tireless recruitment of students to fight the horrific destruction of DPS. School closings at DPS paralleled the shutdown of the New Orleans public schools system after Hurricane Katrina, with DPS even getting the jump on New Orleans, announcing the closings of 50 schools in 2004 and continuing on to its ultimate goal of obliteration through the inferior Educational Achievement Authority (EAA) and charter schools.
The attacks on public schools in Detroit, New Orleans, Chicago, Philadelphia and other majority-Black districts have been particularly noxious because public education largely has its roots in the post-Civil War South. Kidnapped Africans, finally free of slavery and its prohibitions against learning to read and write, set up many of the nation's first public schools.
"I'm stunned at this moment," retired DFT head Keith Johnson told the Detroit News. "I'm gravely concerned about the future of this union. Steve has a single answer to everything and that is strike, walk out, protest. He doesn't understand that whether you disagree with someone or dislike them, you still have to work with them to move this district forward."
This reporter worked for the City of Detroit from 1974 to her early retirement in 1999. As an officer of AFSCME Local 457, representing Detroit General Hospital and the Detroit Health Department, she witnessed similar devastation of public jobs and services in the city sector. Under the leadership of Local 457 President Hazel Edwards, we joined with the members of Dodge Main UAW Local 3 to stop privatization and plant closings, and conducted a people's referendum to save the hospital. We warned then, beginning in 1977, that if Detroit General Hospital was privatized and Dodge Main closed, there would be a domino effect across the city.
WERE WE RIGHT OR NOT?
Former AFSCME Local 207 President John Riehl and Secretary-Treasurer Mike Mulholland, allied with Conn, also frequently called for mass strikes and other militant actions. Their local, along with Local 457, faced frequent confrontations with the top union leadership of Michigan AFSCME Council 25 and with the AFSCME International, who took positions similar to that of Keith Johnson's, meeting in smoke-filled back rooms with their allies, OUR BOSSES, in the Democratic Party, to "work together."
Local 207 made a heroic last-ditch attempt to save the City of Detroit when its membership at the Wastewater Treatment Plant wildcatted in September, 2012. The Local had built for this strike for months, holding informational pickets at water plants and at the Coleman A. Young Center, hoping to spark a city-wide uprising against the anti-union, anti-people actions of city and state leaders, with their corporate contractor friends and campaign contributors.
The City of Detroit was already planning to cut 80 percent of the jobs at the Detroit Water and Sewerage Department, through contractor EMA. Despite this looming disaster, AFSCME Council 25 leadership including Ed McNeil, Catherine Phillips, and President Al Garrett sabotaged the WWTP strike. They went to the picket lines at the WWTP to hand out U.S. District Court Judge Sean Cox's order to return to work, and visited other water plants to tell them not to strike.
Fast forward to 2014-15:  under the bankruptcy plan, virtually the entire Water Department is being stolen from the people of Detroit—all of the six outlying county areas, and all of the water plants and most major water lines in Detroit, will be transferred to the Great Lakes Water Authority.  DWSD employees have all been required to re-apply for their jobs.
Most of the city's other assets are on the chopping block as well. As Municipal Market Advisors reported, this stripping of revenue-producing city assets will likely lead to a SECOND Chapter 9 bankruptcy in short order.
If AFSCME Council 25 leadership had not betrayed the WWTP strikers, if it had not withdrawn its appeal of bankruptcy eligibility to the Sixth Circuit Court, IF IT HAD LISTENED TO ITS MEMBERS' DESPERATE CALL FOR ACTION AND FOLLOWED SUIT, we would not be facing the virtual destruction of Detroit today.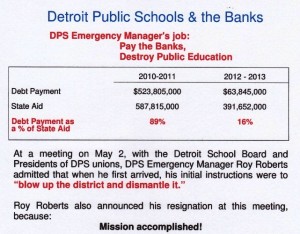 As a long-time union leader, and a long-time reporter on city of Detroit affairs, I wholeheartedly support Steve Conn's victory and call on his membership and the people of Detroit to help him TURN BACK THE RACIST, ANTI-UNION, ANTI-PEOPLE. PROTO-FASCIST TIDE. He and his supporters have a monumental job on their hands and deserve absolute solidarity from the people of Detroit.
Contact Steve Conn & EON-BAMN (Equal Opportunity Now – By Any Means Necessary) at 313.645.9340