Community challenges racist environmental pollution
Some worried about jail in residential area
By Ron Seigel
March 30, 2018
DETROIT–Wayne County Executive Warren Evans will be holding a second town meeting dealing with public reactions toward a tentative agreement he made with billionaire Dan Gilbert's firm, Rock Ventures, to build a new county criminal justice center at a controversial location.
It will take place Tues. April 10 at Detroit's AME Bethel Church at 5050 Saint Antoine from 6 to 7 p.m.
For this to happen the Wayne County Board of Commissioners must approve the deal.
According to the agreement, the justice center will be located near Warren Avenue and the I-75 expressway.
For some this location represents a problem.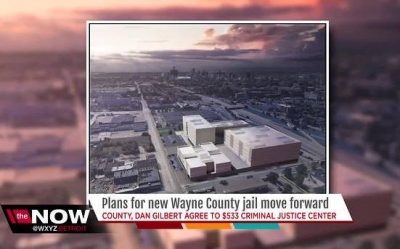 Evans office was quoted as saying this would include a county jail, a juvenile detention facility, county offices and a court.
Nearby residents expressed concern about having prisoners incarcerated near their neighborhood. They note if any of the prisoners escape, their children might be endangered.
Former Detroit planner Hilanius Phillips expressed concern that air pollution from both the nearby Waste Management Incinerator, a lead waste plant and the expressway itself could cause the same health problems as the water pollution in Flint, that resulted in the water crisis there.
Phillips states this would mean those imprisoned in the center, those working there (police, guards, court clerks, prosecutors, lawyers, secretaries, public officials), as well as those coming into the building, whether witnesses, lawyers, and court warchers, or relatives and clergy visiting the prisoners, would be affected and endangered in the same way Flint residents were.
Evans stated the land deal would add to the prosperity of the area. However, recently the U.S. Supreme Court ruled that Flint residents harmed by the water crisis could launch class action suits for damages. If there is a similar problem at the justice center, how much would the county have to pay?
Evans himself was not available for comment.
Keith Owens, deputy director of the county communications office, said he was not aware of Phillips warnings. This reporter agreed to mail him some information.
Related stories:
CONG. CANDIDATE BRENDA JONES MUST ANSWER: WILL DETROIT BECOME ANOTHER FLINT FOR HOMES, NEW JAIL?