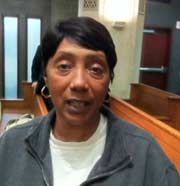 FROM HTTP://PEOPLEBEFOREBANKS.ORG
Gail McNeil was featured on Fox News2 after she testified in favor of the moratorium on foreclosures. A former auto worker, who took a buyout from Ford, McNeil, says the news report, is "one of tens of thousands of homeowners in Wayne County alone caught up in the foreclosure crisis.
"She says she did everything she could to save her house."
"'Relentlessly, I think I've explored every avenue possibly given,' said McNeil.
"Before leaving town, McNeil shared her story with members of the Wayne County Commission, who are considering the Homeowner Protection and Neighborhood Preservation Act. The initiative, introduced by Commissioner Martha Scott, calls for a one year moratorium on sheriff's foreclosure sales and an investigation into the financial practices of banks… the hope is this will eventually end up on the ballot.
"Meanwhile, McNeil says she hopes to return to Detroit someday, and she hopes this effort will help other people in the future."
–Local Fox 2 News, April 7, 2011
Wayne County Considering Sheriff's Foreclosure Sale Moratorium: MyFoxDETROIT.com

Commissioner Martha Scott introduced bill
FLUKER HEARING POSTPONED UNTIL MAY 13
Jerry Goldberg (l), attorney for Vanessa Fluker (center), Bev Lumley (r) and small portion of supporters who packed Chief Judge Virgil Smith's courtroom April 29 to support Fluker, who has been santioned by Judge Robert Colombo; the hearing was postponed to May 13 after Smith said he had been on vacation and didn't have time to read briefs. Goldberg, Fluker, and others are with Moratorium NOW! coalition and helped bring resolution on sheriff's foreclosures to Wayne County Commission. Go to VOD story to read about Fluker's case at http://voiceofdetroit.net/?p=6035.