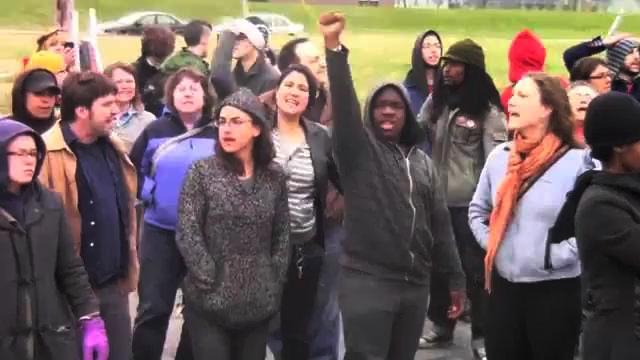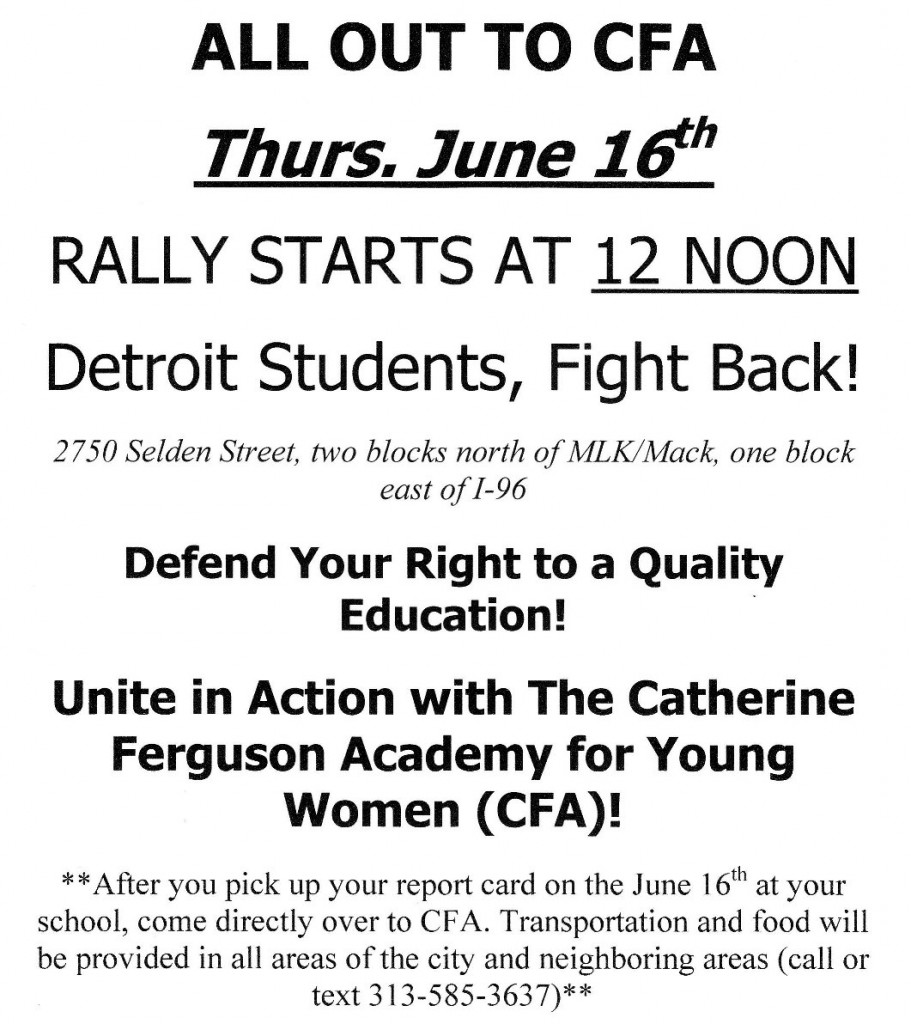 Catherine Ferguson Academy (CFA) is a Detroit Public School. CFA is a JEWEL of DETROIT and it is about to be stolen from our community- we must defend it and defend ourselves.  CFA students are standing on their feet fighting to defend public education, fighting to stop the destruction of programs in all of our schools through class size increases and elimination of our teachers, and against the closing of all of the public schools on the closing list. 
CFA is on the list to be closed. It is a school for pregnant and parenting teenage girls. At CFA, our sisters, cousins and friends, are not treated as outcasts, but are cared for and treated as fellow persons with value.  
CFA is a regular comprehensive high school, where the students can bring their children.  There is early childhood development and pre-school, and nurseries.  There are doctors, nurses and others who come to the school to provide services for the students and their children to make sure that they are all successful.  There is also a wonderful farm with goats, ducks, chickens, honeybees, fruit trees, vegetables and even a horse.
In a society where being a teenage mother enslaves most to a life of poverty and limited opportunity, CFA is like the first "safe house" stop on the underground railroad to freedom, a place of new beginning and hope for young women who have been told by so many that their own lives are over.  
We can save all of our schools and programs by uniting in action at CFA to make it clear that the new "Jim Crow", second class treatment of black and Latina/o and other minority students has no place in our city.  
On April 15, 2011, the brave students of CFA led Detroit and shook up the nation by sitting down and refusing to leave the school over spring break.  This action resulted in numerous schools coming off of the closing list.  However, CFA is still on the closing list and is being used as a "political football" between the Democrats and the Republicans, both of whom could keep the school open, but neither will without a fight led by the students to make them keep it open.  
Next time at CFA, if hundreds, not just dozens of people are gathered outside to defend the school, we will save CFA and win more of our demands.
Just like the auto workers forced the powerful auto companies to recognize their union in the 1930's through sit-down strikes, and Black high school and college students in the South broke the back of segregation by sitting down at lunch counters, and the hundreds of Northwestern High School students in Detroit kept their school open by walking out together and marching out last year, we must recognize, just as Dr. Martin Luther King did, that if young people act on "the fierce urgency of now," we can move mountains. 
In addition to closing CFA and numerous other schools, class sizes in all DPS high schools are being threatened to increase to forty-five (45) students per class starting in fall of 2012.  Schools that offer a college prep curriculum will no longer be able to effectively do so in reality.  And neighborhood schools will lose electives all together, as well as many extracurricular activities.  We must organize a massive mobilization to save CFA and preserve the quality of all DPS schools.
Anyone and everyone can and should come – people of all ages, schools, cities, etc., but the students have to lead!  
At this point, we have so much power at CFA because of the first set of actions. Students at Southeastern walked out three times and won the right to sing at the MSVMA choral festival, and led a successful campaign to defend the rights of a transgendered classmate. If more students and youth in Detroit stand up and fight, we will win much more. Now is the time to stop listening to the naysayers in our life–three Ps–parents, principals and preachers, who too often speak out of fear and not strength, telling us to just keep our heads down and not to fight for what we know we deserve and believe in.  They say that there is another way, and that the adults will take care of it, but the adults have not and will not do what is necessary to fight and win. Join the movement and fight for your dignity, equality and hope for your future. 
Have your school adopt the following demands:
The enemies of public education know that their plan is not about balancing the district's budget. They are fully aware that their statistics are wrong and fabricated and that this plan will make the district lose money.  For example, they say CFA costs the District $2.7 million* when it really only costs $750,000 and the rest comes from special federal and state funding, not the DPS general fund.
The racist, white billionaires, who do not want to pay for public education any more, believe that the people of Detroit do not have value and want to fulfill that prophecy through force. This is about implementing the New Jim Crow and forcing people to defer their dreams by blocking any opportunity for them to lead and shine.  It is their intention to destroy public education, and get away with it with only minimal objections from the community, without any serious consequences, without Detroiters organizing and raising total HELL to stop the destruction of our schools and our neighborhoods.
Roy Roberts and other pessimistic politicians, who are backed by a tiny minority of billionaires, ARE NOT OUR "FRIENDS".  They are overseers hired to implement and enforce the New Jim Crow system of education on black and Latino/a students – separate and completely unequal once again.  This means that special Detroit schools such as CFA, Renaissance and Cass and creative and loved programs in neighborhood schools like music and robotic programs, will all be in the past and no longer exist for black and Latino/a students in Detroit.  
Then, wealthy white people can say to working class and poor white people, "you may have a poor education system that we refuse to pay for, but at least you are not black or Latino/a."  They are closing schools and firing teachers to drive students out of the district and gentrify the city by race and class. A few middle-class students will go to private schools or leave the city, and the rest will be warehoused in inferior, overcrowded schools. Whether or not our schools stay open or teachers keep their jobs depends on whether we can overcome our fears and express our anger in a collective manner, and put our foot down and declare that Detroit students, our schools, our programs, our neighborhoods and our city are not for sale.   
 We can end the regime of overcrowded classrooms, police in the schools doling out repression and brutality, and turning what should be places of learning, where we can express and develop our full creativity and humanity, into cheap, stripped-down, prison-like holding cells. We want and deserve the full range of subjects and extracurriculars – art, music, dance, theatre, sports, AP and foreign language courses, chess, etc. – that a first-class comprehensive public education has to offer.  To the extent that any school becomes a charter, if they do not meet the full standards of the students and parents, they must lose their charter immediately! 
We CAN defeat this plan, but only by getting off our knees and fighting back. It's time to heed the words of Frederick Douglass, one of the greatest leaders in the history of our nation, who said, "Power concedes nothing without a demand. It never did and it never will. Find out just what any people will quietly submit to and you have found out the exact measure of injustice and wrong which will be imposed upon them, and these will continue till they are resisted with either words or blows, or both. The limits of tyrants are prescribed by the endurance of those whom they oppress." 
Take action and organize your school– Join BAMN (The Coalition to Defend Affirmative Action, Integration & Immigrant Rights and Fight for Equality By Any Means Necessary, BAMN) at 855-ASK-BAMN  (855-275-2266), or email BAMN Coordinator Donna Stern at donna.stern@ueaa.net  www.bamn.com
Follow us on twitter: @followBAMN
 *The Detroit News, 05/27/2011