No notice given; regular monthly "customer comments" meeting Thurs. Feb. 16, 5-7 p;m. D-DOT HQ; contractor's plans include regionalization  
By Diane Bukowski 
February 9, 2012 
DETROIT – If Detroit bus riders thought they were in bad shape last year, waiting three and four hours for buses that sometimes never came, they will be in shock February 24 when the city eliminates 24-hour and weekend service and institutes drastic cuts in bus personnel. 
Henry Gaffney, President of Amalgamated Transit Union Division 26, represents the city's bus drivers. He confirmed the accuracy of fliers circulating around Detroit headlined "BUS CUTS/BUS CUTS." (See flier at top of article.) 
"Mayor Dave Bing said last year that he did not want to see seniors and children waiting long hours for buses in the cold," Gaffney told VOD. "But he hasn't even held hearings or informed the public yet that D-DOT will eliminate week-end service beginning Feb. 24, along with night-time service from 1 a.m. to 4 or 5 a.m." 
The only meeting scheduled on the Detroit Department of Transportation (D-DOT)'s website is a regular monthly "customer comments" meeting Thurs. Feb. 16, from 5-7 p.m. at D-DOT headquarters at 1300 E. Warren, off the Chrysler (I-75) service drive. 
Gaffney said bus drivers know about the new schedules because they have been posted at the terminals. He said driver lay-offs were reduced from 163 (cited in the flier) to 78 only three days ago. The fliers call on the public to contact Bing's office as well as City Council members to express their outrage. 
"The lay-off of 78 drivers is still devastating," Gaffney said. "We don't have enough drivers now. People are retiring faster than I can breathe. The least senior drivers are those who work the weekends and so they will go first. The current situation is terrible as it is already. The buses are packed early on and have to pass by many stops because there's no room. They're already down to a bare minimum on the week-ends, one or two buses running on each route." 
Gaffney said he cannot understand why transportation is not considered a priority in Detroit. 
"At least 120,000 people ride the buses every day, not because they want to, but because they have to. A good transit system can bring in millions of dollars to the economy, but we have two failing systems, D-DOT and SMART. SMART laid-off 70 drivers last year and cut their weekend service. What will people do about getting to their jobs and other places they need to go?" 
Management of the Detroit Department of Transportation (D-DOT) has been contracted out to Parsons Brinckerhoff Michigan, Inc. according to a work order obtained by VOD.  Parsons has subcontracted to an obscure start-up company, Envisurage, LLC., whose CEO is Mark Aesch. Aesch was CEO of the Rochester Genessee Regional Transportation Authority (RGRTA) in New York state from 2004 to 2011. Their contract began Jan. 1, 2012, meaning they are effectuating the lay-offs and route cuts. (Click on PBE_0001_NEW to view work order. Under "page display" on PDF menu, click on "single page view" for ease of reading.)
The original concept behind contracting out management, according to discussions last year between the Bing administration and AFSCME Local 312, representing bus mechanics, was that it would prevent the lay-offs of mechanics and drivers, increase available work time including overtime, and allow for hiring more workers in the wake of rampant retirements. 
But a primary goal listed in the work order is to "design alternatives to transition the governance structure to exist in a regional authority."
There have been numerous proposals in Lansing over the years to merge D-DOT and the pseudo-public SMART (Suburbuan Mobility Authority for Regional Transportation). Michigan Gov. Rick Sndyer has now proposed to use federal funding to create a regional authority, bypassing both systems, their workers and riders. Many Detroiters fear that a regional authority will condemn Detroit to second-class transportation status, and mean a loss of funds for Detroit bus routes, as well as jobs for Detroiters.
In its "Operations Plan for DDOT," Parsons Brinckerhoff/Envisurage (PB/E) says under the heading Evaluate Staff, "We undoubtedly have too many employees and we certainly have too many employees that lack a vested commitment to excellence. All employees will be given the opportunity in very short order to demonstrate their personal commitment to organizational success. Absent that, staff changes will be necessary both financially and culturally." 
Through the past years, city administrations have touted diversity and cultural change in departments such as the water department. According to union representatives, the result has been massive privatization schemes that have resulted in the loss of city jobs held primarily by Black Detroiters, and Detroiters' loss of control over city services, including those that bring revenue to the city. 
PB/E says they will accomplish the "staff changes" through the following means:
 Establish work plans—tied to strategic objectives—with quantifiable collaborative goals.
Each month conduct over-performers/under-performers meeting.
Establish staff reduction plan to bring levels to a benchmark norm.
Reduce staffing levels to drive savings and match industry norms. 
The implications are that staff reductions will be tied to performance, not seniority, a violation of union contracts. 
D-DOT receives the majority of its funding from federal and state grants. PB/E's proposed actions can cause the city to lose millions from the feds. Under the Federal Urban Mass Transportation Act (UMTA), funds can be withheld if the city does not provide "fair and equitable protective arrangements" for D-DOT employees. These include:
The preservation of rights, privileges, and benefits under existing collective bargaining agreements;
The continuation of collective bargaining rights;
The protection of employees against a worsening of their positions with respect to their employment;
Assurances of employment to employees of acquired mass transportation systems and priority of reemployment for employees terminated or laid off; and
Paid training or retraining programs.
Under the work order, PB/E will be paid $2,068,000 for 11 months of work. Added to that will be "Incentive Compensation," which could provide as much as $2,015,000 additionally, according to a complex schedule, a total of $4,083,000. 
The order says the company's goal is to reduce the city's contribution to D-DOT from $6.3 million a month to $4.6 million a month, or on a yearly basis, from $75.6 million to $55.2 million. That goal is part of the incentive plan, with PB/E given bonuses for every reduction. 
Additionally, there will be hidden costs. 
PB/E says it will hire a five-person senior executive team, which will cost $1.1 million over 11 months. In addition, it says it will perform "staff augmentation" as necessary, in the wake of the lay-offs, with the new workers employed by PB/E. 
The work order creates a new classification of "Senior Management Consultant" at a "Total Average Hourly Rate" of $311.42, including $28.31 an hour in profit and $172.52 in "overhead." The order does not specify how many of these consultants will be hired. 
PB/E also says it will build "high quality" information systems, with unknown amounts going to contractors, review and renegotiate vendors' contracts if need be, and analyze D-DOT's capital program to determine "cash availability" in federal grants. 
"The single most important task we can focus on to drive financial success is to more efficiently schedule our equipment," says the work order. "Buses that are scheduled simply to burn gas and pay overtime will be eliminated." PB/E claims that it will identify "standing loads and over-crowding—add service where appropriate." 
It will also "work to identify appropriate downsizing of the fleet," while at the same time "defeat all obstacles to increasing fleet availability (drivers, attendance, parts availability, supervision attentiveness) . . . ." 
They also claim they will focus on "communications with the community," although they have scheduled no public hearings on the proposed cuts.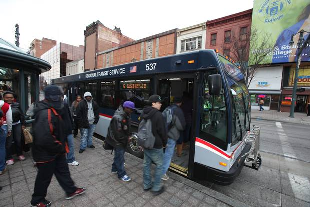 Pres. Gaffney said he has spoken with ATU local officials in Rochester, New York, where the Rochester Genesee Regional Transit Authority (RGRTA), where Aesch was CEO. He left at the end of 2011, allegedly to work in "the private sector,"
according to a story on ABC 13.
Prior to his departure, he had unsucessfully proposed combining four Bus riders in Rochester N.Y. (above)         regional transportation systems established by the New York State Legislature in 1969, into one, encompassing 250 square miles. The proposal was criticized as unwieldy.
 "They told me we had better start praying," Gaffney told VOD. He said no one from PB/E, including Aesch, has contacted him, and he has been unsuccessful in contacting any of them. He added that the city has refused to give him a copy of the actual contract with PB/E, and he has had to request it through the Freedom of Information Act.
Gary Rauen is an ATU International Vice-President in Washington, D.C., who worked with the Rochester ATU local for three and a half years while Aesch was CEO of RGRTA. 
"My involvement with Mark Aesch during that time was zero, zilch," Rauen said. "He never even one time met with me and the union regarding routing changes or levels of service. He never got involved with contract negotiations. When he left, we had 378 pending arbitration cases, involving progressive steps of discipline leading up to termination, and there are only 325 drivers in the local. Morale was terrible. If I was CEO of any company, and knew that many cases were pending, my face would have been across the table from the local union. He was a terrible boss, with a totally closed-door policy." 
Rauen said Aesch's attitude toward the community was no different. 
"He's a fabulous communicator with the politicians, but not with the people, and certainly not with the riders," Rauen said. "He was about self-serving purposes, writing his book and promoting himself.' 
Aesch's book is "Driving Excellence." His company, Envisurage, is apparently a start-up company that is not even listed on the state of Michigan's business entity website. 
Envisurage's website, at http://envisurage.com, says, "Under his leadership in Rochester, Mark successfully introduced the concept of managing a public sector agency with a private sector mindset. The results have led the nation – a reduction in fares, multi-million dollar surpluses and actually reducing their reliance on taxpayer dollars."
A recent article from Rochester.com noted that beginning with Aesch's term as CEO, the RGRTA "scaled back its service to its most profitable routes in the city and first ring suburbs, . . But RGRTA did not simply abandon routes that significant numbers of passengers relied upon for their jobs. It negotiated partnerships with nursing homes, colleges, public schools, hospitals, businesses and other transit-dependent institutions to continue service."
According to the article, RGRTA now has 50 contracts with such entities, which pay RGRTA to subsidize the service they provide to their constituents.
Rauen noted the RGRTA surpluses resulted from its previous CEO's integration of the region's school districts' transportation into RGRTA, not from anything Aesch did. 
The website says Aesch lives in Tampa, Florida and is also a "Senior Advisor with the global engineering and consulting company, Parsons Brinckherhoff." 
The Huffington Post notes that while living in Livonia, New York, Aesch contributed $2500 to Republican Rick Perry's campaign for President. Aesch previously served as district director for U.S. Rep. Bill Paxon (R-New York).
 Attempts were made to contact Aesch by an email service provided on the Envisurage website, which does not list a phone number for the company. Intelius lists Aesch's addresses in Livonia N.Y. and Tampa, Florida, but does not list an address in Michigan. 
Neither Mayor Bing's press representative nor Aesch returned VOD's emails and calls before press time. ATU Pres. Gaffney said D-DOT's former director, Lovevett Williams, has retired.