VIDEO ABOVE: The U.S. Supreme Court ruled on May 17, 2010, that juveniles may not be sentenced to life without the possibility of parole for a non-homicide. Bryan Stevenson, founder and executive director of the Equal Justice Initiative and a MacArthur Fellow, presented one of the cases before the Court. Stevenson argued, in Sullivan v Florida, that a sentence of life without parole for juveniles is cruel and unusual punishment and, therefore, unconstitutional. The Court's decision was issued in the companion case, Graham v. Florida.
By Diane Bukowski
March 1, 2012
KALAMAZOO, MI – In the first ruling of its kind since the U.S. Supreme Court declared juvenile life without parole sentences for non-capital crimes unconstitutional in 2010, a judge here overturned the sentence of Michigan prisoner Anthony Shamont Jones, 50, on Dec. 21, 2011. He re-sentenced him to life with parole on Feb. 6.
Ninth Circuit Court Judge Gary C. Giguere, Jr.' s ruling means that Jones will have the opportunity to go before the parole board, after 33 years in prison. Jones was 17 when he was convicted of first-degree felony murder in 1979. He ran from the scene before the victim, Kalamazoo store owner Ronald Hermans, was shot to death.
The ruling has raised the hopes of more than 350 Michigan prisoners who were sentenced as juveniles to die in prison. Jones' attorneys filed his motion for relief from judgment based on the Graham v. Florida case, in April, 2011, after Jones had long ago exhausted all other appeals.
Giguere cited Graham in his December ruling.
"In 2010, the United States Supreme Court established a new rule in Graham v. Florida . . . ." Giguere said. "In that case the U.S Supreme Court held that a sentence of life in prison without parole is cruel and unusual punishment in violation of the Eighth Amendment, when imposed on a juvenile convicted of a non-homicide crime."
He noted that although defendants are normally entitled to only one motion for relief from judgment, "a defendant may file a second or subsequent motion based on a retroactive change in the law that occurred after the first motion for relief from judgment [MCR 6.502(G)(2)."
Jones' attorneys were Kimberly Thomas of the University of Michigan Juvenile Justice Clinic, Deborah LaBelle, and Daniel Korobkin of the Michigan chapter of the American Civil Liberties Union.
Giguere upheld all their arguments, which he cited in his decision.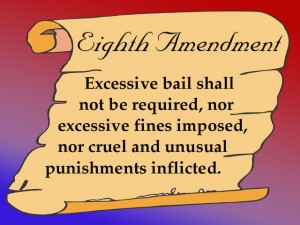 They were that "1) his sentence is categorically unconstitional under the Eighth Amendment because he was less than 18 years old at the time of the offense and he did not commit the homicide within the meaning intended in Graham; 2) his sentence is unconstitutional under the Eighth Amendment because it is grossly disproportionate to his offense; and 3) his sentence is unconstitutional based on the Michigan constitution's ban on cruel or unusual punishment because it is broader than the Eighth Amendment's ban on cruel and unusual punishment."
Attorney Thomas earlier wrote in a Michigan Bar Journal article, " . . . . the most sympathetic 15-year-old accomplice to a felony-murder and the most sociopathic adult serial killer will receive the same sentence without any judicial ability to take stock of the difference between the two for sentencing purposes. This complete inability of a court to consider the gravity of the offense, including the culpability of the offender, results in disproportionately cruel punishment."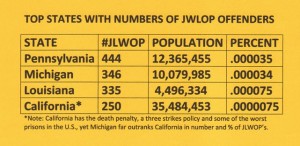 She noted that Michigan has the second highest number of juveniles sentenced to death in prison of any state. The U.S. is the only country in the world that has this practice.
Giguere also cited a 2005 U.S. Supreme Court decision, Roper v. Simmons, which outlawed the death penalty for juveniles and set the stage for changing judicial attitudes about juvenile incarceration.
"This Court finds persuasive and compelling the U.S. Supreme Court's position that studies, statistics and general trends support the notion that juveniles have lessened culpability. . . .juveniles have a lack of maturity, an underdeveloped sense of responsibility, and an increased vulnerability and susceptibility to peer pressure and influence."
Attorney LaBelle said in published remarks about Jones' re-sentencing, "We will urge the parole board to immediately consider him. His co-defendant had that opportunity more than 20 years ago."
Jones co-defendant Anthony Dunigan, who shot the storeowner during a struggle over the gun, pled guilty to second-degree murder and received a parolable life sentence. He was only 16 at the time and is still in prison. His situation highlights additionally the plight of thousands of the state's parolable lifers, who were eligible for parole after 10-15 years, but have served far beyond the time their sentencing judges intended.
Juvenile lifer Edward Sanders' case is almost identical to Jones' situation. Sanders was convicted of first-degree murder in 1975 although he was not the shooter in an alcohol-fueled drive-by situation involving groups of teenagers, when he was 17.
During his time in prison, Sanders attained a bachelor's degree (before the state eliminated higher education for prisoners), and has assisted other prisoners with their legal cases as well as spiritually. VOD featured him last year when he was nearly killed by another prisoner known for his history of repeated violent assaults on other prisoners. (Click on http://voiceofdetroit.net/2011/09/06/sign-petition-to-transfer-edward-sanders-victim-of-brutal-prison-attack/ ).
Another of the state's juvenile lifers, Dante Collingham, argued for justice for juveniles in an earlier VOD article.
"Some of the most powerful things that I read in the sentences that detail my history is the fact that a child has absolutely NO place in an adult prison, I see that a child has absolutely NO place within an adult court room, I see the fact Judges and Lawyers, Parents and Politicians were/are smart enough to do better for the most vulnerable sector of our society," Collingham said. "Smart enough to adjudicate its children in a more responsible way that is directly connected to the spirit of rehabilitation that values a child's potential, and that respects cutting edge science."
What will happen in the future for other Michigan prisoners like Sanders and Collingham, as well as parolable lifers like Dunigan, remains to be seen. They all need attorneys like the three who won the Jones' case, and judges like Giguere. In fact, they need judges who will sentence them to time served, and prosecutors who will not appeal such rulings, but that is not currently the reality.
Attorney LaBelle and the ACLU continue to pursue a federal class action complaint that would afford the opportunity for parole to juvenile lifers, "a meaningful opportunity to obtain release based on their demonstrated maturity and rehabilitation."
U.S. District Court Judge John Corbett O'Meara earlier dismissed the complaint, Hill v. Granholm, for all but one plaintiff , Keith Maxey, based on statutes of limitation. Since that time, LaBelle has added the names of Giovanni Casper, Jean Carlos Cintron, Nicole Dupur, and Dontez Tillman to the list of plaintiffs.
On Feb. 21, O'Meara allowed the case to proceed on behalf of Maxey and the newly added plaintiffs, but again dismissed it with regard to the other eight original plaintiffs. The final pre-trial conference on that case, which could affect many others, is to be held Jan. 23, 2013, with trial set for Feb. 5, 2013.
"This [U.S. Supreme Court] scrutiny should be a signal to Michigan to examine its own jurisprudence on juveniles receiving sentences of life without parole," Attorney Thomas said in her article. "Michigan's constitution, article 1, §16, provides broader protection than the federal constitution under its analogous ban on 'cruel or unusual punishment.' Further . . . .in many cases, juveniles sentenced to life without parole in Michigan will never have a judge assess anything about their individual culpability, maturity, or relative role in the offense."
(Note following article on Tony Sparks, whose similar case has reached the Texas Fifth Circuit Court of Appeals.)