Free Davontae Rally set for Monday, April 23 at 8 a.m. Frank Murphy Hall
By Diane Bukowski
March 25, 2012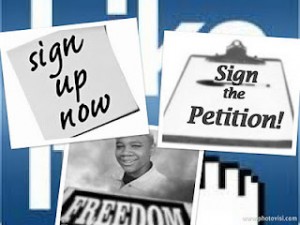 PLEASE sign the petition ……

http://www.change.org/petitions/new-trial-for-davontae-sanford?utm_medium=twitter&utm_source=share_petition
DETROIT – Supporters of Davontae Sanford, who was 14 when he was sentenced to 35 to 90 years in prison for the 2007 murders of four people, are coming from across the world to protest what they call an astounding miscarriage of justice. They will rally Monday, April 23, at 8 a.m. outside the Frank Murphy Hall of Justice at Gratiot and St. Antoine in downtown Detroit.
The action is being called by the Coalition to Free the Wrongfully Convicted, Roberto Guzman told VOD.
"People are flying in from the United Kingdom and from down South, they are so upset," he said. Davontae's case is known world-wide particularly due to the efforts of Elish Delaproser of the United Kingdom, who has published numerous posts on his case on various websites.
"He's not guilty, he didn't do it," self-admitted hit man Vincent Smothers told AP reporter Ed White in January. White's story should have been considered a potential Pulitzer Prize-winning scoop by Detroit's daily media, which never publlished it. Smothers confessed to police in 2008 that he and an accomplice committed the Runyon Street killings Davontae is serving time for.
"There is no link between me and him," Smothers told White during a visit at the Michigan Reformatory in Ionia.  "I never knew him. I'll testify if possible and answer all questions truthfully. Anything I will say will be the truth, I don't lie."
Smothers himself is serving 50 to 100  years in prison for eight other murders, to which he confessed when he told police he killed the four people on Runyon Street.
He added, "I understand what prison life is like; it's miserable. To be here and be innocent – I don't know what it's like. He's a kid, and I hate for him to do the kind of time they're giving him."
Ironically, Smothers, 28, is being held in Level 4 at the Michigan Reformatory at Ionia, while Davontae, now 19, is being held in Level 5, the highest maximum security level, at the Ionia Maximum Correctional Facility.
To read the AP story, go to  http://voiceofdetroit.net/2012/02/07/ap-newsbreak-detroit-hit-man-says-davontae-sanford-is-innocent-will-testify/  or http://www.mlive.com/news/detroit/index.ssf/2012/01/hit_man_says_convicted_teen_da.html.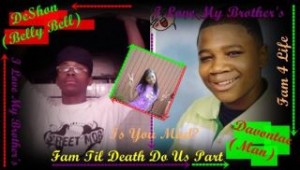 Davontae's mother Taminko Sanford confirmed just how miserable life in prison has been for her son, who the family calls "Man."
"Davontae wrote me," Ms. Sanford told VOD tearfully. "I called and talked to the counselor who just kept saying he broke the water sprinkler in his cell. I told her, what's that got to do with taking his food, and his clothes and his money?"
Ms. Sanford said the letter from her son is dated January 13, but she just received it.
"Mama, I am writing to let you know that the only reason why I haven't been calling you or nobody else is because I've been going through a whole lot with these officers," Davontae wrote. "They've been messing over me, taking my food, my showers, and I was hogtied for days at a time. They've been harassing me every chance they get."
He identified his torturers as Officers Tefft, Rutgers and Botta.
"They've been playing in my mail, throwing some of my letters away, and my clothes and my shoes and the money order that you sent me they threw away. Mama, I can't take it no more. I have to get out of this unit because I can't keep being around these officers. I need for you and everybody else to call up here every two days to check on me . . . . I can't believe the judge denied my case. Stay in touch with my lawyer."
Ms. Sanford said another prisoner locked up with Davontae called earlier to tell her that Davontae had been put in the worst "pod," where guards regularly handcuff and beat prisoners. (Pods are usually four-prisoner units.) She said Davontae and other prisoners have told her that the guards have been racist and abusive for a long time.
Davontae has been incarcerated now for five years, because Wayne County Circuit Court Judge Brian Sullivan and Prosecutor Kym Worthy have refused to acknowledge Smothers' definitive confession as proof of Davontae's innocence.
" .  .  . the state can have no interest in the punishment of a person who is innocent in fact, even if the conviction is based on defendant's plea." Sullivan ironically said in a 29-page opinion on Feb. 28.
"Moreover, no consideration of any procedural burden should outweigh the purpose of the criminal law, that justice be done and truth ascertained. This proposition is so fundamental a principle to this . . . legal system that no society willing to call itself civilized should bar redress where a miscarriage of justice can be satisfactorily demonstrated through competent evidence." Click on Davontae Sanford judge order to read entire ruling.
Sullivan then refused to let Davontae withdraw his guilty plea, which was based on a confession police obtained after interrogating him without the presence of his mother or an attorney, and despite Smothers' confession.
Sullivan contended that when a defendant seeks to withdraw a guilty plea after sentencing, "Defendant bears the burden by clear and convincing evidence t0 demonstrate actual innocence."
Sullivan said he based that statement on Michigan Court Rule 6.310 (C).
There is nothing in that rule that says a defendant must prove his innocence, a notion contrary to the whole of American jurisprudence.
It says, "Motion to Withdraw Plea After Sentence. The defendant may file a motion to withdraw the plea within 6 months after sentence. . . . If the trial court determines that there was an error in the plea proceeding that would entitle the defendant to have the plea set aside, the court must give the advice or make the inquiries necessary to rectify the error and then give the defendant the opportunity to elect to allow the plea and sentence to stand or to withdraw the plea. If the defendant elects to allow the plea and sentence to stand, the additional advice given and inquiries made become part of the plea proceeding for the purposes of further proceedings, including appeals."
Sullivan cited case law to support his stand that Davontae must prove his innocence. However, during two years of an evidentiary hearing which ended with Sullivan's February opinion, he has refused to allow Smothers' previous attorney to testify that he told her he committed the killings, and the prosecution has refused to grant Smothers' immunity if he testified.
Sullivan issued a separate order barring Smothers from testifying, saying he'd been called twice before, but asserted his Fifth Amendment right not to incriminate himself.
Smothers' statement to AP reporter White, however, was clear. He wants to testify without conditions, even if it means adding to his current sentence. He wants Davontae freed.
Coverage of Sullivan's Feb. 28 order in Detroit's daily media again omitted any reference to that interview.
Sullivan also says in his opinion that testimony from an "alibi" witness for Davontae was "patently false." That testimony came from former Detroit police homicide chief William Rice, who said Davontae was present with him and his mother's aunt Cheryl Sanford during the time of the killings.
A police technician with sketchy credentials in cell tower location evidence said that Davontae could not have been with Rice at the time he said, because Rice was making cell phone calls showing he was elsewhere.
In February, Worthy charged Rice and Sanford with mortgage fraud connected to a property that was allegedly connected to drug trafficking, and with lying under oath during a federal bankruptcy proceeding.
"It's clear retaliation," Guzman said. "Those types of charges are usually brought in federal court."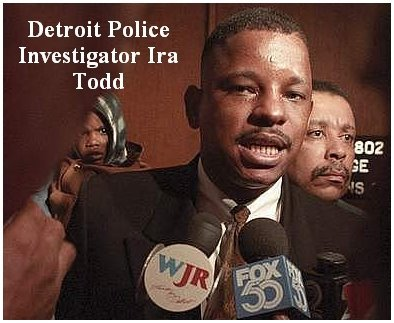 Sullivan made no reference to testimony from Detroit Police Department investigators Gerald Williams and Ira Todd, who helped take Smothers' confession. They said that Smothers admitted to the Runyon Street killings and told them that Davontae was not involved. Even Smothers' trial judge challenged the prosecution, asking why he had not been charged with those killings.
Ms. Sanford said she heard about Sullivan's ruling through the media, and that it left her in shock. She said Davontae's attorney Kim McGinnis, who has moved to New Mexico, had not contacted her. McGinnis told the Free Press that she plans to have Smothers testify at an appeals court hearing still to come for Davontae.
Maria Miller, spokesman for Worthy, told the Free Press that they were "very satisfied" with Sullivan's ruling refusing to allow Davontae to withdraw his guilty plea.
Write to Davontae Sanford, #684070, at Ionia Maximum Correctional Facility, 1576 W. Bluewater Highway, Ionia, MI 48846.
CALL WARDEN JOHN PRELESNIK AT (616) 527-6331 TO EXPRESS CONCERN ABOUT DAVONTAE'S TREATMENT AND ASK FOR HIM TO BE TRANSFERRED OUT OF THE UNIT HE IS IN. 
To contact the Coalition to Free the Wrongfully Convicted, call 313-272-1406, or email Roberto Guzman at legal_begal01@sbcglobal.net . 
http://www.facebook.com/#!/free.davontae.sanford
http://freedavontaesanford-irishgreeneyes.blogspot.com/
http://www.facebook.com/pages/Advocates-for-Abandoned-Adolescents/196830696997682?sk=app_142371818162