COUNCILMEN GARY BROWN AND CHARLES PUGH (IN BACKGROUND) SPEAK TO MEDIA APRIL 4 AFTER 5-4 VOTE; BROWN EARLIER SAID HE HAD SIX VOTES; COMMUNITY MEMBERS ARE NOW ASKING MEMBER JAMES TATE TO RECONSIDER HIS VOTE.
By Diane Bukowski 
April 8, 2012 
DETROIT – Impervious to Detroit residents' demands that the City Council not cede control of the city and its proud heritage, the "Fatal Five," as one speaker called them, voted April 4 for a consent agreement that voluntarily hands the city and its resources over to Wall Street banks and the state of Michigan. 
Mayor Dave Bing's chief of staff Kirk Lewis told the Council that he had signed the agreement in the Mayor's stead while the Mayor recuperates from major health problems. A memorandum is on file in the City Clerk's office designating Lewis as Deputy Mayor for the period of March 26 through April 15 (click on DMayor memo_0002 to view memo). It is allegedly signed by Bing. Capital initials at the bottom, however, are DB/KJL/prvb, indicating it also comes from Kirk J Lewis. There are two date stamps on it, one March 13 and the other March 26, 2012.
The agreement cannot be terminated until Detroit is deficit-free for three years, receives one of four of the highest bond ratings by Wall street agencies, or at the say-so of State Treasurer Andy Dillon and/or  a state-appointed Financial Advisory Board. Since it cites other state laws in addition to Public Act 4, it is debatable whether certification of over 240,000 signatures for a referendum vote against PA4 will nullify it. 
The Council vote took place on the 44th anniversary of the assassination of Dr. Martin Luther King, Jr. leading many in the audience to accuse the "Fatal Five" of assassinating Detroit as well. Detroit is the largest Black-majority city in the world outside of Africa. Public Act 4, which Michigan Gov. Rick Snyder used to threaten the council, has been applied only to the state's Black-majority cities. 
"The Rev. Martin Luther King, Jr's nephew is speaking right now at an SCLC event at the RenCen," said Councilwoman JoAnn Watson prior to her NO vote.
"This city is the  home of the Shrine of the Black Madonna, the home of labor, of Erma Henderson, Coleman A. Young, Reparations Ray Jenkins. Paul Robeson's birthday is April 9. The honorable Malcolm X and many others came here to fight tyranny, racism, fascism, and demand justice and dignity for all. There is no cash infusion from the state in this agreement, you are ignoring its union-busting. We should be demanding that the Governor pay us what he owes us. Don't give up the legacy of this city by allowing an illegal vote. There is no rationale for the city to give away its Charter-provided home rule rights. Who gives away their own power to the forces of evil? This is unconstitutional and an assault on our citizens."
Councilman Kwame Kenyatta said, "We have been waiting for the head of the snake to show itself, we have already seen its tail.  I've been visiting with the ancestors and Ialso listened to that blue-eyed soul sister Tina Marie singing "Déjà Vu"—I've been here before. The same cast of characters stood in complicity with taking our schools away, all based on PA4, which was written by Michael McGee [attorney from Miller Canfield who appeared at Council table as advisor to Chief of Staff Kirk Lewis, Jr.]  In this new version, PA 7 and 8 are back in . They related to mutual agreements between two municipalities, not the state and the city, and PA 7 requires a public hearing. Where is the legal basis for the establishment of the Financial Advisory Board?"
Councilwoman Brenda Jones said "HELL NO," and Councilman Andre Spivey evidently surprised Councilman Gary Brown, who had boasted he had six votes for the agreement, by also voting NO.
The "Fatal Five" who voted for the agreement were Council members Charles Pugh, Gary Brown, James Tate, Saunteel Jenkins and Kenneth Cockrel, Jr. 
Afterwards, Brown told the media, "The silent majority of Detroit has spoken." 
Prominent Detroiters demanded that Council vote NO 
Through four days of deliberations, dozens of Detroiters condemned the agreement during public comment. Many could not get into the Council chambers and were forced to sit outside in the hall or re-routed to the auditorium by an abnormally large number of police.
Asked why the meetings were not being held in the auditorium, Pugh responded, "Because I said so." 
Prominent leaders who addressed the Council included Cardinal Baye Landy of the Shrine of the Black Madonna and the historic Black Slate, U.S. Senator Hansen Clarke, Rainbow PUSH leader the Rev. Jesse Jackson, Black church pastors including Rev. Charles Williams II and Rev. David Bullock, dozens of union leaders, and representatives of community organizations including the Moratorium NOW! Coalition against Foreclosures, Evictions and Shut-offs and many block clubs. 
The Fatal Five appeared unaware of or unconcerned about their stature. 
Council President Charles Pugh asked Cardinal Landy when he came to the table, dressed inconspicuously as usual, "You're a Cardinal?" Clearly, Pugh had no idea who he was or what he represented. 
Holding up rare photos, noted historian Paul Lee, who worked with PBS on a series about the civil rights movement, reminded Pugh and Cockrel Jr. in particular of Detroit's history in the struggle for Black power and self-determination. 
One photo showed Stokely Carmichael (later Kwame Ture of the All-African Peoples Revolutionary Party), and the Rev. Albert Cleage, Jr. (Jaramogi Abebe Agyeman, founder of the Shrine of the Black Madonna,) at a campaign rally for Kenneth Cockrel, Sr., father of the current Council member. 
Cockrel, Sr. was revered by Detroiters as a member of the League of Revolutionary Black Workers, a militant Black socialist attorney, a foe of the racist police execution unit called "S.T.R.E.S.S.," and an opponent, with former Council President Erma Henderson, of the privatization of Detroit General Hospital in 1980. 
Pugh, however, cut Lee's comments short and called on the police to remove him. 
Financial Review Team rubber stamps agreement 
The ten-member Financial Review Team appointed by Michigan Governor Rick Snyder met earlier that day to hastily approve the agreement, each page of which is headed, "Michigan Department of Treasury." 
Former Detroit school board member Marie Thornton, dressed in a hoodie and displaying a package of Skittles and an Arizona Iced Tea can, told the team March 26, "Just as Trayvon Martin was killed, you are killing Detroit."   
The audience that day accused the team of being nothing but a rubber stamp. It drowned out their deliberations and final vote declaring Detroit in a state of "severe financial stress," singing "We shall overcome," and repeatedly chanting. 
Confirming the rubber stamp allegations, Mayor Dave Bing's chief of staff Kirk Lewis told the Council April 3 that he, chief operating officer Chris Brown, and Council members Pugh, Tate and Cockrel met with state officials to draft the agreement while the mayor was out of commission due to health problems. He said Brown and the others involved were not from Detroit.
Councilwoman Watson had demanded that a vote on the consent agreement be postponed until the elected Mayor could come to the table. But Lewis and others claimed Bing was actively involved in the negotiating process from his sick bed. Lewis and mayoral press secretary Robert Warfield released a clearly staged photo with a frail, guant-looking Bing in front of a computer to support their allegations of his involvement. To read TV 2 News reporter Charlie LeDuff's take on this matter, click on http://www.myfoxdetroit.com/dpp/news/local/mayor-bings-palace-intrigue-20120406-ms. Also see video at bottom of this story.
 Brown was previously a DTE and Singapore Energy executive and privatizer who has been instrumental in the dismantling of the city's Public Lighting Department. 
Lewis was previously CEO of The Bing Group, a conglomerate of steel-related businesses which Mayor Bing founded and has since disbanded. He was also CEO of Integrated Supply Chain Solutions, a debt markets analyst at Ford Motor Company, and was a finalist in Ernst & Young's "Entrepreneur of the Year" competition. 
Ernst & Young, a global accounting firm being sued by the states of New York and New Jersey for cooking Lehman Brothers' books before that company's collapse, was brought in by the state to review Detroit's finances even prior to Snyder's imposition of the first steps of Public Act 4. They met with the Council in November, in an illegally closed session, and declared that Detroit was about to run out of cash in April. 
TERMS OF CONSENT AGREEMENT 
The consent agreement (read full text at FSA Consent Agreement 4 4 12 )  essentially establishes 13 emergency managers instead of the one that the "Fatal Five" claimed to fear. They are Michigan Gov. Rick Snyder, State Treasurer Andy Dillon, a nine-member Financial Advisory Board, a Chief Financial Officer, and a Program Management Director. All can dictate or override decisions by the city's elected officials on disposition of the city's assets, its budget, its debts to the banks, restructuring (downsizing), provision and privatization or regionalization of services, and union contracts. 
Under Public Act 4, a consent agreement operates as an alternative to an emergency manager. Despite this agreement's broad provision of similar powers to non-elected officials, it still threatens the city with various "reform default" provisions if the Council and Mayor do not agree to abide by decisions of the FAB, the CFO, and the PMD.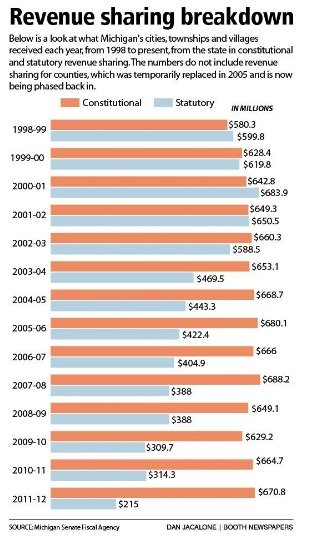 They are dire, involving the suspension of state revenue-sharing payments, refusal to approve debt requests, accelerated collection of any city debts to the state, court action, and finally, the placement of the city in receivership  "as provided in MCL 141.1516 [Public Act 4) . 
The agreement purports to maintain the Charter powers of the Mayor and City Council, but says the Mayor and Council will "restrain their respective exercise of powers, privileges and authorities in certain circumstances as provided in this agreement." Section 34(c) newly eliminates a clause allowing the Mayor to have some judgment as to whether conditions of the agreement have been met.   
City Union Contracts busted 
The agreement busts three-year union contracts that had already been signed by the city administration and 32 city unions, which would have saved the city up to $130 million. It also includes an Annex D mandating that numerous anti-union provisions be included in imposed contracts after July 16, 2012.
Coalition of City Unions Co-Chief Negotiator Ed McNeil said in a lawsuit filed in federal court against the abrogation of the union contracts that the only way the unions found out about the provisions of Annex D was through camera phone photos he took of the document when it was secretly shown to him. (Click on  to view photos. A separate story on that lawsuit is forthcoming. Read the entire lawsuit at Detroit unions complaint for TRO Tarnow. Tarnow dismissed the suit April 3.)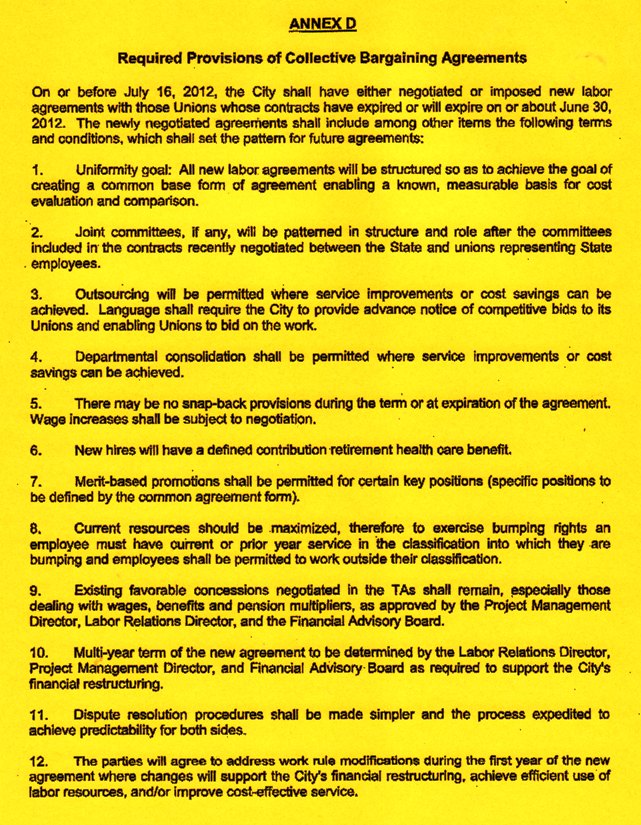 "AFSCME does not mean ask me and you take over our vote and our contracts," Phyllis McMillon, president of Local 542 of the American Federation f State, County and Municipal Employees (AFSCME), told the Council April 3. "This is nothing but high treason." 
The state provides no money in return. It does not pay back a $220 million state debt to Detroit, or $400 million of non-resident taxes the city was not able to collect under the 1997 tie-barred revenue-sharing package, an issue Councilwoman JoAnn Watson has raised for several years. 
"Detroit is being stolen," said one speaker April 3. "If the state wanted to help us, why didn't they give us the money they owe us? They want our pension money. People that don't care about Detroiters are saying, 'We're going to take your city and run your city." 
The consent agreement does not even provide a state loan, approved by the Council 6-3 the previous week, free and clear. Both Council members Andre Spivey and Kwame Kenyatta said State Treasurer Andy Dillon told them clearly that the $137 million was not to be a loan, but aid from the state.
"The anticipated aggregate size of the refinancing  is approximately $137 million, of which approximately $33 million will be used to refinance existing debt, and approximately $104 million will be placed in an escrow account and used to pay for costs of the Reform [down-sizing] Program and for City operating expenses." the agreement says. "Draws from the escrow account shall be as and when approved by the State Treasurer in the State Treasurer's discretion." 
The agreement was modified to say that the salary and expenses of the Financial Advisory Board members, along with any staff they choose to hire, will be split 50/50 between the city and the State, instead of exclusively paid by the city. However, those terms say the city pays first and then is reimbursed by the state. 
"How can we trust the state to abide even by the terms of this agreement, when they defaulted on their $220 million debt to Detroit?," Councilwoman JoAnn Watson asked. 
U.S. Congressman Hansen Clarke told the Council that he and U.S. Congressman John Conyers have a bill before the House of Representatives to provide $500 million in federal funding for Detroit, and that it has bi-partisan support, but the "Fatal Five" appeared to disregard his hopeful presentation. 
Ominously, the agreement includes an Annex B, which means the City Council has already approved actions in the following categories.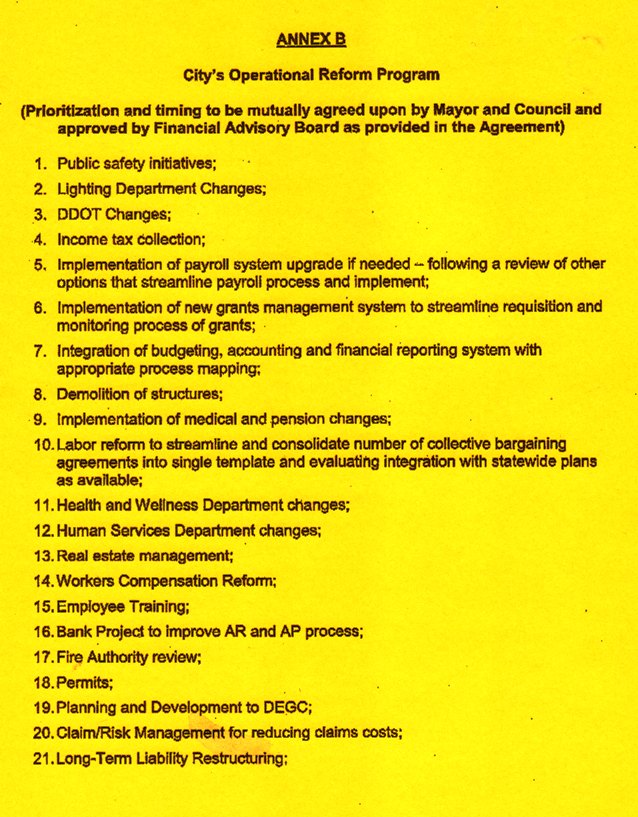 Clarification of some provisions above, as already discussed by Bing Administration and State (unions have no say in whether these will be included in contracts): 
Public safety—introduction of state troopers to Detroit's streets. Implementation of new police HQ at MGM Grand's old casino; Detroiters paying for $100 million bond
PLD—city already buys all of its power from DTE under a $150 million contract; DTE to further take over PLD (note: Chris Brown is former DTE executive.)
DDOT changes: regionalization with only one Detroit on board (click on VOD0
Payroll system upgrade: more big contracts, previous upgrades have been failures.
New grants management (federal and state $$ under FAB).
City has 40 unions; all expected to use same template for contracts.
Heath and Wellness Department—more shutdown of services like Herman Kiefer Family Health Center, TB clinic, privatization of health centers, lay-offs, privatization under SEMHA.
Dept. of Human Services: Mayor Bing has asked to eliminate Department and turn it over to Wayne Metro Community Action Agency, whose board members are all white and mainly reside in wealthy downriver suburbs (click on
Real estate: state control
Planning and Development Dept. to go to quasi-private Detroit Economic Growth Corporation; more corporate control over city development.
Long-term liability restructuring: more money for the banks.
Below is report from Fox 2 News Charlie LeDuff on the legality of Kirk Lewis' actions negotiating the consent agreement in the place of the Mayor, prior to his (questionable) appointment as Deputy.
Charlie LeDuff: Questions as Detroit Mayor Leaves the Hospital: MyFoxDETROIT.com
(Further story containing comments of many Detroiters who testified is next.)