Bill Nojay campaigned for N.Y. State Assembly while working as public employee, in violation of Hatch Act 
Detroit Mayor Dave Bing and COO Chris Brown knew of campaign, right-wing radio talk show  
VOD filing Hatch Act complaints on all three officials
Aug. 23, 2012
By Diane Bukowski 
DETROIT – After a reporter from New York's weekly Livingston County News filed a Hatch Act complaint against Detroit Department of Transportation (D-DOT) Deputy Director Bill Nojay Aug. 8, he was finally dumped from his city job here this week. The newspaper broke the story of his apparent violation, noting that he was running for State Assembly in New York while working for D-DOT.
Nojay is a far right-wing Republican candidate for the New York State Assembly who lives in Pittsford, N.Y., and has appeared at Tea Party functions. He previously chaired the Rochester Genessee Regional Transportation Authority (RGRTA).
He is also an attorney who currently hosts a New York  talk show  which espouses racist and ultra-conservative views.
The federal Hatch Act forbids public employees whose job involves supervision of federal funds from running for partisan public office. (Click on Hatch Act flyer from US OSC.)

City of Detroit COO Chris Brown told the Detroit News Aug. 23 that Nojay informed both Detroit Mayor Dave Bing and himself that he was running for office in New York when he began his campaign.
Nojay oversaw federal D-DOT funding, which comprises the majority of the Department's $130 million budget. On July 19, Mayor Bing announced a new federal grant of $30 million to both the D-DOT and suburban SMART systems. During his tenure, D-DOT purchased 46 new buses with $13.8 million in federal funding and obtained additional funds to upgrade D-DOT facilities.
The buses were purchased from the Gillig Corporation. RGRTA also bought buses from Gillig.
"That racist is gone," exulted Leamon Wilson, president of AFSCME Local 312, which represents bus mechanics at D-DOT. "He was sworn in as deputy director and he personally told me during a meeting that he occupied that position. The D-DOT director's office also confirmed that."
Nojay openly espouses his right-wing views on the website for his radio talk show. Its introduction slams "big unions, the  education lobby and enviro wack jobs." It says New York is now nothing but "a crumbling socialist New Age penal colony  disproportionately populated by malingerers, criminals and self-serving  grievance groups perennially attached to the teat of a bloated and indifferent  government."
Wilson said since Nojay and his boss Ronald Freeland took over the management of D-DOT, service is at an all-time low.
In the wake of drastic route cuts begun in February under Freeland and Nojay, Mayor Dave Bing and Freeland announced  a new "415" policy to ensure stops 15 minutes apart on four major routes, Dexter, Grand River, Gratiot and Woodward, which account for 34 percent of the system's ridership. The announcement took place April 30.
But Wilson said buses have been pulled from other areas to improve the routes Bing designated, causing passengers on the other routes to experience long lines and waits.

Wilson said all federal funding for D-DOT had been held up in the wake of the passage of the Detroit Public Act 4 consent agreement April 4.  His Local filed a complaint with the federal government then that the City violated the Federal Urban Mass Transportation Act (UMTA) by eliminating collective bargaining rights for workers under the agreement. Since then, he said, his local and two others representing D-DOT workers have been exempted from provisions of the consent agreement including having their locals' only full-time officials, the presidents, forced back to the job.
Nojay told the Rochester Democrat and Chronicle that he left the job voluntarily to pursue his campaign for 133rd District Assemblyman in New York, where he lives.  He had worked for D-DOT since Feb. 1 and has been campaigning for the New York Assembly post since at least May 11, when New York's Monroe County Republican Party announced his candidacy.
Nojay told the Livingston County News that he was "a consultant to a consultant to a consultant," working in a private capacity with D-DOT.
"One of the largest law firms in Upstate New York researched [my situation] carefully and concluded there was no danger of my being 'Hatched,'" Mark Gillespie, editor-in-chief of the paper, quoted Nojay in an article Aug. 23.
Nojay made the same claim to the U.S. Office of Special Counsel, which is investigating the Hatch Act complaint filed by LCN reporter Howard Appell, according to the LCN.
Wilson provided VOD with copies of two letters on D-DOT stationery which refer to Nojay as Deputy Director, after Mayor Dave Bing's office repeatedly failed to answer VOD's inquiries on his status. (Click on Nojay docs.)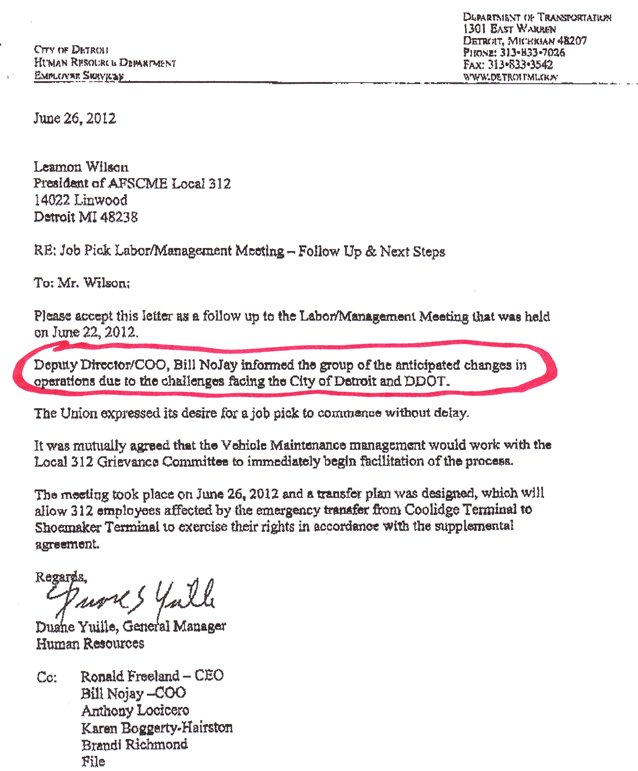 VOD had asked Bing's office for the names of those occupying positions for Director and Deputy Director, listed in the current D-DOT budget.  Bing appointed Ronald Freeland as "CEO" of D-DOT in February, as part of an arrangement with subcontractor Envisurage, run by another former RGRTA chair, Mark Aesch.
Freeland in turn hired Nojay, allegedly as "COO." No one else has been named to the budgeted positions of Director and Deputy Director and Bing's office to date has not responded to VOD's inquiries about those positions.
Envisurage has since morphed into a company called TransPro, still run by Aesch. Neither company is listed with Michigan as a business entity, but Transpro maintains a website at http://envisurage.com.  Aesch is an ardent advocate of transportation privatization who is very interested in pursuing newly available federal transportation funding, according to an article he wrote. (Click on Fed Trans Bill_MarkAesch.)
In another apparent recognition of Nojay's status as a public employee, U.S. District Court Judge Robert Cleland ordered Nojay and Freeland to appear in their capacities as D-DOT officials at a June 6 hearing on a case involving D-DOT violations of the Americans with Disabilities Act.
Nojay and Freeland repeatedly ducked earlier hearings in front of Cleland, sending underlings who did not have the information needed, according to federal court documents. The case is Dilworth et. al. and the United States of America v. City of Detroit, 2:04-cv-73152. 
Detroit Mayor Dave Bing and City of Detroit Chief Operating Officer Chris Brown were fully aware of Nojay's situation, according to an article in the Detroit News Aug. 23.
"The mayor's office was aware of his radio show and was informed when he  decided to run for office," Chris Brown, the city's chief operating officer,  said in an email," wrote News reporter Christine McDonald.
"Mr. Nojay conducted  these activities during off-hours. … Mr. Nojay campaigned on weekends.This department directly affects the lives of Detroiters and the mayor is  concerned about what happens in Detroit, not New York."
Thus, Nojay, Bing and Brown may all be complicit in violations of the Hatch Act. VOD is contacting the federal Office of Special Counsel for information on their ongoing investigation of Nojay and today filed a complaint of its own against all three individuals.
Occupy Detroit member Stephen Boyle has also filed complaints with the City of Detroit Ethics Board, saying Nojay neglected his D-DOT job to campaign back home. Boyle raised the issue during a City Council hearing in June.
Nojay's Facebook page shows him campaigning at numerous events in New York, with photos dated Thurs. July 5, Sun. July 8, Mon. July 9, Mon. July 23, Mon. Aug. 6 and Mon. Aug 13. He even had a car in a local demolition derby.
Click on http://www.facebook.com/#!/BillNojay .
Since being dumped by Detroit, he has gone on merrily campaigning without acknowledging the controversy.
"Had a great week walking door to door in the 133rd Assembly District and attending the Mendon Steak Roast Wednesday night [Aug. 22] and the Rush Pig Roast tonight!!" Nojay wrote. "Looking forward to a weekend of door to door and my Trap & Shoot BBQ Fundraiser at the Mount Morris Gun Club!! Hope to see you there!"
The Livingston County News had been under attack after Aspell filed the Hatch Act complaint.  After Nojay's repeated insistence that he was a private employee, OSC spokesperson Ann O'Hanlon said at first that he was not subject to Hatch Act restrictions.
"The Hatch Act is all about keeping improper politics out of the federal government, so when the federal funds reach into the states and localities, the Hatch Act follows that money to assure that the power of the federal purse can't be used to coerce or influence partisan politics," O'Hanlon told the LCN. "Persons covered by the Hatch Act have to be state or local employees."
Since discovering that Nojay had was gone from his post at D-DOT, LCN reporter Appell is continuing to pursue his complaint.
"When news broke of his reassignment," wrote Gillespie, "The County News was in the process of confirming Nojay's status with the City of Detroit — including whether he had been sworn into civil service, had supervisory and budgetary discretion, and whether he was presented as a public official to other city employees, elected officials outside the city and the general public."
The Voice of Detroit will publish updates on its requested investigation of Nojay, Bing and Brown for violations of the Hatch Act by the Office of the Special Counsel as they become available.
Related documents and articles
DDOT ADA case filing ordering Nojay to appear for DDOT
http://thelcn.com/2012/08/16/why-i-filed-a-hatch-act-complaint/
http://thelcn.com/2012/08/17/no-hatch-act-violation-for-nojay-campaign/
http://thelcn.com/2012/08/23/assembly-candidate-bill-nojay-out-at-the-city-of-detroit/
http://www.detroitnews.com/article/20120823/METRO/208230397
http://www.detroitnews.com/article/20120824/METRO01/208240388
http://voiceofdetroit.net/2012/02/22/regional-authority-will-likely-own-46-new-d-dot-buses-10-member-board-has-only-one-detroit-rep/
http://voiceofdetroit.net/2012/02/16/drastic-detroit-bus-cuts-finally-acknowledged-hearings-feb-24/
http://voiceofdetroit.net/2012/02/09/bing-to-slash-bus-routes-d-dot-jobs-feb-24-contractor-gets-big/
http://voiceofdetroit.net/2011/09/20/bus-workers-riders-blast-bing/