After burying Detroit in credit grave, Wall Street gives Michigan  "historically low" rate on $100 million bond re-financing
Dillon threatens EFM if Detroit doesn't toe the line under "consent agreement" that should be dead in wake of PA4 repeal
City Council to meet again Tues. Dec. 11, 10 a.m.; Councilwoman Watson wants demand letter to release $30 million in state loan funds 
By Diane Bukowski 
December 9, 2012 
DETROIT – Gov. Rick Snyder and the State of Michigan are likely laying siege to Detroit, threatening an emergency financial manager takeover, as part of a pact with Wall Stree. In return, the state got a "historically low" interest rate of 1.16 percent on a $100 million state bond re-financing deal, among other factors. 
"The eagerness of bond purchasers to invest in Michigan is a testament to the strong financial turnaround that is taking place," State Treasurer Andy Dillon said in a release Nov. 28. "The bold actions that Governor Snyder has taken to balance the state budget and make Michigan the Turnaround State have made an impression on investors throughout the country, as reflected in the historically low rate we received on this deal." 
The Bond Buyer reported earlier that Dillon, Snyder and state budget director John Nixon met with all three major rating agencies in New York City Oct. 11 to try "to regain Michigan's triple-A rating . . .This meeting comes ahead of a . . .$100 million general obligation bond deal set tentatively for Nov. 8." 
Wall Street downgraded Detroit's debt the same day the state announced its deal.   
Moody's investor ratings firm sent the city to debtor's dungeon, with rates plummeting from B3 to Caa1, and Caa1 to Caa2, as a result of Michigan voters' defeat of Public Act 4 Nov. 6, and legal challenges to the use of PA 72 in its place. They even lowered debt ratings for the Detroit Water and Sewerage Department (DWSD), which is not in deficit. 
This means investors in Detroit will profit from heftier interest rates, if they invest at all.
(Click on Text of Moody Detroit downgrade 11 28 12 to read full report.) 
Dillon's communications office has not responded to an inquiry from VOD asking whether the two events are related.
Dillon is now threatening to impose an "emergency financial manager" on Detroit under Public Act 72, telling the Detroit News he met with Detroit Mayor Dave Bing and at least some City Council members to discuss the possibility. He claimed he would ask for a 3o-day review of the city's finances this week as a first step in the process.
"There's been a further deterioration of finances since I last met with the city," Dillon told the News. "We have to move more quickly than we currently are moving to resolve this."
However, a case is currently pending before the Michigan Supreme Court asking that the Court affirm that PA 72 is dead. Appellant Robert Davis cites state statute MCL 8.4: "Whenever a statute, or any part thereof shall be repealed by a subsequent statute, such statute, or any part thereof, so repealed, shall not be revived by the repeal of such subsequent repealing statute."
If the Court rules in Davis' favor, no such EFM could be imposed.
The Council is set to meet Dec. 11 at 10 a.m. to further discuss issues involved, with residents wondering whether they will succumb to Dillon's threats of an EFM just they did to threats of an EM when they voted 5-4 for the PA 4 consent agreement.
Issues on the table include an amended contract renewal with the Miller-Canfield law firm, a co-author of Public Act 4, the consent agreement, and a $137 state loan connected to it, which the Council deemed conflicts of interest. It is also set to vote on the sale of 1,558 parcels of land to Hantz Woodlands (see separate story below).
Miller Canfield's $69,000 contract has been amended to eliminate language allowing the law firm to advise on "Annex B" of the Financial Stability (consent) agreement, which relates to demands on the city's unions. The Financial Advisory Board's attorneys advised it that sections of the consent agreement axing the city's duty to negotiate with its unions were the only parts eliminated by the repeal of Public Act 4. (Click on Miller Canfield for copy of MC item on council agenda for Dec. 11, 2012.)
Their advice was in line with State Attorney General Bill Schuette's declaration that PA 72 has been restored, a matter that is still unresolved.
Will the Council call what appears to be Dillon's bluff?
It can do that by voting for a resolution from Councilwoman JoAnn Watson as follows: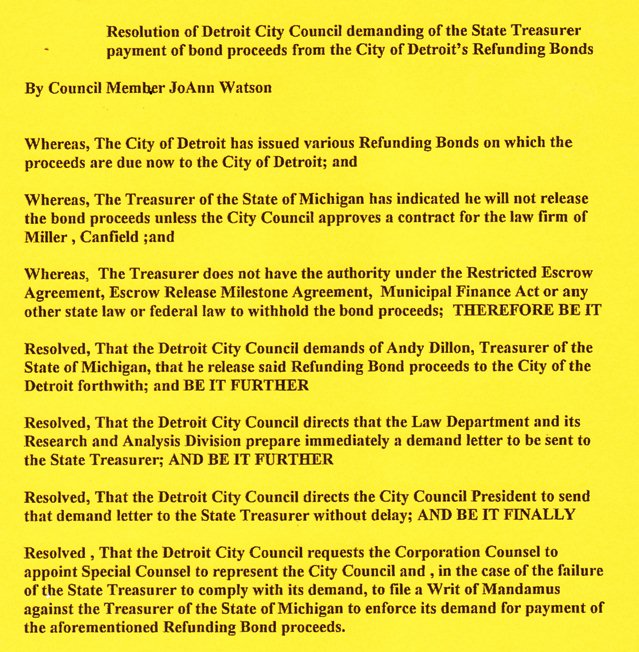 During the Dec. 4 meeting, City Councilwoman Watson cited recent recommendations from Daniel Cherrin, formerly communications director to former Mayor Kenneth Cockrel, Jr., and now a public affairs and strategic communications consultant.
"Dan Cherrin says the state is ready to sit down with the Mayor and City Council and put everything on the table, including the $224 million in state revenue-sharing funds it owes Detroit," Watson declared.
She added that Joe Louis Arena, the Detroit Medical Center, and numerous other entities, additionally owe the city up to a total of $800 million including the revenue sharing funds. She demanded that the city re-hire 80 revenue collectors it laid off to get those debts paid. She also said the city needs to take advantage of the re-election of President Barack Obama and go to Washington to ask for funding assistance in return for the record voter turn-out supporting Obama in cities like Detroit.
"We should renegotiate the debt the city owes to the banks and bondholders," Watson went on. "There is no way we should be paying $579 million to the same folks who have been putting our folks on the streets through foreclosures, overcharging and exploiting our citizens while their executives get paid huge bonuses."
Watson recommended that the City Council draft its own "Milestone Agreement" to counter the one signed by Dillon and Bing.
"We need to operate from a position of power and knowledge," Watson said. "We are the leaders elected to represent our people, not outside people."
She clearly referred to Detroit Project Management Director Walter "Kriss" Andrews (in photo at top), being paid $220,000 a year essentially to "de-structure" Detroit, and the nine-member Financial Advisory Board. Andrews previously worked as a so-called "turn-around" expert only with private companies. He has no experience in the public sector, whose goal is service to the people, not profit.
Andrews took what was supposed to be Bing's seat at the table Dec. 4, while Bing was visiting San Francisco to keep a sports bet with that city's Mayor.
Andrews alleged that the City faces a deficit of $47 million June 30. Since then, daily media reports have arbitrarily raised the figure to $68 million.
He said that even if Dillon releases the $30 million, it will not solve the city's fiscal problems and painted a picture of austerity measures stretching far into the future.
Corporation Counsel Crittendon has had several closed sessions with the City Council to discuss the impact of the repeal of Public Act 4 on the very existence of the FAB and officials like Andrews appointed under the city's PA 4 consent agreement. It is expected that she may take legal action.
During public comment, many urged the immediate removal of all consent agreement-related entities and personnel, and against the Miller-Canfield contract.
"We stand strong and steadfast against any contract that would include Miller-Canfield," said Cecily McClellan of Free Detroit-No Consent. "We are not getting the truth about the city's finances from them or others."
She and others urged people to call 313-744-3381 to join a campaign to recall Mayor Dave Bing for his complicity with state officials.
"If the Mayor and City Council were looking out for the interests of the people, they would be demanding that the state pay the money it owes Detroit, the $224 million, and other $200 million from local wealthy businesses," Whitney Mitchell said. "The Michigan Finance Authority is unethically withholding $30 million from the city. The news media is not telling the whole truth."
June Nickleberry, President of AFSCME Local 214 representing clerical and maintenance  workers at D-DOT, along with Ed McNeil and Catherine Phillips of AFSCME Council 25 and its attorney Richard Mack, said the city would save a total of $180.2 million under plans proposed by the Coalition of City Unions in January.
In a hand-out to the Council, they spelled out additional outstanding revenues due to the city totaling $457 million, and savings from other sources totaling $116.7 million. (See list below presented by Mack.)
Russ Bellant added to testimony by this reporter calling on the Council to stand up to the banks, including Swiss-headquartered UBS, which is the lender on what now amounts to over $2 billion in so-called "Pension Obligation Certificates." He noted that the U.S. government is currently negotiating with UBS on another matter described in a Bloomberg.com article.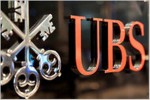 "Hundreds of wealthy Americans are revealing they have offshore bank accounts as the U.S. and Swiss bank UBS AG negotiate to resolve a lawsuit seeking the identities of 52,000 Americans suspected of tax evasion," said Bloomberg in a July, 2009 article at http://www.bloomberg.com/apps/news?pid=newsarchive&sid=ajTou_vRuqkE .
Tyrone Travis called on Detroiters not to depend on the Council, but to look to the people for solutions.
"We are going from the pillar to the devil," he said. "Ladies and gentlemen out there in TV land [Council sessions are televised], you had better organize yourselves," he declared.
One speaker quoted from the 94th Psalm:
"Lord, how long shall the wicked, how long shall the wicked triumph? How long shall they utter and speak hard things? And all the workers of iniquity boast themselves?  They break in pieces thy people, O Lord, and afflict thine heritage.  They slay the widow and the stranger, and murder the fatherless. . . .Blessed is the man whom thou chastenest, O Lord, and teachest him out of thy law;  That thou mayest give him rest from the days of adversity, until the pit be digged for the wicked. . . And he shall bring upon them their own iniquity, and shall cut them off in their own wickedness; yea, the Lord our God shall cut them off."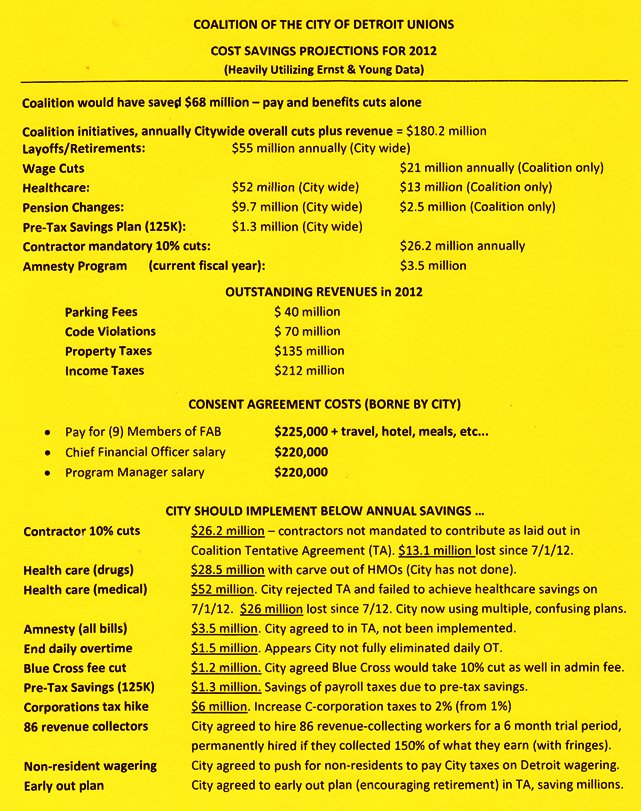 To download and print copy of CCU chart above, click on CCU savings.