VIDEO ABOVE: Bryan Stevenson, founder and executive director of the Equal Justice Initiative and a MacArthur Fellow, argued the cases of Miller v. Alabama and Jackson v. Arkansas before the U.S. Supreme Court on behalf of two prisoners who were 14 when they were sentenced to life without parole. On June 25, 2012, the high court ruled that sentencing children under the age of 18 to death is prison is "cruel and unusual punishement" and therefore unconstitutional. Stevenson's own grandfather was killed by a group of youths, but he has devoted his own life to fighting for fair sentencing, particularly for juveniles.
 State stalls enactment of US Supreme Court Miller/Jackson ruling;
Cortez Davis sentencing hearing Fri. Jan. 25 9 a.m. Judge Massey-Jones 
By Diane Bukowski 
January 8, 2013 
DETROIT – Michigan's 361 juvenile lifers, at first elated by last year's U.S. Supreme Court (USSC) decision outlawing mandatory life without parole for children, are now waging a protracted battle to have the state's courts and legislators recognize that the decision is retroactive, and speedily act to re-sentence them.
Michigan has the second highest per capita number of juvenile lifers in the country. Seventy-five percent of them are individuals of color. It spends over $2 billion a year on corrections, making it one of only four states where spending on prisons exceeds spending on higher education.
"There are some older juvenile life without parole offenders who could very well die in prison before they realize their change in fate because of their ages, being in their late 60's to early 70's," says Edward Sanders, 53, incarcerated since 1975 for a crime committed when he was 17. 
A Michigan Appeals Court panel held Nov. 15, 2012that the U.S. high court ruling on Miller v. Alabama/Jackson v. Arkansas, of June 25, 2012, is not retroactive. In People of Michigan v. Raymond Carp, the appeals court did rule that the state's current parole statute as applied to juveniles is now unconstitutional.  
But its ruling against retroactivity has temporarily suspended a massive campaign by 150 progressive Michigan attorneys to win re-sentencings for all the state's juvenile lifers, pro bono if need be. An appeal aided by the state ACLU, the State Appellate Defenders' Office, the University of Michigan Juvenile Justice program, and many other groups is progressing. 
"The state courts of Louisiana, North Carolina and Illinois have all determined that Miller v. Alabama must be applied retroactively to relieve those individuals who are serving a mandatory life without parole sentence, for offenses committed as a child, from cruel and unusual punishment," said attorney Deborah LaBelle, a coordinator of the juvenile lifers campaign, in a filing in a related federal case, Hill vs. Snyder.  
"The most recent ruling, [by an Illinois appeals court] People v. Carl Williams, (Nov. 27, 2012) recognized Miller as a 'watershed rule of criminal procedure,'" LaBelle continued. "Holding that it would also be 'cruel and unusual' punishment to apply the Miller case only to new cases, the Williams case found Miller to be retroactive." 
A favorable ruling by U.S. District Court Judge John Corbett O'Meara in the Hill case may nullify the Carp decision. 
Meanwhile, says Sanders, who was not the shooter in his case and completed his college degree in prison, "Both the Appeals Court and Michigan lawmakers are favoring the prosecutors in these 're-sentencings' over the trial judges who oversaw the trials. I have not heard anything from my attorney [Susan Reed] yet. Note that most of these attorneys have not yet filed anything. They all are waiting on a green light on the issue of retroactivity.  I am very hopeful that our state high court will overturn Carp. My case is where it is due to the ACLU, who provided me with the attorney pro bono; the court had nothing to do with it."  
Damion Todd, 43, has been incarcerated since 1986, when he was 17. Both he and Sanders, who met while both were housed in Mound Road Prison in Detroit, have become jailhouse lawyers and helped mentor other prisoners. Todd said he and a group of older prisoners at Carson City Correctional Facility concentrate in particular on counseling young offenders. He plans to continue doing so on his hoped-for release. 
"It's been a roller coaster ride," he said. "We were very excited when the Supreme Court decision came down, but then state Attorney General [Bill] Schuette filed a challenge contending that it isn't retroactive for people like myself, who have been locked up for decades. That was very disappointing, but we are still hopeful. I don't want to dismiss the pain our actions caused our victims, but we have to live with the horrible decisions we made for the rest of our lives as well. In my case, I consider my greatest achievement to have been forgiven by the victim's family after expressing my remorse and sympathy." 
Todd's sentencing judge, Michael Talbot, gave the 17-year-old not only life without parole, but said he should serve it in solitary confinement at hard labor, a sentence not currently recognized by the Michigan Department of Corrections. Talbot is now an Appeals Court Judge. He wrote the Carp decision, and was also the original sentencing judge in the Carp case. 
Todd's friend Tracy Williams told VOD that Vera Rucker, the mother of Melody Rucker, the 16-year-old killed in a cross-fire between two groups of male youths in 1986, has embraced both Todd and herself, essentially taking them into her family. Williams calls her "Mom." (For more on Todd's case, which made the front page of the local Metro Times, click on http://www2.metrotimes.com/editorial/story.asp?id=9966.) 
So far, a bright light still shines for juvenile lifer Cortez Davis.  The Michigan Supreme Court remanded his key case back to Wayne County Circuit Court Judge Vera Massey Jones Sept. 7, while refusing to weigh in on the issue of retroactivity.  With passionate remarks, Judge Massey Jones granted his motion for re-sentencing Dec. 11, 2012. His sentencing hearing is set for Jan. 25, 201e. (See sidebar for Judge Jones' decision.) 
"The most important thing she said, especially in light of the Carp case, is that she declared the mandatory life sentence to be cruel and unusual in this case 18 years ago—before the case had not yet become final," Davis' attorney Clinton Hubbell told VOD. "The Court of Appeals in Carp, however, is bootstrapping a denial of resentencing to Mr. Davis by indicating that his case is already final in spite of Judge Jones' 1994 ruling, and that the Miller/Jackson decision is not retroactively applicable." 
Wayne County Prosecutor Kym Worthy has filed an emergency Application for Leave to Appeal to the Appeals Court, asking that a decision be made by Jan. 24, 2013 banning the re-sentencing. She argued that the Carp decision binds lower courts, although it was rendered after the state Supreme Court remanded the Davis case to Judge Jones.
During the Dec. 7 hearing, Judge Jones asked Assistant Prosecutor Timothy Baughman, "Mr. Davis has waited how many years? After I ruled that the thing was cruel and unusual, how many years has Mr. Davis been in prison waiting for the Supreme Court of the United States to come to a rational decision on this case?'
Baughman replied that it has been 18 years. He argued that Judge Jones is bound by the Carp decision, and that a final decision on retroactivity has to go through the appeals process to the U.S. Supreme Court all over again.
Judge Jones, who has been on the bench for over 30 years, is set to retire in 2015. She said people have asked her why she stayed so long.
"I stayed here because I wanted to see justice done to my people," Judge Jones said. "I followed my father around Recorder's Court when I was a little kid . . . .I had a great deal of respect for him and for the other people who happened to be African-American lawyers, and really fought for people's rights. And so, to me, doing the right thing was more important than anything else. And doing the right thing back then was not to sentence Mr. Davis to natural life in prison."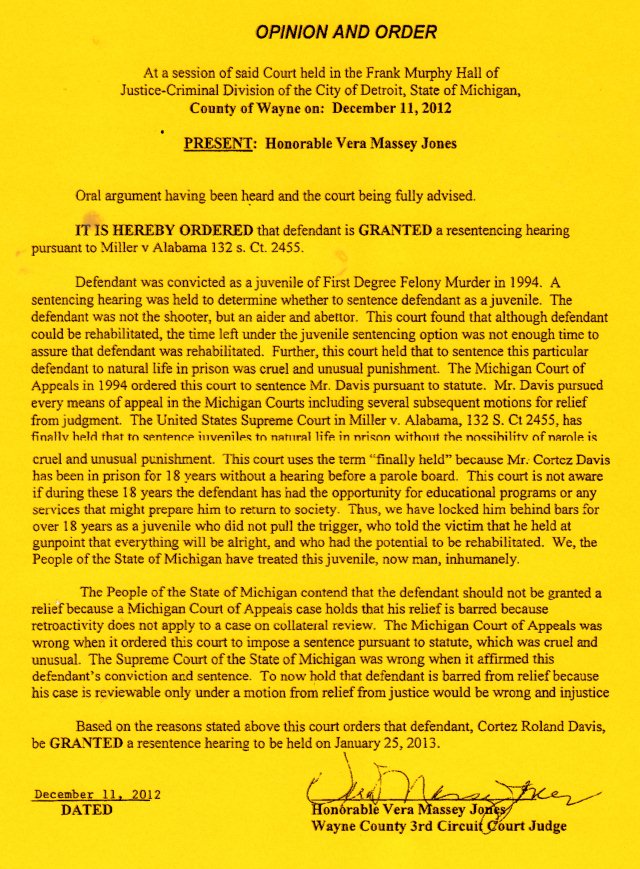 She noted that it has taken 18 years for the U.S. Supreme Court to confirm her 1994 ruling that juvenile life without parole was "cruel and unusal" punishment."
"And so it would be unfair to keep Mr. Cortez Davis tethered by wrong decisions made by other courts over the years," Judge Jones explained. "And so Carp, in my opinion, does not apply to this case."
While Davis awaits his sentencing hearing, the federal class action case filed on behalf of 13 Michigan juvenile lifers in Nov. 2010, still lingers in front of  U.S. District Court Judge John Corbett O'Meara, of the Michigan Eastern District.
The plaintiffs, represented by Attorney LaBelle and others with the ACLU, moved for summary judgment on the unconstitutionality of the current parole statute, asking the court to go beyond Miller/Jackson to include even non-mandatory sentencing of juveniles. 
During hearing on their motion Sept. 20, Judge O'Meara did not make a ruling. He said he was inclined to rule in favor of the plaintiffs, but wanted to hear arguments and ideas from both sides on enforcing the USSC ruling in Miller/Jackson, as well as prisoners serving life without parole sentences in general. 
Attorney LaBelle noted that even the Carp COA panel agreed the parole statute is unconstitutional in light of Miller/Jackson. 
"You know, we extensively briefed it, and Defendants [the state of Michigan] do not disagree with the fact that Miller and Graham and Roperall make arguments that say that children are different than adults," LaBelle argued. "Children are less culpable than adults, and that all the legitimate penological objectives for life without parole sentences simply cannot apply to children." 
She referred to two earlier USSC decisions outlawing juvenile life without parole in non-homicide cases, Graham v. Florida, and the death penalty for juveniles, in Roper v. Simmons. 
She continued, "Miller went even further and said that Graham'sreasoning implicates any life without parole sentence imposed on a juvenile, and it's not crime specific, it's child specific. This court can, and we think should, determine that the harshest punishment available in Michigan to anyone who commits a crime as an adult, a first degree murder crime, cannot be applied to children in the same way as adults . . . .the Court says no one, no psychologist, no soothsayer, no judge can stand and look at a child and say I know who you will be when you mature. No one can do it, and to impose a life without parole sentence does exactly that and says I know you're irredeemable now." 
Since the Sept. 20 hearing, both sides have continued to submit filings to Judge O'Meara, with no indication as to when he will finally rule. The last submission, by Attorney LaBelle, was filed on Nov. 28, 2012.  (See link below.)
Meanwhile, State Rep. Joe Haveman (R-Holland) submitted a package of bills Nov. 8, including HB 6014, which makes a grudging attempt to comply with Miller/Jackson. It would however confirm Miller's retroactivity. It does not provide for re-sentencing, but provides parole eligibility for individuals sentenced before the age of 16 after serving 15 years, and those sentenced between the ages of 16 and 18 after 20 years.
 However, Michigan's parole board is appointed by the governor and has been extremely restrictive about granting parole to anyone, including parolable lifers convicted of offenses like second-degree murder. 
The bill requires that the parole board consider numerous factors not part of Miller, including whether the offense "occurred during an act of terrorism," whether three or more individuals were involved in committing the offense, whether there were multiple murders, whether victims were minors, disabled adults, or law enforcement officials; whether the victim was threatened with torture, or whether the victim was killed due to witnessing a crime. 
The bill does include other factors specified in Miller, including the previous record of the individual, whether another individual dominated him or her in the commission of the crime, and "whether the individual's age, family circumstances or mental development substantially affected his or her ability to appreciate the consequences of his or her actions." 
The bills were referred to the House Judiciary Committee. It is unclear what will happen to them in the 2013-14 session. 
"Both the court and the House Bill only provide for a ministerial act of sentence correction and not what the U.S. Supreme Court ordered, sentences that look at the person on a case by case basis," Sanders summed up. "They only look at life with or without parole."
EJI website is at http://www.eji.org/childrenprison/deathinprison
Related documents:
Hill filing 11 28 12 re state courts on Miller
Hill motion hearing transcript 9 20 12
Cortez Davis Combined Written Order and Hearing Transcript
 Related stories: 
http://voiceofdetroit.net/2012/10/28/michigans-juvenile-lifers-want-state-to-comply-with-u-s-supreme-court-ruling/
http://voiceofdetroit.net/2012/10/28/michigans-juvenile-lifers/
http://voiceofdetroit.net/2012/08/16/michigan-challenges-u-s-supreme-court-ruling-on-juvenile-life-without-parole/
http://voiceofdetroit.net/2012/07/02/us-supreme-courts-juvenile-lifer-decision-brings-hope-to-thousands/
http://voiceofdetroit.net/2012/07/02/nations-high-court-ends-mandatory-life-without-parole-sentences-for-youth/
http://voiceofdetroit.net/2012/03/18/us-supreme-court-to-hear-key-juvenile-lifer-homicide-cases-march-20-2012/
http://voiceofdetroit.net/2012/03/04/juvenile-lifer-anthony-jones-wins-new-sentence-battle-for-justice-for-all-juvenile-and-parolable-lifers-still-needed/ 
Some of Michigan's 371 juvenile lifers involved in current litigation: (l to r, top through bottom row), Cortez Davis and Raymond Carp, awaiting re-sentencing under USSC decision; plaintiffs in USDC case Henry Hill, Keith Maxey, Dontez Tillman, Jemal Tipton, Henry Hill, Nicole Dupure, Giovanni Casper, Jean Cintron, Matthew Bentley, Bosie Smith, Kevin Boyd, Damion Todd, and Jennifer Pruitt; Edward Sanders and David Walton, in prison since 1975 at the age of 17; (photos show some lifers at current age, others at age they went to prison).