Michigan Gov. Rick Snyder (at podium) announces state takeover of Detroit, the world's larges Black majority city outside of Africa. Mayor Dave Bing (r) and new EFM Kevyn Orr stand at attention during press conference March 14, 2013.
                                                                                                                                                            UBS, which sold Detroit predatory $1.5 billion POC loan, involved in LIBOR  
LIBOR interest rate-rigging scandal "dwarfs any financial scam in history"
City Council to decide on Jones Day restructuring contract
March 16, 2013
(VOD–this is the first in a series of stories on Snyder's EFM takeover of Detroit. More details on events later.) 
DETROIT – Detroit's newly-appointed "Emergency Financial Manager" Kevyn Orr was virtually speechless when VOD asked him what he would do about banks like UBS AG and others involved in the global "LIBOR" interest rate-rigging scandal, as it relates to Detroit's gargantuan debt load of more than $12 billion. 
"This dwarfs by orders of magnitude any financial scam in the history of markets," Andrew Lo, Professor of Finance at the Massachusetts Institute of Technology, said about the LIBOR (London Interbank Offered Rate) case.
VOD cited to Orr the fact that UBS loaned the City of Detroit $1.5 billion in 2004 in a predatory "pension obligation certificates" scheme, before the global economic meltdown of 2008. The city later defaulted on the loan twice, causing its debt ratings to plunge and interest rates to skyrocket. Because of the defaults, the city's income from state revenue-sharing and from casino taxes is now funneled through a trustee, USBankcorp, to ensure payment of the debt. 
UBS AG just paid a fine of $1.5 billion to the U.S. Justice Department, admitting to fraud in the scheme. 
"'I'm aware of those things," was Orr's only response to VOD's question about LIBOR and UBS, during a press conference held by Michigan Gov. Rick Snyder, with Detroit Mayor Dave Bing loyally standing by, on Mar. 14 at Snyder's Detroit office in the Cadillac Building.
One trader has said LIBOR interest-rate rigging has been going on since at least 1991. Exposure began as early as 2005. 
"The Bank for International Settlements estimated that outstanding interest rate contracts linked to Libor were valued at about $450 trillion in the second half of 2009. Nearly all 2008 subprime adjustable rate mortgages in the U.S. were similarly pegged to Libor, according to a Federal Reserve Bank of Cleveland report," a recent USA Today article said.
VOD has discovered why Orr was didn't say anything more about LIBOR during the pres conference.
Orr hails from the world's third largest law firm, Jones Day, which has been tapped to be the city's re-structuring advisor (if approved by City Council). Jones Day has over 2500 lawyers, 828 partners (of which Orr is only one), 35 offices across the globe, and gross revenues of $1.6 billion in 2011. Founded in Cleveland, Ohio, it is now based in Washington D.C. Its managing partner is Stephen Brogan.
Orr said he has left the law firm and that it has "firewalls" in place to prevent conflicts of interest, but did not disclose the firm is up for the costly city contract.
Orr's bio on the Jones Day website says, "Kevyn Orr has practiced in the areas of business restructuring, financial institution regulation, and commercial litigation since 1984." It says he was part of the team representing Chrysler LLC as well as other corporations in bankruptcy proceedings, and that he defended URS/WGI against USDOJ claims.
Jones Day itself has acted as advisor to most of the LIBOR banks, Those include UBS Limited, a subsidiary of UBS AG, as recently as August, 2012, well after the LIBOR scandal began breaking.
From the Jones Day website:
"Deutsche Bank, HSBC Bank, UBS Limited, and BBVA underwrite £500 million public offering by PepsiCo 
August 2012 –Jones Day advised Deutsche Bank, AG London Branch; HSBC Bank plc; UBS Limited; and Banco Bilbao Vizcaya Argentaria, S.A., as underwriters, in connection with the public offering by PepsiCo, Inc., a leading global food and beverage company, of £500 million (US$791.2 million) of 2.500% Senior Notes due 2022. The Notes are expected to be listed on the NYSE. 
"UBS, Jefferies, Baird, Needham & Company, and Natixis underwrite $77 million IPO by Sequans Communications 
April 2011- Jones Day advised UBS Limited; Jefferies & Company, Inc.; Robert W. Baird & Co. Incorporated; Needham & Company, LLC; and Natixis Bleichroeder LLC in connection with the $77 million initial public offering of American Depositary Shares on the NYSE by Sequans Communications S.A. . . ." 
 Along with UBS, Deutsche Bank and HSBC Bank are among 13 banks sued by the City of Baltimore and dozens of other municipalities, labor unions, financial funds, and individual investors across the U.S. in a mammoth federal multidistrict litigation matter in Manhattan federal court, in addition to investigations being conducted by governments across the world. 
Other citations from the Jones Day website: 
"Barclays, BNP Paribas and UBS complete $1 billion public offering of 4.875% Global Bonds due 2015, Global Benchmark, SEC Registered 
November 2005 – Jones Day assisted Barclays Capital, BNP Paribas Securities Corp and UBS Limited in connection with the public offering by Landwirtschaftliche Rentenbank of Global Benchmark, SEC registered of $1 billion 4.875% Global Bonds due 2015. Landwirtschaftliche Rentenbank is a financial institute organized under the public law of the Federal Republic of Germany.  .  .  .
"Deutsche Bank, UBS and Nomura underwrite $1.5 billion global bond public offering by Landwirtschaftliche Rentenbank
October 2004 – Jones Day represented Deutsche Bank AG, Nomura International plc, and UBS Limited as lead underwriters in connection with the public offering by Landwirtschaftliche Rentenbank of Global Benchmark, SEC registered $1.5 billion 3.65% Global Bonds due October 20, 2009 . . ." 
Barclay's was the first bank British regulators went after in the LIBOR scandal, with investigations beginning in 2005, according to a BBC article. 
One of the emails cited in the investigation included the following: "Hi Guys, We got a big position in 3m libor for the next 3 days. Can we please keep the lib or fixing at 5.39 for the next few days. It would really help. We do not want it to fix any higher than that. Tks a lot."  Barclays Bank trader in New York to submitter, 13 September 2006.
"On 27 June [2012], Barclays admitted to misconduct," said the BBC article. "The UK's FSA [Financial Securities Administration] imposed a £59.5m penalty. The US Department of Justice and the Commodity Futures Trading Commission (CFTC) imposed fines worth £102m and £128m respectively, forcing Barclays to pay a total of around £290m."
Barclay's CEO Bob Diamond and Chairman of the Board Marcus Agius later resigned, and after a criminal probe, three Barclay's traders went to prison.
On its website, Jones Day also lists as clients Bank of America, Citigroup, Morgan Stanley Realty (a subsidiary of J.P. Morgan Chase),  J.P. Morgan Chase, and the Royal Bank of Scotland (RBS) Commercial Services, all defendants in the U.S. LIBOR class action lawsuit.
Other well-known banksters serviced by Jones Day include Lehman Brothers Holdings, LLC, what is left of Lehman Brothers. That company's collapse began the global meltdown of 2008. Its accounting firm Ernst & Young has been advising the City of Detroit on financial matters since 2011, at the same time being sued by the states of New York and New Jersey for misrepresenting the company's financial situation.
Also included is Goldman Sachs, now advising the Detroit Board of Water Commissioners on the current plan to transform the Detroit Water and Sewerage Department into two authorities completely disconnected from the City of Detroit.
VOD sent the following email to Kevyn Orr asking him for his response to these allegations, but has not yet heard from him: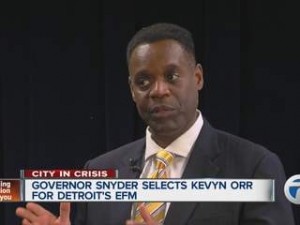 Mr. Orr, this is Diane Bukowski, editor of The Voice of Detroit, online at http://voiceofdetroit.net. You may or may not recall that I asked you during the Governor's press conference March 14 what you would do about the banks' role in Detroit's debt crisis. I specifically brought up the LIBOR scandal and the fact that UBS, a defendant in LIBOR litigation which has so far paid $1.5 billion in fines for interest-rate rigging, holds one of Detroit's largest debts, the $1.5 billion Pension Obligation Certificate loan approved by City Council in 2004.
You stated you were "aware" of the situation, but did not answer my question regarding what you planned to do about it. Since we spoke, I have researched Jones Day clients, and found that Jones Day has represented the following clients in various deals, clients who are defendants in LIBOR-related cases:
1) UBS Limited, a subsidiary of UBS AG.
2) Deutsche Bank
3) Barclay's
4) Bank of America
5) Citigroup
6) Morgan Stanley Realty (a subsidiary of J.P. Morgan Chase)
7) J.P. Morgan Chase, and
8) the Royal Bank of Scotland (RBS) Commercial Services, a subsidiary of RBS.
From my research. I do not see that Jones Day represented these entities in the LIBOR litigation. However, the deals in which Jones Day represented these banks range at least from 2004 through 2012, a period during which the LIBOR scandal was emerging and finally blew completely in 2012. One trader has said in published material that LIBOR interest-rate rigging has been rampant since at least 1991.
The City of Baltimore, various other municipalities and counties, pension funds, investors like Charles Schwab and numerous other entities are involved as plaintiffs in the LIBOR litigation.
You have indicated in published reports that City of Detroit assets such DWSD and Belle Isle are on the table to resolve Detroit's alleged financial crisis.
Questions:
1. Are you planning to research, from your study of Detroit's books, how much the city may have lost due to criminal LIBOR-related deals with UBS and other institutions cited above, which involved interest-rate rigging? Do you plan to join Baltimore and other municipalities in seeking redress from these banks?
2. Many of these same banks have been involved in predatory lending practices in Detroit and other cities with large populations of color. As a result of foreclosures and evictions during the last period, Detroit has lost over 250,000 residents. I see by your bio on the Jones Day site that you have helped write several documents related to TARP, so you are familiar with the fact that TARP was supposed to allow homeowners to negotiate affordable monthly payments, which has been done in only a small percentage of cases. Do you plan to pursue restitution from the banks and mortgage companies involved for the resulting destruction of a large part of Detroit's tax base?
3. You are most well-known as a participant with other Jones Day partners in the Chrysler bankruptcy and the creation of the Fiat-led "New Chrysler." You therefore must be aware that Chrysler closed two plants in the Detroit area as part of the bankruptcy: the Sterling Heights plant, and the Detroit Conner Avenue plant, and moved production from its Detroit axle plant to Port Huron, MI. Chrysler along with the other auto companies has shut many more plants in the Detroit region beginning with the historic closure of the Chrysler Hamtramck Assembly Plant, better known as "Dodge Main" on Jan. 4, 1980. These plants were generally moved to the South or overseas. These closures decimated Detroit's tax base both in terms of corporate taxes as well as individual taxes from Chrysler workers. Do you plan to seek restitution from Chrysler or any other automaker for the resulting loss of revenue to the City of Detroit?
4. Given the above issues, can you recommend hiring your former long-time employer, Jones Day, as Detroit's "restructuring" consultant?
5. Is this hiring of Jones Day not a conflict of interest for you as Detroit EFM?
Thank you kindly for your prompt responses to my questions. Please feel free to correct any errors of fact. My story will likely be going to press today, but I can publish your responses in a follow-up story as this is the first in a series.
Related documents and articles:
Amended LIBOR class action complaint 12 23 11
Wikipedia: Libor scandal
http://www.bbc.co.uk/news/business-18671255
http://voiceofdetroit.net/2013/03/12/grand-theft-of-detroits-water-dept-imminent-water-board-mtg-wed-march-13-2pm/
http://voiceofdetroit.net/2013/02/24/u-s-banks-scrutinized-in-libor-scandal-probe/
http://voiceofdetroit.net/2013/02/17/group-sues-for-detroits-debt-documents-state-review-team-leaks-negative-findings/
http://voiceofdetroit.net/2012/12/28/detroit-city-council-6-collaborators-in-war-on-people/
http://voiceofdetroit.net/2012/12/19/ubs-admits-fraud-in-1-5-billion-libor-rigging-settlement/
http://voiceofdetroit.net/2012/12/10/state-blitzkriegs-detroit-to-get-deal-with-wall-street-will-council-stand-up-at-meeting-dec-11/
http://voiceofdetroit.net/2012/09/27/detroit-dwsd-debt-shows-wall-street-never-loses-on-bad-swaps/
http://voiceofdetroit.net/2012/07/23/detroit-cut-2-billion-pension-bond-deal-with-ubs-one-of-banks-sued-by-baltimore-others-in-libor-scandal/ (copies sent to Mayor Bing, City Council members)
http://voiceofdetroit.net/2012/07/20/libor-scandal-could-turn-ugly-as-cities-begin-to-sue-banks/