(L to r) Luis and Cecilia Espinoza, with Cornell Squires, point out abandoned, burnt out properties next to their home (at far left). They have paid $16,000 in property taxes since 2011 but are facing foreclosure March 31. They have five children and little income.
"Largest mass foreclosure in one city at one time in U.S. history"
62,000 homes on auction block, 37,000 occupied, most by families
Tax bills are criminal "crap shoot," violate state laws requiring annual re-assessments; opponents say people should demand reimbursement
Numerous groups call for moratorium on foreclosures, cancellation of past tax debt, use of federal "Hardest Hit" funds to pay bills and refill city, county coffers;
Protest set for Tues. March 31 at 400 Monroe
 By Diane Bukowski
 March 28, 2015
Detroit—"I want to take my family back to Mexico," Cecilia Espinoza says of her husband Luis and five young children, Leonardo, Genoveva, Gavino , Pedro, and Luis III, ages 7 t0 17. "We have paid $16,000 in taxes on our home since 2011, and now they want to force us out."
Mrs. Espinoza has treasurer's receipts for $13,424.41, paid through May 8, 2014. She has not been able to keep track of off of all her paperwork, but her family's property is worth far less than even that amount.
The Treasurer claims the Espinozas still owe $10,009 in taxes, for a total of $26,000. They live in a two story home on Tarnow off McGraw, next to two horrific burnt-out and abandoned houses, and across the street from a vacant field that became a dumping ground after houses there were demolished.
The Espinozas cleaned up that field, but still cannot let their children outside to play due to the deterioration of the neighborhood. They struggle to make a living with intermittent jobs. Detroit Human Services has refused the family cash assistance, providing only $1200 a month in food stamps and Medicaid.
The property is on the list of 62,000 foreclosures pending in 2015, published by the Wayne County Treasurer's office in the Legal News.  It is likely the largest removal of a population in U.S. history, second only to the genocidal evictions of the land's indigenous people, the Native Americans, and the kidnapping of millions of Africans from their homeland to support a slave economy whose effects redound to this day.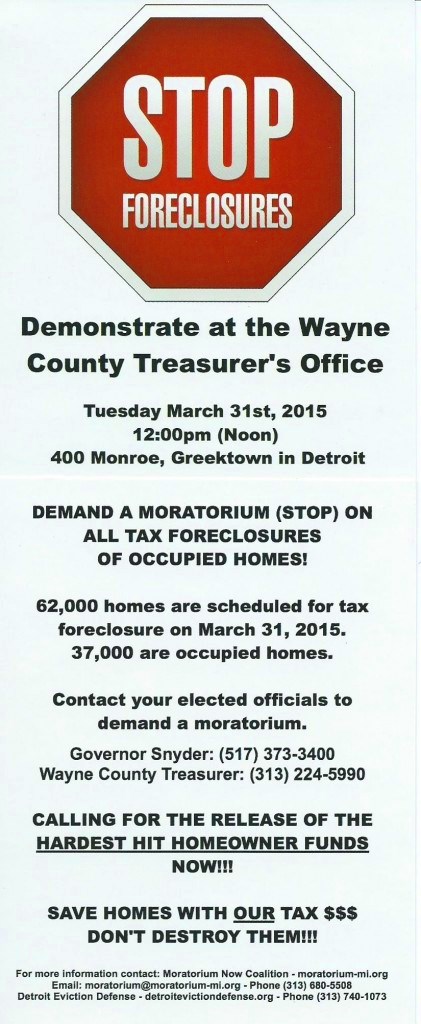 Cornell Squires of We the People for the People and RicoBusters said determination of property tax values has been nothing but a crap shoot in Detroit for the last 20 years, during which time no re-assessments have been performed, in violation of state law requiring annual assessments. (See MCL 211.1o, "Annual Assessment of Property," at mcl-211-10 Annual assessment of property  and State Provisions for Property Reassessment. )
"The assessor's office told me during the Kilpatrick administration that they had only two full-time assessors," Squires said. "This is nothing but outright criminal fraud and racketeering, because the tax bills people are being forced to pay are illegal. State law requires annual assessments, or at the very least, reassessments every five years. It is a CRIME to force people to pay these amounts. Instead, they should be reimbursed for overpayments for the last 20 years, and the politicians in charge should go to jail."
During the last two decades, conditions in Detroit have deteriorated drastically, due to the exodus of major employers including the auto industry, the privatization for profit of the public sector, the destruction of the city's public school system, rising utility bills and shut-offs, and rising insurance rates on cars, homes, and other property. (See     for description of basis of property tax rate determination.)
Detroit "Mayor" Mike Duggan said in his state of the City address that he was initiating a re-assessment of all Detroit property taxes, to conclude in 2016. He said property taxes would be dropped from 0 percent to 20 percent according to neighborhood location. The southwest side is slated for only a 5 percent decrease.
He said the decreased taxes would allow more homeowners to pay. However, the Detroit bankruptcy Plan of Adjustment has tripled the city's general fund debt through 2043, to $3 billion. That debt is backed by property taxes and state revenue sharing funds, so it is unlikely that the city's debt holders will favor any moratorium or decrease in taxes.
"Those amounts will nowhere near reimburse taxpayers for the amounts they have overpaid in the last 20 years," Squires said. He has had to battle for years to have his home on Detroit's impoverished far southwest side re-assessed to a $900 a year payment, after buying it while it was burnt-out and refurbishing it.  However, it is on the foreclosure block again, with the Treasurer listing $7,194.49 as the amount due, including taxes prior to the reassessment.
Neither Duggan, nor Wayne County officials Treasurer Raymond Wojtowicz, Executive Warren Evans or Sheriff Benny Napoleon have called a halt to tax foreclosures and evictions while the re-assessment proceeds. Such a moratorium has a precedent—in 2009, Evans, then Wayne County Sheriff, declared a nine-month moratorium on mortgage foreclosures in the county.
But city and county leaders along with the non-profits that are supposed to fight foreclosures  are waiting for the September and October tax auctions, during which foreclosed properties will be sold for as little as $500, many in bundles to wealthy speculators. These auctions are legally questionable as well, since the Treasurer does no title search on the properties being auctioned.
In  2013, Detroit was forced to reimburse Wayne County $117 million it had advanced to cover properties that did not sell at the auctions, according to the city's 2013 Comprehensive Annual Financial Report. It expects to owe at least another $72 million in coming "post-bankruptcy" years, according to the Moratorium NOW! Coalition against Foreclosures, Evictions, and Utility Shut-offs.
In February, according to the southwest Detroit-based newspaper El Central, 50 Detroiters sat in at the city's Tax Assessor's office to demand justice from Detroit Mayor Mike Duggan.
"Homeowners were promised a massive reduction in interest and penalty rates, and an opportunity to have their property re-assessed to pay their fair share, a right granted to every Michigan homeowner" El Central said. "Instead, at last week's Show Cause hearing at Cobo Hall