by Chris Wright
November 29, 2019
(VOD has added photos, videos to original Counterpunch article.)
"Hoffa symbolizes a political economy long gone, an era when a union leader could strike fear and loathing in the hearts of senators and presidents, when the old industrial working class, millions strong and capable of bringing the economy to its knees if it so desired, was still the foundation of the social order."
"While he recognized the value and necessity of having a welfare state, at bottom he thought the working class had to take care of itself, do whatever was necessary to survive, and constantly fight against a hostile world."
Jimmy Hoffa used to say he'd be forgotten ten years after his death. This was an uncharacteristically unintelligent judgment. Forty-four years after his murder on July 30, 1975, Hoffa is still famous enough that one of the most celebrated movies of the year is about the man who claims to have killed him, Frank Sheeran.
Called The Irishman, the film, directed by Martin Scorsese, stars Robert De Niro as Sheeran, Al Pacino as Hoffa, and Joe Pesci as Russell Bufalino, the Mob boss who approved the killing. For a labor leader, such a level of fame is not only extraordinary; it is unique.[1]
Of course, the reasons for Hoffa's fame are not entirely to his credit. He is seen as the dictatorial and corrupt union leader who was close friends with gangsters and allied his union, the International Brotherhood of Teamsters (IBT), with the Mafia. Bobby Kennedy went after him for years, starting with the famous McClellan Committee hearings of 1957–59 (for which Kennedy was the chief counsel), and finally got him convicted in 1964 on charges of jury tampering and fraud, for improper use of the Teamsters' pension fund. His appeals having failed, Hoffa went to prison in 1967, but was released in 1971 when Richard Nixon commuted his sentence. As described in Charles Brandt's bestseller I Heard You Paint Houses, on which Scorsese's movie is based, Hoffa's subsequent campaign to regain the presidency of the Teamsters was sufficiently threatening to the Mafia that they had him killed.
The Irishman focuses on this seedier side of Hoffa's life, thus perpetuating the image of a wholly amoral and self-serving criminal with which the McClellan hearings made Hoffa's name synonymous. Most articles published in popular media, such as Steve Early's recent piece "The Ghost of Jimmy Hoffa Won't Go Away," express a similarly one-sided view. The truth is that Hoffa's Mob connections were hardly the defining feature of his life. Rather, he deserves to be known, in large part, as the preternaturally effective and hard-working—20-hour days six days a week—leader of what was then the largest union in American history, responsible for raising millions of truck drivers, warehousemen, laundry workers, retail clerks, and others into the middle class.
With the possible exception of John L. Lewis, no twentieth-century union leader was as beloved by the members as Hoffa. He made it a point to be approachable and endlessly responsive: in speeches, for example, he regularly gave out his office phone number and insisted that members call him at any hour of the day or night if they had problems. The contracts he secured were remarkably generous—and yet, ironically, even employers profoundly admired him, considering him a master negotiator, a "genius," more knowledgeable about the trucking industry than anyone, all in all "a great statesman" who was scrupulously honest and realistic in bargaining.
Indeed, the fundamental reason for the perennial fascination with Jimmy Hoffa may be not so much his ties to the Mafia as his sheer power and success. No other industry was more critical to the nation's economy than trucking, and Hoffa did more than anyone to rationalize and stabilize conditions in this chaotic, competitive industry (a service for which employers were grateful). Bobby Kennedy may have exaggerated when he said Hoffa was the second most powerful man in the country, but he certainly did have a degree of power unimaginable for a union official in the twenty-first century.
And that's what's so interesting about him: Hoffa symbolizes a political economy long gone, an era when a union leader could strike fear and loathing in the hearts of senators and presidents, when the old industrial working class, millions strong and capable of bringing the economy to its knees if it so desired, was still the foundation of the social order. Certain sectors of the working class were even defiantly independent of the corporate-liberal "consensus" of the Cold War establishment, having carved out their own self-policed political economy with the help of organized crime, informal deals, and a willingness to meet violence with violence. The Teamsters epitomized this independent working class, and Hoffa epitomized the Teamsters.
It was the aesthetic, so to speak, of the Teamsters and their form of unionism to which Bobby Kennedy and other "corporate liberals" objected (together with "socially responsible" unionists like Walter Reuther of the United Autoworkers).
As historian Thaddeus Russell argues, "the confrontation [between Kennedy and Hoffa] represented a cultural conflict between the rising, respectable professional class of the prosperous postwar years and the uncultured, unassimilated, and unruly industrial working class of the Depression." To have such an untamed and independent social force right at the heart of society—in the age of triumphant liberalism—was an embarrassment.
That working class is dead now. But in its heyday, it was one hell of a force to be reckoned with.
The Rise of Jimmy Hoffa
Years later, Hoffa formulated the moral philosophy he had imbibed from his early days in Indiana and Detroit: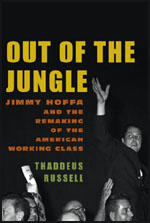 "Every day of the average individual is a matter of survival. If by chance he should go from home to work and have an accident, lose an arm or an eye, he's just like an animal wounded in the jungle. He's out. Life isn't easy. Life is a jungle… Ethics is a matter of individualism. What may be ethical to you may be unethical to someone else… But my ethics are very simple. Live and let live, and those who try to destroy you, make it your business to see that they don't and that they have problems."
It was in Detroit in the Depression years that Hoffa learned the law of the jungle. As a dock loader at Kroger's warehouse, Hoffa led a strike against the sadistic foreman, which resulted in a temporary agreement with the company that improved conditions and pay. When he was fired a couple of years later, in 1935, for dropping a crate of vegetables on the loading dock, he was immediately hired by a Teamsters official to be an organizer (or "business agent") with Local 299. He was only 21, but with his boundless energy and intelligence, he proved effective.
Across much of the country, the IBT was beginning a sustained offensive in these years. In 1934 its members played a decisive role in two successful general strikes: one in San Francisco, where they joined the longshoremen's union to shut down the city, and one in Minneapolis, where the Trotskyists in charge of Local 574 led a strike that elicited shocking violence from the police and thugs hired by employers. The Teamsters' almost total victory in this strike, leading to the unionization of thousands of "unskilled" workers, began its transformation from a small conservative craft organization to a national industrial union encompassing over two million members.
The more politically conservative Detroit Teamsters were, in their own way, just as militant as the Trotskyists in Minneapolis. To organize the increasingly numerous—and abysmally paid—intercity freight drivers, Local 299's organizers favored a strategy much simpler than signing up workers and petitioning for elections that would be overseen by the newly established National Labor Relations Board. Instead, they approached an employer: "either enroll your workers with the union or we'll bomb your trucks." If he refused, they bombed his trucks. And sometimes his home. In a violent, lawless city, this strategy worked well. (They had likely learned it, in fact, from having their own cars bombed by "hired thugs.") Combined with frequent strikes and strike threats, such intimidation resulted in an influx of new members into the local and steadily rising wages.
Hoffa and his several union colleagues didn't limit themselves to organizing drivers; anyone who worked on a loading platform was fair game too. "We'd go out," Hoffa later recalled, "hit the docks, talk to drivers, put up picket lines, conduct strikes, hold meetings day and night, convince people to join the union." It was treacherous work: "My scalp was laid open sufficiently wide to require stitches no less than six times during the first year I was business agent of Local 299. I was beaten up by cops or strikebreakers at least two dozen times that year." During one strike he was jailed eighteen times within a 24-hour period, since he kept returning to the picket line after being released. In these years he also had a list of arrests "that's maybe as long as your arm" for fighting with strikebreakers, hired thugs, and members of rival unions who were trying to organize the same workers the Teamsters were.
In 1938 two developments occurred that would later facilitate Hoffa's centralized control over the entire union. First, Dave Beck, an organizer from Seattle (who went on to become president of the IBT in 1952), formed the Western Conference of Teamsters, an administrative body covering the eleven western states and British Columbia. Such a higher-level body was necessary for coordinating organizing and bargaining in a fragmented industry that had thousands of small employers and hundreds of local Teamster unions. That very year, two thousand employers in the eleven states signed an agreement to bring higher wages to intercity ("over-the-road") drivers.
Around the same time, Farrell Dobbs was achieving a similar ambition in the Midwest. One of the Trotskyists who had led the 1934 Minneapolis strike, Dobbs realized it was inefficient and mutually damaging for locals to separately negotiate different wage scales for their own over-the-road drivers. So he and his comrades, with the cooperation of the IBT leadership, created the Central States Drivers Council (CSDC) to bargain for all unionized over-the-road drivers in the twelve Midwestern states.
To force reluctant—and widely scattered—employers to come to the bargaining table, Dobbs gave them the kind of ultimatum that Hoffa used to great effect in later years: all firms with lines ending or beginning in Chicago (which meant most firms in the Midwest) would have to negotiate an areawide contract or face a devastating strike. They quickly complied, and over two weeks they and the CSDC hammered out the most ambitious and important contract the IBT had ever negotiated. Establishing uniform minimum wages, maximum hours, seniority rights, safety guarantees, a grievance committee, and a closed shop (all drivers had to belong to the Teamsters), the contract covered 125,000 workers at 1,700 companies. Continue reading →