"A DARK DAY FOR THE PROSECUTOR'S OFFICE" — Oakland Co. Prosecutor Karen McDonald on Aug. 30 denounced police, prosecutor  misconduct that led to wrongful conviction of Juwan Deering 2o years ago
On DARK DAY for Wayne Co. Pros., Darrell Ewing, Derrico Searcy attys. tell judge that Wayne Co. AP's Kam Towns, Jon Wojtala did not disclose 2017 murder confession by real killer, recruited Detroit police to derail new trial
"Nothing more exculpatory than a man confessing to a homicide with Miranda warnings.  .  ." Blase Kearney, Searcy attorney
Kam Towns "hit on all [the jury's] terrors and fears dealing with Black men and gangs." Lillian Diallo, Ewing attorney
Judge Williams-Clayborne sets next hearing date Wed. Oct. 27 after filing of motions and rebuttals re: Brady violations, prosecutorial misconduct
By Diane Bukowski 
September 1, 2021
DETROIT—"A dark day for the Prosecutor's office," Oakland County, Prosecutor Karen McDonald said as she announced the likely exoneration of Royal Oak Township resident Juwan Deering Aug. 30, citing extensive prosecutorial and police misconduct. A similar bombshell dropped in a Wayne County courtroom, in the case of Darrell Ewing and Derrico Searcy.
During a hearing on the same "dark day" in front of Wayne Co. Third Circuit Court Judge Darnella Williams-Claybourne, defense attorneys Blase Kearney and Lillian Diallo angrily denounced the alleged failure of Wayne County Prosecutor Kym Worthy's office to timely disclose Tyree Washington' s detailed confession to the 2009 murder of J.B. Watson, given to the Michigan State Police in 2017. Ewing and Searcy have been incarcerated since 2010 in the case.
Kearney and Diallo said they will be filing motions alleging violations of the 1963 Brady v. Maryland U.S. Supreme Court ruling that requires disclosure of exculpatory evidence to the defense, and alleging prosecutorial misconduct."
"Tyree Washington wrote a letter to the MSP in December, 2016, saying I committed these murders, the wrong men are in jail," Searcy's attorney Blase Kearney said. "The MSP sent a detective to interview him in Feb. 2017.  He engaged in a Mirandized interview where he acknowledged that he was taking legal responsibility and his statements could be used against him in court. And he gave a full confession—motive, means, opportunity, details. This while my client and his co-defendant were pursuing a new trial based on jury misconduct related to evidence that Tyree Washington committed the homicide."
The confession came to light when Asst. Prosecutor Kam Towns provided discovery to the defense last week, after trying unsuccessfully for four months to get the contents sealed pending re-trial. She cited the city's danger of civil liability for the request.  
Transcripts show that Washington's attorney gave Towns his client's sworn confession to the murder during the Ewing-Searcy trial, but Washington was not allowed to testify. Instead, the FBI presented federal informant Christopher Richardson, a cousin of the man driving the van carrying Watson when he was killed, who gave hearsay testimony.
During the Aug. 30 hearing, Towns contended that was sufficient, because that "thread of information was brought in front of the original jury."
"It is not an excuse," Kearney said. "It does not excuse a Brady obligation to say we have a theory as to why that confession isn't true . . . you could not call anything more exculpatory than a man confessing to a homicide with Miranda warnings.  .  . Further, it appears that [Worthy's head of appeals] Jon Wojtala asked the Detroit police to engage in an investigation of the [trial] jurors to stop these men from getting a new trial."
WCCC Judge Michael Hathaway granted Ewing and Searcy a new trial in October, 2019, after listening to impassioned testimony from juror Kathleen Byrnes, who said she was pressured by other jurors to change her not-guilty vote. The jurors illegally used social media to elaborate on Towns' theory that Washington was taking the fall for Ewing because he occupied an inferior position in the "gang" which Towns contended was involved. 

Wayne Co. Prosecutor Kym Worthy unsuccessfully appealed Hathaway's ruling to the Michigan Appeals and Supreme Courts, as she had appealed multiple state and federal rulings in the defendants' favor earlier.
"Michigan ranks second in the country for wrongful convictions," Ewing's attorney Lillian Diallo said. "Most come from Wayne County and they are disproportionately Black men. Mr. Ewing actually took a polygraph and passed it. . . . You would think that maybe, when the federal government tells you may have the wrong people, and you couple that with the Tyree Washington information — at the end of the day not only am I  disappointed, but disgusted."
Diallo said Towns' presentation to the trial jury "rationalized and empathized and hit on all their terrors and their fears dealing with Black men, when you say this is part of a gang and this person, without having to show anything, confessed because of that.  Tyree Washington is not getting anything–all he will get is a life sentence. The Prosecutor has to do more than just stand here and facilitate convictions, they must do justice."
She said the case should go to Worthy's Conviction Integrity Unit to be dismissed.
Towns objected to Diallo's remarks, saying attorneys should confine their statements to legal matters only.
Attys. Kearney and Diallo said they will file detailed motions alleging  Brady violations and seeking charges of prosecutorial misconduct. Kearney said matters involving Brady will likely require evidentiary hearings involving multiple witnesses including prior counsel for Ewing and Searcy.
Private investigator Scott Lewis interviewed Tyree Washington for the defense Aug. 1, 2017, in a broadly reported audio confession (below). But Kearney and Diallo allege that the Wayne Co. Prosecutor already had Washington's confession to the Michigan State Police, given in Feb. 2017. Legal experts say his Mirandized confession to the Michigan State Police in 2017 carries substantially more weight at trial.
Judge Williams-Clayborne set the next pre-trial hearing on the case for Wed. October 27, asking the defense to submit their motions and other matters by Oct. 13, with the prosecutor to respond by Oct. 20. AP Towns said the Prosecutor's office may require additional time to respond to defense motions.
During Pros. Karen McDonald's press conference on the likely exoneration of Juwan Deering Aug. 30, she cited a report from Special Prosecutor Beth Greenberg Morrow which detailed multiple Brady violations by the previous prosecutor's office under Jessica Cooper, and by local police officers. (See video of press conference above, also http://voiceofdetroit.net/wp-content/uploads/PR-08.31.21-press-release-OCP-Deering.pdf.)
"What the Special Prosecutor found is extremely troubling," McDonald said in a release.
"There was important information in our files and the investigation files that was not given to Mr. Deering's attorney."  The release said that information included part two of  a videotaped interview of one of the children who survived the fire, who told police he did NOT see Juwan Deering setting the fire.
"As prosecutors, we have an ethical obligation to turn over all of the evidence regardless of whether it is exculpatory or inculpatory," McDonald said. "We have to do the right thing, even if it hurts our case. That didn't happen here."
McDonald said sadly, "My office contacted the parents of the children who died and told them what we found, and what it meant. They have lived with the tragedy for two decades, and I can't imagine the pain of having to relive it again and again."
During comments at the press conference, McDonald named officials involved, including one who has now been suspended from his subsequent duties at the Michigan State Attorney General's Office. She told reporters that investigations would be ongoing to see if the players in the Deering case committed similar offenses in other Oakland County cases.
VOD contacted Wayne Co. Prosecutor Worthy's office earlier this year to inquire whether they were investigating AP Patrick Muscat's role in the acknowledged wrongful convictions of Kenneth Nixon and Davontae Sanford, and the conviction of Thelonious Searcy. In Searcy's case, a state appeals court denounced the conduct of the prosecutor and of the trial judge Timothy Kenny, citing "abuse of discretion" on Kenny's part. 
The prosecutor's office has since told VOD that all AP's involved in its 29 cases of  exoneration were reviewed, and that no prosecutorial misconduct had been found. Last week, AP Mahmoud Awad, head of the WCPO FOIA unit, denied a request under FOIA and Brady for information on INDIVIDUAL records in its possession related to DPD officers Lance Newman, Anthony Jackson, and Michael Carpenter, because the officers are not on the current WCPO Giglio-Brady list, and the office is not required to compile additional lists. 
The City of Detroit Law Department earlier told VOD that all Brady requests should go to the WCPO because the Law Department does not keep such records, despite the fact that the Law Department represents nearly all City of Detroit officers sued for misconduct. 
VOD's legal advisor is looking into the contentions made by both the WCPO and the City of Detroit, and VOD will publish his analysis here at a later time.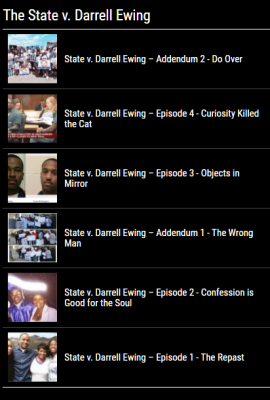 Related:
The cases of Ewing and Searcy have been featured on various national wrongful conviction websites, including a series of six episodes in which legal criminal conviction experts have reviewed the Ewing-Searcy case and found it woefully wanting in evidence to convict.
Darrell Ewing | Actual Innocent Prisoners
Rico Searcy | Actual Innocent Prisoners
Undisclosed Podcast (undisclosed-podcast.com)
https://www.unjustandunsolved.com/post/episode-8-darrell-ewing
*********************************************************************************
          

 !!

EMERGENCY ALERT!!

VOD must pay $435 this month, our quarterly webhosting fee,  but we are extremely short of funds. Our staff either lives on limited fixed incomes or is incarcerated. Help keep this 11-year-old publication afloat by chipping in to keep stories on this Prison Nation and Police State coming!
               Please DONATE TO VOD

 
or contact our editor for details on other easier ways to send funds, at 313-825-6126 or diane_bukowski@hotmail.com.
*********************************************************************************
Related documents and stories:
Michigan Court of Appeals ruling affirming order for new trial in Darrell Ewing, Derrico Searcy cases: http://voiceofdetroit.net/wp-content/uploads/2-Darrell-Ewing-COA-opinion-10-13-20.pdf
Transcript of Judge Michael Hathaway's order for a new trial: http://voiceofdetroit.net/wp-content/uploads/Darrell-Ewing-Derrico-Searcy-Remmer-Hearing-Transcripts.pdf
6th Circuit ruling on Michigan AG's appeal of District Court ruling:  http://voiceofdetroit.net/wp-content/uploads/Ewing-6th-CC-2-5-19-compressed.pdf
Judge Denise Page Hood's opinion on remand from 6th Circuit Court: http://voiceofdetroit.net/wp-content/uploads/Opinion-on-remand-Ewing_v_Woods__miedce-15-10523__0016.0.pdf
U.S. District Court Judge Denise Page Hood's order for new trial:  http://voiceofdetroit.net/wp-content/uploads/Darrell-Ewing-habeas-corpus-grant-1.pdf
Related stories:
DETROIT: FAMILIES OF WRONGFULLY CONVICTED TELL PROS. KYM WORTHY, POLICE, JUDGES–'FREE THEM ALL' | VOICE OF DETROIT: The city's independent newspaper, unbossed and unbought
8 JUDGES SAID EWING, SEARCY DENIED 'FAIR TRIAL' IN 2010; KYM WORTHY: WE WILL PRESENT SAME CASE MAY 19, 2021 | VOICE OF DETROIT: The city's independent newspaper, unbossed and unbought
DARRELL EWING, DERRICO SEARCY IN DETROIT COURT APRIL 13, NEW TRIAL ORDERED BY 8 STATE, U.S. JUDGES | VOICE OF DETROIT: The city's independent newspaper, unbossed and unbought 
APPEALS CT. UPHOLDS NEW TRIAL ORDER IN 'GANG' SOCIAL MEDIA CONVICTIONS OF DARRELL EWING, DERRICO SEARCY | VOICE OF DETROIT: The city's independent newspaper, unbossed and unbought 
https://voiceofdetroit.net/2020/09/29/fighting-for-his-life-darrell-ewing-in-court-again-despite-3-orders-in-3-yrs-granting-a-new-trial/
https://voiceofdetroit.net/2020/07/12/free-darrell-ewing-two-judges-have-ordered-new-trials-in-innocence-case-kym-worthy-still-appeals/
https://voiceofdetroit.net/2019/10/27/darrell-ewing-derrico-searcy-win-new-trial-in-murder-case-after-nearly-two-decades/
https://voiceofdetroit.net/2019/09/17/ewing-searcy-hearing-on-jury-use-of-internet-research-on-gangs-in-2010-trial-to-continue-oct-4/
https://voiceofdetroit.net/2019/08/27/juror-in-2010-ewingsearcy-murder-trial-verdict-tainted-by-jurys-gang-related-internet-research/
https://voiceofdetroit.net/2019/02/14/sixth-circuit-orders-evidentiary-hearing-instead-of-new-trial-in-darrell-ewings-2010-murder-conviction/ 
https://voiceofdetroit.net/2017/11/27/fed-judge-strikes-down-darrell-ewing-conviction-due-to-jury-discussion-of-gang-social-media