National 'Undisclosed" Podcast on Darrell Ewing's case starts as re-trial hearings begin WED. MAY 19 at 9 a.m.
State v. Ewing–Episode I of 4-part series
UNDISCLOSED
"The Undisclosed podcast investigates wrongful convictions, and the U.S. criminal justice system, by taking a closer look at the perpetration of a crime, its investigation, the trial, and ultimate verdict… and finding new evidence that never made it to court."–   https://undisclosed-podcast.com
---
8 judges said Darrell Ewing, Derrico Searcy were denied fair trial in 2010; Worthy says "not" in 2021
Judges cited jurors' outside research on gangs, which negated another man's confession, questionable eyewitness ID, other facts in evidence
But Wayne Co. Prosecutor Kym Worthy plans to present same facts, evidence from first trial, recapping her national role as "Innocence Denier" 
 _________________________________________________________
Darrell Ewing, Derrico Searcy COURT HEARING
WEDNESDAY
MAY 19, 2021 
       9 A.M.
Click on "View   Streaming" below at 9 a.m.
____________________________________________________________
DETROIT'S CHANNEL 4 DEFENDERS FEATURED STORY ON CASE MAY 3; some story claims are disputed
By Diane Bukowski
May 17, 2021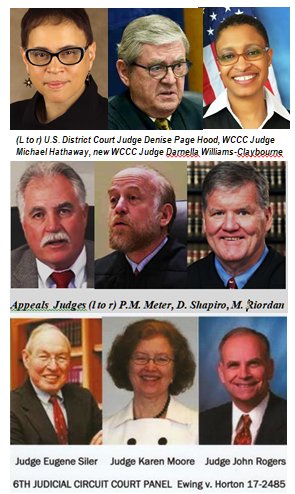 DETROIT— Over the last four years, a total of eight federal and state court judges have ruled that Detroiters Darrell Ewing and Derrico Searcy, charged with the murder of J.B. Watson, were denied a fair trial in 2010.
The judges faulted trial jurors' introduction of  internet research on urban "gangs" which the judge had expressly barred. The research led jurors to discount the confession of another man, claiming he sacrificed himself due to a "gang hierarchy." The prosecution's theory of the case was that the murder was a result of a gang feud.
At trial, Christopher Richardson, a federal informant produced by the U.S. Attorney's Office in Detroit, testified that his cousin and Tyree Washington killed J.B. Watson and wounded a passenger in his vehicle. Richardson said he heard Washington admit the killing in detail twice, including while both were being held in the Macomb County Jail.
Washington had pled the Fifth Amendment to avoid testifying himself, but had his attorney present his affidavit confessing to the murder during the trial. Washington alleged Asst. Prosecutor Kam Towns refused to take the affidavit, saying that the killers were already on trial. Washington was later interviewed by Private Investigator Scott Lewis, formerly a well-known TV news reporter.
Private Investigator Scott Lewis' interview of Tyree Washington:
The judges also remarked on questionable eyewitness identifications and other trial testimony and facts which led them to believe the evidence of guilt presented in 2010 was "not overwhelming."

But Wayne County Prosecutor Kym Worthy told the Channel Four Defenders May 3 (see video above), that her office "will be retrying this case" based on the evidence originally presented.

Darrell Ewing told VOD that the Channel 4 broadcast was the first time he'd  heard about Worthy's intent to retry him, instead of dismissing the charges. Various attorneys familiar with the case had thought a re-trial would not be possible, citing a lack of  insufficient remaining evidence.
"With the agenda Kym Worthy has been pushing —starting to correct this widespread issue of wrongful convictions— I foolishly thought for a second she was going to get this one right and release me," Ewing said.
"I can't imagine how her office actually plans to retry me when  the federal officers had their informant testify that I was not responsible, and Tyree has repeatedly confessed.  The jury had to go outside and launch their own extraneous investigation to find a way to convict an innocent man, so how will it go when all the pieces of the mosaic are presented to a new jury?
"I just thank Allah that through this storm he have kept me strong, sane and have used what the devil meant for bad as good. True to that, since being incarcerated not only have I grasped a bit of understanding of the law, I have also used my period of incarceration as a place of incubation. Where I have found a true appreciation and value for life, and acquired skills that are going to assure that I'm successful after this struggle."
Ewing is now represented by Attorney Coral Watt, appointed by Judge Williams-Claybourne.
She has filed a motion for his resentencing and compassionate release due to the coronavirus pandemic, in the federal case pending against him referred to in the May 3 Channel 4 "Defenders" Broadcast.
Channel Four claimed that even if Ewing wins his current state case, he will remain in prison due to the federal case.
But the docket for that case shows that U.S. District Judge Stephen J. Murphy has ordered the U.S. Attorney to respond to Ewing's motion by May 28. Murphy earlier granted a compassionate release to Tonia Miller, a 37-year-old Calhoun County woman accused of killing her infant daughter in 2003. New evidence brought by the U-M Innocence Clinic has shown that the baby died not from "Shaken Baby Syndrome," but pneumonia.  See: New judge and new hearing for woman convicted of killing her child (battlecreekenquirer.com)
Ewing is incarcerated at the Lakeland Correctional Facility in Coldwater, Michigan. It has had the most severe outbreak of COVID-19 among MDOC prisons, resulting in 24 deaths, the highest number in the MDOC. At one point, 80 percent of the men there were infected with the coronavirus.
Ewing and Searcy's trial judge the late Carole Youngblood banned gang-related testimony referencing the "Hustle Boys," including the testimony of Detroit police officer Terri Graves. Assistant Prosecutor Kam Towns tried to introduce her an an expert, but Youngblood held a pre-trial hearing to judge her qualifications, which mainly included "experience" in researching gangs from social media and the internet.
Ewing also passed a lie detector test  with flying colors, administered April 29, 2010 by  Forensics Polygraph Examiner Andrew Sims, who was previously employed in that capacity by the Detroit Police Department. The exam was conducted four months after J. B. Watson was killed.
"Based on the examination given, it is the opinion of this examiner that the subject is being truthful on this issue," Sims said.
Recent court rulings on the Ewing-Searcy case have for the most part been strong and unequivocal.
Third Judicial Circuit Court Judge Michael Hathaway, who presided over an evidentiary hearing ordered by U.S. District Court Chief Judge Denise Page Hood, ordered a new trial Oct. 29, 2018. He cited stunning testimony by trial juror Kathleen Byrnes, who said, weeping, that she had been haunted for 10 years by her "guilty" vote."
"[I]t is just inescapable from Byrnes's testimony that the outside influences, the inappropriate influences caused her to change her mind," Hathaway said.
"There is just no way to get around that based on her testimony. And that the information, particularly about gang culture, gang hierarchy, gang signs, et cetera, were highly prejudicial. . . .
"The trial evidence . . . was insufficient to convince Byrnes beyond a reasonable doubt that the [defendants] were guilty. It was the extraneous information that did so.
. . . But I think it is very important to note that pretrial, the trial [j]udge disallowed evidence from a People's so-called expert witness that was [proposed], a witness by the name of Terry Graves who apparently is a police officer who fancies herself to be an expert in gang culture and in a pretrial hearing to determine the admissibility of Graves's testimony the trial [j]udge excluded the testimony, wouldn't let her testify as an expert." He added:

A Michigan Court of Appeals panel strongly affirmed Judge Hathaway's ruling on Oct. 22, 2020.  The state appeals panel agreed with Judge Hathaway, U.S. District Court Judge Denise Page Hood, and three Sixth Circuit Court judges on the issue of jury contamination.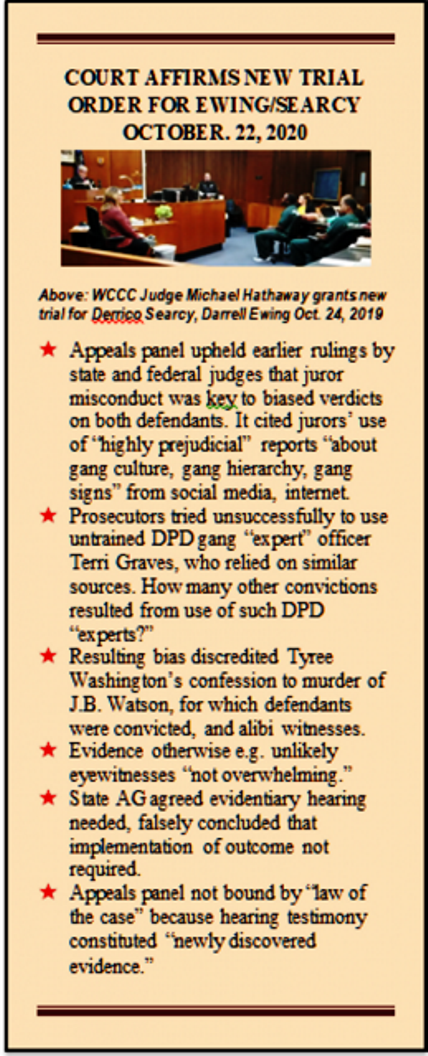 "During deliberations, the members of a jury are permitted to consider only the evidence that was admitted in open court," appeals Judges Patrick M. Meter, Douglas B. Shapiro, and Michael J. Riordan held.
"A jury's consideration of extraneous information that was not introduced at trial constitutes a deprivation of a defendant's Sixth Amendment rights of confrontation, cross-examination and assistance of counsel."
Ewing and Searcy's supporters said they hope the appellate ruling may lead to the review of hundreds of convictions obtained through the use of untrained "gang" experts by the Wayne County Prosecutor  and the Detroit Police Department.
Worthy was dubbed an "Innocence Denier" along with two other prosecutors in 2018 in a Slate Magazine article by Lara Bazelon, a law professor and the director of the criminal juvenile justice and racial justice clinical programs at the University of San Francisco School of Law.
Bazelon cited in particular the cases of Davontae Sanford, a 14-year-old child charged and convicted of the 2007 murders of four adults in a house where marijuana was sold, and sentenced to 32-92 years in prison, and LaMarr Monson, convicted of the 1996 murder of a 12-year-old girl and sentenced to 30 to 50 years in prison.
Both had been tricked into false confessions by police. Sanford was freed after nine years in adult prisons, and Monson was freed. both had their convictions dismissed despite Worthy's stated belief that they were guilty. See: Innocence deniers: Prosecutors who have refused to admit wrongful convictions. (slate.com)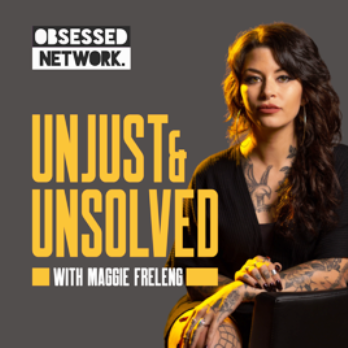 The cases of Ewing and Searcy have been featured on various national wrongful conviction websites, including:
Darrell Ewing | Actual Innocent Prisoners
Rico Searcy | Actual Innocent Prisoners
Episode 8: Darrell Ewing (unjustandunsolved.com)
Related documents:
Michigan Court of Appeals ruling affirming order for new trial in Darrell Ewing, Derrico Searcy cases: http://voiceofdetroit.net/wp-content/uploads/2-Darrell-Ewing-COA-opinion-10-13-20.pdf
Transcript of Judge Michael Hathaway's order for a new trial: http://voiceofdetroit.net/wp-content/uploads/Darrell-Ewing-Derrico-Searcy-Remmer-Hearing-Transcripts.pdf
6th Circuit ruling on Michigan AG's appeal of District Court ruling:  http://voiceofdetroit.net/wp-content/uploads/Ewing-6th-CC-2-5-19-compressed.pdf
Judge Denise Page Hood's opinion on remand from 6th Circuit Court: http://voiceofdetroit.net/wp-content/uploads/Opinion-on-remand-Ewing_v_Woods__miedce-15-10523__0016.0.pdf
U.S. District Court Judge Denise Page Hood's order for new trial:  http://voiceofdetroit.net/wp-content/uploads/Darrell-Ewing-habeas-corpus-grant-1.pdf
Related articles on Wayne County Prosecutor Kym Worthy:
Innocence deniers: Prosecutors who have refused to admit wrongful convictions. (slate.com)
DOES KYM WORTHY WANT 54 MICH. JUVENILE LIFERS TO DIE IN PRISON, VIOLATING U.S. SUPREME COURT ORDERS? | VOICE OF DETROIT: The city's independent newspaper, unbossed and unbought
KYM WORTHY PROSECUTED MARYANNE GODBOLDO TO DEATH; STALLS JUVENILE LIFER RESENTENCINGS | VOICE OF DETROIT: The city's independent newspaper, unbossed and unbought
WAYNE CO. PROSECUTOR KYM WORTHY MUST GO! VOTE FOR VICTORIA BURTON-HARRIS AUG. 4 IN DEM. PRIMARY | VOICE OF DETROIT: The city's independent newspaper, unbossed and unbought
***********************************************************************************

Voice of Detroit is a pro bono newspaper. VOD's editors and reporters, most of whom live on fixed incomes or are incarcerated, are not paid for their work. Ongoing costs include quarterly web charges of $380, P.O. box fee of $150/yr. and costs for research including court records, and internet fees, as well as office supplies, gas, etc.   Please DONATE TO VOD at:
**********************************************************************************
Related stories:
DARRELL EWING, DERRICO SEARCY IN DETROIT COURT APRIL 13, NEW TRIAL ORDERED BY 8 STATE, U.S. JUDGES | VOICE OF DETROIT: The city's independent newspaper, unbossed and unbought
APPEALS CT. UPHOLDS NEW TRIAL ORDER IN 'GANG' SOCIAL MEDIA CONVICTIONS OF DARRELL EWING, DERRICO SEARCY | VOICE OF DETROIT: The city's independent newspaper, unbossed and unbought
https://voiceofdetroit.net/2020/09/29/fighting-for-his-life-darrell-ewing-in-court-again-despite-3-orders-in-3-yrs-granting-a-new-trial/
https://voiceofdetroit.net/2020/07/12/free-darrell-ewing-two-judges-have-ordered-new-trials-in-innocence-case-kym-worthy-still-appeals/
https://voiceofdetroit.net/2019/10/27/darrell-ewing-derrico-searcy-win-new-trial-in-murder-case-after-nearly-two-decades/
https://voiceofdetroit.net/2019/09/17/ewing-searcy-hearing-on-jury-use-of-internet-research-on-gangs-in-2010-trial-to-continue-oct-4/
https://voiceofdetroit.net/2019/08/27/juror-in-2010-ewingsearcy-murder-trial-verdict-tainted-by-jurys-gang-related-internet-research/
https://voiceofdetroit.net/2019/02/14/sixth-circuit-orders-evidentiary-hearing-instead-of-new-trial-in-darrell-ewings-2010-murder-conviction/ 
https://voiceofdetroit.net/2017/11/27/fed-judge-strikes-down-darrell-ewing-conviction-due-to-jury-discussion-of-gang-social-media