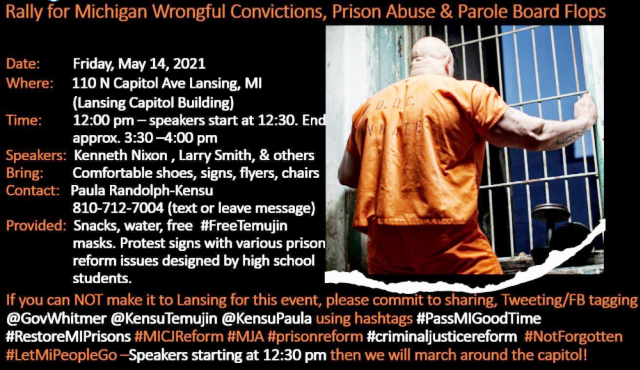 RELEASE THE INNOCENT, MEDICALLY FRAIL AND OVERSENTENCED!
FRIDAY MAY 14, 2021 12 noon to 4 pm
MICHIGAN STATE CAPITOL BLDG. 110 N. Capital Ave. Lansing, MI
Speakers include:
MICHIGAN EXONEREES
Larry  Smith, Lacino Hamilton, Kenneth Nixon     
 Sponsored by Paula Kensu and David Stinson with t he New (ERA) Ethical Responsibility and Accountability in Criminal Justice
BY Paula Kensu  
The State Conviction Integrity Unit  was created and is desperately needed and appreciated, it's grossly understaffed and there is no clear and expedient path to freedom for those wrongfully incarcerated in Michigan prisons. We want to reinforce to Michigan leaders our SUPPORT of criminal justice reform – including releasing the Innocent, Medically Frail and Over-sentenced! This is a SUPPORT rally – not a bash against Whitmer or Nessel in any way!
We can be better. The Clemency process is BROKEN – there are clear gaps that need to be addressed. If the parole board doesn't consider innocence, then they should NOT be part of the process at all!
The Parole Board continues to Flop eligible parolees for no reason or for reasons completely out of the inmates control such as not completing classes that have been suspended due to COVID. Less inmates were released during COVID than in 2019!
The MDOC is lying to Governor Whitmer and her staff. Clear example: Prisoners are NOT given bleach to clean their cells. This is one of MANY lies she is being told.
Prisoners are abused mentally and physically (extremely poor diet, denied healthcare, denied gym/yard time, denied showers and thrown in the hole if they have COVID or were exposed to COVID or any other reason the COs come up with on any given day). MDOC Prisoners get NO healthcare treatment. Inmates are spun and spun and nothing gets fixed. These abuses need to stop!
RELEASE THE INNOCENT, MEDICALLY FRAIL AND OVERSENTENCED!
Show up and show Governor Whitmer that you SUPPORT the INNOCENT,  SUPPORT releasing the medically frail and over-sentenced and you SUPPORT more oversight into Heidi Washington's "leadership" in the MDOC.
RELATED: