"While we cannot state that this is an exoneration, we are very certain that the trial process was not just." Wayne Co. Prosecutor Kym Worthy
Fundraiser for Larry Smith by Dayale Grays : HELP LARRY (BUTTER) SMITH START OVER (gofundme.com).
Larry Smith among dozens of victims of Detroit's notorious "Ring of Snitches" on 9th floor of Detroit Police HQ at 1300 Beaubien
County prosecutors, Detroit police suborned perjury by jail-house informant Edward Allen, who said "100's" of other prisoners fell victim
By Ricardo Ferrell, VOD Field Editor, with Diane Bukowski, Editor
March 22, 2021
UPDATE March 25, 2021: VOD spoke with Larry Smith today, who says he is already working to get other wrongfully convicted Michigan prisoners free. He said he has not received any compensation from the state yet, because the state fund has run out of  money. But he is hopeful that he will qualify for state compensation when the fund is replenished.
DETROIT — Larry Smith, a victim of Detroit's notorious "Ring of Snitches," walked out of Michigan's Gus Harrison Correctional Facility (GHCF) Feb. 2 after serving 26 years for a murder he did not commit. He had maintained his innocence and fought for freedom since his conviction at the age of 18.
"While I'm very excited, there's no words that can explain how I'm feeling right now, but it's a good feeling," his mother Debra Smith told reporters.
She was joined by his sister and his daughter (a little girl when he went to prison), along with dozens of others outside the prison, including exonerees Darryl Siggers and Ramon Ward.
Smith read excerpts from journals he kept while incarcerated, detailing what he said was the Michigan Department of Corrections' horrible treatment of those he left behind. Last year, he tested positive for the potentially fatal coronavirus, along with 75 percent of prisoners at GHCF (1,467 out of 1,956). That delayed an expected interview with Wayne County's Conviction Integrity Unit in June.  At least seven prisoners at GHCF have died from COVID-19, among 139 others in the MDOC.
After Smith's release, the Michigan Occupational Safety and Health Administration (MIOSHA) on Feb. 26 fined the Department of Corrections $6,300 for violations of pandemic safety protocols at the Gus Harrison CF. These  included lack of an adequate infectious disease preparedness and response plan, lack of mask-wearing, social distancing, and contact identification among employees, and insufficient cleaning and disinfecting of the facility.
Smith said he planned to advocate for other wrongfully convicted prisoners, raise money for the Wayne County Conviction Integrity Unit, and work to fix the broken criminal justice system.
Smith's attorney Mary A. Owens, out of Grand Rapids, worked for decades to free him. Later she was assisted by Claudia Whitman, working with the National Capital Crime Assistance Network, and now with the Wayne County CIU.
"After a thorough review of the investigation and evidence in this case, we have determined that Mr. Smith certainly is entitled to a new trial," Wayne Co. Prosecutor Kym Worthy said in a statement. "We found that the Detroit Police Department's informant was unreliable as well as the testimony of a key witness. . . .While we cannot state that this is an exoneration, we are very certain that the trial process was not just."
Worthy's office said Smith will not be re-tried because of the 'passage of time' since his trial in 1995. It is unclear if he will be compensated under Michigan's Wrongful Imprisonment Compensation Act. That act allots $50,000 for year served in prison for a crime they did not commit.  See http://legislature.mi.gov/doc.aspx?mcl-Act-343-of-2016.
Meanwhile, Smith's supporters have set up a GoFundMe page for him at  Fundraiser for Larry Smith by Dayale Grays : HELP LARRY (BUTTER) SMITH START OVER (gofundme.com).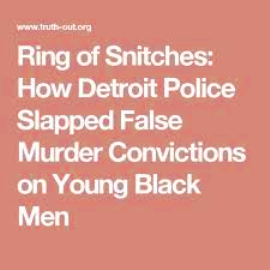 Smith was convicted for the murder of Kenneth Hayes, 20, on March 24, 1994. Hayes, an alleged drug dealer, was fatally shot on Annabelle Street on Detroit's southwest side.
At trial, a medical examiner testified that he took the sole fatal bullet, a .32 caliber, from the victim's chest. The victim had been shot twice, with the second bullet exiting his arm and not recovered.
But in the face of that testimony, Asst. Pros. Robert Donaldson and police tied Smith to the murder with one .40 caliber bullet allegedly found in a laundry hamper at Smith's home. Crime lab technician David Pauch testified that the .40 caliber bullet and seven other .40 caliber bullets found near the crime scene came from the same gun. Donaldson posited that Smith could have been firing with a gun in each hand.
The chief factor in Smith's conviction was the coerced, concocted testimony of  jailhouse snitch Edward Allen, who claimed Smith had confessed the crime to him. Allen had been housed at Detroit Police Headquarters, then at 1300 Beaubien, on the notorious 9th floor. There, inmates formulated wild concoctions claiming countless defendants suddenly confessed their guilt to them. In exchange, they had charges against them dropped or reduced, and allegedly received special privileges including extra food, time outside the jail, and sex.
Allen later recanted his testimony against Smith and others, estimating that over 100 murder convictions were obtained through the use of perjured testimony solicited by police and prosecutors on the 9th floor.
VOD identified Smith, Lacino Hamilton, and Marvin Cotton as victims of the "Ring of Snitches" in its article on the exoneration of another "snitch" victim, Ramon Ward, published in Feb. 2020. At the time Smith, Hamilton,  and Cotton were still incarcerated,  despite media exposures of "Ring of Snitches" frame-ups including the seminal 2015 article by Miguel Aaron Cantu.  Smith, Hamilton and Cotton have since been released,  (See links to both articles at bottom of this one.)
In his story, Cantu included links to the following letters from Allen.
"I'm one of the guys that wrote the UCLA about Detroit Homicide getting Joe Twilley and 7 0ther guys police reports and making up false statements," Allen wrote Smith on Sept. 15, 2002.
"They got to overturn over 100 cases, newly-discovered evidence. Homicide had guys put next door to guys on the 9th floor to get info. After they show[ed] them photos of the defendants and high-tech shit. . . It's over 100 guys with cases from Detroit that homicide set up flat out. Some of them are under investigation."
In a letter to Judge Warfield Moore, Jr., Allen alleged that he had been "helping" the prosecution convict others for the last 16 years.
"Now here is my complaint to the prosecution," Allen wrote. "For me helping them out for the past 16 years on the following cases, the Hart Street murders, the Monica Childs Larry Smith murder case 1994 conviction, the Edward Knolton Robbery Murder Conviction, and the help I put into the 1995 Anthony Gates murder trial, I want a 3 to 5 year plea."
Covering the trial on the 1984 Hart Street murders of Charles and Pamela Hampton, Charlie Grace and 12-year-old Herman Robinson, Detroit Free Press writer Joe Swickard wrote that Edward  Allen testified against his four co-defendants in the case. They were all convicted.
"Edward Allen, testifying with immunity from prosecution, said he, Wiley, Wilson and Goodman planned to rob 'Rusty's weed house' of drugs and money," Swickard wrote.
"Allen said he pulled out of the robbery — which netted about $200 and a pound of marijuana — while it was happening when he realized people were going to be hurt. Assistant Prosecutor Augustus Hutting told the jurors they did not have to 'love Allen, but listen to him with an open mind . . . Sometimes, you have to cut deals. It may be better for one person to go free than five.'"
Ricardo Ferrell, VOD Field Editor who also writes for "My Life Matters Too," also incarcerated at Gus Harrison CF:
"What kind of system of justice allows for innocent citizens to be railroad by way of lies and fabrications purposely told by a jailhouse informant looking to curry favor from police and prosecutors? The absurdity of such an unimaginable injustice pulls at the fiber of any common person's conscience.
I am looking for the Statewide CIU, to announce its first case where an innocent person is exonerated and immediately released, and the hundreds of cases out of Wayne County currently being reviewed by its CIU. I believe when a conviction's integrity is questionable, it must be reviewed. That includes the integrity of my own 1982 murder conviction for a killing outside the new Renaissance Center.
"No prosecutor wants to be party to knowingly convicting or keeping someone in prison that is either factually not guilty, or a case we can't sustain," Worthy said in 2017.
REVIEW ALL OF OUR WRONGFUL CONVICTIONS NOW!
***********************************************************************************

Voice of  Detroit thanks the many people who contributed to keep VOD online for this quarter. Without you, we couldn't have done it!  VOD is a pro bono newspaper. VOD's editors and reporters, most of whom live on fixed incomes or are incarcerated, are not paid for their work. Ongoing costs include quarterly web charges of $380, P.O. box fee of $150/yr. and costs for research including court records, travel,  internet fees, as well as office supplies,  etc. Please, if you can:
***********************************************************************************Related:
Larry Smith, Jr. – National Registry of Exonerations (umich.edu)
RAMON WARD, FAMILY CELEBRATE RELEASE AFTER 27 YRS. ON FALSE CONVICTION; WHEN WILL 100'S MORE BE FREED? | VOICE OF DETROIT: The city's independent newspaper, unbossed and unbought
'RING OF SNITCHES' VICTIMS: LACINO HAMILTON CLEARED, FREED AFTER 26 YRS; CONVICTIONS TOSSED ON 2 MORE | VOICE OF DETROIT: The city's independent newspaper, unbossed and unbought
Michigan prison cited for violating COVID-19 safety rules (lansingstatejournal.com) 
Ring of Snitches: How Detroit Police Slapped False Murder Convictions on Young Black Men (truthout.org)
Stories related to COVID-19 in the prisons:
Related from VOD:
ACLU TO MICH. GOV. WHITMER: COVID-19 VACCINES FOR PRISONERS NOW, A MATTER OF LIFE OR DEATH | VOICE OF DETROIT: The city's independent newspaper, unbossed and unbought
MICHIGAN PRISONERS NEED COVID-19 VACCINES NOW, SAY ADVOCATES; A.M.A., OTHERS DEMAND 1st-TIER PRIORITY | VOICE OF DETROIT: The city's independent newspaper, unbossed and unbought
IS MICHIGAN USING TRUMP'S COVID-19 'HERD IMMUNITY' STRATEGY TO KILL OFF PRISON POPULATION? | VOICE OF DETROIT: The city's independent newspaper, unbossed and unbought
COPING WITH COVID-19 IN MICHIGAN PRISONS: RALLY BY 'SILENT CRY' FRI. DEC. 11 AT GUS HARRISON CF IN ADRIAN | VOICE OF DETROIT: The city's independent newspaper, unbossed and unbought
STATE OF EMERGENCY IN MICH. PRISONS: COVID-19 CASES, DEATHS SKYROCKET, PRISONER UPRISINGS INCREASE | VOICE OF DETROIT: The city's independent newspaper, unbossed and unbought
U.S. HOUSE BILL: DISMANTLE MASS INCARCERATION, RELEASE PRISONERS FACING COVID-19 DEATH SENTENCE | VOICE OF DETROIT: The city's independent newspaper, unbossed and unbought
MASS MURDER IN MICH.: GOV. SAYS 'NOTHING SHE CAN DO' TO RELEASE MORE PRISONERS AS COVID ENGULFS MDOC | VOICE OF DETROIT: The city's independent newspaper, unbossed and unbought
PROTESTERS URGE WHITMER TO RELEASE MICHIGAN INMATES FACING RISK OF CORONAVIRUS IN STATE PRISONS | VOICE OF DETROIT: The city's independent newspaper, unbossed and unbought
WAYNE CO. JAIL RESIDENTS SAY MANY SICK, DYING WITH COVID-19; MDOC PRISONERS SAY LARGE NUMBERS TOO | VOICE OF DETROIT: The city's independent newspaper, unbossed and unbought
Related from other media:
America's Innocent Prisoners Are Going to Die There – The Atlantic 
Is COVID-19 Falling Harder on Black Prisoners? Officials Won't Tell Us. | The Marshall Project
COVID-19 and mass incarceration: a call for urgent action – The Lancet Public Health