Wayne Co. Pros. Kym Worthy will not withdraw recommendations that up to 54 Wayne Co. juvenile lifers get LWOP again, forcing costly hearings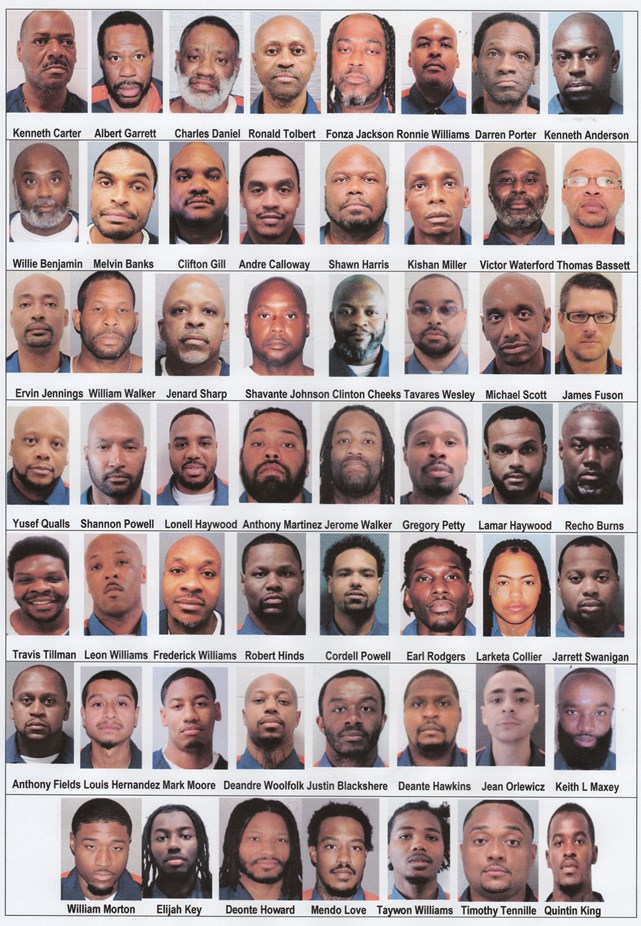 (Above): Wayne County's juvenile lifers left behind without re-sentencings; top to bottom, they range in age from 73 to 26 and in years served to date from 44 to 8 yrs.
March 23 UPDATE

on case of Lonnell Haywood
(Photo 4th row from top, 3rd from left). Judge Noah Hood rejects renewed life without parole sentence for Wayne Co. juvenile lifer Lonnell Haywood March 19; re-sentencing to term of years set for April 12, 2021 at 2 pm.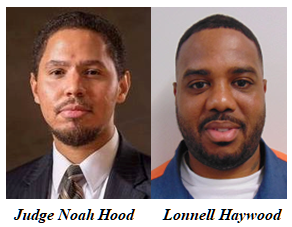 On March 19, Wayne Co. 3rd Circuit Court Judge Noah Hood rejected the Wayne Co. Prosecutor's request that  juvenile lifer Lonnell Haywood be re-sentenced to die in prison. Judge Hood said he would resentence Mr. Haywood to a term of years instead, on  April 12, 2021 at 2 p.m. Haywood, 40, has been in prison for 23 years since 1998, since the age of 17.
Haywood admittedly killed Robert Hill when he (Haywood) was just 16. According to testimony at the hearing, Hill had been a close friend of Haywood and his family. Hill and the mother of his son  even stayed with them for several months in Inkster. Judge Hood said evidence had been presented that the family situation was dysfunctional at the time, leading to several confrontations after Hill moved out.
Judge Hood noted that those advocating for a term of years for Haywood include former Michigan Department of Corrections (MDOC) director Patricia Caruso, Dr. Colin King, PH.D, a Clinical Psychologist specialist, and the MDOC's expert on prison disciplinary records. Many of Haywood's work supervisors have given him top performance grades, he said.
"What is unique is the impact of age or incompetence of youth on the ability to navigate the legal process," Judge Hood said, referring to trial Judge Kaye Tertzag's 1997 offer to Haywood of a plea agreement of 15-25 years, with two years for felony firearm.
"Judge Tertzag's Cobbs evaluation gave him the opportunity  to state what he thought was the appropriate sentence, without the ability to look forward to see how he will do in prison," Judge Hood said. "At some point he [Haywood] decided to withdraw his plea. I have to believe that youth played a role.
He concluded. "The question is not so much whether he should be sentenced to life without parole or a term of years. . . but how long the term of years should be. It appears that one of the primary reasons that he is incarcerated right now is because he was 16 and 17 at the time this was happening. The Miller factors all point in the same direction, a term of years."
Judge Hood is the successor Judge to Judge Dalton Roberson, whose LWOP resentence of juvenile lifer David Bennett, incarcerated for over 49 years, was unanimously overturned by the Court of Appeals in January.  He is the son of Denise Page Hood, the chief judge of U.S. District Court for the Eastern District of Michigan, and the Rev. Dr. Nicholas Hood III, the pastor of Plymouth United Church of Christ in Detroit. He was appointed to the bench in 2018 by Michigan Gov. Gretchen Whitmer.
Atty. Deborah LaBelle represents Michigan's juvenile lifers in a recently settled federal class action lawsuit, in which Mr. Haywood is a class representative (see main story below). She decried the prosecution's insistence on a renewed LWOP sentence.
"Now the prosecutor wants to punish a child for going to trial," LaBelle said. "They said at the time of the crime he could be released in 15 years and now, after he has shown a very, very good institutional record, they wanted to punish him with dying in prison."
Haywood's defense attorney  Cecilia Quirindongo Baunsoe said during the hearing that she estimates 80 percent of Wayne Co. Prosecutor Worthy's recommendations for renewed juvenile life without parole are based primarily on the original offense, not achievements while the individual is serving time. Atty. Quirindongo's office is in Oakland County. She said she represents juvenile lifers in a variety of counties, but from her experience, Wayne County is the only one that takes such stances.
***********************************************************************************
 Yusef Qualls, 41 (below) is a Wayne Co. juvenile lifer facing LWOP again. He was sentenced to LWOP at the age of 16 in 1996 and has spent 25 years in prison. He is currently at Michigan's Macomb Correctional Facility.

While COVID-19 ravages MDOC, County must now hold complex "Miller" hearings costing at least one-quarter million dollars 
"Wayne County is outlier" among Michigan counties; Oakland withdrew 19 LWOP recommendations, others have resentenced all to term of years
"A presumptively unconstitutional life sentence runs the risk of becoming a categorically unconstitutional death sentence," Washtenaw Co. Pros. Savit
"I think everyone should have an opportunity to get out some day," Ingham County Pros. Carol Siemon
24 states and the District of Columbia have outlawed JLWOP; the U.S. is the only country in the world that allows it
By Diane Bukowski
March 18, 2021    
UPDATE MARCH 23: CRIME IN THE D PUBLISHED THIS STORY ON ITS INSTAGRAM PAGE, GARNERING OVER 600 LIKES AND COMMENTS SUPPORTING JUVENILE LIFERS! 
See https://www.instagram.com/p/CMlkxgADnPz/?igshid=rq9wv8j40hj0
DETROIT– As illness and deaths from the COVID-19 pandemic ravage Michigan prisons, up to 54 Wayne County juvenile lifers are learning that Prosecutor Kym Worthy has refused to withdraw her office's recommendations that they remain in prison until they die.
Ninety-six percent of the County's remaining juvenile lifers are Black, while the county is 40% African-American. Only 14% of  Michigan residents are Black.  In 2016, 93% of Wayne County's 150 juvenile lifers were Black. Then, Worthy recommended renewed life without parole sentences for 66 individuals, the highest number in the state, now reduced only by 15 youthful offenders.
"In February, at the request of the Michigan Attorney General's Office, the Wayne County Prosecutor's Office filed notices in our pending juvenile lifer cases," the WCPO said March 11 in a statement attributed to Asst. Prosecutor Tom Dawson.  "The notices stated that at that time we were not withdrawing our motions for life without parole.  Our position on these motions is not irrevocable. The Wayne County Prosecutor's Office has always and continues to review the cases of each of these juvenile lifers on an individualized basis in order to serve the best interests of justice for the citizens of Wayne County."
Wayne County's remaining juvenile lifers have already served from 8 to 44 years of their original sentences. The U.S.  Supreme Court vacated those sentences in 2012, ruling that mandatory juvenile life without parole for children under 18 is unconstitutional and should be reserved for the "rarest" cases. Worthy and former Michigan Attorney General Bill Schuette led challenges by various states contending that the 2012 ruling was not retroactive, delaying compliance until the U.S. Supreme Court ruled that it is retroactive, in 2016.
See 10-9646 Miller v. Alabama (06/25/2012) (supremecourt.gov)  and 14-280 Montgomery v. Louisiana (01/25/2016) (supremecourt.gov).
The U.S. is the only country in the world that sentences children to die in prison. Its policies on life without parole also isolate it. Most countries allow review of life sentences after 15 years. At least 24 states here have outlawed juvenile life without parole since 2012 and more are moving to do so.
Atty. Deborah LaBelle represents the state's juvenile lifers in a federal class action lawsuit, Hill v. Whitmer, which settled last year.
"Unlike other county prosecutors, Wayne County refused to withdraw a single juvenile life without parole intent notice despite the orders in Hill," LaBelle said. "Proceeding with 51 requests for JLWOP is wholly contrary to the Supreme Court's rulings that such a sentence is appropriate for only the very rarest of youth."
Atty. Tina Olson, Juvenile Lifer Unit Manager for the State Appellate Defender Office, said, "Compared to counties state-wide, Wayne County continues to be an outlier. Part of the frustration is that we feel we are going to 'Miller' hearings on cases that should have settled. . . .and the WCPO is not moving on these hearings at a pace they should be."
Most counties have either withdrawn recommendations for life without parole or resentenced their juvenile lifers to terms of years. This allows a reduction of numbers in state prisons, where social distancing is not possible, to cope with the pandemic. The MDOC reports that to date, 139 prisoners have died from COVID-19 and the majority have been infected.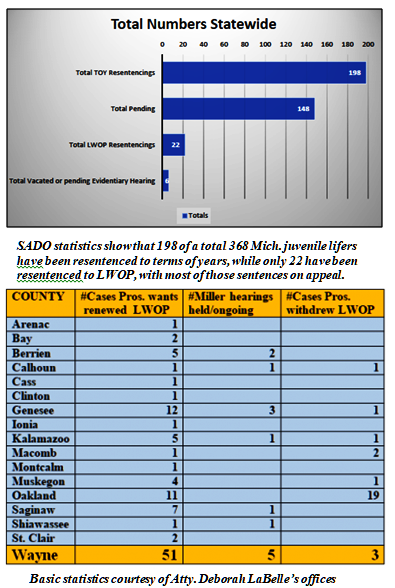 "Now you're in a position where what was a presumptively unconstitutional life sentence runs the risk of becoming a categorically unconstitutional death sentence," Washtenaw County Prosecutor Eli Savit said Jan. 11.
"The sentence that was bestowed on juvenile lifers did not include catching COVID, it did not include death, but that is the situation that we're in right now." All juvenile lifers from Washtenaw County have been resentenced to terms of years.
Oakland County Prosecutor Karen McDonald withdrew 19 recommendations for JLWOP shortly after her election this year. She defeated Jessica Cooper, who had recommended that all juvenile lifers there remain in prison until death.
Ingham County Prosecutor Carol Siemon announced last year that she is reviewing the cases of 90 LIFERS, 65% of them Black, for possible sentence reductions and release. "I think everyone should have an opportunity to get out some day," she said.
The Hill v. Whitmer lawsuit was filed in 2010 and initially resulted in a ruling that all state juvenile lifers should be eligible for parole, but former State AG Schuette repeatedly appealed all such findings even after the U.S. Supreme Court weighed in in 2012 and 2016.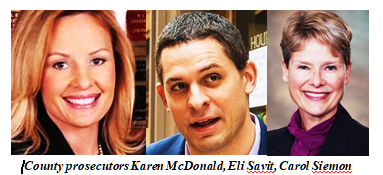 LaBelle and the Michigan ACLU settled Hill with Michigan Attorney General Dana Nessel on Nov. 17, 2020. The settlement requires  that "prosecutors shall complete a new review" of the state's juvenile lifers who have not yet been resentenced . . .and determine whether they intend to seek to re-impose a life-without-parole sentence. . .or whether they will withdraw their motion seeking to re-impose that sentence."
See http://voiceofdetroit.net/wp-content/uploads/Hill-v-Whitmer-settlement-agreement-2020-1.pdf
The prosecutors then must notify the AG and the trial courts of those decisions, and their readiness to proceed with re-sentencings.  For defendants with offenses before Dec. 15, 1998, re-sentencings must be held within 60 days of the settlement date. For those with offenses after that date, re-sentencings must be held within  120 days, The agreement requires the readiness of courts and defense attorneys.
In cases where a LWOP recommendation stands, a "Miller" hearing in front of the sentencing judge is required to determine whether factors associated with age, family, socio-economic background and other matters affected the juvenile's culpability in the crime. Additionally, numerous scientific studies have shown that children's brains are still developing up until the age of 25. Some states including Maryland and Washington have extended the "Miller" considerations to young people from 18 to 25.
"To date, Michigan courts have held 220 re-sentencing hearings for former 'juvenile lifers,'" the Michigan State Appellate Defenders' Office reports.
"Courts have imposed 198 term of years (TOY) sentences and 22 life without parole (LWOP) sentences. Of the 22, four have been vacated on appeal, two more await evidentiary hearings ordered on appeal, and most others await appellate court decisions."
See full SADO report at: http://voiceofdetroit.net/wp-content/uploads/SADO-JLWOP-MichiganMillerhearings0221-4.pdf.
David Bennett, 66, a Wayne County juvenile lifer from Garden City, is one of the four men whose renewed LWOP sentences have been vacated by the Court of Appeals. He went to prison at age 17 in 1972, and has already served over 49 years.
But Prosecutor Worthy recommended that Bennett should die in prison. An appeals court ruled 3-0 on Jan. 21 that Wayne County Third Judicial Circuit Court Judge Dalton Roberson violated Bennett's rights when he cited mental health as a reason to keep him locked up with no chance for parole. See:
http://voiceofdetroit.net/wp-content/uploads/David-Bennett-COA2.pdf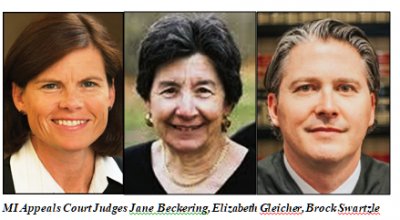 "Indeed, the prosecutor introduced no evidence supporting that Bennett is 'irreparably corrupt,'" said a panel of Judges Elizabeth L. Gleicher, Brock A. Swartzle, and Jane M. Beckering.
"The resentencing court clearly erred by ignoring this constitutional mandate. Treated mental illness is not a signal of irreparable corruption, and no evidence even hinted that Bennett's mental illness created a realistic danger that he would reoffend."
It added that Bennett has become a "productive, stable and peaceful adult" while in prison, even saving more than $40,000 through various jobs. During his last 40 years in prison, they noted, he had not been disciplined for any offenses involving violence or aggressive behavior, or for any other serious matters.
Counties finance defendants' legal expenses at a cost of around $50,000 or more for each case, so conducting "Miller" (mitigation) hearings for 54 defendants will cost taxpayers at least $250,000, according to one lawyer specializing in the process. That attorney said it appears that the Wayne County Prosecutor is holding so many Miller hearings to frighten juvenile lifers into settling for higher terms of years. State law recommends minimum terms of 25 years, with maximums set at 60 years.
SADO Atty. Olsen explained,  "It's a very exhaustive process, requiring significant resources in almost every case. SADO has only four mitigation specialists on staff so others must be hired and paid. Comprehensive life histories must be compiled through interviews with clients, family members, correctional workers, former schoolteachers, and others, and by collecting extensive records."
She said experts are hired to conduct forensic psychological and neuropsychological evaluations, and an MDOC correctional expert is used to evaluate the defendant's disciplinary history in prison. She said extensive work and expense on the part of the prosecution is also required.
But, Olsen said, in the end, many judges are "diligently applying Miller factors and giving well-reasoned opinions that do not result in LWOP sentences."
She also noted that the process for holding Miller hearings has been considerably slowed when judges or defendants choose to have in-person as opposed to Zoom hearings. Third Judicial Circuit Court Judge Timothy Kenny said in January that he wants prisoners to have at least tw0 negative COVID-19 tests in order to be transferred to Wayne County Jail for hearings, and that he favors in-person hearings. Olsen said there have also been problems with delays in the MDOC's transportation of prisoners for such hearings.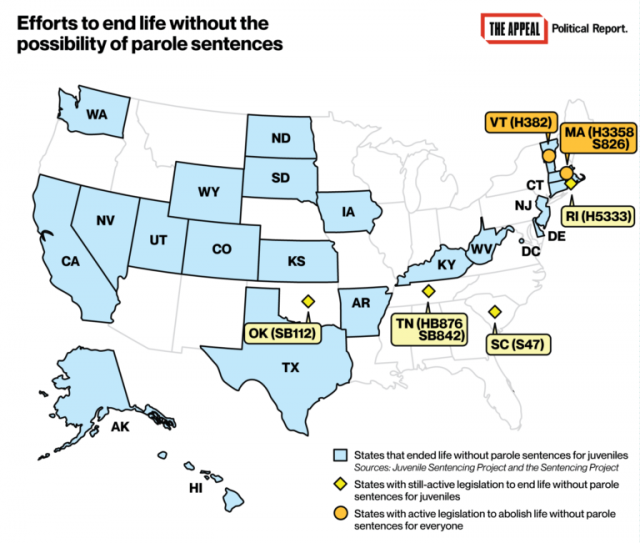 ***********************************************************************************

Voice of Detroit once again thanks all the many people who contributed to keep VOD online for this quarter. Without you, we couldn't have done it!  VOD is a pro bono newspaper. VOD's editors and reporters, most of whom live on fixed incomes or are incarcerated, are not paid for their work. Ongoing costs include quarterly web charges of $380, P.O. box fee of $150/yr. and costs for research including court records, travel,  internet fees, as well as office supplies,  etc. Please, if you can:
***********************************************************************************
#FreeMichiganJuvenileLifersNow, #EndDeathbyIncarceration, 
#StopCOVID19Execution, #VaccinesforallMichiganPrisonersNow, 
Related stories:
150 MICHIGAN JUVENILE LIFERS FACE POSSIBLE DEATH FROM COVID-19 AS THEY SERVE OUTLAWED SENTENCES | VOICE OF DETROIT: The city's independent newspaper, unbossed and unbought
NINETY INGHAM COUNTY, MI LIFERS MAY GET SECOND CHANCE; PROS. CAROL SIEMON OPPOSES LWOP | VOICE OF DETROIT: The city's independent newspaper, unbossed and unbought
MICH. JUVENILE LIFERS: 63% NOT RE-SENTENCED; FED. CLASS ACTION LAWSUIT CITES VIOLATION OF DUE PROCESS | VOICE OF DETROIT: The city's independent newspaper, unbossed and unbought
STOP DEATH IN PRISON FOR CHILDREN! JUVENILE LIFER RALLY FOR JUSTICE SUN. JUNE 18 @ 2-5 PM DETROIT | VOICE OF DETROIT: The city's independent newspaper, unbossed and unbought
JUVENILE LIFER RE-SENTENCINGS DRAG ON IN MICHIGAN, NATION, AS STATES SNUB U.S. SUPREME COURT | VOICE OF DETROIT: The city's independent newspaper, unbossed and unbought
CHARLES LEWIS IS FREE! INNOCENT JUV. LIFER RELEASED OCT. 17 AFTER 42 YRS; WILL RESUME MUSICAL CAREER | VOICE OF DETROIT: The city's independent newspaper, unbossed and unbought
JUV. LIFER JOSE BURGOS, DEVOTING HIS LIFE TO COMMUNITY, IS RE-SENTENCED, PAROLE LIKELY SOON | VOICE OF DETROIT: The city's independent newspaper, unbossed and unbought
'CRUEL, UNUSUAL' JUVENILE SENTENCES CONTINUE; CORTEZ DAVIS GETS 25-60, NOT LEGAL 10-40 YRS. | VOICE OF DETROIT: The city's independent newspaper, unbossed and unbought
APPEALS COURT HEARS JUVENILE LIFER MEADOWS' CASE; PROS. KYM WORTHY OBJECTED TO RELEASE AFTER 47 YRS. | VOICE OF DETROIT: The city's independent newspaper, unbossed and unbought
GOOD NEWS IN TIMOTHY KINCAID JUVENILE LIFER CASE: JUDGE RECOMMENDS IMMEDIATE PAROLE | VOICE OF DETROIT: The city's independent newspaper, unbossed and unbought
GENOCIDE! STATE, S.A.D.O SUBJECT MICHIGAN JUVENILE LIFERS TO MORE 'CRUEL AND UNUSUAL PUNISHMENT' | VOICE OF DETROIT: The city's independent newspaper, unbossed and unbought
MICHIGAN FILES FOR JLWOP FOR 80% OF JUVENILE LIFERS; FED. COURT WANTS ALL PAROLE ELIGIBLE | VOICE OF DETROIT: The city's independent newspaper, unbossed and unbought
MICHIGAN CHALLENGES U.S. SUPREME COURT RULING ON JUVENILE LIFE WITHOUT PAROLE | VOICE OF DETROIT: The city's independent newspaper, unbossed and unbought
WORTHY, OTHERS WANT LARGE PORTION OF 'JUVENILE LIFERS' TO DIE IN PRISON, DESPITE USSC RULINGS | VOICE OF DETROIT: The city's independent newspaper, unbossed and unbought
MICHIGAN JUVENILE LIFERS SCORE 6TH CIRCUIT APPEALS COURT VICTORY IN HILL V. SNYDER | VOICE OF DETROIT: The city's independent newspaper, unbossed and unbought
DYING IN PRISON: MICHIGAN JUVENILE LIFERS GET NEW HOPE UNDER MONTGOMERY, STILL FACE OBSTACLES | VOICE OF DETROIT: The city's independent newspaper, unbossed and unbought
U.S. JUDGE RULES ALL MICHIGAN JUVENILE LIFERS ELIGIBLE FOR PAROLE | VOICE OF DETROIT: The city's independent newspaper, unbossed and unbought
MICHIGAN'S JUVENILE LIFERS WANT STATE TO COMPLY WITH U.S. SUPREME COURT RULING | VOICE OF DETROIT: The city's independent newspaper, unbossed and unbought
US SUPREME COURT'S JUVENILE LIFER DECISION BRINGS HOPE TO THOUSANDS | VOICE OF DETROIT: The city's independent newspaper, unbossed and unbought
NATION'S HIGH COURT ENDS MANDATORY LIFE WITHOUT PAROLE SENTENCES FOR YOUTH | VOICE OF DETROIT: The city's independent newspaper, unbossed and unbought
Stories related to COVID-19 in the prisons:
Related from VOD:
ACLU TO MICH. GOV. WHITMER: COVID-19 VACCINES FOR PRISONERS NOW, A MATTER OF LIFE OR DEATH | VOICE OF DETROIT: The city's independent newspaper, unbossed and unbought
MICHIGAN PRISONERS NEED COVID-19 VACCINES NOW, SAY ADVOCATES; A.M.A., OTHERS DEMAND 1st-TIER PRIORITY | VOICE OF DETROIT: The city's independent newspaper, unbossed and unbought
IS MICHIGAN USING TRUMP'S COVID-19 'HERD IMMUNITY' STRATEGY TO KILL OFF PRISON POPULATION? | VOICE OF DETROIT: The city's independent newspaper, unbossed and unbought
COPING WITH COVID-19 IN MICHIGAN PRISONS: RALLY BY 'SILENT CRY' FRI. DEC. 11 AT GUS HARRISON CF IN ADRIAN | VOICE OF DETROIT: The city's independent newspaper, unbossed and unbought
STATE OF EMERGENCY IN MICH. PRISONS: COVID-19 CASES, DEATHS SKYROCKET, PRISONER UPRISINGS INCREASE | VOICE OF DETROIT: The city's independent newspaper, unbossed and unbought
U.S. HOUSE BILL: DISMANTLE MASS INCARCERATION, RELEASE PRISONERS FACING COVID-19 DEATH SENTENCE | VOICE OF DETROIT: The city's independent newspaper, unbossed and unbought
MASS MURDER IN MICH.: GOV. SAYS 'NOTHING SHE CAN DO' TO RELEASE MORE PRISONERS AS COVID ENGULFS MDOC | VOICE OF DETROIT: The city's independent newspaper, unbossed and unbought
PROTESTERS URGE WHITMER TO RELEASE MICHIGAN INMATES FACING RISK OF CORONAVIRUS IN STATE PRISONS | VOICE OF DETROIT: The city's independent newspaper, unbossed and unbought
WAYNE CO. JAIL RESIDENTS SAY MANY SICK, DYING WITH COVID-19; MDOC PRISONERS SAY LARGE NUMBERS TOO | VOICE OF DETROIT: The city's independent newspaper, unbossed and unbought
Related from other media:
America's Innocent Prisoners Are Going to Die There – The Atlantic 
Is COVID-19 Falling Harder on Black Prisoners? Officials Won't Tell Us. | The Marshall Project
COVID-19 and mass incarceration: a call for urgent action – The Lancet Public Health