Atty. Bryan Stevenson of the Equal Justice Initiative, whose own grandfather was killed by a group of teens, appears at the beginning of this video. He won U.S. Supreme Court rulings banning death sentences for juveniles, life without parole for juveniles in non-homicide cases, and finally, Miller v. Alabama, which abolished mandatory JLWOP.
U.S. District Court Judge Corbett O'Meara conducted hearing July 28, originally ordered all juvenile lifers eligible for parole after 10 years
"Michigan has thumbed its nose at the U.S. Supreme Court which said LWOP appropriate only for the rarest child"—Atty. Deborah LaBelle
State statutes challenged–allow JLWOP re-sentencing without cause, and 25-60 years maximum for those given term of years
Prosecutors want "cradle to the grave" sentences–only one juvenile lifer has lived past 60 years in prison
By Diane Bukowski
July 31, 2016
Ann Arbor, MI – After a July 28 federal court hearing on efforts by Michigan's county prosecutors to re-sentence 80 percent of the state's juvenile lifers to life without parole, Attorney Deborah LaBelle ardently advocated for juvenile lifer Keith Maxey with representatives of State Attorney General Bill Schuette's office.
"It took us years to get a doctor to donate his services for the ileostomy surgery that Keith desperately needs," LaBelle told Assistant AG's Eric Restucci and Margaret Nelson. "But yesterday the Department of Corrections called the hospital to cancel his surgery appointment, and now our doctor has to leave the state for seven months."
The AG's representatives didn't have any solution or apparent concern about this life-threatening situation.
Maxey, now 25, was 16 when he was shot multiple times during a robbery gone bad involving drug dealers without drugs and buyers without money. He was the only one without a gun, LaBelle told VOD, but was sentenced to natural life for felony murder. He is among 80 percent of the state's juvenile lifers that prosecutors want to die in prison.
Maxey's treatment typifies this state's attitude toward its 363 juvenile lifers, according to LaBelle's presentation in front of U.S. District Court Judge John Corbett O'Meara.
O'Meara ruled in 2013 that ALL Michigan juvenile lifers are eligible for parole after serving 10 years, in a lawsuit filed by LaBelle and the American Civil Liberties Union in 2005.
The Sixth Circuit Court of Appeals essentially upheld Corbett O'Meara's ruling May 11. They sent it back to him for possible revisions in light of Montgomery, and to allow time to challenge the constitutionality of two 2014 state statutes under which prosecutors want to handle the JLWOP re-sentencings.
"After Miller there was such hope, but then we had to wait four years for the Supreme Court to rule in Montgomery v. Louisiana that Miller was retroactive," LaBelle said. Her co-counsel were Daniel Korobkin of the American Civil Liberties Union in Michigan, and Ron Reosti. The National ACLU is also a signatory to the case.
"Now we face a painful situation where state prosecutors are filing for most juvenile lifers to get the same sentence again, dashing hopes once more," LaBelle said. "Michigan has thumbed its nose at the U.S. Supreme Court which said that LWOP is appropriate only for the 'rare and unusual' youth offender."
After Montgomery, many of the state's juvenile lifers who contacted VOD were so filled with hope that they began having friends and family members find jobs, education and housing for them, thinking their release was only months away.
In actuality, no hearings are expected until the Michigan State Supreme Court rules on two cases. Tia Skinner, now 23, was convicted of felony murder, but her case is still pending a state Supreme Court ruling on whether a jury, not a judge, must consider Miller factors. An appeal is also pending in the case of Kenya Hyatt, who was re-sentenced to JLWOP although he is also 23 and has had no opportunity to show his capacity for rehabilitation.
LaBelle said one-third of the state's juvenile lifers did not actually commit a murder. They were convicted of felony murder basically for being in the company of the killer, frequently an older individual.
County prosecutors rushed to file notices of intent to re-sentence juvenile lifers by July 22, prior to the July 28 date set by Judge Corbett O'Meara to hear a motion for a preliminary injunction pending a determination of the constitutionality of the state statutes. He earlier granted a temporary restraining order against the prosecutors pending the full hearing, but the Sixth Circuit Court of Appeals said he did not have the authority to grant a TRO, only to hear the motion for an injunction.
In her amended motion for a preliminary injunction, LaBelle says state statute MCL 769.25a, under which state prosecutors want to re-sentence juvenile lifers, is unconstitutional. It does not give individualized attention to each lifer as required under Miller, assessing numerous mitigating factors related to the offender's youth and background. For those not re-sentenced to JLWOP, it requires sentences ranging from 25 to 60 years, and does not allow consideration for earned "good time. See statute at http://voiceofdetroit.net/wp-content/uploads/Juvenile-lifers-mcl-769-25a-2.pdf
"Here, only one youth has made it past serving 60 years before dying in prison, so these are cradle to the grave sentences," LaBelle said.  "Michigan is on an island standing on the wrong side of history.
Twelve State Supreme Courts have ruled in line with Montgomery that Miller is indeed retroactive, making a total of 17 states that outlaw JLWOP in whole, and five more that outlaw it in part. The U.S. Department of Justice has concurred, so federal juvenile lifers are being re-sentenced under Montgomery.
Philadelphia had the highest number of juvenile lifers of any jurisdiction in the U.S., a total of 300. But the city's District Attorney Seth Williams has now outlawed JWLOP on a retroactive basis for any of them.
"It's my goal to give all of these individuals some light at the end of the tunnel," he told the Philadelphia Inquirer. "As long as I'm the D.A., we will not be asking for cases going forward for life without the possibility of parole for people under the age of 18 because of the same exact reasons articulated by the Supreme Court in Miller."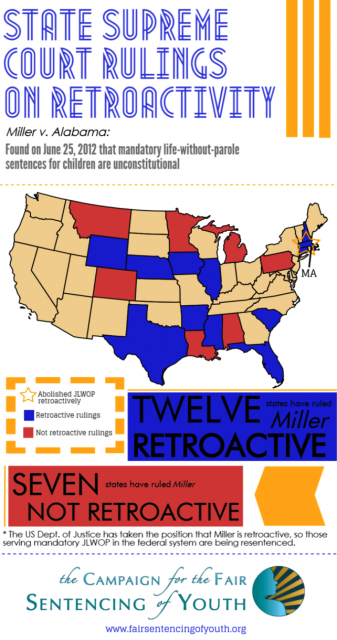 Instead, he said he will seek sentences between 20 and 35 years to life, depending on the age and nature of the crime. Two juvenile lifers, Tyrone Jones, now 59, and Henry Smolarski, now 53, both convicted in 1975, have now been re-sentenced accordingly and are eligible for parole, having served the maximum time.
Jones has been claiming his innocence in a gang-related execution for years, according to the Inquirer. 
Jones' situation mirrors that of Michigan juvenile lifer Charles Lewis, whose mother Rosie Lewis attended the July 28 hearing. Lewis, who has served 41 years since 1975 at the age of 17, has long contended that he is innocent. His claim was backed up at trial by the partner of the police officer killed in a drive-by shooting, who identified another killer not connected to Lewis. His alibi witnesses who said he was elsewhere at the time of the killing, but were never allowed to testify.
On the ride back to Mt. Clemens, where Mrs. Lewis lives, she gave a heartbreaking account of her 41 years of struggle for her son's freedom. She has attended virtually every court hearing in his case, even traveling to Cincinnati for his Sixth Circuit appeals hearings.
"Everyone knows how fiercely I have fought for all my children," Mrs. Lewis said.
She and her daughter Wendy were active for many years with the Second Chance group prior to the Miller and Montgomery rulings. That alliance fought to get state laws changed to abolish juvenile life without parole. Instead, substitute legislation was enacted by the Legislature that gutted Second Chance's original intent. Wendy Lewis recalled that during hearings on the legislation, families of juvenile lifers were cut off from testifying due to time limits. However, prosecutors like Kym Worthy and Jessica Cooper were given ample time to present their side supporting JLWOP.
Worthy even had a video of a Coney Island robbery and killing by several Detroit youth played, as if that typified the majority of Black youth in the city. 
Restucci and Nelson argued that Judge Corbett O'Meara has no jurisdiction to overturn state legislation. Restucci recited a list of particularly heinous crimes, including one decapitation and one individual who raped and killed a nine-year-old, that are not typical of most crimes committed by the state's juvenile lifers.
On the eve of the federal court hearing July 28, most mainstream media concentrated on similar statements released by county prosecutors, which focused on isolated cases, not the entire population. There was no mention of the pending hearing in front of Corbett O'Meara.
"There are approximately 350 juvenile lifers in Michigan," Restucci said. "Prosecutorsare recommending renewed life without parole for 250, leaving 100 who can get a sentence up to 60 years. Eighty percent of offenders are released within one year of their earliest release date, so a substantial number will receive parole. We don't know how many will actually get which sentences, which are up to the judges."
Judge Corbett O'Meara said he will issue his ruling shortly, after reviewing transcripts of the hearing. He said he is considering a grave issue, "taking freedom away from people for life."
"It's puzzling and painful to know where it's going from here," Judge O'Meara said. "I don't know exactly what I can do, although I have a much better idea of what should happen in terms of juvenile life without parole, but it's what I have to do and should do under the law."
Three hundred sixty-four juvenile lifers are awaiting his ruling. Since there is yet no injunction in place, prosecutors and defenders, mainly from the State Appellate Defenders' Office (SADO) are going forward with hearings.
Related:
http://fairsentencingofyouth.org/
Facebook page for Fair Sentencing of Youth at https://www.facebook.com/theCFSY/
http://www.progressive.org/news/2016/07/188882/%E2%80%98juvenile-lifers%E2%80%99-deserve-second-chance
http://radio.wpsu.org/post/shes-still-fighting-her-brother-sentenced-life-16-years-old
http://adobeairstream.com/film/juvenile-life-without-parole-captured-in-natural-life/
http://www.motherjones.com/politics/2016/01/disturbing-data-behind-juvenile-life-without-parole
http://www.naturallifefilm.org/
http://hyperallergic.com/189356/the-stories-of-minors-sentenced-to-life-in-prison/
http://www.vice.com/read/ricky-olds-prison-juvenile-justice-sentencing-reform-america
http://fairsentencingofyouth.org/2016/05/27/iowa-supreme-court-bans-life-without-parole-sentences-for-children/
http://articles.philly.com/2016-06-06/news/73580600_1_parole-lifers-new-sentences
http://fairsentencingofyouth.org/our-trial-defense-guidelines-for-children-facing-life-are-released/
Related documents:
http://voiceofdetroit.net/wp-content/uploads/Miller-v-Alabama-decision.pdf
http://voiceofdetroit.net/wp-content/uploads/USSC-Montgomery-v-LA-1.pdf
http://voiceofdetroit.net/wp-content/uploads/OMeara-final-ruling-on-Hill-v-Snyder-2.pdf
http://voiceofdetroit.net/wp-content/uploads/Sixth-Circuit-decision-Hill-v-Snyder-May-11-2016-1.pdf
http://voiceofdetroit.net/wp-content/uploads/Hill-V-Snyder-Plaintiffs-brief-7-25-16.pdf
Related stories:
WORTHY, OTHERS WANT LARGE PORTION OF 'JUVENILE LIFERS' TO DIE IN PRISON, DESPITE USSC RULINGS
STOP TORTURING MICHIGAN'S JUVENILE LIFERS WITH STATE DELAYS! FREEDOM NOW!
http://voiceofdetroit.net/2016/06/02/stop-torturing-michigans-juvenile-lifers-with-state-delays-freedom-now/
http://america.aljazeera.com/articles/2015/3/9/un-expert-slams-us-as-only-nation-to-sentence-kids-to-life-without-parole.html
http://www.detroitnews.com/story/opinion/2016/06/02/prisoner-re-entry-detroit-comeback/85268614/
http://voiceofdetroit.net/2016/05/24/free-charles-lewis-innocent-juvenile-lifer-who-has-spent-41-years-in-state-prisons/
http://voiceofdetroit.net/2016/05/18/michigan-juvenile-lifers-score-6th-circuit-appeals-court-victory-in-hill-v-snyder/
http://voiceofdetroit.net/2016/04/30/why-is-juvenile-lifer-charles-lewis-still-in-prison-16-yrs-after-his-case-was-dismissed/
http://voiceofdetroit.net/2016/04/12/dying-in-prison-michigan-juvenile-lifers-get-new-hope-under-montgomery-still-face-obstacles/
http://voiceofdetroit.net/2014/03/06/mich-supreme-court-hears-3-key-cases-today-re-ussc-ruling-barring-mandatory-juvenile-life-without-parole/
http://voiceofdetroit.net/2013/02/12/u-s-judge-rules-all-michigan-juvenile-lifers-eligible-for-parole/
http://voiceofdetroit.net/2013/02/12/juvenile-lifer-reflects-on-hill-ruling-by-judge-omeara/
http://voiceofdetroit.net/2013/01/10/michigan-juvenile-lifers-justice-delayed-is-justice-denied-re-sentencing-in-key-detroit-case-cortez-davis-jan-25/
http://voiceofdetroit.net/2012/10/28/michigans-juvenile-lifers-want-state-to-comply-with-u-s-supreme-court-ruling/
http://voiceofdetroit.net/2012/10/28/michigans-juvenile-lifers/
http://voiceofdetroit.net/2012/08/16/michigan-challenges-u-s-supreme-court-ruling-on-juvenile-life-without-parole/
http://voiceofdetroit.net/2012/07/02/us-supreme-courts-juvenile-lifer-decision-brings-hope-to-thousands/
http://voiceofdetroit.net/2012/07/02/nations-high-court-ends-mandatory-life-without-parole-sentences-for-youth/
http://voiceofdetroit.net/2012/03/18/us-supreme-court-to-hear-key-juvenile-lifer-homicide-cases-march-20-2012/
http://voiceofdetroit.net/2012/03/04/juvenile-lifer-anthony-jones-wins-new-sentence-battle-for-justice-for-all-juvenile-and-parolable-lifers-still-needed/
http://voiceofdetroit.net/2011/11/12/us-supreme-court-agrees-to-hear-juvenile-lifer-cases-could-have-major-impact-in-michigan/
http://voiceofdetroit.net/2011/11/11/why-michigan-has-more-juvenile-life-sentences-than-almost-any-other-state/
http://voiceofdetroit.net/2011/09/06/battle-for-juvenile-lifers-picks-up-steam-in-michigan-california/
http://voiceofdetroit.net/2011/03/06/voice-of-juvenile-defendants/
http://voiceofdetroit.net/2010/11/24/aclu-lawsuit-challenges-life-without-parole-for-michigan-juveniles/
#FreeMichiganJuvenileLifersNOW, #SaveOurChildren, #PrisonNation, #ENDMassIncarceration, #SchooltoPrisonPipeline, #Breakdownthewalls, #Beatbackthebullies, #Blacklivesmatter, #BlacklivesmatterDetroit, #Blackkidslivesmatter,  #StandUpNow, #StopWaronBlackAmerica, #StopWaronourYouth, #Michissippigoddam