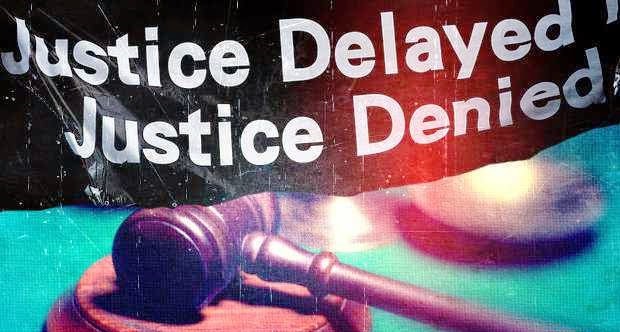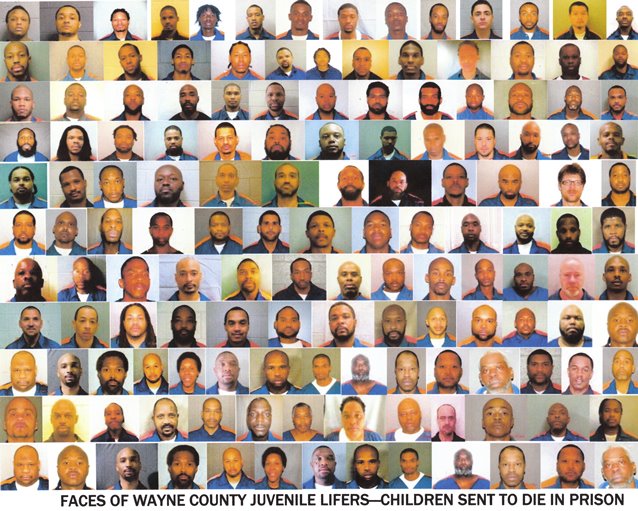 ________________________________________________________


UPDATE (details below Paredes story): ACLU files 3rd amended complaint expanding original grounds, in front of USDC Judge Mark Goldsmith; contends continued captivity of state juvenile lifers 7 years after Miller v. Alabama violates DUE PROCESS. Also disputes state's contention that denial of core programming for lifers does not affect chance of parole. ________________________________________________________
"If a prison sentence that exceeds a juvenile offender's lifespan is unconstitutional because it denies the offender meaningful parole consideration, obviously a LWOP sentence that will never provide them parole consideration does as well."
200 out of 363 Michigan juvenile lifers have yet to be re-sentenced, while 22 other states have abolished JLWOP completely
Mich. AG Dana Nessel could rescind county requests for renewed life without parole; Gov. Whitmer could commute sentences of JLWOPer's
Medium.com
by Efrén Paredes Jr.
Aug 11 2019
A federal judge from the U.S. District Court for the Eastern District of Michigan recently noted that juvenile life without parole prison sentences are unconstitutional if they are "the functional equivalent of life without parole" (LWOP), exceed a juvenile offender's lifespan, or do not give the offender a "meaningful opportunity for parole consideration."
The statement was made by Judge Mark Goldsmith in the case Hill v. Whitmer, 2019 U.S. Dist. LEXIS 115855 (decided 7/12/19), regarding prisoners who were sentenced to LWOP when they were juveniles ("juvenile lifers"). See http://voiceofdetroit.net/wp-content/uploads/Hill-v-Whitmer-7-12-19.pdf
[VOD: In his broader opinion, Judge Goldsmith upheld in part and denied in part the state's motion for summary judgment on the case.]
In 2012 the U.S. Supreme Court ruled in Miller v. Alabama that mandatory LWOP sentences for juvenile offenders are unconstitutional and ordered the resentencing of all 2,500 prisoners across the nation affected by the ruling.
The Miller decision held that a LWOP sentence could now only be imposed on juveniles in cases where judges have an option to mete out a term-of-years sentence or a LWOP sentence. In other words, judges must have discretion to choose.
The court made it abundantly clear, however, that LWOP sentences could only be imposed in cases where the juvenile offender is "irreparably corrupt" and incapable of change. They also stated that the extreme sentence must become "rare and uncommon."
Contrary to popular belief, the high court did not ban LWOP sentences altogether for juvenile offenders. They only struck down LWOP sentences in cases where a mandatory sentence was the only sentence that could be imposed by a judge at the time.
In Michigan there were 373 prisoners who needed to be resentenced. Of that number, 235 prisoners — sixty-three percent — had yet to be resentenced and continued serving unconstitutional sentences.
The inordinate delay has been the result of prosecutors abusing their authority to arbitrarily file motions seeking LWOP sentences against hundreds of prisoners who do not meet the requirements outlined in the landmark Miller ruling. Their misconduct has resulted in the need for costly mitigation hearings and expert witnesses at taxpayer expense.
Judge Goldsmith's statement strikes at the heart of Michigan's law regarding the sentencing of juvenile lifers to extreme sentences. If a prison sentence that exceeds a juvenile offender's lifespan is unconstitutional because it denies the offender meaningful parole consideration, obviously a LWOP sentence that will never provide them parole consideration does as well.
Lawmakers continue clinging to pernicious punishment for juvenile offenders so they can campaign as being "tough on crime" rather than "smart on crime." LWOP sentences for juveniles would have been abolished years ago as twenty-one other states have already done if not for legislators' reticence to do the right thing.
If lawmakers are unable to resolve this ongoing legal battle one sensible solution is for Attorney General Dana Nessel to withdraw the motions filed by prosecutors seeking LWOP sentences again for the remaining 235 juvenile lifer cases. This would avert further delays, allow judges to schedule sentencing hearings, and proceed as they normally do when performing other individualized sentencing hearings.
[The AG's webpage includes the following general powers accorded to the AG:
Represents the People of Michigan in civil and criminal matters before trial courts, appellate courts and the supreme courts of Michigan and the United States.
Serves as legal counsel to state officers and, with few exceptions, to state agencies, boards and commissions.
Assists prosecuting attorneys, local law enforcement and federal criminal justice agencies in the administration of justice.]
The impediment to moving forward would be removed and prosecutors could still argue for imposition of radically extreme sentences, if they elect to do so. Sentencing bodies are not marionettes for prosecutors, however. They are independent thinkers who can interpret the law and will side with the U.S. Supreme Court more often than they will with prosecutors in the vast majority of cases.
Another proposed solution is for Governor Whitmer to commute the sentences of the remaining juvenile lifers awaiting resentencing to 25- to 60-year sentences, and give jurisdiction to the Parole Board to begin reviewing the cases for parole consideration after the prisoners have served twenty-five years. After twenty-five years all juvenile lifers will have served well over half their entire lives behind bars.
. . . .Release of prisoners would be contingent upon their rehabilitation and what they are doing with their time while incarcerated. Those who do not demonstrate growth and maturity could remain incarcerated up to 60 years depending on their behavior, if they live that long.
Of the nearly seventy prisoners who have been paroled none have recidivated and all have become productive members of society. Prisoners serving LWOP sentences who are released have a less than one percent chance of recidivating. This is the lowest recidivism risk of all offense categories.
Commuting the sentences would also save taxpayers millions of dollars that could be reinvested in schools and infrastructure projects rather than spent on avoidable mitigation hearings. Conservative estimates have the cost of 235 hearings being upwards of $10 million to pay for attorneys, qualified expert witnesses, and court hearings.
Political theater and gamesmanship are not the solutions to correct failed public policies that prizedeath-by-incarceration sentences over rehabilitation and redemption for juvenile offenders. Creating more injustice is not a solution to resolving injustice, it only compounds the problem. We need more solutions not more problems.
https://medium.com/here-i-am-buried-alive/fed-judge-makes-case-to-end-life-sentences-for-juvenile-offenders-bab273ceb502
______________________________________________________________
JUSTICE DELAYED—JUSTICE DENIED!
WILL FEDERAL COURT FREE 200 MICHIGAN

JUVENILE LIFERS FROM DEATH IN PRISON?
Hill v. Whitmer third amendment to complaint: juvenile lifers' captivity violates federal due process rules: http://voiceofdetroit.net/wp-content/uploads/Hill-v-Whitmer-Third-Amendment-to-Complaint.pdf
Even those who have been re-sentenced face long waits and uncertain future with parole board, failure of state to provide programming cited
JUVENILE LIFER CHARLES LEWIS FINALLY HAS MITIGATION HEARING SCHEDULED FOR WED. OCT. 15 @ 9 AM, JUDGE LILLARD, RM. 502 FMHJ
By Diane Bukowski
October 1, 2019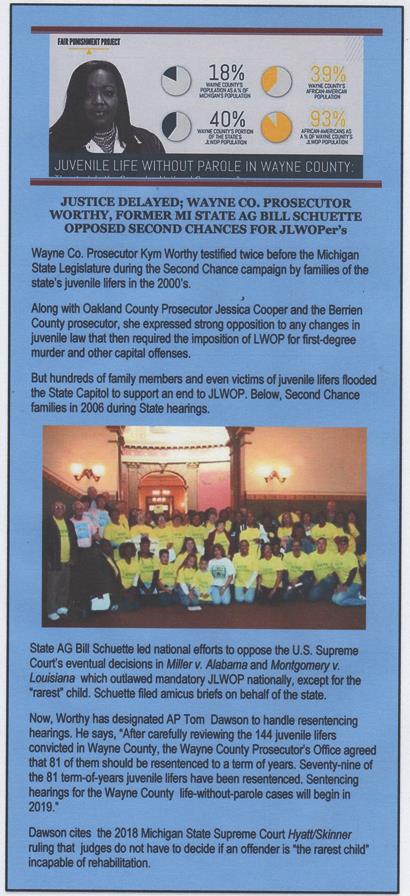 DETROIT, MI – Will Michigan Attorney General Dana Nessel live up to her campaign promises on behalf of the state's juvenile lifers in the newest phase of a federal class action lawsuit, Hill v. Whitmer?
The suit was re-filed by Attorney Deborah LaBelle and the Michigan ACLU on behalf of over 200 Michigan juvenile lifers who have languished in prison far beyond the U.S. Supreme Court's abolition of mandatory juvenile life without parole in 2012, and its declaration making the ruling retroactive in 2016. They have yet to see a judge for judicial review and resentencing.
On Sept. 9, LaBelle filed a Third Amendment to the Complaint alleging that the delays constitute clear violations of federal due process law. On Oct. 3, LaBelle countered the state's position that the denial of programming and training to lifers does not adversely affect their chances for parole.
The 200 juvenile lifers represent 63 percent of the total number of the state's juvenile lifers, 363. County prosecutors are seeking renewed life without parole for them, in apparent violation of the high court's holdings that only the rarest child proven to be incapable of rehabilitation should die in prison. Seventy percent of Michigan juvenile lifers are Black. The highest number, 60, come from Wayne County.
"There's an understanding, obviously, that when juveniles commit crimes, it does not mean that they are someone who forever cannot be rehabilitated, " Nessel told Michigan Public Radio, while campaigning for AG. "Their brains are not fully formed. There's a lot of scientific evidence and scientific data that bears that out. So I do think that in all but the most extreme cases, you should be giving that person the opportunity to be paroled at some point in life."
A complete list of the juvenile lifers awaiting resentencing is included in Hill v. Whitmer case documents at http://voiceofdetroit.net/wp-content/uploads/List-of-juvenile-lifers-awaiting-resentencing.pdf
In 2016, former Wayne County Prosecutor John O'Hair and other retired prosecutors, outraged at Michigan's non-compliance with the U.S. Supreme Court rulings, called on the federal government to intervene.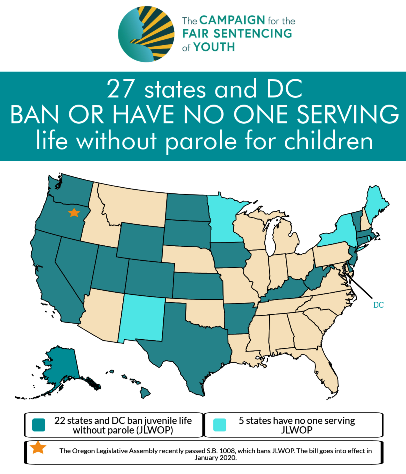 "Some prosecutors and judges in Michigan have ignored the Court's guidance that life sentences for youth are impermissible except for 'the rare juvenile offender who exhibits such depravity that rehabilitation is impossible,' and have relied heavily on the life without parole option provided to them by the Legislature,' O'Hair wrote in an editorial published in several newspapers.
"[The incarcerated juvenile lifers] got a shock recently when prosecutors recommended life without parole—again—for most, if not all, of those eligible for resentencing. Their actions undermine the Supreme Court and are an affront to our justice system."
Meanwhile, 22 states have either abolished juvenile life without parole, and five have no one serving that sentence, a rapid increase over the past several years.
The U.S. is the ONLY country in the world that sentences children to die in prison. It is also the only country in the world with TRUE life without parole. In others, lifers are still afforded regular parole hearings and release if rehabilitated. The battle against JLWOP has ignited a broader battle against LWOP across the U.S., from Pennsylvania to California.
Nessel's office now represents the state in ongoing hearings before U.S. District Court Judge Mark Goldsmith on the Hill case, replacing former Attorney General Bill Schuette, a virulent opponent of releasing juvenile lifers.
Goldsmith appointed Atty. Deborah LaBelle as the official representative of the juvenile lifer class when he earlier struck down provisions of state statutes passed in 2014 that denied resentenced juvenile lifers their access to "good time" credits.
In her filing Sept. 9, LaBelle wrote, "More than three years after the United States Supreme Court's ruling in Montgomery v. Louisiana . . . . (2016), confirmed that plaintiffs are entitled to be resentenced, nearly 200 Hill class members remain in prison awaiting resentencing with no relief in sight. To compound this injustice, many would be eligible for release on parole or even immediate release if they are resentenced to a term-of-years. A delay this serious should no longer be countenanced.
"Therefore, Plaintiffs request permission to amend their complaint to add a claim seeking a declaratory judgement that the unreasonable delay in resentencing violates the Plaintiffs' due process rights."
She added, "The delay in resentencing Plaintiffs is inexcusable. It came about by Michigan's initial over-designation of the majority of the Plaintiff class as the rarest of youth whose crime evidences irreparable corruption and is incapable of rehabilitation, and seeking to reimpose Plaintiffs' life-without-parole sentences. But seeking to reimpose life-without-parole sentences on the majority of youth (including those who were convicted of felony murder, those who have exemplary prison records and demonstrable rehabilitation) should not result in over three years of delay in Plaintiffs having the opportunity to demonstrate that a term-of-years sentence is warranted and thus provide them with their constitutional right to a meaningful opportunity to obtain their release."
Charles Lewis, now 60, has served nearly 44 years in prison, since the age of 17 for the killing of an off-duty police officer in 1976, during a period of violent racial strife and mortal danger for Black youth in the city. Lewis is one of 60 juvenile lifers for whom Wayne County Prosecutor Kym Worthy has recommended renewed LWOP.
He has always maintained his innocence. Lewis' trial Judge Joseph Maher never stated on the record why he dismissed Lewis' first jury after it heard from the officer's partner and numerous other eyewitnesses that another man committed the crime.
During an appeal hearing in 2006, Judge Deborah Thomas said that meant he should have been acquitted and subject to double jeopardy, and that the prosecution's theory of the case, drawn from three younger juveniles who were threatened with charges if they did not testify against Lewis, was "a scientific impossibility."
Judge Gershwin Drain ordered Lewis' conviction and sentence dismissed in an order on April 3, 2000, but the order was lost in another file for 10 years. After Lewis moved to carry out the order, his entire case file came up missing and he was accused of forgery, with no documentary proof. He says legal precedents mandate his case should have been dismissed.
He is one of the first juvenile lifers facing a recommendation of LWOP to be scheduled for a mitigation hearing Tues. Oct. 15 at 9 am in front of Wayne County Circuit Court Judge Qiana Lillard, Rm. 502 FMHJ. In his defense brief, Lewis' attorney Sanford Schulman is asking for him to be re-sentenced to a term of 40 years, which would mean immediate discharge due to Judge Goldsmith's restoration of good-time benefits to the juvenile lifer class.
Lewis told VOD that at least 30 juvenile lifers, also recommended for LWOP, are in the Macomb Correctional Facility Re-Entry Program with him.
Attorney Schulman is court-appointed and selected numerous resentencing experts including a polygraph examiner (with respect to the validity of Lewis' innocence claim), a psychiatrist, a mitigation specialist, and an MDOC misconduct specialist, with generally positive results recommending release.
Lewis hopes to resume a promising musical career upon release. He was known before his arrest and during his imprisonment for "world-class" talent in writing music, producing concerts, and playing virtually every musical instrument. But he said others with him are not so fortunate.
"Many don't have attorneys, or have not seen them or experts to which they are entitled under state law, and they don't know when or if ever they will ever benefit from the U.S. Supreme Court rulings," he said.
He remembered the joy with which juvenile lifers greeted the Miller v. Alabama ruling in 2012.
"That was the first time we knew we would not have to die in prison," he recalled. His mother said prison officials told her when he was sentenced that she would not even be able to get his body to bury him after he died in prison.
But Lewis is gravely concerned that judges have resentenced some juvenile lifers to life without parole again, without adequate grounds, and wonders what action is planned in their defense. Additionally, other plaintiffs' filings in the Hill v. Whitmer federal case indicate that many juvenile lifers who HAVE been re-sentenced face ongoing complications with the parole board, based in part on the state's admitted policy of denying programming and training to prisoners serving life.
David Bennett, incarcerated since 1972 for the murder of a young woman, was resentenced to LWOP on June 5, 2019 by visiting Wayne County Circuit Court Judge Dalton Roberson, known before his retirement for his relatively liberal stance. At the time of Bennett's original sentencing in 1992, experts said he was suffering from schizophrenia and other mental disorders, and he was placed on a regimen of multiple anti-psychotic medications.
His attorneys Eric Van Campen and Kristin Lavoy wrote in their defense brief that Bennett "has committed no act of aggression or violence" in the last 45 years.
"Even though he was sentenced to die in prison, Mr. Bennett chose to better himself in every way possible," they said. "He has put extraordinary effort into developing skills to cope with his mental illness and manage the trauma of his youth.
"Today, Mr. Bennett's mental health is so stable that the only medication he takes is for depression. Thus, Mr. Bennett has demonstrated not only that he had the capacity for rehabilitation at the time of his offense, but that he has been successfully rehabilitated through his own efforts, the aging process, and the programming he has received within the MDOC."
But Judge Roberson gave Bennett life again. The Judge said Bennett had been on multiple anti-psychotic medications and expressed fear that he would not continue taking his meds if he was not in a structured environment, despite contrary indications from expert defense witnesses.
Barbara Hernandez was resentenced to LWOP on Aug. 8, 2019 by Oakland County Circuit Court Judge Nanci Grant. Born on March 16, 1974, Hernandez left home at 14 as a result of ongoing physical and sexual abuse first from her father and then from her stepfather. She moved in with a boyfriend four years her senior. In 1990 when Barbara was sixteen, her boyfriend coerced her into helping him steal a car as part of a plan to leave the state. When Barbara brought a man with a car to the house, her boyfriend attacked and killed the victim while Barbara was in another room.
Oakland County Prosecutor Jessica Cooper recommended LWOP for nearly 100 percent of that County's juvenile offenders. Along with former Michigan AG Schuette, Wayne Co. Prosecutor Kym Worthy, and Berrien County Prosecutor, she has been one of the most strenuous opponents of any change in juvenile lifer laws.
In Michigan's Ottawa County, the sole juvenile lifer there, Juan Carlos Nunez, was resentenced to LWOP April 24, by County Circuit Court Judge Jon Hulzing.
Nunez was 16 at the time of the murder in question, which took place during a robbery gone wrong. Judge Hulsing considered the six Miller factors mitigating crimes committed by youths, but declared that Nunez "still knew right from wrong." This constituted a deliberate misstatement of the U.S. Supreme Court findings in Miller and Montgomery, which cited scientific evidence that the brains of juveniles, in particular the areas involving impulse control, do not develop fully until the age of 25.
The Hill v, Whitmer complaint until now had proceeded chiefly along lines of the defense's argument in Count VI.
Count VI alleges that by failing or refusing "to provide programming, education, training and rehabilitation opportunities," Defendants have "deprived Plaintiffs of meaningful opportunities to obtain release based on their demonstrated growth, maturity and rehabilitation."
The State took the position essentially that the parole board does not require proof of such programming in releasing prisoners on parole and identified various defendants who had been re-sentenced to terms of years despite the lack of such resources. However, LaBelle cites juvenile lifers who have been re-sentenced to a term of years, but not yet paroled, awaiting completion of such programming.
"Kevin Boyd must complete substance abuse core programming, yet he has been denied access to this program during his over thirty-years of incarceration in MDOC facilities," writes LaBelle. "The prosecutor in Oakland County sought to resentence Kevin Boyd, a named class representative, to life without parole. On May 15, 2019, Kevin was instead resentenced to a term of 25-60 years. With good time credits he was eligible for release on June 1, 2015. Kevin was not interviewed by the Parole Board until June 24, 2019, and is still waiting to receive its decision, over three months later.
Tykeith Turner was resentenced on December 21, 2016 to 25-60 years. He has outstanding requirements for core programming, including substance abuse and violence prevention programming. Defendants refused to allow Tykeith's requests to participate in this programming even after his life-without-parole sentence was vacated and he was resentenced to a term-of-years sentence.
On April 29, 2018, Tykeith became parole-eligible and the next day he was interviewed by the Parole Board. Tykeith has yet to receive a decision more than a year later.
Defendants' records note that Tykeith is still awaiting classification referral for substance abuse and violence prevention core programming; they also note that Tykeith as ineligible for this programming because of his "lifer" status. 1 (See Ex. 2).
"Defendants also fail to address class members, including Christopher Wiley and Lorenzo Harrell, whose parole decision was deferred specifically because they had been unable to complete core programs. In fact, Defendants deferred Christopher Wiley's and Lorenzo Harrell's parole reviews for months because they had not completed recommended core programming.
"But Defendants denied them access to this critical programming while they were waiting to be resentenced. Thus, they remained incarcerated—despite being immediately parole-eligible—solely because they had failed to complete recommended core programs."
There are thirty-two other class members who have been resentenced, are parole-eligible, and have outstanding core programming requirements. It is unclear when or if they will ever be provided this programming before their parole review hearings, or whether their parole determinations will be deferred, denied or delayed because of this lack of core programming."
A selection of related articles from VOD:
http://voiceofdetroit.net/2017/06/13/stop-death-in-prison-for-children-juvenile-lifer-rally-for-justice-sun-june-18-2-5-pm-detroit/
http://voiceofdetroit.net/2017/06/10/false-detroit-conviction-vincent-smothers-says-he-not-thelonious-searcy-killed-jamal-segars-in-2004/
http://voiceofdetroit.net/2017/05/09/cruel-unusual-juvenile-sentences-continue-cortez-davis-gets-25-60-not-legal-10-40-yrs/
http://voiceofdetroit.net/2017/03/24/appeals-court-hears-juvenile-lifer-meadows-case-pros-kym-worthy-objected-to-release-after-47-yrs/
http://voiceofdetroit.net/2017/02/11/bernard-young-free-after-27-yrs-bond-new-trial-granted-more-innocents-in-mich-prisons/
http://voiceofdetroit.net/2017/01/12/wayne-co-juvenile-lifers-lives-at-stake-only-two-paroled-charles-lewis-hearing-thurs-feb-9-2017/
http://voiceofdetroit.net/2016/10/26/free-charles-lewis-mich-juvenile-lifers-re-sentenced-to-die-in-prison-rally-fri-oct-28/
http://voiceofdetroit.net/2016/10/13/support-for-charles-lewis-mich-juvenile-lifers-strong-at-hearing-oct-11-bring-them-home-now/
http://voiceofdetroit.net/2017/01/20/judge-deborah-thomas-charles-lewis-should-have-been-acquitted-sentence-vacated-in-1976-murder/
http://voiceofdetroit.net/2016/11/28/case-of-zerious-meadows-challenges-michigans-draconic-juvenile-lifer-re-sentencing-practices/
http://voiceofdetroit.net/2016/11/08/good-news-in-timothy-kincaid-juvenile-lifer-case-judge-recommends-immediate-parole/
http://voiceofdetroit.net/2016/10/26/free-charles-lewis-mich-juvenile-lifers-re-sentenced-to-die-in-prison-rally-fri-oct-28/
http://voiceofdetroit.net/2016/10/13/support-for-charles-lewis-mich-juvenile-lifers-strong-at-hearing-oct-11-bring-them-home-now/
http://voiceofdetroit.net/2016/10/07/stop-new-death-penalty-for-mich-juvenile-lifers-rally-tues-oct-11-for-charles-lewis-others/
http://voiceofdetroit.net/2016/09/10/new-hope-for-michigan-juvenile-lifer-charles-lewis-as-others-await-long-delayed-justice/
http://voiceofdetroit.net/2016/09/04/free-charles-lewis-wayne-co-juvenile-lifers-dying-in-prison-rally-at-hearing-tues-sept-6/
http://voiceofdetroit.net/2016/08/18/genocide-state-s-a-d-o-subject-michigan-juvenile-lifers-to-more-cruel-and-unusual-punishment/
http://voiceofdetroit.net/2016/08/02/michigan-files-for-jlwop-for-80-of-juvenile-lifers-fed-court-wants-all-parole-eligible/
http://voiceofdetroit.net/2016/07/26/worthy-others-want-large-portion-of-juvenile-lifers-to-die-in-prison-despite-ussc-rulings/
http://voiceofdetroit.net/2016/06/02/stop-torturing-michigans-juvenile-lifers-with-state-delays-freedom-now/
http://voiceofdetroit.net/2016/05/24/free-charles-lewis-innocent-juvenile-lifer-who-has-spent-41-years-in-state-prisons/
http://voiceofdetroit.net/2016/05/18/michigan-juvenile-lifers-score-6th-circuit-appeals-court-victory-in-hill-v-snyder/
http://voiceofdetroit.net/2016/04/30/why-is-juvenile-lifer-charles-lewis-still-in-prison-16-yrs-after-his-case-was-dismissed/
http://voiceofdetroit.net/2016/04/12/dying-in-prison-michigan-juvenile-lifers-get-new-hope-under-montgomery-still-face-obstacles/
http://voiceofdetroit.net/2013/02/12/u-s-judge-rules-all-michigan-juvenile-lifers-eligible-for-parole/
http://voiceofdetroit.net/2012/10/28/michigans-juvenile-lifers-want-state-to-comply-with-u-s-supreme-court-ruling/
http://voiceofdetroit.net/2012/08/16/michigan-challenges-u-s-supreme-court-ruling-on-juvenile-life-without-parole/
http://voiceofdetroit.net/2012/07/02/us-supreme-courts-juvenile-lifer-decision-brings-hope-to-thousands/
http://voiceofdetroit.net/2012/07/02/nations-high-court-ends-mandatory-life-without-parole-sentences-for-youth/
#FREEEFRENPAREDESJRNOW, #FREECHARLESLEWISNOW, #FREEMIKECALVINNOW, #FREEMICHIGANJUVENILELIFERSNOW, #ENDMASSINCARCERATION, #ENDSCHOOLTOPRISONPIPELINE