U.S. Supreme Court ruled Jan. 25 in Montgomery v. Louisiana that Miller v. Alabama decision declaring JLWOP unconstitutional is retroactive
But MICHISSIPPI's  juvenile lifers still have "many rivers to cross" in state with 2nd highest number of JLWOPer's in U.S., under Snyder administration
Another state juvenile lifer commits suicide after 23 years, says attorney
 "All but the rarest of children" are not incorrigible, and should not be left in prison to die, says USSC
BREAKING NEWS MAY 11, 2016: THE SIXTH CIRCUIT COURT OF APPEALS HAS ESSENTIALLY STRUCK DOWN MICHIGAN'S STATUTES REGARDING JUVENILE LIFER RE-SENTENCING POLICIES. SEE ORDER AT http://voiceofdetroit.net/wp-content/uploads/Sixth-Circuit-Hill-ruling-5-11-16.pdf
By Diane Bukowski
April 10, 2016
DETROIT – The fates of at least 364 Michigan prisoners sentenced to die in prison as juveniles, a/k/a to "life without parole," hang in the balance after the U.S. Supreme Court's Montgomery v. Louisiana ruling affirming the appeal of George Montgomery, a Black man who was 17 when charged with killing a white deputy sheriff in the deep South.
Almost four years after the court found such sentences unconstitutionally "cruel and unusual" in Miller v. Alabama, it finally ruled that Miller was fully retroactive across the U.S.  Courts in only four states, Louisiana, Michigan, Pennsylvania, and Minnesota had persisted in declaring that Miller did not apply to already incarcerated prisoners, many of whom had already spent decades behind bars.
In Michigan, two-thirds of juvenile lifers have spent at least 25 years in prison. At least 70 percent are people of color, most of them Black. Michigan has the second highest number of juvenile lifers in the U.S. Under the current state administration, they still face "many rivers to cross" in the wake of the Montgomery ruling.
"All praises are due to Allah," Detroiter Edward Sanders said of the decision. He was 17 when he was convicted of first-degree murder in a 1975 drive-by shooting where he did not pull the trigger.
"I am thankful for our Lord's Mercy," Sanders continued. "The recent U.S. Supreme Court decision in Montgomery vs Louisiana is a great step back into our humanity; a child is never the same as an adult. I am thankful to the many people and groups that worked to this end. I prayed for this day.  First for myself . . . and then for others in my situation. The short time in which we went from juvenile courts to adulthood in our society as it reacted to very young children is sad. [Islamic law] says children are not adults and should not be addressed the same under the law. In Islam this is not a modern law, nor is it in this society."
Sanders is now 58, and has spent the last 41 years in Michigan prisons. He is currently at the Chippewa Correctional Facility in Kincheloe, in Michigan's Upper Peninsula, classified at the low security level of two.
During his time in prison, Sanders obtained his bachelor's degree, and continued to study the law. He taught classes at Mound Road Prison in Detroit, and has functioned as a jail-house lawyer for many years, helping other inmates with their cases. He has said he wants to work with at-risk youth upon release.
"Henry Montgomery has spent each day of the past 46 years knowing he was condemned to die in prison," Supreme Court Justice Anthony Kennedy wrote for the majority in the U.S. Supreme Court decision.
"Perhaps it can be established that, due to exceptional circumstances, this fate was a just and proportionate punishment for the crime he committed as a 17-year-old boy. In light of what this Court has said in Roper, Graham, and Miller about how children are constitutionally different from adults in their level of culpability, however, prisoners like Montgomery must be given the opportunity to show their crime did not reflect irreparable corruption; and, if it did not, their hope for some years of life outside prison walls must be restored." (See USSC decision at http://voiceofdetroit.net/wp-content/uploads/USSC-Montgomery-v-LA.pdf.)
The court found that its 2012 Miller decision involved substantive, not procedural, issues under the Constitution and therefore was retroactive. It thus disagreed with  opinions by Michigan's attorney general Bill Schuette, who filed an amicus brief opposing Montgomery's appeal, and other state officials and courts.
"A State may remedy a Miller violation by extending parole eligibil­ity to juvenile offenders," Kennedy said regarding implementation. "This would neither impose an onerous bur­den on the States nor disturb the finality of state convictions. And it would afford someone like Montgomery, who submits that he has evolved from a troubled, misguided youth to a model member of the prison community, the opportunity to demonstrate the truth of Mil­ler's central intuition—that children who commit even heinous crimes are capable of change."
He noted further, "Although Miller did not foreclose a sentencer's ability to impose life without parole on a juvenile, the Court explained that a lifetime in prison is a disproportionate sentence for all but the rarest of children, those whose crimes reflect 'irreparable corruption.'"
Attorney Mark Plaisance of Baton Rouge, LA argued the case for Montgomery, as a representative of the Public Defender's Office. He was backed by amicus briefs filed by dozens of other organizations.
"We were well pleased with the decision," Plaisance told VOD. "It's the next step in the court's evolution on how it believes the justice system should address juvenile offenders, that they are not fully knowledgeable about what they are doing. The Supreme Court said it would leave [implementation] up to the states, but Justice Kennedy said based on the states' arguments that reviewing all cases would be burdensome, it would be easily resolved by states just sending such prisoners straight to parole hearings. He dropped a big hint."
Montgomery, a sophomore in high school, was two weeks past his 17th birthday in the rural South of 1963 when he was arrested for killing white deputy sheriff Charles H. Hurt of the East Baton Rouge Parish. Newspaper accounts at the time called Montgomery the "Wolfman."
He was at first sentenced to death, but his conviction was overturned on an appeal alleging substantial racial bias at trial. He was retried and sentenced to life without parole. He has spent his time since then at Louisiana's notorious Angola Prison, named after the country from which many Africans were kidnapped to spend their lives as slaves in the area.
Plaisance said Montgomery remains in Angola more than two months after the Supreme Court decision, because the Louisiana Supreme Court has yet to respond to the high court's order remanding the case to it for a compliant ruling.
Here in Michigan, most juvenile lifers remain in limbo as well, due to various state statutes and court rulings. Two exceptions are Cortez Davis and Raymond Carp, whose cases under Miller had already been heard and denied by the Michigan Supreme Court, on grounds that Miller was not retroactive.
State records indicate the USSC remanded their cases to the MSC for re-consideration under the Montgomery ruling as of April 8.
But for other Michigan juvenile lifers, the situation is complex. The merciless attitude of the current administration under Governor Rick Snyder and Attorney General Bill Schuette was summed up in an amici curaie brief filed on behalf of Michigan "and 15 other states."
"As guardians of the community's security, the amici States note that these offenders are as a category some of the most dangerous," Schuette's brief says in part. "They committed the gravest crime—murder. And they have been incarcerated for virtually their entire adult lives. Requiring the States to resentence hundreds of offenders, many of whose crimes were committed decades ago, would undermine the community's safety and would offend principles of finality."
See Schuette brief at http://voiceofdetroit.net/wp-content/uploads/USSC-Montgomery-amici-curiae-Michigan-Schuette-et-al.pdf.
While the USSC suggested, but did not require, that all juvenile lifers be made parole eligible, Michigan's legislature earlier enacted statutes mandating procedures for re-sentencing to long terms of years instead, if Miller was found to be retroactive.
Under MCL 769.25a, prosecutors in each county have 180 days from the date of the retroactivity decision to file a motion seeking re-imposition of LWOP in selected cases. If they do not file such a motion, the defendant must be re-sentenced to a minimum term of 25 to 40 years, with a maximum term set at 60 years. Prisoners who have served more than 20 years are given priority for re-sentencing. See http://voiceofdetroit.net/wp-content/uploads/Juvenile-lifers-mcl-769-25a.pdf.
"I look to be resentenced to a term of years," Sanders reacted. "I am not considering the Michigan parole board who told me back in 1982-83 that it would support me in a commutation request that never happened due to the change in its policy to 'life means life.' I am willing to have a court reconsider my past 41 years in prison and the facts of the case plus I do have new evidence addressing intent in this case that show there was never a first-degree murder. However, I accept my actions . . . . [but] I am not the child of 1975, I am an adult of 2016."
Michigan's parole board under Governors since John Engler has had a merciless reputation. Engler converted the board from civil service employees to gubernatorial appointees. One of his first parole board directors, Stephen Marschke, a former Berrien County Sheriff with a brutal reputation, coined the phrase, "life means life."
Prior to that, law and practice regarding parolable life was that a prisoner could apply for parole after 10 years. Afterwards, Michigan's prison population skyrocketed, now taking up one-third of the state's budget.
In the first case in the U.S. after Miller, Anthony Shamont Jones, 17 when he was convicted of first degree murder in 1979, won a parolable life sentence in Kalamazoo County's Ninth Circuit Court in Dec. 2011. He had run from the scene of a store owner's killing and was not the shooter.
But almost five years later, he remains incarcerated at the Chippewa Facility in Kincheloe, MI, also at the low security level of II, like Edward Sanders.
His situation highlights the problems parolable lifers also face in merciless Michigan, now known as MICHISSIPPI to many in the wake of the state's poisoning of the entire city of Flint under Governor Snyder's Emergency Manager law, and the proposed abolition of the Detroit Public Schools district.
Michigan's prosecutors including the likes of Wayne County's Kym Worthy, Oakland County's Jessica Cooper, and Berrien County's Michael Sepic have in the past vehemently opposed giving juvenile lifers a "second chance" through any means, during hearings before Michigan's legislature.
The Montgomery decision said, "a lifetime in prison is a disproportionate sentence for all but the rarest of children, those whose crimes reflect 'irreparable corruption.'"
Assistant Defender Peter Van Hoek of the State Appellate Defender's Office says it is a toss-up whether prosecutors will seek to re-impose JLWOP on a large or small number of prisoners.
"While no one yet knows in how many of the retroactive cases in Michigan . . . the prosecutor will file for LWOP sentencing, it is likely they will not keep that number down to only rare cases," Van Hoek said in an email to VOD.
"Even if they file for LWOP sentencing in a particular case, it will still be open for negotiation," Van Hoek went on. "If an agreement is not met to sentence to the 25-40 to 60 year term, then a full sentencing hearing, under the Miller factors, will have to be held before the decision is made whether to re-impose a LWOP sentence or a term of years.
Such hearings will be very involved and detailed, comparable to that portion of a death penalty case where the decision is made to either impose the death penalty or a prison term.  While of course the defense will argue that the particular case does not fall within that rare number where LWOP sentences are appropriate, that decision will be up to either the judge or a new jury, depending on how a different line of cases is resolved in Michigan."
Charles Lewis of Detroit was a musician and singer with his own band at the age of 17.  On the Facebook page set up by his sister Wendy, he says in part, "I'm a writer, a musician, a comedian, an actor and most importantly, a God fearing Black Man. My struggle is the struggle of thousands of Black men in America." In an earlier letter, he said regarding Miller, "The U.S. Supreme Court . . . decided that no civilized country in the world sentences juveniles to prison for the rest of their lives. This is the only 'civilized' country in the world that sends children to prison forever at such an alarming rate."
Lewis has always contended his innocence, which also presents a problem regarding whether the state statutes can accomplish justice. He said in a Jpay email as follows:
"As you may or may not know from reading the briefs and motions filed in the United States District Court, I've been locked up for the past thirty years without a conviction.  
I was arrested August 1, 1976 in the law office of attorney Gerald Lorence. I told Lorence that I was not involved in the case and was at the local 212 on the night of the murder. He assured me that I would be out in two weeks. That was nearly 40 years ago.
Gerald Lorence was removed from my case and . . . lawyer M. Arthur Arduin was appointed to represent me. Arduin . . . .came to see me one time in the County Jail prior to trial. . . . I was arrested, charged and eventually convicted of first degree murder for the murder of off duty Detroit Police Officer, Gerald Swpitkowski. Officer Swpitkowski's partner Dennis Van Fleteren testified at two trials that he was actually talking to Swpitkowski when he was shot and killed. He testified that the shot that killed Swpitkowski came from the driver's side of a white Mark IV that was driven by Leslie Nathanial. Van Fleteren testified that he was the best friend and partner of the deceased and started the night off with him.
Leslie Nathanial was arrested hours after the murder, and released, without explanation hours later.
There are a million things that I would like to say regarding the juvenile life without parole situation. First, most people miss the real point. Most juveniles charged with first degree murder are poor and come from poor families. My parents could not afford to hire a lawyer to represent me. And, none of the juvenile lifers that I know had paid attorneys.
Here is the difference between a paid lawyer and a lawyer appointed by the State. Jeffrey Mulligan testified as my 15 year old co-defendant; he had a paid lawyer and did not do one day. His lawyer worked out a deal for him to testify against me in exchange for his freedom. Ronald Pettway testified that he was a 16 year old accomplice; his paid lawyer worked out a deal for him to testify against me in exchange for his freedom. Mark Kennedy testified that he was my 16 year old accomplice and his paid lawyer brokered a deal for him to testify against me in exchange for his freedom.

In my case a State lawyer was the difference between freedom and thus far, I've served a few months short of 40 years. Hell of a difference!"
(Also see Lewis' written testimony to the Michigan State Legislature at http://voiceofdetroit.net/wp-content/uploads/Charles-Lewis-letter-to-Michigan-Legislature-2009.pdf, and some federal documents at http://voiceofdetroit.net/wp-content/uploads/Charles-Lewis-motion-for-relief-from-judgment.pdf, and http://voiceofdetroit.net/wp-content/uploads/Charles-Lewis-transcript-1.pdf and http://voiceofdetroit.net/wp-content/uploads/Charles-Lewis-transcript-2.pdf.)
Lewis and his attorneys have argued his case in both federal and state courts, on grounds  his innocence as well as seeking his release under Miller and now Montgomery. At one point in the process, Wayne County Circuit Court Judge Gershwin Drain ordered the charges against him dismissed (see below).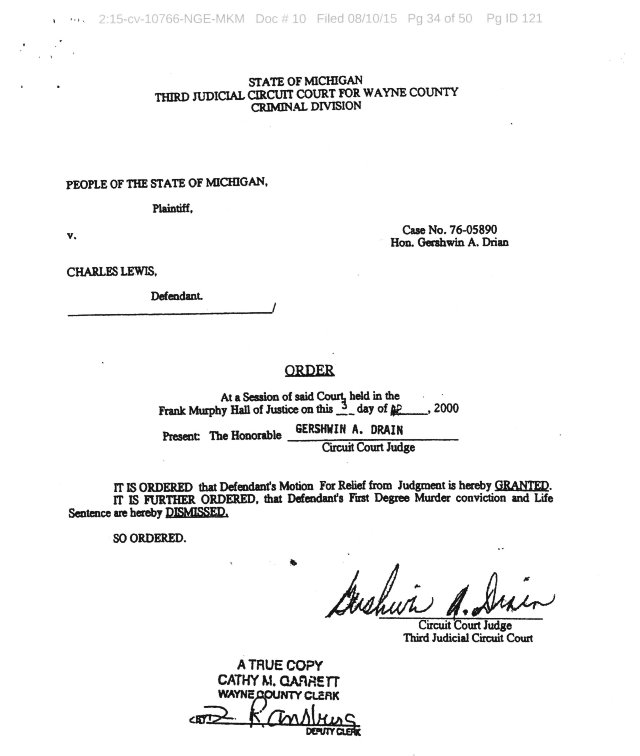 Lewis has a state "show cause" hearing scheduled in front of Wayne County Circuit Court Judge Qiana Lillard April 21 at 9am to address the matter. She has reportedly ordered that the file be produced for his hearing. Lewis contends strongly that he should be immediately released.
Also in play is a ruling by U.S. District Court Judge John Corbett O'Meara in January, 2013 that made all Michigan juvenile lifers eligible for parole, in the Hill v. Snyder case involving 13 juvenile lifers, brought by Attorney Deborah LaBelle for the Michigan American Civil Liberties Union (ACLU). Although the case named particular plaintiffs, O'Meara intended his ruling to affect all of the state's juvenile lifers.
"Indeed, if ever there was a legal rule that should – as a matter of law and morality – be given retroactive effect, it is the rule announced in Miller," O'Meara said in an eight page decision after lengthy hearings. "To hold otherwise would allow the state to impose unconstitutional punishment on some persons but not others, an intolerable miscarriage of justice."
(See http://voiceofdetroit.net/wp-content/uploads/OMeara-final-ruling-on-Hill-v-Snyder.pdf.)
Snyder and Schuette have appealed O'Meara's ruling, and it is still before the U.S. Sixth Circuit Court. After the Montgomery decision, the state argued that the Hill case should be dismissed, in favor of enforcing the state statutes.
In pleadings on the case, LaBelle has argued that the state statutes do not conform with Miller or Montgomery because they do not provide for consideration of the 10 Miller factors. (See box.)
She reiterates that all Michigan juvenile lifers should be eligible for meaningful parole hearings taking  Miller into account.
"The parties have litigated this case for six years," LaBelle wrote in a letter to the Sixth Circuit Court. "Defendants first argued that mandatory life imprisonment without parole for children was constitutional, and upon issuance of Miller they opposed relief based on a retroactivity argument that was subsequently rejected in Montgomery. They now make a bare assertion that untried legislation cures the constitutional violations found by the District Court. Recently, we have lost another youth who committed suicide on October 28, 2015, after serving 23 years on a sentence that offered no hope of release. This Court should affirm the District Court's decision, which was not an abuse of discretion, and remand for the lower court to implement appropriate remedial orders without further delay."
Other issues involve a Michigan court ruling that a jury, not a judge, must decide on sentencing matters under the state statute. (For fuller explanation, see article published by SADO at http://voiceofdetroit.net/wp-content/uploads/The-Status-of-Juvenile-Life-Without-Parole-Sentences-following-Montgomery-v-Louisiana.pdf.)
Related VOD articles:
http://voiceofdetroit.net/2014/03/06/mich-supreme-court-hears-3-key-cases-today-re-ussc-ruling-barring-mandatory-juvenile-life-without-parole/
http://voiceofdetroit.net/2013/02/12/u-s-judge-rules-all-michigan-juvenile-lifers-eligible-for-parole/
http://voiceofdetroit.net/2013/02/12/juvenile-lifer-reflects-on-hill-ruling-by-judge-omeara/
http://voiceofdetroit.net/2013/01/10/michigan-juvenile-lifers-justice-delayed-is-justice-denied-re-sentencing-in-key-detroit-case-cortez-davis-jan-25/
http://voiceofdetroit.net/2012/10/28/michigans-juvenile-lifers-want-state-to-comply-with-u-s-supreme-court-ruling/
http://voiceofdetroit.net/2012/10/28/michigans-juvenile-lifers/
http://voiceofdetroit.net/2012/08/16/michigan-challenges-u-s-supreme-court-ruling-on-juvenile-life-without-parole/
http://voiceofdetroit.net/2012/07/02/us-supreme-courts-juvenile-lifer-decision-brings-hope-to-thousands/
http://voiceofdetroit.net/2012/07/02/nations-high-court-ends-mandatory-life-without-parole-sentences-for-youth/
http://voiceofdetroit.net/2012/03/18/us-supreme-court-to-hear-key-juvenile-lifer-homicide-cases-march-20-2012/
http://voiceofdetroit.net/2012/03/04/juvenile-lifer-anthony-jones-wins-new-sentence-battle-for-justice-for-all-juvenile-and-parolable-lifers-still-needed/
http://voiceofdetroit.net/2011/11/12/us-supreme-court-agrees-to-hear-juvenile-lifer-cases-could-have-major-impact-in-michigan/
http://voiceofdetroit.net/2011/11/11/why-michigan-has-more-juvenile-life-sentences-than-almost-any-other-state/
http://voiceofdetroit.net/2011/09/06/battle-for-juvenile-lifers-picks-up-steam-in-michigan-california/
http://voiceofdetroit.net/2011/03/06/voice-of-juvenile-defendants/
http://voiceofdetroit.net/2010/11/24/aclu-lawsuit-challenges-life-without-parole-for-michigan-juveniles/
#StopJWLOP, #SaveOurChildren, #PrisonNation, #MassIncarceration, #SchooltoPrisonPipeline, #Breakdownthewalls, #Beatbackthebullies, #Blacklivesmatter, #BlacklivesmatterDetroit, #Blackkidslivesmatter,  #StandUpNow, #StopWaronBlackAmerica, #StopWaronourYouth, #Michissippigoddam