Detroit Public Schools board also bringing lawsuit on behalf of  DPS students; press conf. Thurs. April 7, 11 a.m. Fisher Building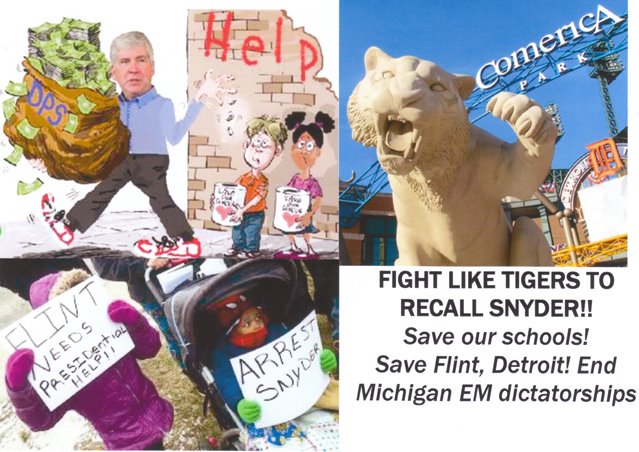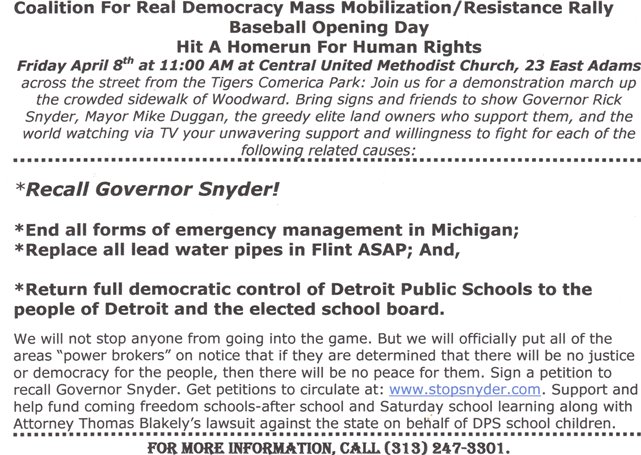 Click on http://www.stopsnyder.com to get recall petitions.
DETROIT ATTORNEY FILES CLASS ACTION LAWSUIT FOR DPS STUDENTS ON BEHALF OF SCHOOL BOARD
Press conference Thurs. Apr. 7, 11 am, Fisher Building 3011 W. Grd. Blvd.; Board of Ed members, DPS parents to attend
 Attorney Says State and Emergency Managers' Failings of Detroit Public Schools is "Flint Crisis on Steroids"!
Lawsuit says Governor, other politicians, emergency managers and crooked vendors responsible for destroying life-long opportunities for thousands of impoverished DPS students.
 MEDIA CONTACT: Sal Giacona (Phone: 313-421-9108)
Detroit, MI., April 5, 2016 — A major announcement will be made at a press conference and media opportunity on Thursday April 7 at 11 a.m. (ET) outside the main entrance of the Fisher Building located at 3011 W Grand Blvd, Detroit, MI 48202.
The press conference will feature Detroit attorney Tom Bleakley (pronounced Blake-Lee) who will provide information regarding the class-action lawsuit being filed on behalf of the thousands of impoverished Detroit Public Schools (DPS) children.
The treatment of these students by state officials since taking control of the school district in 1999, and aggravated by three recent consecutive emergency managers, has caused profound life-long damage to the students thanks to uncertified and inexperienced teachers, overcrowded classrooms, rat-infested gymnasiums and hallways, closing of neighborhood schools, wasteful and dumb management practices, massive funding of worthless experiments and other acts have all moved the Detroit Public Schools from the best-performing school district of over 100,000 children in the country to the very worst.
The callous indifference of State officials to the needs of the children, in all aspects of their educational experiences, rises to the level of constitutional violations. The Detroit Public Schools Board is bringing the lawsuit, along with several named parents who will serve as class representatives. Bleakley, Board members, and several plaintiffs will be available for personal interviews after the press conference.
The unwarranted and unjust state takeover of DPS originally occurred in 1999 as a result of skillful fiscal and academic management the Detroit schools enjoyed a multi-million-dollar surplus, and their student test scores were at the state midpoint and rising despite pervasive resident impoverishment and the city's myriad of social problems.
"The filing of this action is being done with the intent of setting the record straight as to who is responsible for the current disastrous condition of the school district, as well as settling a longstanding score with the Michigan politicians for the benefit of the poverty-stricken children of the Detroit Public Schools.," Bleakley said.
Bleakley is a trial lawyer who has represented thousands of children injured by drug products against the pharmaceutical industry, as well as cases involving constitutional issues. He is handling the case pro bono because he feels it is important for the children of the school district, unlike the governor and his underlings, to have a voice in these issues unsullied by big money interests.
Recent related VOD stories:
http://voiceofdetroit.net/2016/04/01/chicago-teachers-walk-out-demand-funding-for-education-not-banks/
http://voiceofdetroit.net/2016/03/29/detroit-kids-in-danger-bills-end-dps-pay-off-banks-with-state-control-tax-levies-closings-charters/
http://voiceofdetroit.net/2016/03/07/rhodes-rule-over-detroit-schools-ominous-as-bankruptcy-judge-he-dismantled-city-of-detroit/
http://voiceofdetroit.net/2016/03/23/detroit-retirees-demand-city-council-oppose-em-law-dps-re-structuring-support-rebuilding-flint/
http://voiceofdetroit.net/2016/03/21/thousands-of-boston-public-school-students-walk-out/
http://voiceofdetroit.net/2016/03/03/detroit-will-be-paying-for-school-bonds-until-year-2040-dismantling-of-dps-all-about-corporate-greed/
http://voiceofdetroit.net/2016/02/26/cancel-dps-debt-to-the-banks-quality-education-for-detroit-children-tune-in-whpr-sat-2271030-am/
#SaveDPS, #SaveOurChildren, #BeatBacktheBullies, #RecallSnyder, #StopSnyder, #RepealPA436, #DetroitKidsMatter, #FlintKidsMatter