Nixon freed Feb. 18, 2021 after 15 years in MDOC; "questionable trial testimony" from jail-house informant Stanley January, Jr. cited
Memos show Kym Worthy's APA Patrick Muscat, Deputy Chief of  Special Operations, pressed DPD to interview  Nixon's "cellmates" 
APA Muscat prosecuted Davontae Sanford, Thelonious "Shawn" Searcy high-profile cases; Sanford freed 2015, COA ordered new trial for Searcy Feb. 11, 2021
Wayne County Prosecutor's Office has brought no charges against other AP's, police who participated in concocting cases against its 28 exonerees
Three strikes and you're out?  PA District Attorney Larry Krasner fired 31 Asst. DA's in 2018 citing their involvement in wrongful convictions

By Diane Bukowski
April 5, 2021
Updated April 8, 2021
DETROIT— Did Wayne County Asst. Prosecutor Patrick Muscat, Kym Worthy's Deputy Chief of Special Prosecutions, suborn perjury from jail-house "snitch" Stanley January, Jr. during the 2005 trial of Kenneth Nixon, then 19? Nixon was convicted and given life without parole for the widely-publicized fire-bombing murders of  two young children.
"As of today, I'm a 32-year-old man that has spent all of my 20's incarcerated for a crime that I didn't commit," Nixon, who maintained his innocence from the outset,  told the Detroit Free Press in 2018. "I was robbed of my youth at an age where I was really learning to discover what being a man was, being a father was, being an adult was."
Wayne Third Judicial Circuit Court Judge Bruce Morrow vacated Nixon's conviction and life LWOP sentence Feb. 18 after Nixon spent over 15 years in prison. Worthy's Conviction Integrity Unit cited questionable trial testimony from jail-house informant Stanley January, Jr., and a 13-year-old eyewitness, the brother of the children who died.
They were Raylond McCulley, 10, and  and his 18-month-old sister, Tamyah Vaughn.
Nixon is now free, re-building his life, and awaiting the outcome of further legal action on his case, including a civil lawsuit. No one else has been charged in the fire-bombing.
The 2018 Free Press article cited a memo from Muscat requesting that DPD officers "interview both defendants' cellmates" after they termed the 13-year-old's testimony contradictory and unreliable. The 13-year-old was the brother of the victims. Nixon's co-defendant was his girl friend LaToya Caulford, who was acquitted by a separate jury after their trial.
VOD obtained a copy of the original memo, dated Aug. 5, 2005,  from Muscat to Lt. James Tolbert, then homicide division chief. He has since been placed on the Wayne County Prosecutor's "Brady-Giglio" list of untrustworthy police officers due to his role in the 2008 wrongful conviction of 14-year-old Davontae Sanford. He resigned afterwards.
DPD Sgt. Moises Jimenez was the Chief Investigating Officer (CIO) in Nixon's case as well as the case of another wrongfully convicted Detroiter, Alexandre Ansari, released in 2019. In that case, he identified Ansari based on a tip using a common nickname for the killer which applied to others as well.
Jimenez interviewed January in May 2005, but did not report the interview until Aug. 30, 2005, after Muscat requested it Aug. 3 in the memo below. January testified on the last day of Nixon's trial in September, 2005.
Jimenez is still with DPD, although federal lawsuits citing him as defendant are pending in both Nixon and Ansari's cases. He is not on the prosecutor's  "Giglio-Brady" list.
http://voiceofdetroit.net/wp-content/uploads/Wayne-County-Prosecutor-GIGLIO-BRADY-LIST-12-7-2020-2.pdf
Key excerpts of Muscat's memo are  below, with full memo linked below excerpts.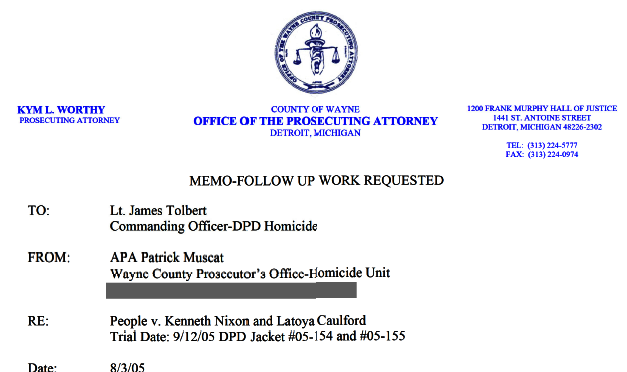 ______________________________________________________________



______________________________________________________________


http://voiceofdetroit.net/wp-content/uploads/Kenneth-Nixon-case-Exhibit-2-Muscat-Memo.pdf
_______________________________________________________
Detroit Police Officer Kurtiss Staples had warned Tolbert that the case "was in jeopardy" because of contradictory statements from the 13-year-old child. Prosecutor Muscat nevertheless called him to the stand at Nixon's trial, and used Stanley January Jr.'s testimony on the last day of the trial. See: http://voiceofdetroit.net/wp-content/uploads/Staples-memo-Kenneth-Nixon2-pdf.pdf
The National Registry of Exonerations reported that, "On August 3, 2005—with trial looming in about six weeks, assistant prosecutor Muscat wrote a memo to Tolbert noting that "to be blunt, the case has problems." On August 30, 2005—27 days later—Detective Jimenez said January revealed for the first time the conversation he claimed to have had with Nixon back in May during which Nixon confessed to the crime."
The NRE noted further that a statement from another prisoner, filed with Nixon's federal habeas appeal, cast more doubt on the validity of January's testimony.
"The inmate, Paul Crump, provided a statement saying that January admitted he learned about the case from a television news report. Crump said that January said he decided to "make up a lie…to try and make a deal with the prosecutor to get his case dropped or try and get the minimum amount of time in exchange for testifying" against Nixon. Crump said January told him that he wanted to get out of custody to attend his daughter's high school graduation and "that his ex-wife and daughter would be disappointed and furious at him if he missed this hallmark occasion." In November 2012, U.S. District Judge Avern Cohn denied the petition." Kenneth Nixon – National Registry of Exonerations (umich.edu)
THELONIOUS SEARCY CASE
Muscat was also the APA in the 2005 trial and conviction of Thelonious 'Shawn' Searcy for the murder of Jamal Segars outside Detroit's City Airport in Sept. 2004, which resulted in a life without parole sentence.
A Michigan Court of Appeals panel unanimously granted Searcy a new trial Feb. 11 in a 13-page ruling that was highly critical of the role Wayne Third Judicial Circuit Court Chief Judge Timothy Kenny (trial judge at the time) and APA Muscat played in hiding ballistics evidence from Searcy's jury.
After consulting with Muscat during the trial, Kenny falsely told jurors the bullets in the victim's body were "too deformed" to identify their caliber, although an evidence technician reported before trial that they were .40 caliber. Muscat presented a .45 caliber gun at trial and identified it as the murder weapon. He repeated his allegations at Searcy's evidentiary hearing.
The appeals court  said Kenny's dismissal of self-professed hitman Vincent Smothers' detailed confession to the murder during a 2018 evidentiary hearing was an "abuse of discretion." Legal scholars say such a ruling against a judge is highly unusual.
"Importantly, the jury was informed that 'the gun that is in evidence is a .45 caliber semiautomatic handgun' and was then informed that the bullet that was removed from the murder victim could not be tested because it was 'too deformed,'" the appeals court said. "However . . . .the type of bullet was able to be discerned and had been accurately described as a .40-caliber bullet before trial. Without this important evidence, the jury was left to decide whether, based on the location of the .45-caliber casings and other record evidence, Searcy committed the crimes.". . .
"In sum, when considering the trial evidence in light of the other evidence that would be presented at retrial, we conclude that Searcy has a reasonably likely chance of acquittal.  . . Therefore, the trial court abused its discretion by denying Searcy's motion for relief from judgment with respect to Searcy's claim of new evidence relating to Smothers."
http://voiceofdetroit.net/wp-content/uploads/COA-Thelonious-Searcy-20210211.pdf
Wayne Co. Third Judicial Circuit Court Judge Thomas Hathaway granted Searcy an appeal bond at a hearing March 1, specifying home confinement while prosecutors decide whether to retry him.
He ordered Searcy's release either on the day the Wayne County Prosecutor appealed the COA ruling again to the Michigan Supreme Court (which earlier remanded it to the Appeals Court), or by April 4, the last day the prosecution could appeal.
The prosecution did not appeal by the deadline. Searcy expected to be released to home confinement April 5, but AP Thomas Chambers has contested the language in the proposed order for release, according to  Atty. Michael Dezsi. Dezsi said he is awaiting a hearing on the order in front of Hathaway, which had not been scheduled at press time.
VOD emailed the Prosecutor's Office April 5 as follows, "Does the prosecutor's office plan to re-try Thelonious Searcy, since the Feb. 11 COA ruling in his case has not been appealed to the Michigan Supreme Court? The deadline for that was April 4, 2021. Does Prosecutor Worthy have any comment on the continuing status of APA Patrick Muscat, who was the prosecutor in the cases of Kenneth Nixon, Davontae Sanford, and Searcy? Specifically with regard to his role in recruiting the jail-house informant Stanley January, Jr. whose testimony was key to Nixon's conviction?"
APA Maria Miller of the Prosecutor's Office replied that they had filed an application for leave to appeal the Searcy ruling to the Michigan Supreme Court on April 5. She replied regarding Muscat's current role, "Pat Muscat remains on staff with WCPO."
Members of Searcy's family told VOD that they were eagerly awaiting his release April 5, including making .provisions for him to stay at the court-designated address on home confinement.
"We are highly distressed that 17 years after Shawn was taken to prison by Detroit police who raided the home he and his wife and daughters were visiting, we still do not have him here with us," one family member remarked. "We know Shawn is innocent and always has been."
Searcy now has grandchildren, after missing his daughters' formative years.
Over 20,000 supporters have signed Searcy's Change.Org petition: https://www.change.org/p/michigan-attorney-general-free-wrongfully-convicted-thelonious-searcy.
DAVONTAE SANFORD CASE
In 2008, Smothers also confessed to the notorious "Runyon Street" murders of four people, shortly after 14-year-old Davontae Sanford was sentenced to 60 to 90 years in prison for the murders. Sanford's wrongful conviction became a cause celebre globally when it was vacated in 2015 and Sanford was freed.
Muscat prosecuted Sanford at trial, relying on a coerced confession from the child, obtained without a lawyer or parent present.
Muscat and Prosecutor Worthy pursued Sanford's conviction relentlessly for nine years despite Smothers' confession to DPD Detective Ira Todd in 2008 shortly after Sanford's sentencing.
It was only after Michigan State Police weighed in with a 151-pp. review of the case that Worthy agreed to a dismissal without prejudice, but continued to insist that Sanford was not innocent, earning her the title of "Innocence Denier" in a national publication.
The MSP reported that Detroit Police filed reports on the day the murders happened showing that Sanford could not have been the killer in the case. That included eyewitness testimony from a victim who survived the killings, and from a neighbor who saw the killers leaving the house, that the killers were older and taller than Sanford. Those reports were ignored by Muscat and Worthy. See VOD stories on Sanford's case linked below this article.
PROS. KYM WORTHY'S STATEMENTS ON KENNETH NIXON CASE
"The main issue at Mr. Nixon's trial was the identification of the person who threw the Molotov cocktail," Prosecutor Worthy said in a statement. "The identification of Nixon was based upon the statements and trial testimony of the 13-year-old boy. The only other person that testified that Nixon was responsible was a jailhouse informant. The informant told a homicide detective that while he and Nixon were in jail Nixon admitted to the firebombing of the Charleston street house.  .  .  In exchange for a guilty plea in an unrelated case the informant received a one year to three-and-a-half-year sentence."
VOD earlier asked Worthy's press representative Maria Miler about the 2018 Free Press article, which cited two professors' opposing evaluations of a purported Brady violation by the prosecution, consisting of its failure to give defense attorneys copies of the memos cited above. Those attorneys also said the prosecution had not turned over a report from an earlier suspicious fire at the house where the two children died.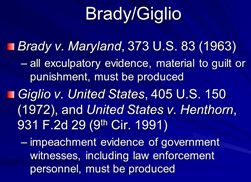 VOD reported April 5 that Miller had not responded to the email, but evidently missed Miller's response.
Miller said, "One professor opined upon that. Another professor said it was not a Brady violation. Our position is that there was no Brady violation. The prosecutor turned over the inconsistent statements to the defense and they had the ability to use them to cross-examine the prosecution witness in the case."
Philly DA Larry Krasner Fires 31 Asst. DA's 4 Days after taking office in 2019
In 2019, Philadephia District Attorney Larry Krasner fired 31 assistant DA's, immediately after assuming office on a reform platform which included creating a Conviction Integrity Unit.  He later cited their role in obtaining wrongful convictions as a key factor.
"I did not enjoy it, but it was necessary to do," he told a reporter later. "Especially as I see these exonerations happen, and guess whose names just keep coming up for having been involved in convictions of innocent people?"
"The people you let go?" the reporter asked. Krasner responded, "Yep. That story will be developing. Stay tuned."
Prosecutors across the country, including Baltimore and New York City, are also tossing out criminal convictions tied to cops who have been charged and/or convicted in the frame-ups of defendants. See:
Brooklyn DA Moves to Vacate 90 Convictions Tied to Cop Facing Perjury Charges
 https://www.nbcnewyork.com/news/90-convictions-cleared-by-brooklyn-da/2986934/
NBC New York reported April 7, (excerpt):
"The Brooklyn district attorney's office will ask a court to vacate 90 convictions based on the work of a former NYPD detective now facing perjury and other charges.
DA Eric Gonzalez's office said Wednesday it did not find any misconduct in the 27 felony and 63 misdemeanor convictions, nor did it find that any of the defendants were innocent. Regardless, the office said it had lost confidence in cases where Det. Joseph Franco was considered an essential witness.
'I cannot in good faith stand by convictions that principally relied on his testimony,' he added. . . 'We have to make sure the things we do as prosecutors don't cause additional harm in the community."
Tina Luongo, attorney-in-charge of the Legal Aid Society's criminal defense practice said Franco 'touched thousands of cases throughout New York City, and we may never know the full extent of the damage he caused and lives he upended.'"
Pros. Worthy has filed no charges against cops or AP's responsible for CIU's 28 wrongful convictions
To date, no charges for perjury, which could have resulted in life sentences, or other wrongdoings have been brought against assistant prosecutors and police officers who concocted the cases against the 28 people exonerated by the Wayne County Conviction Integrity Unit.  The Michigan State Police even recommended that charges be brought against DPD officers Michael Russell and James Tolbert in the case of Davontae Sanford. Testimony from another police officer, Dale Collins, was key to the convictions of Sanford and Searcy. His role in other cases has been cited repeatedly, but he has faced no charges.
Prosecutor Worthy claimed the deadline for filing charges against Tolbert had expired, but cases of perjury carry penalties of up to life in prison if that is the sentence accorded to a defendant.
In an April 4 article in the Detroit Free Press, reporter Elisha Anderson wrote that Atty. Valerie Newman, head of Worthy's Conviction Integrity Unit,  told her that "her unit is not trying to blame or shame people, rather figure out what happened, how to rectify it and make changes so it doesn't happen again."   Prisoners in Michigan claiming innocence could receive new reviews (freep.com).
Regarding APA Muscat's role in the wrongful convictions of Kenneth Nixon, Davontae Sanford and Thelonious Searcy, one VOD reader commented, "He is ruining the lives of innocent people with no consequence. If we don't bring awareness and hopefully some pressure, he'll eventually retire with full lifetime benefits paid for by tax-payers dollars. Where's the justice in that?"
One exoneree, Mubarez Ahmed, has protested the fact that no charges have been brought against DPD officer Ernest Wilson, who solicited illegal witness identifications of Ahmed that led to his wrongful conviction in 2002.  He was freed in 2019.
Mubarez Ahmed – National Registry of Exonerations (umich.edu).
A federal complaint says the entire case hinged on a live line-up identification of Ahmed by Izora Clark. It alleges, "Immediately before the live lineup, [Ernest WILSON] showed Ms. Clark a photograph of Plaintiff and told her this was the man they believed committed the murder and was in the lineup. WILSON also [falsely] told Ms. Clark that another witness had identified Plaintiff." See complaint at:   http://voiceofdetroit.net/wp-content/uploads/Ahmed_v_Detroit_Ernest-Wilson_et_al__miedce-18-13849__0001.0.pdf.
Worthy's office has claimed that she has not used the testimony of jail-house snitches since she took office in 2004. However, a jail-house informant was used to convict Kenneth Nixon in 2005.
Later, in 2011, AP Robert Moran, currently Worthy's Chief of Special Investigations, recruited  two jail-house informants to  convict Charles Jones and Chauncey Owens.
They were  the father and uncle-in-law of Aiyana Jones, killed in 2010 during a brutal military-style police raid on her grandmother's home.
Jones was sentenced to 40-60 years in prison and Owens to life for the killing of teenager  Je'Rean Blake two days before the raid. VOD covered their trials extensively, finding that no forensic evidence was presented.
Jones later pled guilty to reduced charges and sentences to obtain his freedom after the Jones family had been extensively vilified in local media.
Jay Schlenkerman, a serial woman-beater, drunk driver, and self-admitted perjurer, who was housed with Owens in the Wayne Co. Jail Division 3, claimed Owens told him Jones gave him the gun used in the killing, which was never introduced into evidence.
But Owens named another man as the person who gave him the gun during a police interview the day of Aiyana's death, which was shown only to Owens' jury. VOD found no other such report in court records despite extensive research including a page-by-page review of three volumes of Jones' court file.
The other "snitch" was Qasim Raqib, who signed a written pledge to give evidence against Jones and two other prisoners in exchange for lesser charges in the 2011 murder and dismemberment of a transgender teen.
***********************************************************************************

Voice of Detroit is a pro bono newspaper. VOD's editors and reporters, most of whom live on fixed incomes or are incarcerated, are not paid for their work. Ongoing costs include quarterly web charges of $380, P.O. box fee of $150/yr. and costs for research including court records, and internet fees, as well as office supplies, gas, etc.
Please DONATE TO VOD at:
*********************************************************************************
Related stories (links below include links to previous stories on cases.)
THELONIOUS 'SHAWN' SEARCY WINS NEW TRIAL; MICH. APPEALS COURT CITES HITMAN'S CONFESSION, BALLISTICS | VOICE OF DETROIT: The city's independent newspaper, unbossed and unbought
MSP: WAYNE CO. PROS. KYM WORTHY KNEW DAVONTAE SANFORD WAS INNOCENT FOR 8 YEARS, NOT 8 MOS. | VOICE OF DETROIT: The city's independent newspaper, unbossed and unbought
DOES KYM WORTHY WANT 54 MICH. JUVENILE LIFERS TO DIE IN PRISON, VIOLATING U.S. SUPREME COURT ORDERS? | VOICE OF DETROIT: The city's independent newspaper, unbossed and unbought
WAYNE CO. PROSECUTOR KYM WORTHY MUST GO! VOTE FOR VICTORIA BURTON-HARRIS AUG. 4 IN DEM. PRIMARY | VOICE OF DETROIT: The city's independent newspaper, unbossed and unbought
https://slate.com/news-and-politics/2018/01/innocence-deniers-prosecutors-who-have-refused-to-admit-wrongful-convictions.html
A Detective Was Accused of Lying. Now 90 Convictions May Be Erased.
http://voiceofdetroit.net/wp-content/uploads/A-Detective-Was-Accused-of-Lying.-Now-90-Convictions-May-Be-Erased.-The-New-York-Times.pdf
https://www.nytimes.com/2021/04/06/nyregion/brooklyn-criminal-convictions.html